Expert Review
Suzuki Swace Estate (2020 - ) review
The Suzuki Swace is a practical, comfortable and competitively priced hybrid estate car perfect for families who don't want a crossover or SUV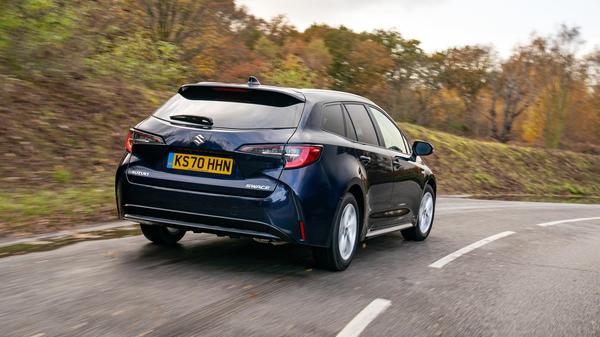 Words by: Dan Trent
Published on 26 April 2021 | 0 min read
The Auto Trader expert verdict:
Available new from £29,599
The Swace is a mid-sized, hybrid-powered estate car sold by Suzuki as part of a partnership with Toyota. If you're thinking it looks familiar that's because it is basically a rebadged version of the latter's Corolla Touring Sports, which is actually no bad thing given the Toyota is a decent, practical and frugal car. Buddying up with Toyota means Suzuki can offer the hybrid technology it needs in the range, and the Swace is priced competitively against its Corolla brother and comes with lots of equipment. The lack of built-in navigation and a shorter warranty are the only real compromises compared with the Toyota.
Reasons to buy:
Efficient hybrid engine
Comfortable and refined
Practical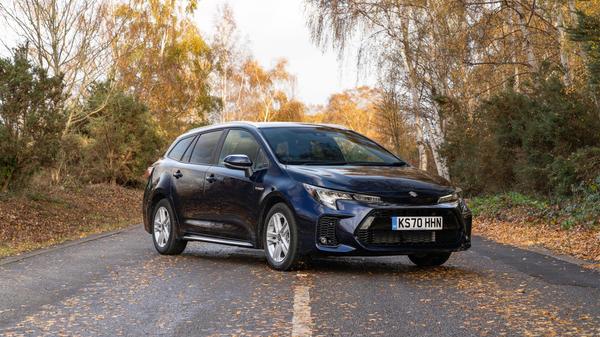 Running costs for a Suzuki Swace
Before crunching the numbers a quick re-cap on hybrid types and where the Swace lands on that spectrum. So-called mild hybrids are now commonplace on many petrol and diesel engines but offer little more than expanded start-stop and a small electrified power boost, though they can't power themselves on this alone. Full hybrids like the Suzuki have a bigger battery and can run for short distances without the petrol engine, basically delivering diesel-like economy with cheaper petrol running costs. Plug-in hybrids, like the E-Tech version of the Megane Sport Tourer, can meanwhile cover short trips on electric power alone and can recover their additional cost through Benefit In Kind and other incentives. Company drivers will therefore prefer plug-ins but for private owners a car like the Swace can actually make better sense, especially if you don't have the means to plug it in to charge. The main cost comparison is – inevitably – going to be against the near-identical Toyota Corolla Touring Sports and the Suzuki looks a little cheaper upfront but marginally more expensive on insurance and other running costs.
Expert rating: 4/5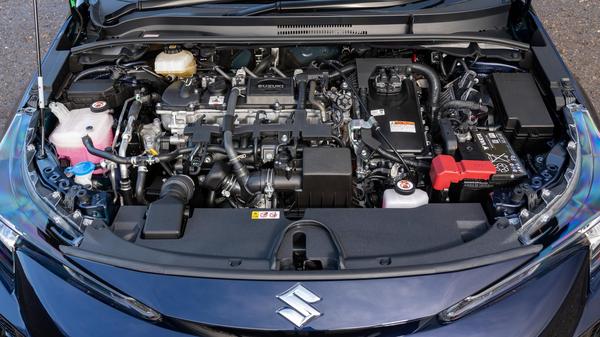 Reliability of a Suzuki Swace
Suzuki is too small to figure on most reliability surveys but, given the Swace is to all intents and purposes a Toyota, it's best to look at that brand's performance. Anecdotally the news is better than it appears on the league tables, and Suzuki as a brand also tends to be well-regarded, too. One downside of choosing the Suzuki over the Toyota equivalent is the shorter three-year warranty – on the Corolla it's five years, which may give you more peace of mind over a typical lease term.
Expert rating: 4/5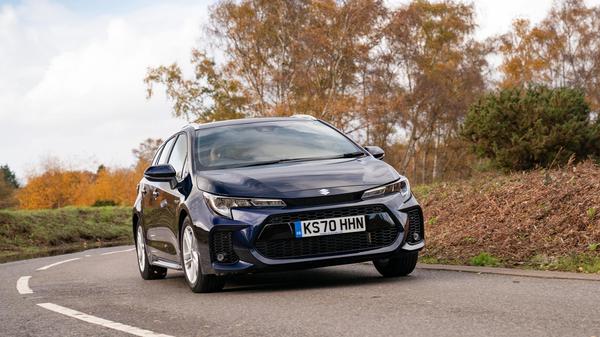 Safety for a Suzuki Swace
There is lots of safety technology in the Swace to keep you out of trouble in the first place, with all the airbags, seat belt tensioners and child seat mounts (two Isofix and three top-tethers) you'd want in a family car. As standard the Swace comes with radar-monitored active cruise control, various systems to warn you if you're drifting out of your lane and steer you back in if you don't respond plus automated emergency braking. The upper trim level also gets blind spot monitoring and rear cross traffic alert, the latter warning of passing traffic you might not have seen while reversing out of a parking space or driveway.
Expert rating: 5/5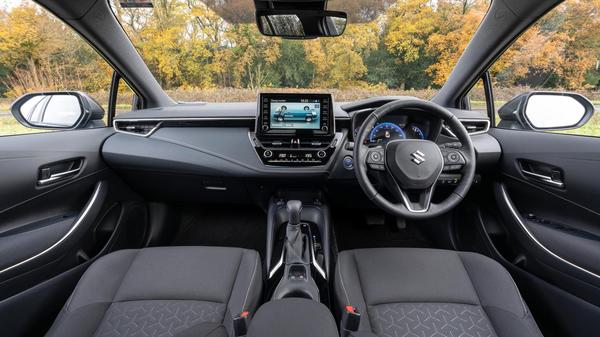 How comfortable is the Suzuki Swace
The refinement and comfort of the Toyota Corolla Touring Sports we ran as a long-term test car were among its most appealing qualities so it's good to hear they survive the transition into the Swace. Given the modest power the decision to prioritise comfort is the right one and the Suzuki has a pleasingly relaxed nature to help the miles waft by, helped by the inherent quietness of the petrol-electric powertrain. It may roll about a bit in the corners but the light, positive steering and excellent driving position all contribute to a better than expected driving experience. For its relatively compact on-road size the Swace is a very practical estate car, too. In an age where crossovers and SUVs dominate and – in many cases – put style before function this is something of a relief and proof the good old estate car still has a place as family transport. Legroom in the back is decent, the boot is big (with tons of extra stash space under the 'false floor') and, while it might be a bit of a squeeze for five, it's all a family of four could ever really need.
Expert rating: 4/5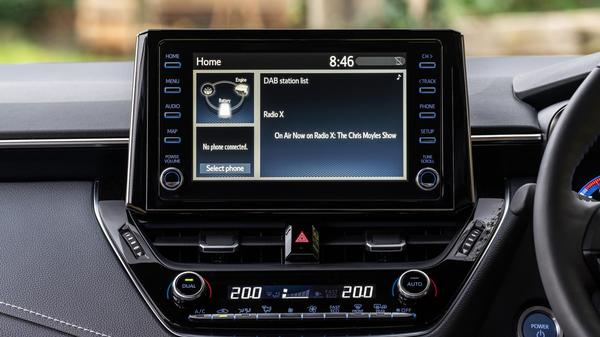 Features of the Suzuki Swace
Compared with its Toyota brother the Swace offers a much simpler line-up, with just two trim levels to choose from. Although both feature a decent-sized touch-screen prominently on the dashboard it seems Suzuki hasn't been able to carry over Toyota's built-in navigation on either, which is a surprise in this day and age. Sure, you can plug in your phone and use your apps through CarPlay or Android Auto and these are arguably slicker to use anyway but they do mean you rely on your own data. The upper trim level does at least include a wireless charging pad to make living on your phone's connectivity less of a faff, assuming it's compatible. While a rear parking camera is standard on all cars only the more expensive version gets parking sensors and the assisted parking function.
Expert rating: 4/5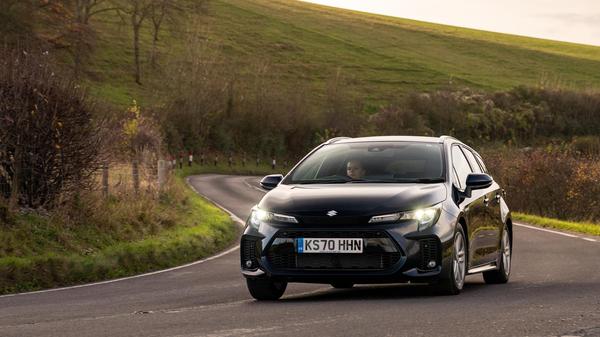 Power for a Suzuki Swace
There's only one powertrain option for the Swace, comprising a 1.8-litre petrol engine supported by an electric motor and driving the front wheels through a smooth shifting automatic gearbox. Together they develop a modest 122 horsepower but the welcome burst of electric power makes it feel like more, at least in the kind of situations where you might want a little squirt of acceleration when merging into busy traffic or accelerating up a motorway sliproad. There are three driving modes to choose from but, frankly, adopting 'Eco' and a relaxed driving style suits the Swace best – driven accordingly it will shut down the petrol engine where possible and coast or cruise for short distances on electric power.
Expert rating: 2/5