Expert Review
Skoda Scala hatchback (2019 - ) review
The Skoda Scala follows the brand ethos of offering more car for less money and represents excellent value, though you have to pay extra for some kit others include as standard
The Auto Trader expert verdict:
With a greater sense of style than other Skoda models, the Scala is an impressive addition to the range and has your money going a long way when compared with the Golf, Focus and others in this price bracket. While much of it is optional or reserved for the higher trim levels there's also plenty of kit available.
Reasons to buy:
Stylish looks
Roomy cabin and boot
Affordable to buy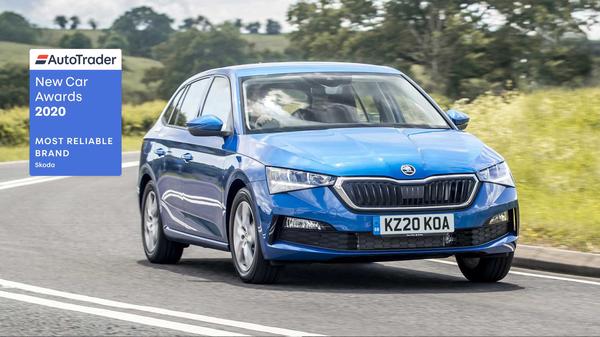 Running costs for a SKODA Scala
Like most Skodas, the Scala is all about providing a lot of car for a very affordable amount of money. As a result, the Scala is considerably cheaper to buy than the and Civics of the world, but it's there-or-thereabouts on price with more direct rivals like the Kia Ceed, Hyundai i30 and Seat Leon. In terms of running costs the Scala's small and efficient engines are all good on CO2 and tax, the good news being the best on all scores – the manual 1.5 petrol - is also the most powerful and fun to drive, meaning a double win for company drivers
Expert rating: 5/5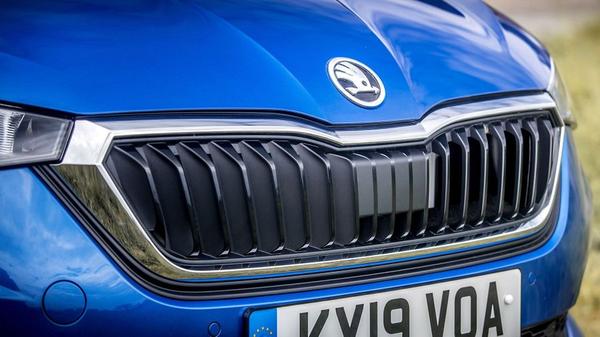 Reliability of a SKODA Scala
The Scala is a new model for Skoda, so there's virtually no reliability data to work with, but buyers should still be confident the car will prove dependable. Not only are the parts tried and tested in countless other models from the VW group, but Skoda also ranks near the top in most of the reliability surveys we've seen, including the latest JD Power Vehicle Dependability Study and the Warranty Direct Reliability Index. The standard warranty gives you unlimited-mileage cover for two years, but the third year's cover is limited to 60,000 miles. As with other Skodas at purchase you can pay extra to extend this to four years and 80,000 miles or five years and 100,000 miles if you're on a longer PCP term.
Expert rating: 4/5
Safety for a SKODA Scala
While the Scala comes with airbags, stability control and the 'Front Assist' system that can brake the car at town speeds should you not react in time to a pedestrian, cyclist or other hazard, a disappointing amount of the additional safety kit is unavailable on lower models or a cost option. So, if you want rear side airbags you have to pay extra and only then if you've paid for a driver's knee airbag too. Adaptive cruise control, blind spot detection and self-dipping headlights are all unavailable on the base model and, in most cases, cost options on others. The 'pays your money, takes your choice' idea isn't uncommon but few apply this as ruthlessly to safety kit as Skoda does.
Expert rating: 3/5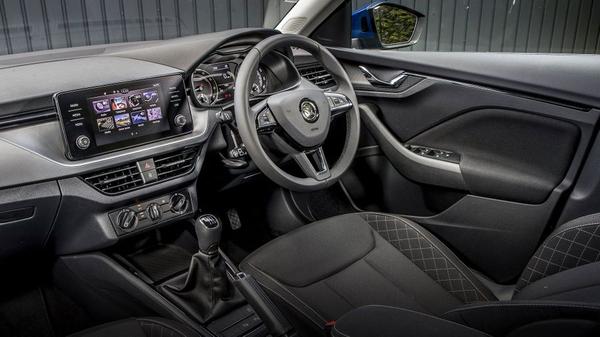 How comfortable is the SKODA Scala
Stick with the Scala's standard suspension, and you'll be very happy. It has a soft, cosseting set-up that keeps life impressively comfortable, whether you're crawling along pockmarked urban streets or cruising along motorways. Yet, there is enough control in the suspension to prevent the body from bobbing up and down too much on undulating roads, or from leaning over too much in the bends, making the car feel tidy and stable. Sure, it's not the sharpest-handling hatchback you'll ever drive, but the comfort you get is easily worth that trade-off. We've also tried Scalas fitted with the adaptive sports suspension that alters its behaviour depending on which driving mode you select, and it's an optional item that costs you extra. We'd urge you to save your cash. In practical terms one of Skoda's big selling points is that it provides better-than-average space for a lower-than-average price, and so it proves with the Scala. It even has a wide middle seat to make carrying three in the back reasonably comfy, although whoever's in the middle seat will have to sit with their legs straddled either side of a bulky ridge in the floor. The boot is also considerably bigger than you get in most rivals, budget-focused or not. The Scala's cabin has lots in common with other Skoda models, which is a very good thing. The dashboard layout is simple, so the various controls are all fairly easy to find and use, and with clear all-round visibility and lots of adjustment in both the driver's seat and steering wheel, life is pretty sweet at the wheel. Compared with most other Skoda models, the cabin doesn't feel quite as posh, but compared with other value-focused hatchbacks, it's still pretty good.
Expert rating: 4/5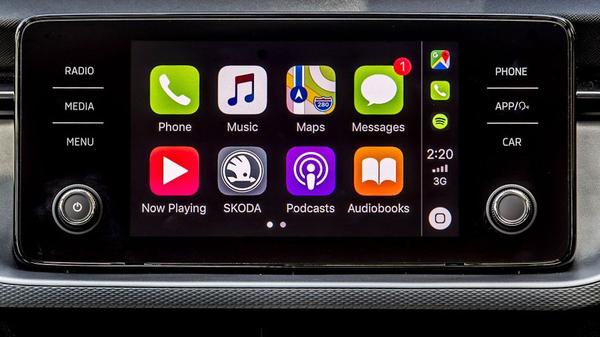 Features of the SKODA Scala
The entry-level car comes adequately stocked, including air-conditioning, a cooled glovebox, four electric windows, electric door mirrors and a stereo with DAB radio and Bluetooth. We'd recommend going up a level though, if only for the ability to pair wirelessly pair a phone and use app-based navigation via Apple CarPlay or Android Auto. The infotainment screen is bigger too while the top model gets a properly fancy touchscreen nav system, the configurable digital dials seen on much pricier VW group cars and climate control.
Expert rating: 4/5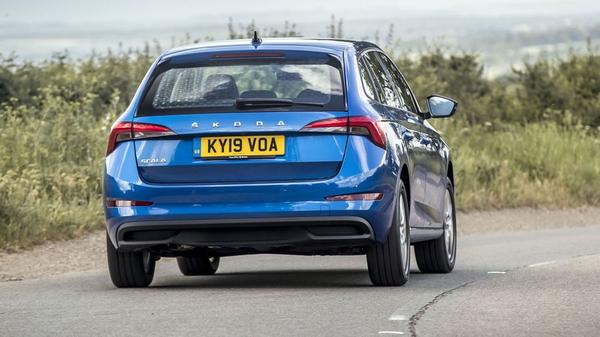 Power for a SKODA Scala
The Scala comes with a choice of three petrol engines: two 1.0-litre three-cylinder turbos with either 95 or 115 horsepower, and a four-cylinder 1.5 turbo with 150 horsepower. We haven't tried the 95, but the 115 horsepower unit is a little cracker. It's really perky and responsive throughout most of the rev range, making the Scala relaxing to drive and plenty quick enough. The 1.5 is smoother, and has a similarly perky character. It also works well with the seven-speed twin-clutch automatic gearbox with which we tried it, although ultimately, it doesn't feel a whole lot faster than the smaller engine. We've also had a shot in the one diesel option available: a 1.6 with 115 horsepower. It's capable of decent pace but not as refined or enjoyable as the petrols and you have to do a lot of miles to make the extra cost worthwhile.
Expert rating: 4/5