Expert Review
Mercedes-Benz G-Class SUV (2018 - ) review
With its boxy styling and iconic image, few cars quite have the presence of the Mercedes G-Class – but is it all mouth and no trousers? Find out by reading our expert review

Words by: Ivan Aistrop

Additional words by: Phill Tromans
Last updated on 11 December 2019 | 0 min read
The Auto Trader expert verdict:
Available new from £131,335
You might struggle to tell the difference between the latest Mercedes G-Class and its predecessor – despite being heavily revamped, this latest version still looks almost identical to those which came before it. But as the saying goes, if it ain't broke, don't fix it – and as a result, the latest G-Class offers the same style, presence, and the sheer likeability that made the model an icon in the first place.
Reasons to buy:
Brash looks make it the ultimate statement of bling
Cabin is posher and more practical than predecessor's
Vastly improved ride and handling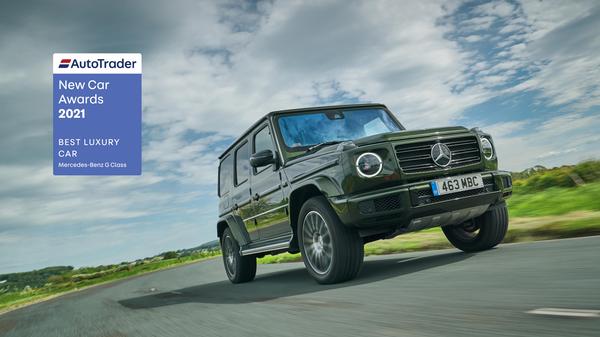 Running costs for a Mercedes-Benz G Class
Ah. Well, there's one thing that hasn't changed about the G-Class. It's eye-wateringly expensive to buy – starting prices for the G63 are upwards of £140k – and most buyers will blow many more thousands on optional extras to make their car their own. Even the entry-level G350d will likely cost you just shy of £100k, and adding a few options will easily take you over that figure. Resale values are pretty strong, though, so at least your investment will be reasonably well protected. Insurance costs will also be astronomical, as will bills for tax and tyres. And fuel economy? Well, it's predictably comical even on the diesel, thanks to considerable weight and that bluff, non-aerodynamic front end. And if you make the most of the muscle on offer in the AMG, you'll get nowhere near it's already-low official fuel economy figure in the real world. However, if you have sufficient funds to even consider buying a G-Wagon, that's unlikely to deter you.
Expert rating: 2/5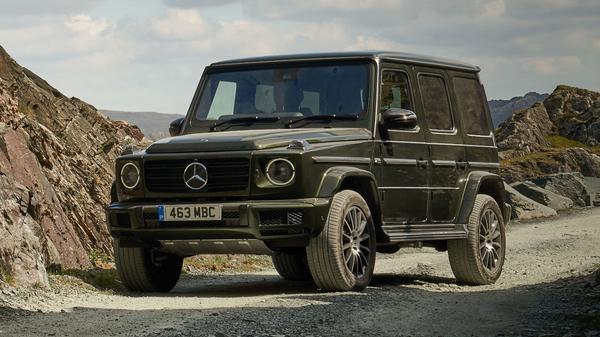 Reliability of a Mercedes-Benz G Class
Despite the G-Class having been around for 40-odd years, there still – bizarrely – isn't all that much reliability data to go on, probably because they sell in such small numbers. The car isn't included in Warranty Direct's Reliability Index study, which considers individual models, but Mercedes ranks well into the bottom half of the table of manufacturer ratings, and it's a similar story in the 2019 JD Power Vehicle Dependability Study. That said, while Mercedes languishes overall, it is at least better-placed than almost all of its luxury rivals.
Expert rating: 3/5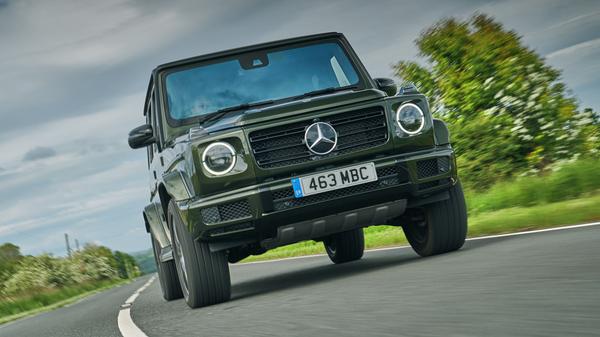 Safety for a Mercedes-Benz G Class
There are six airbags to keep you safe, along with many of the latest driver aids, including automatic emergency braking, lane keeping assistant, a blind spot assistant and distance-keeping cruise control. You can also add another pair of airbags (rear side 'bags) by delving into the options list.
Expert rating: 5/5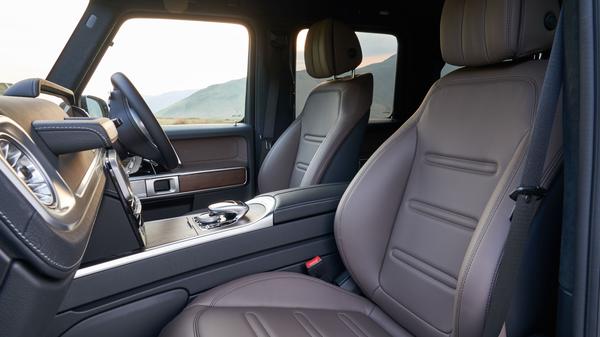 How comfortable is the Mercedes-Benz G Class
The G-Class is marketed as a luxury off-roader, but in past versions, the cabin hasn't really lived up to that. There were several places where you could see evidence of the car's workhorse roots, making it feel a little too rough-and-ready to deliver on the high-end promise, and for that matter, to justify the high-end price. The latest G-Class puts that right in impressive style. The cabin is exquisitely trimmed with plush materials and soft leather, and you've also got the same pair of digital screens as you find in the in the E-Class and S-Class for your infotainment and instruments. Not only is it all nice and easy to use, it also gives the whole cabin a cutting-edge, widescreen feel. What's more, the driving position and steering column have bags of electric adjustment, and the fact you're so high up gives you a bird's eye view of the road ahead. Getting to your seat takes some physicality, though, because you have to climb up into it rather than drop down like you do with a more conventional car. Meanwhile, the G-Class's flat-sided design, along with the raised indicator pods on the front wings, give you a really clear idea of where the extremities of the car are when you're manoeuvring, which is very handy with a car of this size. The big windows all round help with visibility, although it is impeded slightly by the rear-mounted spare wheel covering part of the back window. Look at the sheer size of the G-Class, and you'd think there'd be acres of space inside it for occupants to stretch out, but that's not quite the case. That said, there's more than enough headroom and legroom in the back for large adults, and the wide middle seat and a flatter-than-normal rear floor makes life reasonably comfy when you're carrying three across the rear bench. Cabin storage comes courtesy of a deep lidded cubby in the centre console, a decent glovebox and some useful door pockets. The boot is a good size, too – although it doesn't seem as vast as the official figure of 667 litres suggests – and it's a usefully square shape. However, while the side-hinged tailgate looks cool, it can limit your access to the cargo bay in tight parking spaces. At least there's no load lip to haul heavy items over. Previous versions of the G-Class have sorely disappointed in terms of their driving experience. While they were unstoppable off-road, they were terrible on it, giving you a bouncy, jittery and unsettled ride and handling that felt unnervingly unstable due to the tall body, pronounced body lean and desperately slow steering. The latest car, however, has been absolutely transformed thanks to a new chassis and new adaptive suspension. The ride comfort is a lot slicker than before, doing a much better job of isolating you from the effects of potholes and pock marks. At the same time, the suspension is much better at controlling body movements, instantly making the car feel much less top-heavy, and the steering is way quicker and much more direct. It feels nice and weighty, too. Ultimately, the G-Glass still doesn't have the same level of handling precision or comfort as other fast SUVs like the Range Rover Sport SVR and Porsche Cayenne Turbo S, no matter how much you play with the driving modes. Importantly, though, it no longer feels like it's decades behind the rest, and buyers no longer have to sacrifice every ounce of dynamic capability in their pursuit of style. The G is still fairly unstoppable off-road, too, with three differential locks, low-range gears and a host of other trickery design to haul you out of the sticky stuff. Ground clearance and wading depth have also been improved.
Expert rating: 4/5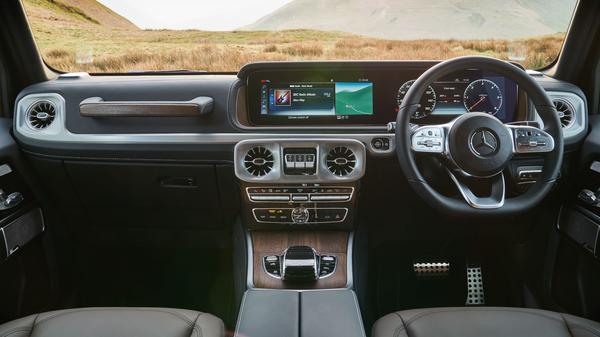 Features of the Mercedes-Benz G Class
Being a luxury product, the G-Class is absolutely rammed with luxury kit, and with the amount it costs, so it jolly well should be. The standard AMG Line's roster includes automatic lights and wipers, climate control, leather upholstery and an infotainment system that also incorporates Bluetooth, DAB, sat-nav, and smartphone integration. The Premium model adds a Burmester surround sound system, a 360-degree camera and a sliding sunroof; in addition, the AMG G63 gets a pumped-up body kit and uprated suspension along with a host of other performance-related improvments
Expert rating: 4/5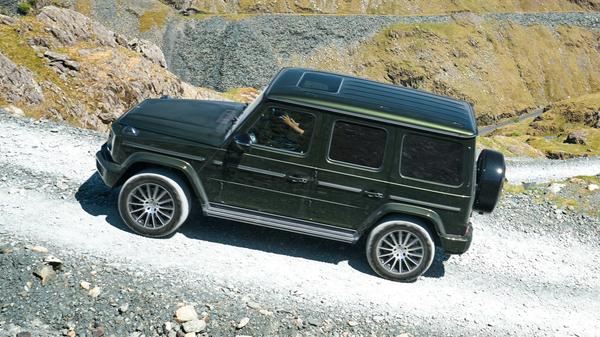 Power for a Mercedes-Benz G Class
We've tried the super-sporty version of the G-Class, the AMG G63. It comes with a twin-turbocharged 4.0-litre V8 petrol engine that dishes out a fairly ludicrous 585 horsepower, and that allows this two-and-a-half-tonne behemoth to dispatch the 0-62mph dash in just 4.5 seconds. Accelerating that quickly in something that huge, when you're sat so high up, is quite an experience, and you don't have to lean too hard on the throttle pedal before you're going at seriously hair-raising speeds. Importantly, though, the rest of the car now feels like it can handle the AMG's staggering power thanks to its improved handling and control, and that allows you to use more or that power more of the time in a way that you just couldn't with the old G63. What's more, the engine also makes a fab noise, building from a distant grumble to a bassy snarl as the revs rise. The engine also works really nicely with the nine-speed automatic gearbox, which always seems to select the right ratio, and swaps between them quickly and smoothly. We haven't yet tried the G350d, though it will probably be the most sensible option for the majority of buyers; even then, its 286 horsepower shove means it isn't slow, and that lends it the ability to hit 62mph from a standstill in just 7.4 seconds.
Expert rating: 4/5