Expert Review
Hyundai Santa Fe SUV (2018 - ) review
If you're looking for a seven-seat family SUV the Hyundai Santa Fe should be on your list and offers great value for money, the currently limited engine range gaining hybrid options in the not too distant future
The Auto Trader expert verdict:
The Hyundai Santa Fe gives buyers the style and the high driving position they want, along with the practicality, comfort and versatility they need. It can't quite match the very finest seven-seat SUVs on offer because it's not as affordable and not as polished to drive as some, but it is a very solid all-rounder and worthy of any family's consideration. An updated version with more premium feel and new hybrid engines is due in the Autumn.
Reasons to buy:
Generous standard equipment
Versatile seating arrangement
Strong on ergonomics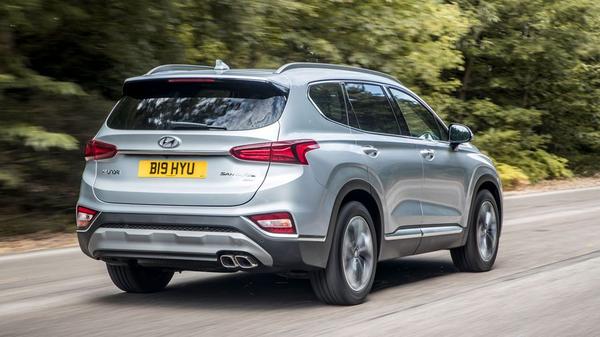 Running costs for a Hyundai Santa Fe
Compare the Santa Fe with its most direct rival – the
Kia Sorento
– and the pricing is much of a muchness. However, there are other similarly-sized seven-seater SUVs – cars like the
Skoda Kodiaq
and
Peugeot 5008
– that you can pick up for a lot less. That's partly to do with the fact that you can have them with smaller, less powerful engines, and that also means those rival cars will be more efficient on paper, although the Santa Fe doesn't compare too badly against like-for-like versions. At the time of writing details are yet to be confirmed but Hyundai has confirmed an updated Santa Fe is on the way in Autumn 2020 and will include
hybrid and plug-in hybrid
options among a range of styling and equipment upgrades. Expect good deals on existing Santa Fe models in the run-up to this.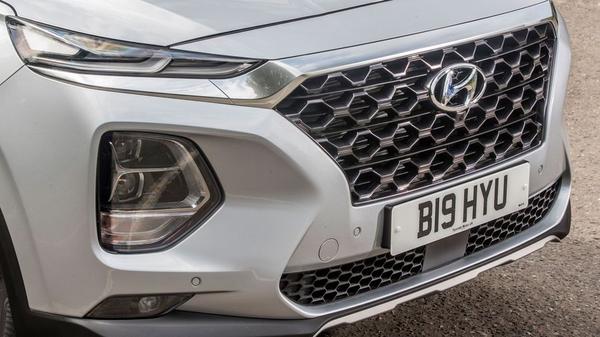 Reliability of a Hyundai Santa Fe
Hyundai has a pretty good reputation for reliability, and that's backed up by the fact that the brand sits safely in the top half of the manufacturer standings on Warranty Direct's Reliability Index. However, it seems older versions of the Santa Fe might not have proved so dependable, which drags the model's ranking down considerably. It's worth bearing in mind that the car now on sale is a totally new generation so – hopefully – won't suffer the same issues, the reassurance of Hyundai's standard five-year warranty offering you further peace of mind.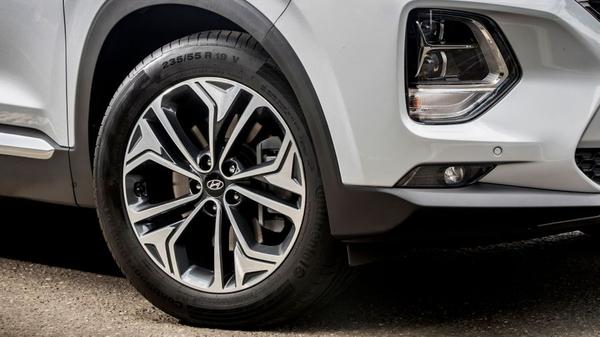 Safety for a Hyundai Santa Fe
All Santa Fe models come with an impressive amount of standard safety kit, and importantly, this includes an automatic emergency braking system which, as the name suggests, automatically applies the anchors if it senses an impending incident. The standard roster also includes lane departure warning, stability control and three Isofix child seat mounting points, but you have to upgrade from the basic trim if you want blind spot detection (which warns you when another car is sitting in your blind spot) and rear cross traffic alert (which warns you if a car approaches from the side when you're reversing out of your parking space). Four-wheel drive does give the car plenty of on-road grip and traction, and it also has four modes to help maximise traction off it, although this isn't a 4x4 you'll want to do any hardcore off-roading in.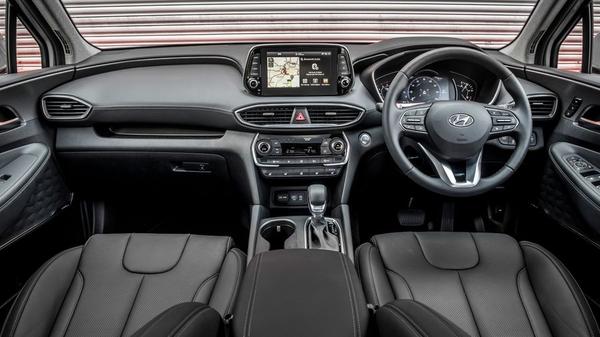 How comfortable is the Hyundai Santa Fe
As a family car the dynamic focus of the Santa Fe lies very much on comfort, and it does a decent job on that score. The soft suspension filters out rippled and pock-marked surfaces, especially at low urban speeds, although bigger bumps and potholes can be felt knocking into the cabin. You'll also feel a fair bit of body lean in corners, but it's not too bad considering the car's soft setup. However, this plus the sheer size and weight of the car, plus the slow steering, does make the Santa Fe feel slightly cumbersome on twisty backroads. The pending update includes changes to the steering and suspension, which should improve matters. Obviously, you have the high driving position that SUV buyers crave, and there's lots of electric adjustment for it as well, but your over-the-shoulder visibility could be clearer despite the rearmost side windows being bigger than before. The Santa Fe comes only as a
seven seater
, but it's at its best when you use just five of them. The middle row has bags of room, enough for tall adults to stretch out, and the middle seat in that row is more comfy than in most similar cars because it's wider and there's plenty of foot space. Utilise the two extra seats that fold up from the boot floor, and those in the middle will have to donate some of their legroom to those in the rearmost seats. Unsurprisingly, the load area is enormous with all the seats folded down, and pretty big in the more conventional five-seat mode. Obviously, the load area is much smaller when all the seats are in place, but there's still room for a few carrier bags of shopping.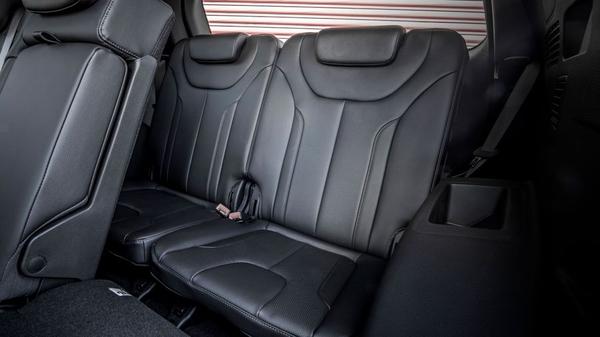 Features of the Hyundai Santa Fe
Even the entry-level SE-trimmed Santa Fe has plenty of luxury equipment as standard, including dual-zone climate control, cruise control, automatic lights and wipers, front and rear parking sensors, a rear camera, and a DAB-equipped stereo with
Apple CarPlay and Android Auto
. Upgrading to next trim earns you desirable bits like leather upholstery, heated front and rear seats, a heated steering wheel, a powered tailgate, keyless entry, sat-nav, an upgraded stereo and a wireless phone charging pad. Go another level up and you get a panoramic sunroof, a head-up display and a 360-degree camera. The touchscreen that controls the infotainment system measures either 7.0 or 8.0 inches depending which version of the car you go for, and the one we've experienced (the bigger one) is reasonably easy to use. It's a bit of a mixed bag on quality; some of the materials on display are glossier and more lustrous than some might expect from a Hyundai, while some others are of a substantially lower grade, but they don't do too much harm to the overall feeling of quality. A bigger touchscreen and significant upgrade in materials for a more premium feel are among the changes coming in the new model.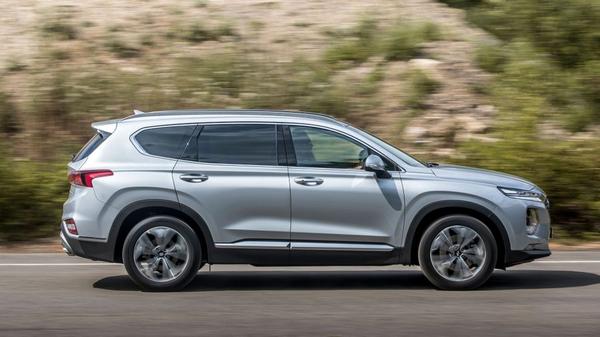 Power for a Hyundai Santa Fe
At launch, the Santa Fe is powered exclusively by a 2.2-litre diesel engine with 200 horsepower. Even in a car this huge, that's plenty, and although your progress is never that fast, it's always pretty easy, with plenty of low-rev muscle on hand to get you rolling. It's not the smoothest or quietest engine of its type, so it will make itself heard whenever you have cause to put your foot down, but it's nothing that'll ruin the experience. You can have your Santa Fe with two- or four-wheel drive and a six-speed manual gearbox is available, but the version we tried was fitted with an eight-speed automatic instead. It swaps gears pretty smoothly, if not especially quickly, and it doesn't have much of a negative effect of efficiency, either. If a relatively big diesel sounds like old tech it might be worth holding out for the new model coming later in 2020, which will include hybrid options.