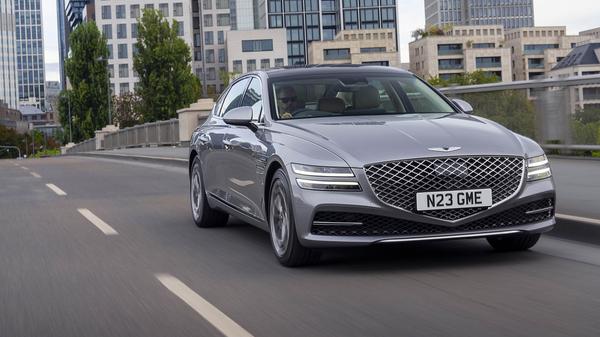 Expert Review
Genesis Motor G80 Saloon (2021 - ) review
The Genesis G80 is a new player on the executive saloon field and comes brimming with tech and style to help launch the brand in the UK
The Auto Trader expert verdict:
As Lexus is to Toyota, Genesis is a premium offshoot of Hyundai – not that you'll hear that relationship referenced too loudly as it attempts to establish itself outright with a personalised premium buying and ownership experience to set it apart from rivals. Where the related GV80 goes after the SUV market this G80 is a more traditional executive saloon and a leftfield alternative to established – and top quality – rivals like the BMW 5 Series, Mercedes-Benz E-Class, Audi A6 and Jaguar XF. Stylish, well-made and packed with tech, the G80 is impressive but the lack of a plug-in hybrid option will seriously limit its appeal to tax-conscious business buyers and, by the time you add the additional tech, it's an expensive choice, even in this company.
Reasons to buy:
Something different in the class
Personalised buying and ownership experience
Refined and luxurious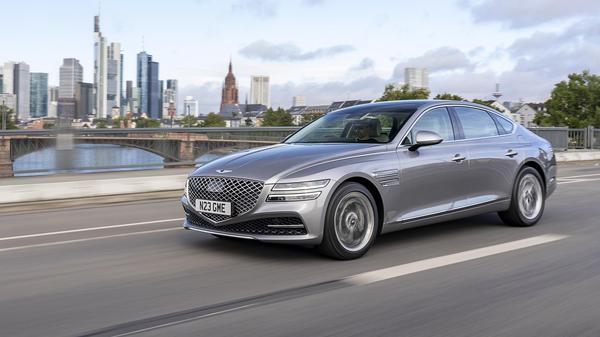 Running costs for a Genesis Motor G80
Working patterns may be changing but the classic executive saloon is still an important and prestigious sector, with some heavyweight players. Given many such cars are traditionally bought by
company drivers
factors like
Benefit In Kind
will be key buying decisions, especially for those paying higher-rate income tax. Accordingly, Mercedes, BMW and others all offer
plug-in hybrid
models whose low CO2 figures mean huge savings on BIK for these buyers but – as yet – Genesis only offers conventional petrol or diesel options, which could cost you hundreds each month in tax if you choose to run it as a company car. Private buyers will, meanwhile, be more concerned by the chunky asking price, especially when you factor in the extra cost of adding the headline technology Genesis is keen to promote. The return on that investment is, it's promised, a one-of-a-kind service, with a designated personal assistant to guide you through the buying process, home delivery and any ongoing support you may require straight to your door.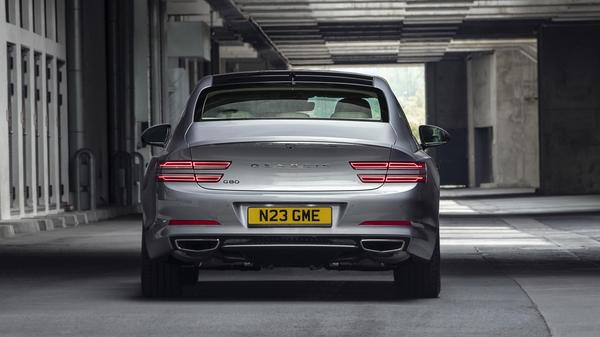 Reliability of a Genesis Motor G80
Genesis is obviously a new brand to the UK so there's no reliability information to go on yet, nor are there any ownership experiences to share. In markets like North America where Genesis is already established the reports seem favourable and the Hyundai parent brand has a solid reputation so we'd hope the same would be true – if not more so – for its luxury offshoot. A five-year warranty is supported by roadside assistance and a servicing package to help that peace of mind.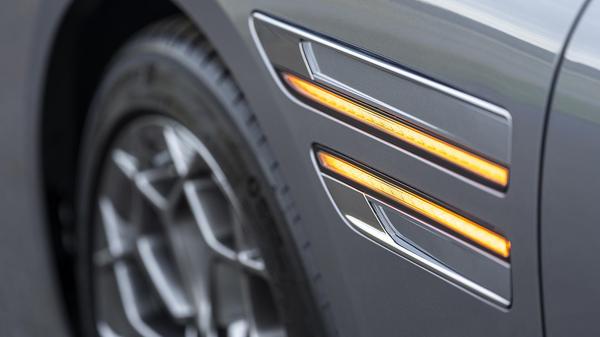 Safety for a Genesis Motor G80
Genesis is keen to establish itself as a technology-led brand, and the G80 comes with a ton of advanced driver assistance systems and an impressive array of safety gear if even they can't keep you out of trouble. These include a central airbag that deploys between the driver and front-seat passenger but, in theory, there's so much to keep you from having a crash in the first place that won't ever be needed. Radar-monitored 'smart' cruise control is standard, with steering interventions to keep you in your lane. Blind-spot warnings are also standard, as is rear cross traffic alert to warn you of unseen traffic when reversing out of a parking space or driveway and the G80 includes automated emergency braking with pedestrian and cyclist detection as standard. An optional Innovation Pack goes even further, with another level of driver assistance technology among its many extras.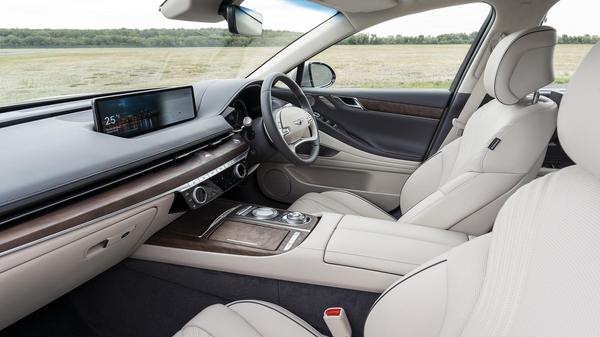 How comfortable is the Genesis Motor G80
Comfort and refinement are of course very important in a luxury saloon and here the G80 impressed us more than its
GV80
SUV brother. Whether it was the smaller wheels or just the more favourable, low-slung weight distribution is hard to say but the G80 rode smoothly over bumpy roads in low-speed town driving and out on faster rural ones alike. Adaptive dampers are among the technology helping here, the forward-facing cameras scanning the road surface for potholes, speedbumps and other obstacles and able to soften the suspension before the wheels reach them. You can also select a stiffer mode for a sportier driving feel (where fitted the 'Ergo' seats will even grip you more firmly in this setting) but, frankly, we preferred it in the standard configuration. Along with sound-reducing 'acoustic' glass the Genesis also features heated and power-adjustable seats up front, our top spec test car including fancy quilted leather and the optional Comfort Pack with ventilated front seats with active bolsters and even massage functions. This is all very nice but, it's worth noting, you need to at least upgrade to the higher of the two trim levels and hit the options list to get the full sense of luxury Genesis is promoting. If you see yourself being driven in your G80 as much as driving it yourself you'll definitely want to upgrade to the optional Executive Pack, which extends the acoustic glass to the rear windows, adds heating and ventilation to the back seats and even includes rear and side curtains to create a private cocoon of luxury in the rear.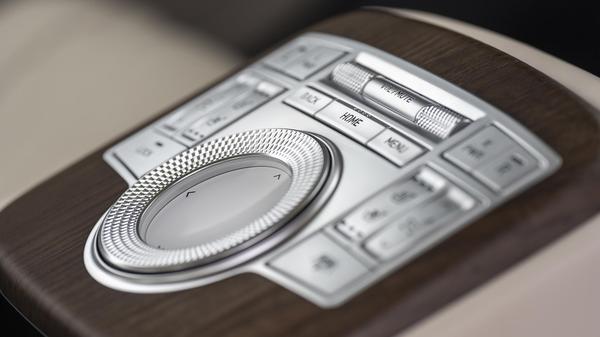 Features of the Genesis Motor G80
On the face of it the G80 looks very well equipped and packed with tech, even the standard spec including a large 14.5-inch central touch-screen packed with functionality, connected features and – if you prefer to use your phone –
CarPlay and Android Auto
compatibility. You need to put your hand in your pocket for the Innovation Pack to get the fully digital instrument display, though. This does open up a world of configurability and customisable '3D' graphics, including projection of images from the blindspot cameras when you flick the indicator and a head-up display. Given this and the additional driver assistance functions it brings this pack is probably an essential tick on the options list when speccing your G80.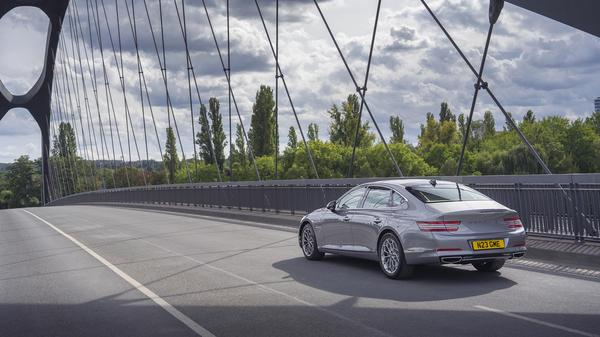 Power for a Genesis Motor G80
It's early days for Genesis and electrification is promised in the not too distant future. Given most key rivals already offer variations on the hybrid theme – be it
mild, full or plug-in
– alongside regular
petrol and diesel options
that's badly needed for performance and running costs alike. As it stands the G80 is available with a turbocharged, 2.5-litre, four-cylinder petrol engine with 304 horsepower or a 2.2-litre diesel with 210 horsepower and a tad more torque. Both come with an eight-speed automatic gearbox as standard, the petrol with all-wheel drive while the diesel is rear-wheel drive. We tried the petrol and, for the weight of the car, it felt impressively strong in all-round driving, only getting a little thrashy under hard acceleration. By the official numbers it does look rather thirsty, though, and against the triple-digit official mpg figures of plug-in rivals may prove an expensive car to run, with or without the Benefit In Kind incentives.