Expert Review
Audi Q5 Sportback SUV (2021 - ) review
The popular Q5 SUV gets Audi's Sportback treatment, with a sleeker, coupe-style roofline and stylish image but – seemingly – little compromise in practicality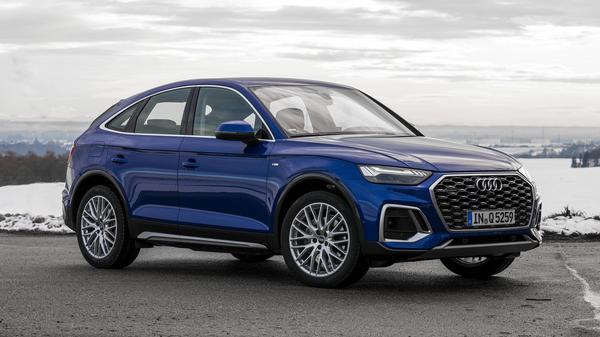 The Auto Trader expert verdict:
Basically like the regular Q5 but with a sloping, coupe-like roofline, the Q5 Sportback nails the kind of on-trend, sporty and aspirational image Audi buyers love. While the car on which it is based isn't the freshest SUV on the block the Sportback gets all the latest tech, feels well-made and has a wide range of hybrid, petrol and diesel engines, some with serious performance if you want it. Rivals would include the Porsche Macan, BMW X4 and Mercedes-Benz GLC Coupe but, while the Sportback range includes part-electrified plug-in hybrid options, there are now pure EV alternatives in this premium crossover sector, the Polestar 2 and Jaguar I-Pace both desirable and powerful models with the attraction of cheaper running costs to boot.
Reasons to buy:
Like a Q5 but sportier
High quality interior
Lots of tech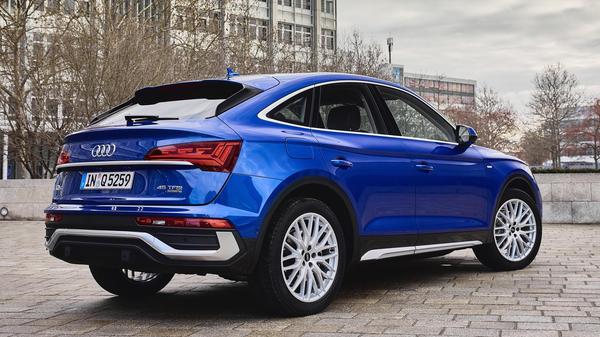 Running costs for a Audi Q5 Sportback SUV
You're certainly not spoilt for choice when it comes to engines in the Q5 Sportback, Audi offering petrols and diesels with mild hybrid assistance and full
plug-in hybrid
versions, too. Petrols are cheapest to buy, diesels are likely to remain popular, especially if you do big mileages, while the plug-in hybrids could help slash fuel costs if you can charge it at home and stick to short journeys. Whether you'll make the extra cost back will be very dependent on how you use it but
tax breaks
make these models especially attractive to company users. Those with a real eye to running costs many, however, want to look at pure electric options at this level, the
Polestar 2
a particular favourite and very tempting alternative at this price point. Other than that purchase and running costs are comparable with the
BMW X4
and
Mercedes-Benz GLC Coupe
it's priced against, though the
Porsche Macan
(which is closely related to the Q5 Sportback under the skin) hammers all of them on residual values and could potentially look more attractive on finance as a result.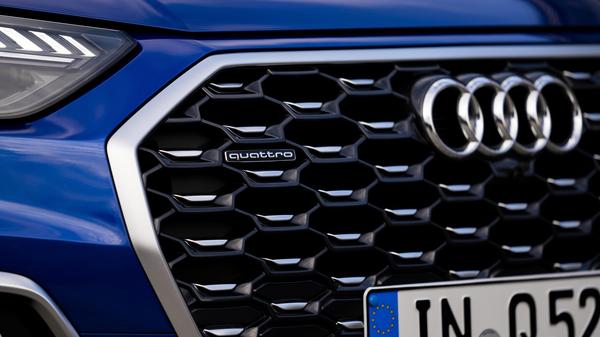 Reliability of a Audi Q5 Sportback SUV
For all the expensive image premium brands don't tend to fare too well on reliability rankings and Audi is no different from its rivals here, bumping along at the lower end of the tables. Cost of parts and repairs when things do go wrong tends to skew things against these luxury marques and is one reason they tend to do badly in these league tables. If anything does go wrong Audi offers a fairly standard three-year/60,000 miles warranty. You can extend this to four or five years at extra cost, which may be a wise precaution if you're committed to a typical 48-month
finance
deal.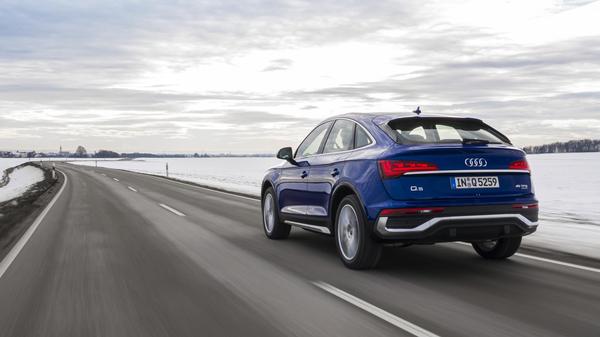 Safety for a Audi Q5 Sportback SUV
Like the
regular Q5
, the Sportback is a luxurious and high-tech car with plenty of safety equipment to keep you out of trouble and – should the worst happen – protect you and your passengers. As you'd expect these days, there's automated emergency braking, airbags and the usual safety kit, while a reversing camera with front and rear parking sensors are also standard. Disappointingly, if you want blind spot sensors, lane assistance, rear cross traffic assist and other such automated helpers you have to add them as options packs on all but the top of the range model.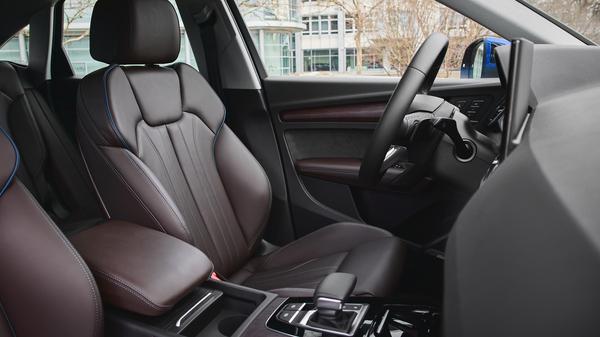 How comfortable is the Audi Q5 Sportback SUV
The Q5 is a comfortable car and – in its regular form – rightly popular for its combination of premium style and SUV practicality. The Sportback seemingly compromises on the latter a little given its sloping roofline, though Audi claims little impact on boot capacity and overall luggage room and claims space for five adults and their kit. Given the lumpy centre seat on the rear bench and roofline we'd say, realistically, any more than four will be a squeeze but the Sportback is basically equivalent in size and usefulness to the family hatchbacks we all used to drive in the age before crossovers and SUVs. It's worth noting that Audi expects you to pay extra if you want the best of the comfort and convenience features on the Q5 Sportback. So, you only get the fancy air suspension with its variable modes and ride height (higher for off-road ground clearance, lower for loading and motorway cruising) on more expensive models. We drove the standard Sport suspension and found it a little crisp around town on its 20-inch wheels. So, we'd suspect you'd be better off on the standard 18s and 19s if you can't stretch to the fancier air-sprung system. You also have to pay extra – or upgrade to a higher trim level – to get the full benefit of features like the 'Rear bench seat plus' with its through-loading capacity, backrest reclining function and sliding adjustment.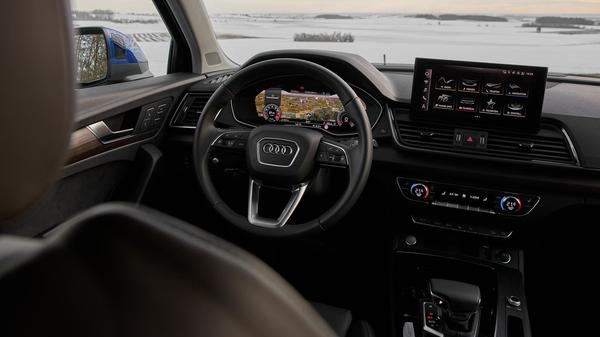 Features of the Audi Q5 Sportback SUV
In all its versions the Q5 Sportback impresses with the style and quality of its interior and tech, something Audi customers have long appreciated. Spot the recurring theme but if you want the best it has to offer you'll need to be dipping your hand further into your pocket, be that in options or upgrading to a higher trim level. This is no revelation given German premium brands have lived by this business model for decades but, suffice to say, if you're buying an Audi to impress the neighbours with features like the fancier Matrix LED headlights and configurable 'organic LED' rear lights it'll cost you more. Which isn't to say the standard equipment is mean, given it includes heated front seats, noise reducing 'acoustic' glazing for the windscreen, a power operated tailgate and Audi's fancy 'Virtual Cockpit' with its configurable screen in place of regular instruments. This works in partnership with a large central screen using the latest version of the brand's 'MMI' infotainment system and controllable by touch or voice. It's supported by a host of connected services to help with traffic, navigation and other information and can integrate with your phone wirelessly via Apple CarPlay, or through a cable if you're an Android user. The popular S line trim adds bigger wheels and various S-branded elements inside and outside the car while leather, fancier ambient lighting, enhanced sound systems and a panoramic roof are among the upgrades on the fancier trims.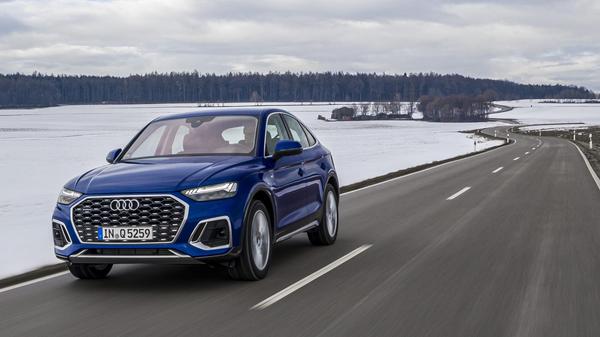 Power for a Audi Q5 Sportback SUV
Given recent trends it seems surprising Audi still puts such an emphasis on diesel engines in the Q5 Sportback, expecting the four-cylinder version to be its biggest seller and putting a bigger six-cylinder motor in its performance-branded SQ5 Sportback. Previous experience of these engines in other Audis suggests they offer a winning blend of performance and mpg, even if it's the less fashionable
fuel choice
these days. We meanwhile drove the 265 horsepower, four-cylinder petrol with mild hybrid assistance and the combination of turbocharging and that subtle electric kick give it impressive acceleration for a relatively small engine. It's also nicely refined. We've not tested them yet in the Sportback version but the two plug-in hybrid models offer this with an even greater contribution from the electric motors and ability to cruise on the battery alone for up to 38 miles. Two power levels are available, the 50 Quattro with 299 horsepower and 55 Quattro with 367 horsepower, and if you are smart in the way you drive and charge them you could stand to recover the extra expense over the regular petrol and diesel models, especially if you're a
company driver
.