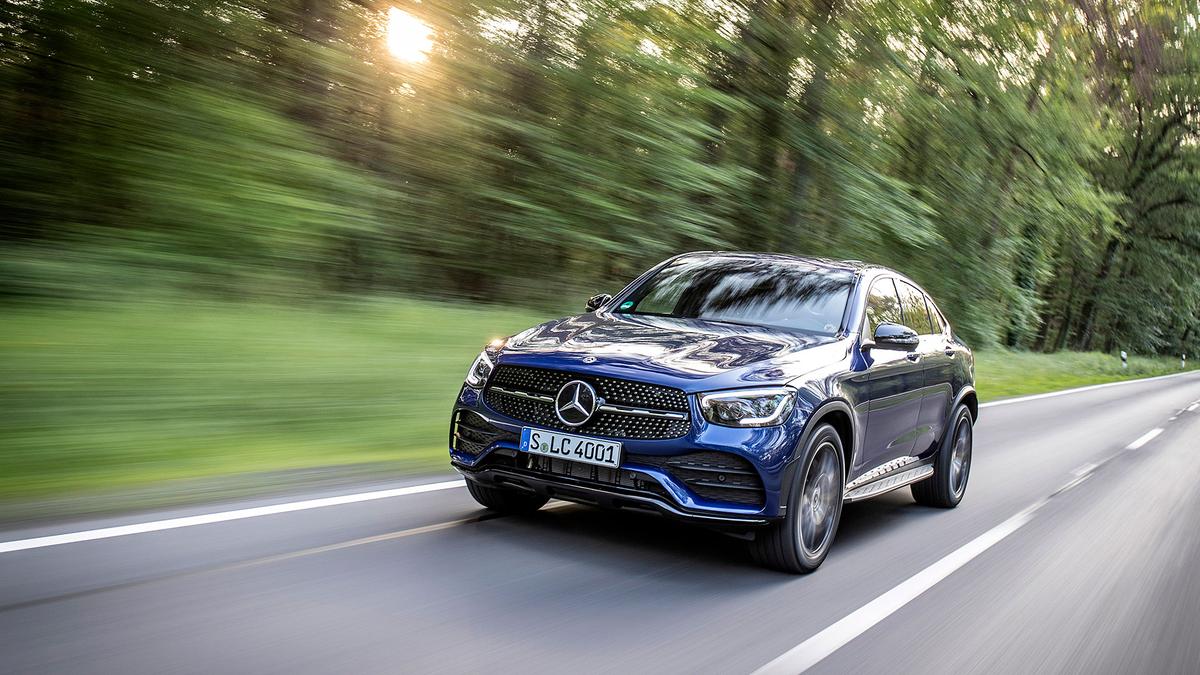 View gallery
The Auto Trader expert verdict: ★★★★★

★★★★★
4.0
The slinkily-styled Mercedes GLC Coupe will be less popular than its more conventionally-proportioned sibling, but for SUV buyers after something a bit different, it'll be a very compelling choice. It has handsome looks, desirability and quality on its side, and it also delivers very polished driving manners and an impressive amount of luxury and safety kit.
Reasons to buy
Interior is spacious and smart

Generous on luxury and safety kit

Good to drive
How good does it look?
Style is the main reason people buy compact SUVs like the GLC, and when the SUV you're talking about is one with swoopy coupe-like styling, style becomes especially important. It's good news, then, that the Mercedes is handsome enough to compete with its key rival, the BMW X4, as well as the more stylish offerings on the more conventional side of the market, cars such as the Range Rover Evoque and Alfa Romeo Stelvio. The standard Sport version has roof rails, privacy glass and 18-inch alloy wheels as standard, while the AMG Line cars add sportier body styling, 19-inch alloy wheels as standard and lowered suspension.
What's the interior like?
Climb into the GLC, and you'll find a cabin that's every bit as appealing as a big Mercedes should be. It's trimmed with high-quality materials and thoughtfully finished surfaces, and even if you hunt around, you'll struggle to find a single surface that lets the side down. It feels like a high-tech environment as well as a classy one, too, with a sharp, high-definition video screen on the dashboard, and another behind the steering wheel in the place of traditional dials.

Getting used to how everything works does take quite a bit of getting used to (not least because there are seven different methods by which you can operate the infotainment system including touchscreen, steering wheel controls, touchpad controller and voice control), but once you're familiar with it all, it works reasonably intuitively. There's loads of adjustment in the steering wheel and driver's seat to help you find a comfy driving position, but we hope that when we eventually get to try a UK-spec right-hand-drive model, the pedals aren't as offset as they were in the left-handers we've driven. The thick rear pillars and small back window mean your over-the-shoulder visibility isn't as clear as in some rivals, but it shouldn't cause you too many problems.
How practical is it?
First things first, the GLC Coupe isn't quite as practical as its more conventionally shaped sibling. The boot is smaller to the tune of about 80 litres, and rear headroom is a lot tighter, meaning that six-foot passengers may well feel their scalp scraping against the ceiling if they don't scooch down in their seat. That said, it's still practical enough to serve as a family car, with a boot that's still a very decent 500 litres and enough rear-seat legroom to allow the required amount of scooching. The rest of the cabin is stuffed full of useful cubbies, and the door bins are helpfully shaped to take two big bottles in each side.
What's it like to drive?
The suspension you get on your GLC depends on which version of the car you go for. Sport cars come with the standard suspension, the AMG Line cars come with a lowered setup. We haven't tried either on the current generation of GLC, but if the situation is the same as on the pre-facelift version (which it more-than-likely is), the lowered setup will jiggle and jostle you around in your seat more than some buyers would like.

Instead, we tried the current car on optional air suspension, which is a cost option on most versions (a pretty pricey one at that), and standard on the most powerful and expensive models. It's really good, altering the firmness of the suspension according to whether you select a sporty driving mode or a more sedate one. You can certainly feel the difference, but in truth, the ride stays nice and comfy whichever mode you find yourself in. Exterior noises are also really well isolated, helping even further towards a relaxed, peaceful atmosphere inside the car.

The GLC handles really tidily, too. It's super-grippy, the steering is weighty, responsive and reassuring and the body stays well controlled. You can feel the height of the car when you're changing direction, and it does feel rather heavy when you're braking, but overall, it still delivers a very polished driving experience.
How powerful is it?
The mainstream GLC models come with diesel engines, both Merc's latest 2.0-litre four-cylinder units, but with 194 horsepower in the best-selling 220d, and with 245 horsepower in the 300d. We haven't yet tried the 220d, but there's a lot to like about the 300d. It's generous power and muscle gives it a fair-old burst of pace when it's required, but the best thing about it is that it's so civilised. The engine is smooth, quiet and relaxed at all times, and it works really well with the smooth nine-speed automatic gearbox that comes as standard. The only petrol versions available are the super-powerful Mercedes-AMG versions, both of which have a twin-turbocharged V8. To be honest, it doesn't really matter whether you pick the 'standard' version with its mere 476 horsepower, or the S version with its 510. Both are ludicrously fast and sound absolutely fantastic.
How much will it cost me?
Look at the purchase prices, and the GLC isn't the cheapest option compared with an X4, but it is competitive on price once you factor in the standard automatic gearbox. It's also generously equipped for the money you pay. Resale values should be as solid as those of its main competitor's, too, which will be an important factor in reducing whole-life running costs. The GLC's published efficiency figures look to roughly be on a par with the X4's, although if you're nit-picking, its fuel economy looks to be a fraction behind. In terms of overall running costs, them, the GLC looks to be there-or-thereabouts with its main competitors.
How reliable is it?
In the 2019 JD Power UK Vehicle Dependability Study, Mercedes sat towards the bottom of the list in the manufacturer rankings, which could be cause for some concern. That said, the brand still placed higher than its main rivals in Audi, BMW and Jaguar, and the same has also been true in the same study over the last few years. Like other Mercedes models, the GLC comes with a three-year/unlimited mileage warranty, which is a bit more generous than the industry average.
How safe is it?
Every GLC comes with seven airbags and stability control, but the standard safety roster also includes a system that detects fatigue in the driver and advises them to take a break, as well as another that applies the brakes automatically if an impending collision is detected and the driver takes no action. A whole host of other clever driver aids are also available from the options list. These include a head-up display, 360 degree parking camera, and a pack of bundled driver assistance systems that allow the car to pretty much drive itself given the right circumstances. The car has been crash tested by Euro NCAP, and it achieved the full five-star rating.
How much equipment do I get?
We're yet to see detailed equipment specs for the latest GLC, but we have been given a brief overview of what each version will get. Sport models have voice control, heated front seats and parking assistance with reversing camera, while AMG Line adds the lowered suspension, beefier bodystyling and sports seats. AMG Line Premium adds a bigger instrument screen, ambient lighting, LED multibeam headlamps, smartphone integration and leather upholstery, while AMG Line Premium Plus models give you a panoramic sunroof, a stereo upgrade, keyless entry-and-go and memory seats. The AMG Line Premium Plus Ultimate gets air suspension and gesture control.
Why buy?
The GLC Coupe will appeal to anyone who's looking for a slightly different, more stylish take on the prestige mid-size SUV. It'll also appeal to those looking for a comfortable, practical, sophisticated and posh-feeling option. It's a very worthy adversary to the BMW X4, plus the more conventional choices in the premium SUV market.