News
Tesla opens Supercharger network to other brands
Superchargers now available to non-Tesla drivers – we test the theory on a visit to Manchester's Trafford Centre charging hub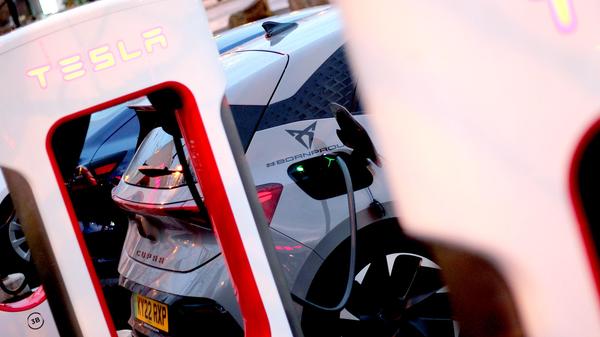 Words by: Dan Trent
Published on 10 January 2023 | 0 min read
While other drivers of electric vehicles fret about
limited infrastructure
, blocked charging bays and flaky apps the lines of shiny Tesla's proprietary Superchargers with their promise of constant availability and fast replenishment have been teasingly out of reach. Until now!
Building on a pilot programme that started last November Tesla has opened a selection of its 98 Supercharger stations in the UK to all
electric vehicles
, not just its own. Given many motorway services in the UK might have just a handful of points to plug in and reports of queues, out of order chargers and other issues the ranks of Tesla Superchargers have been a potent symbol of the brand's market-leading charging offer. And valid reason for a level of smugness among the satisfied Tesla owners using them. Seemingly that's now open to all, though. And to test the theory we took our
Cupra Born long-term test car
along to the Tesla Supercharger site at Manchester's Trafford Centre shopping mall to see if we really could plug in successfully. The fear for Tesla owners is, of course, that this previously exclusive access to the brand's network my see them queuing behind other EVs to use their 'own' chargers. But Tesla promises this won't be an issue and it will be carefully monitoring usage at the test sites to make sure its own customers still enjoy the first-class charging experience they always have.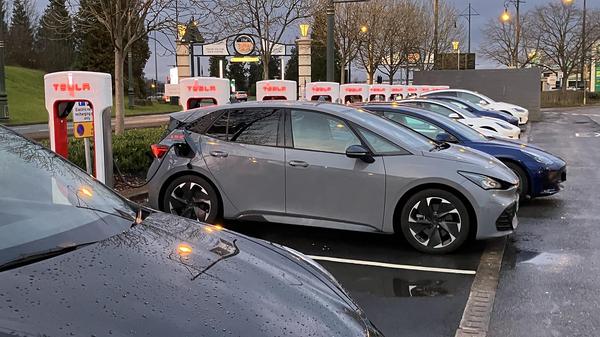 How do you charge a non-Tesla on a Supercharger?
For a non-Tesla driver you need to download and register your details with the firm's app before plugging in, this showing which sites are available to you and guiding you to the nearest one, doing this with a single click via the maps app on the iPhone we tried it with we could then follow through CarPlay on the Born. You can register for a monthly subscription that apparently brings costs down while the 79p/kWh pay-as-you-go rate (at time of writing) is at the upper end of what you can expect on other networks. Not cheap, but you pays your money and takes your choice.
With speeds of up to 150kW on V2 Superchargers and as much as 250kW on the latest V3 ones, plugging in at a Tesla station offers super quick charging to any electric vehicle with a compatible CCS socket, which are rapidly becoming the industry standard on most cars sold in Europe. Charging at that speed even a quick 15-minute stop is enough to add 150 miles of range to a
Model Y
, though rates vary from brand to brand and not every EV can top up that quickly.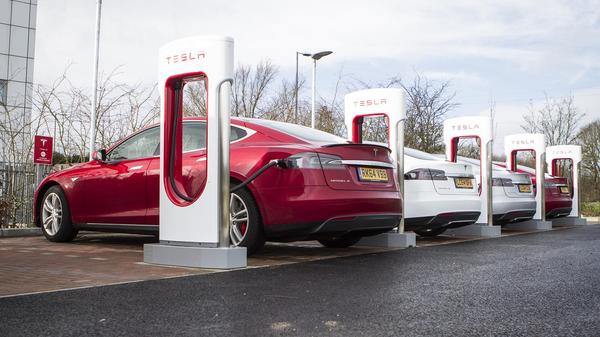 How much does it cost to use a Tesla Supercharger?
While Tesla owners are encouraged to charge considerately and even share an
etiquette guide
to that end there are some practical issues to charging a third-party EV on a supercharger. This is mainly down to the short cable to the charger, which has obviously been designed for Teslas but can be a bit of a stretch for cars that have their port in a different position. On the Born it's on the right rather than the left, which means using the 'wrong' charger for the bay and effectively taking up two spaces. Given most Supercharger sites seem to have many more chargers than cars using them this shouldn't necessarily be a problem, though it could be at busier times. Owners of other cars have reported difficulties getting close enough to plug in at all, while cars using the CHAdeMO port (like the early Nissan Leaf) may struggle, too.
As it stands Supercharger stations accepting non-Tesla charging can be found across the country, from Aviemore to Aberystwyth and in most major cities. Simply tap the "Charge your non-Tesla" tab on the app and it'll show the nearest one available. If this is on your regular travels it's a welcome addition to the public network, though it's worth remembering this is just a trial, Tesla will always put its customers first and if crowding becomes an issue access may be withdrawn. For now, though, we'll celebrate the increased choice. Take a look at our guide on
how to charge an electric car
for more information on topping up your EV at home or using public charging networks.