News
Coming soon: all-new Mercedes-Benz C-Class
Bigger, smarter and more connected than its predecessor, the all-new C-Class brings tech from the new S-Class to the exec saloon sector
SUVs and crossovers dominate the motoring landscape but there's still a big market for the traditional executive saloon and the C-Class has been Mercedes' biggest selling model for the last decade. An all-new version is therefore a big deal and brings with it new technology, including a plug-in hybrid version with 60 miles of electric range. Let's take it from the top…
Mercedes typically uses its
flagship S-Class
to introduce its latest technology and style, and so it is with the new C-Class, which takes a lot from its big brother. You'll spot that inside with Mercedes' new vertical central touchscreen that seemingly floats clear of the dashboard and provides your main interface with the car's many and varied systems. It will be available in two sizes depending on which trim you go for and is paired with an all-digital instrument display that – again – comes in two sizes. Experience of other Mercedes models suggests investing in the flasher of the two options is well worth it if you love your tech. The style is also very heavily influenced by the S-Class, but that's no bad thing given Mercedes is really on its game here at the moment.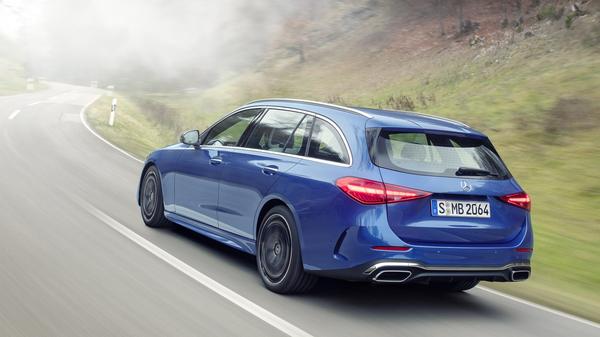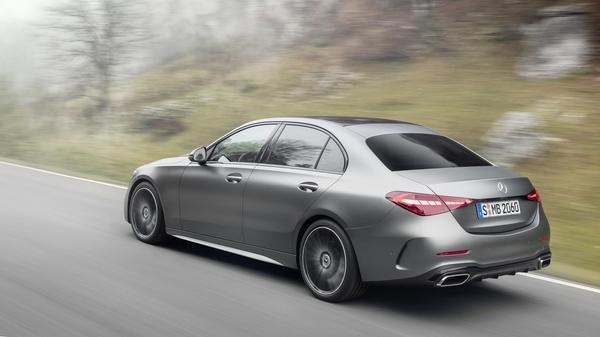 Second-gen voice-activated and fully connected 'MBUX' means you can integrate your life around your new C-Class, the 'Hey, Mercedes!' interface now able to identify different users by voice. A fingerprint scanner by the screen will mean different drivers can securely 'log in' to the car to access their own accounts and preferred settings, routes and similar. If you want you can even integrate MBUX with your domestic appliances via Mercedes' 'Smart Home', meaning you could tell the car to switch the lights on and set the heating while you're on the way home so the house is warm and welcoming on arrival.
It's not just a rolling tech hub, though, and the fully
hybridised engine range
is tuned for maximum efficiency. Based around four-cylinder petrols and diesels, all are 'mild hybrids' capable of coasting with the engine off and, in the petrol engine's case, boosted by turbo technology developed with the Mercedes F1 team. All come with an automatic gearbox as standard.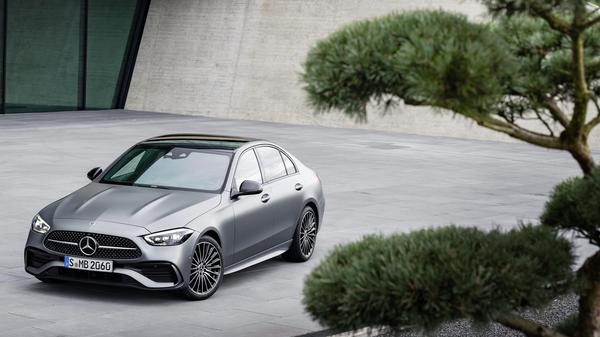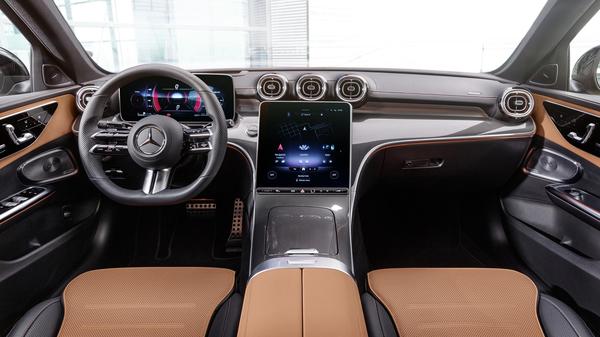 The really interesting version is, however, the new plug-in hybrid with its 60-mile all-electric range. This is double what most equivalents offer and means you could very well drive the new C-Class as an EV most of the time without even waking the petrol engine, thanks to a battery not far off the size of those used in pure electric vehicles. For those not yet ready to commit to going fully electric – or who need the flexibility of long-range, internal combustion power on occasion – this will really set the new C-Class apart from rivals like the
BMW 3 Series
,
Audi A4
and others. The system will be available on saloon and estate versions of the new C-Class, both of which are due on sale later this year.