News
Coming soon: 540hp Alfa Romeo Giulia GTA
Uprated limited-edition version of the Giulia Quadrifoglio boasts extra power, F1 aero and – in its most extreme form – stripped out two-seat interior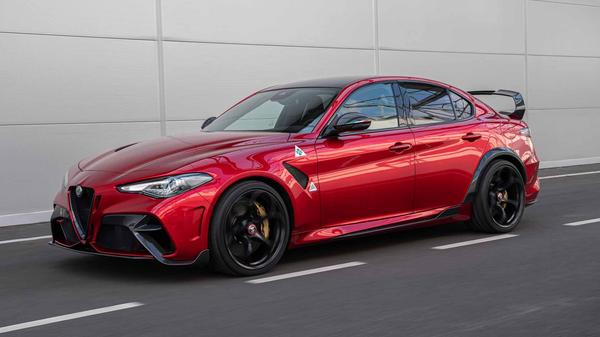 Words by: Auto Trader
Published on 4 March 2020 | 0 min read
The Alfa Romeo
Alfa Romeo Giulia
GTA is another car forced into an online debut after its moment in the spotlights at the Geneva show was stolen after the event's last-minute cancellation. No matter, we have the pictures and all the information and – in stark contrast to the EVs and hybrids everyone else was going to show – Alfa Romeo has created an even more extreme version of its already formidable
Giulia Quadrifoglio
. Named after the celebrated Giulia Sprint GTA of the 1960s, Alfa Romeo's use of this esteemed badge is aimed squarely at enthusiasts and has been dusted off to help celebrate the brand's 110th anniversary.
Following the pattern set down by the
Jaguar XE Project 8
, the Giulia GTA is a four-door saloon with the rear bench stripped out and a roll cage in its place. With two race seats up front and six-point harnesses this most extreme GTAm version is basically a saloon car alternative to track-focused sports cars like the
Porsche 911 GT3
with performance to keep them honest on any circuit. Extensive use of carbon fibre panels, plastic windows and a titanium exhaust system saves up to 100kg of weight while the tyres and suspension have been upgraded with a view to owners enjoying the car to the full on track.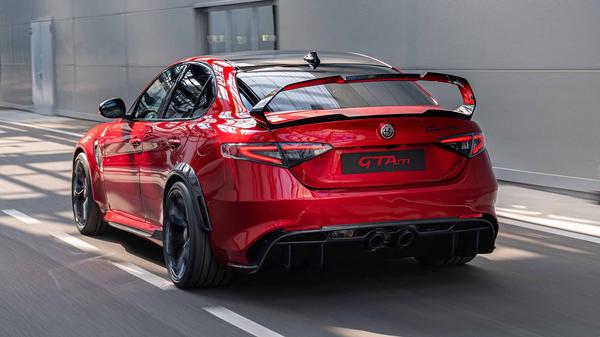 The Ferrari-derived twin-turbo V6 engine has also been uprated from 510hp in the standard Quadrifoglio to 540hp, reducing the 0-62mph time by two tenths to just 3.6 seconds while the huge front splitter and imposing rear wing (developed with F1 partners Sauber) promise extra downforce to pin it to the track through the corners. In place of the rear seats a special carbon fibre tray will hold your race kit, the car coming with a GTA-liveried helmet and Alpinestars race overalls included in the price. You'll also get tuition in how to make the most of it on a dedicated course from the Alfa Romeo Driving Academy.
If the idea of a two-seat saloon car with a roll cage strikes you as a little silly but you still fancy the extra performance the stripped out GTAm version will be offered alongside a more road-oriented GTA option, which keeps its back seat, features less extreme aerodynamic parts and be closer in spirit and usability to the standard Quadrifoglio. But with combined production of both models limited to just 500 examples we'd expect most buyers – many of them collectors in all likelihood – to opt for the more extreme version.