Long Term Review
Living with a… Vauxhall Astra Plug-In Hybrid (Final report)
Vauxhall's bold new Astra suggests a return to form – we're testing the theory with six months in the latest plug-in hybrid version

Words by: Erin Baker

Additional words by: Hannah Hill
Last updated on 31 May 2023 | 0 min read
Vauxhall has restyled its range and the result is nothing short of fantastic - these are cars that you now actually want to own. The
Astra
in particular has a really sharp, aggressive face, with lots of glossy black surfaces, razor-thin headlights and a black Vauxhall badge at the rear that doubles as the boot handle. It's like a return to the halcyon hatchback days, when everyone understood such cars were a lot of fun to own and drive around town,
Wham!
blasting from the stereo. A return, in fact, to the 80s. But just the good bits. It's two fingers up to the wider trend for SUVs and crossovers and, for that alone, is off to a strong start.
Skip to:
Month 1 - Less haste, more speed
Month 2 - Potholing
Month 3 – On a charge
Month 4 – Switching on to plugging in
Month 5 & 6 – A change of lifestyle
What is it?
Model: Vauxhall Astra
Version: Plug-In Hybrid
Spec level: Ultimate
Options fitted: premium metal paint (£700)
Price as tested: £39,550
We like
Easy charging timer
20-miles electric driving
Boot space
We don't like
Over-optimistic claims for electric range
Interior styling
Slow transmission button
Month 1 - Less haste, more speed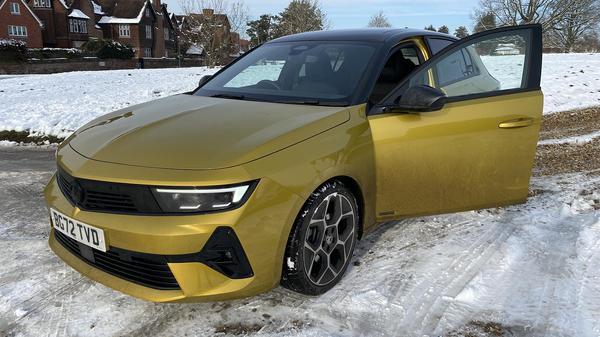 As you'll have picked up from the enthusiastic intro the Astra makes a great first impression. But what's it like underneath? Just as good, thankfully. Vauxhall is now part of the wider Stellantis conglomerate along with the likes of Peugeot, Citroën, Alfa Romeo, Fiat and others, meaning access to various shared technologies, engines and more. It doesn't join cap in hand, though, and has a broad portfolio of products to throw into the mix, this Astra and its
Sports Tourer estate version
leading the way.
Our
plug-in hybrid version
, with its combined 180 horsepower from petrol engine and battery, is perky. Although Vauxhall is just about to launch a 225 horsepower version under its
new GSe 'sporty hybrids' badge
, which would be more fun. Saying that, even in this lower-powered one when you set off with a charged battery and the car automatically puts itself into electric mode the spurt of energy can be enough to overwhelm the front wheels and have them spinning. We also don't like the way the automatic transmission is set up and the way it doesn't allow you to toggle from Drive to Reverse in a hurry. We often seem to be in a hurry to get out of parking spaces or needing to make rapid U-turns when we get impatient in traffic and, in those circumstances, the shifter defaults from D to N rather than going all the way in to R. Which is driving us nuts. More haste less speed is probably the answer, but, well, you know how life goes…. Another irritation is the widespread industry habit for quoting maximum possible electric range, instead of real-world range. If Vauxhall told its customers they'd get 20-30 miles from one charge I think we'd be less annoyed than swallowing the marketing hook of 40 miles and then finding that, especially in cold weather, you can't get above 20 miles. In the snowy conditions we've had with lights, heater and wipers all on full it was more like 18 miles, or enough for the two trips to school and the supermarket a day, then gone. Luckily, that daily need to charge is less of an issue in Vauxhalls than other electrified cars because its charging timer is so wonderfully easy to use. It should be the blueprint for all other brands. There's one button in the car to get you to the electric screen, then you touch the timer graphic, swirl the dials to get to the time you want it to start, plug it in and press the timer button next to the port. The light goes from green (charging) to blue (on timer to charge) et voila. You can't imagine the rigmarole some other cars demand, assuming they even have the feature at all. And if your home charger doesn't have its own programme function you're stuffed. This is important good practice for
home charging
as our off-peak energy tariff runs from midnight to 5am, which is plenty of time for the little plug-in hybrid battery to charge so we can start the day knowing we have 20 miles of electric driving. Should you want the engine to kick in sooner, you can push the Drive Mode button to select Hybrid or Sport mode. Easy as.
Back to top
Month 2 - Potholing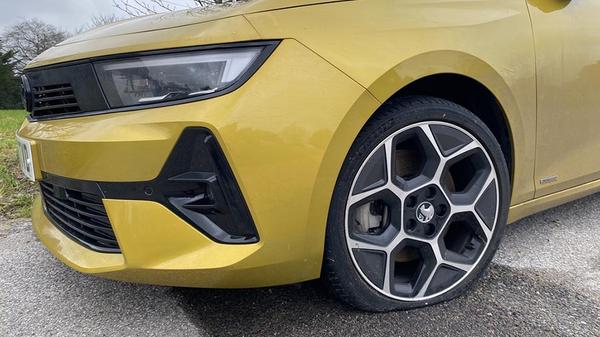 It's been an eventful month with the Astra. First of all, it had a very sensitive alarm that went off most mornings when there was any dew on the car. I'd drive the kids to school, park and lock the car to walk the dog and be stymied 10 steps up the road by the alarm going off. Again. We rang Vauxhall, who came to collect the car and adjust the alarm. Obviously, I realise having access to the Vauxhall PR department is a major perk of the job and they always deal with annoyances like this with impressive alacrity. Let's hope it's the same for customers… Anyway, it was adjusted and hasn't gone off since. And, before you ask, I don't think they just turned it off.
The second problem was more serious. Given the state of our winter roads we won't be the only ones but, long story short, we hit a pothole at about 40mph coming back from the station late one night. There was a horrible thud and a flat front tyre almost immediately. We managed to pull off the road and I walked the kids and my mother the last half mile home while my partner tried and failed to get through to Vauxhall's emergency breakdown number, which is provided by the RAC. The Astra has no spare tyre. After 15 minutes on hold to the RAC in the freezing darkness, he gave up and we both tried our AA membership. The number was busy but we logged the entire incident with impressive ease on the AA app. Via text they informed us a truck would be with us in about 90 minutes, so my partner walked back home too, which of course immediately downgraded us to non-urgent. At 2am the AA rang back to tell us it would be 8am before anyone got to us. When the poor AA guy did arrive we discovered there was no locking wheel nut in the car - a frustratingly common problem for drivers. He also told us about 80 per cent of his call outs that day were for pothole damage. Without the locking nut all he could do was tow the car to a garage or home. We rang the local Vauxhall garages but they said they wouldn't be able to fit us in for a week, so we got a tow home where I rang the lovely Mike Arnold at Vauxhall's parent company Stellantis. Mike looks after all of us hapless journalists testing Stellantis cars who don't know where to turn when a locking nut is missing. Mike sent a tow truck a couple of days later, they took it back, replaced the wheel and now we have it back, all shiny and new again. Praying for a less eventful time with it next month.
Back to top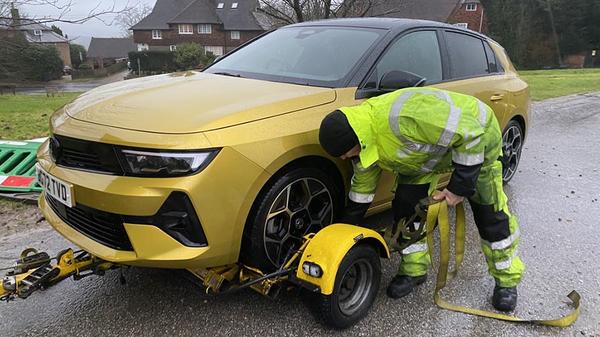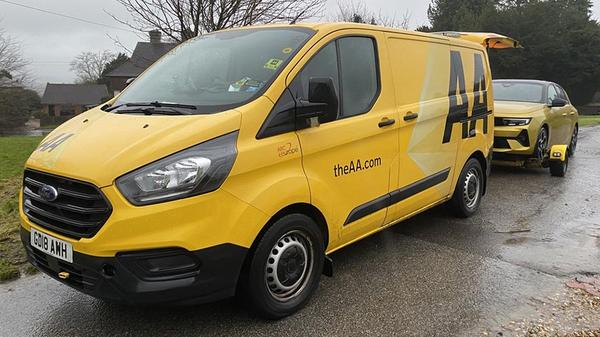 Month 3 – On a charge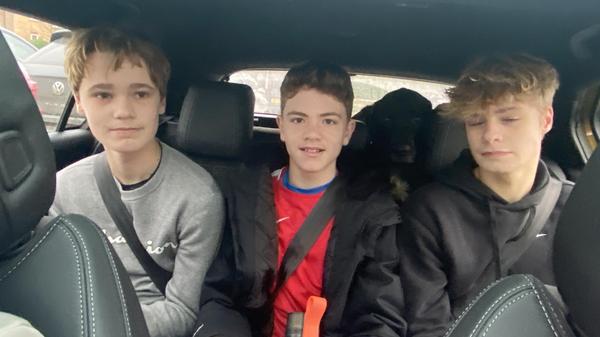 Thankfully a less eventful time with the Astra
than last month
. And thankfully for everyone with an electric or plug-in hybrid car the temperature has started to rise as spring beckons, too. With a 100 per cent charge on the car it gives my maximum electric range as 23 miles, as opposed to 18 miles when it was hovering around freezing outside. Both of which are falling a little way short - after the five-mile school run and a 12-mile round trip to the gym I'm running on empty and the petrol engine has kicked in. Even with my shoddy math, I can work out that's 17 miles. And that's with an outside temperature of nine degrees and no heated seats or steering wheel, with the air-con at 20 degrees and the lowest fan setting.
Vauxhall isn't particularly bad in this regard, given no car brand gives accurate figures for its battery range in the cold, I'm afraid. One other annoying feature of the Astra, which I could probably shut up if I could figure out how, is the ping the screen makes when it switches from an information display to the front and rear parking cameras and back. My drive and the access road to the kids' school are both narrow, and the car's screen pings constantly as it switches display when manoeuvring along them. We also aren't very keen on the keyless entry whereby the car unlocks as you approach it if you have the key on you, and locks as you walk away. My car sits outside the house and I walk past it a lot during the day with the keys still in my pocket. As a result it's constantly locking and unlocking (and beeping) as I go past, which is annoying. All of which would make you think I'm not liking the Astra. But I am. I love that yellow paintwork and the kids think the black badge is cool. Last week we even took all three hulking teenagers in the rear to Parkrun in it, plus the dog in the boot. Win.
Back to top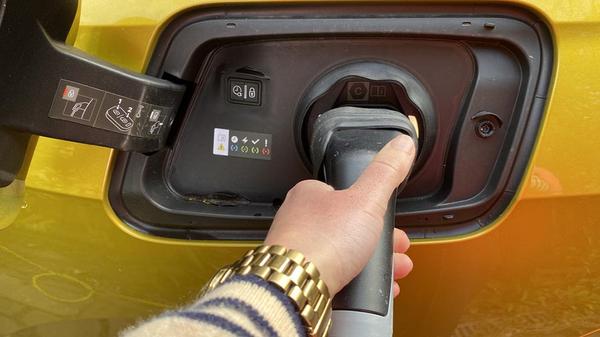 Month 4 - Switching on to plugging in
Loving living with a plug-in hybrid. We can't understand why they account for so few sales in the UK, other than the fact they don't score the same massive tax break
company car users
enjoy on pure electric alternatives. Indeed, this
Benefit In Kind (BIK) saving
saving means company cars account for two thirds of pure EV sales. Plug-in hybrids are still a lot cheaper for company car drivers than petrols, diesels or regular hybrids but, even so, seemingly more geared toward your average private driver/owner.
If you've got off-street parking and can have a home charger fitted they're brilliant, though. We plug in every night to top up the little battery on our ultra-cheap, off-peak tariff that runs from midnight to 5am, and very rarely need to tap into the petrol tank. But, when we do, it's a massive relief to have it, and means when one of us has to do a motorway work trip round the M25 we aren't stuck with an EV that can't get us there and back on a single charge. So we use the Astra a lot, especially in situations that would leave pure EV owners sighing and setting their alarms an hour earlier in order to fit in an expensive motorway services charge half way through the day. Also, now we're heading out of sub-zero temperatures, the maximum range showing with a 100 per cent charge has risen from 18 miles to 22 miles. Whoop. Major excitement. When driving in electric mode we're getting about 3.4 miles per kWh as well, which is pretty good 'fuel economy' by this electric equivalent of the miles per gallon many drivers still use as a measure of efficiency. The sluggish shift between drive and reverse on the gear selector is driving my partner and I nuts, however. So often we're in the middle of a speedy parking manoeuvre and we find ourselves stuck in the middle of the road, flicking the lever more than once to move into reverse. It's probably safer that way and designed to stop you inadvertently slipping between positions, but it drives us both bonkers. Maybe we both just need to take a chill pill. I finally introduced my partner to Sport mode the other day as well, which I'd not done previously because otherwise he'd use it all the time and bash through the electric charge in about 10 miles. Predictably, he loved it. And it actually took him by surprise because it adds some real alacrity to the character of the car, which speeds up considerably as you're pootling along. Fun times.
Back to top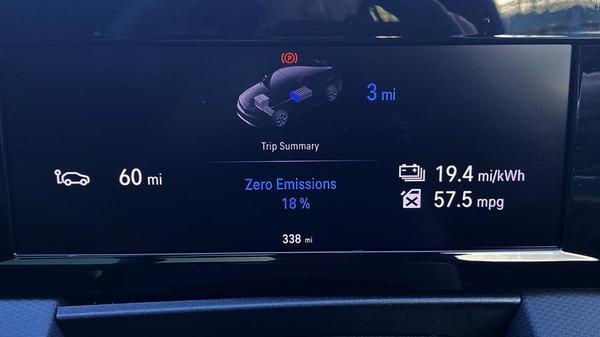 Month 5 and 6 - A change of lifestyle...
As I take over for the conclusion of the Astra's term, it's important to point out my lifestyle and what I look for in a car differ from Erin's. Given the ease with which she could plug in at home and her pattern of short daily commutes within the 20-mile electric range she could enjoy the Astra pretty much without firing up the petrol engine, other than for longer trips. .
Turning that on its head with no
home charging point
I have mainly used the
Astra
more as a conventional combustion car. And that's not great for fuel economy because you're just lugging around a dead battery. But aside from that, I enjoyed the spec with its black design elements and an array of useful features. Here are my observations. I may not have kids, but I tend to carry just as much luggage as they bring! So, the only time I used the back seats was when I packed the car up to drive to Devon for the bank holiday weekend. To get any benefit of using the battery I had to plan to stop at public charging points on route to and from destinations. And if you've entered the EV world at all, you're undoubtedly familiar with the fact that unless you own a Tesla, a lot of public chargers are either faulty, in use or out of service… which gets very frustrating. No fault of the car itself though and I wasn't going to let this deter me from charging up as a way to help reduce my overall running costs. Initially, I had high hopes of how often I would charge the car but, in reality, I think I did it twice across the six-week period I had it for. And without that home charging option you'd need to make a real conscious effort not to get lazy and just drive it around as a petrol car. Living on the outskirts of London, public transport into the city is far more practical so I only use a car for travelling longer distances. These trips are anywhere between 50 to 200 miles visiting family and friends, meaning my use of hybrid system didn't seem significantly economical. In terms of cost and longer stops at public charging points, I didn't see the huge benefit in charging, especially if I didn't necessarily have to. Plus, fast public chargers are expensive! I found that for the sake of 20 miles of electric range, driving around trying to find one that worked reliably was literally more trouble than it was worth. The plug-in hybrid aspect of the car, which works great for some, just didn't work out for me to live with. Driving the Astra, as a whole, was a different story. It coasted along very smoothly on the motorway, and I got really comfortable driving it on longer journeys. As an automatic, it was pleasantly easy through traffic too. The 360 panoramic parking cameras and sensors, as well as keyless entry and start, were two features I particularly appreciated in this car. I parked like an absolute pro, and I never had to rummage around my bags to find exactly where the key was. Generally, it produced minimal road noise, but the gear selection was a bit delayed at times which was frustrating. The engine was noisy if I put my foot down too hard and it made me look like a bit of a boy racer setting off at the lights. After thinking I wouldn't touch them, I used the paddle shifts when the gear change was a little slow and this helped. The Astra perked up when I wanted it to and dabbling in sport mode when I had to shoot off on quick trips switched things up behind the wheel. The versatility between being able to drive it very economically but then also having fun with its sportier side is one of the main reasons I enjoyed the Astra as much as I did. Even if you don't charge the car as much as you intend to, the ECO mode does that extra bit to increase the car's fuel economy. Apple CarPlay is a must for me in any car now as seamless connection with my phone is a priority. Despite having the latest iPhone 14, the bigger sized Pro Max I have didn't seem to fit the wireless charging pad. The charging was temperamental, so this is worth to bear in mind if you have a larger iPhone, as I ended up using a USB lead instead. There were a few sunny spring days where I did actually use the electric sunroof and enjoyed it. I probably wouldn't call it panoramic though, as the sunroof itself is quite small but you can decide whether you'd pay an extra £850 for the luxury of a natural breeze and a tad more sunlight. In summary, Erin and I have loved having this sporty, good-looking hatchback for the past six months. The plug-in hybrid makes a lot of sense if your lifestyle suit this kind of car and you're best set up to accommodate one. For me, it's been a learning curve in terms of ways you can adjust your habits to live with one most efficiently. It's easy to fall into the habit of not charging, but by making conscious decisions when it comes to regular charging then a plug-in hybrid can still be compatible with longer distances.
Back to top