Long Term Review
Living with a… Skoda Karoq
The Skoda Yeti was one of the most popular compact SUVs of its era, and its replacement, the Karoq, has lots going for it, too. Auto Trader's Road Test Editor Ivan Aistrop is spending six months with one to try to figure out the reason behind the immense popularity of the SUV.
Month one: Not-very-dedicated follower of fashion
Mileage: 800
Costs: £0 Anyone that knows me will tell you I'm not really one to follow
fashion
. Pretty much every scrap of clothing I own is selected purely for its comfort rather than any aesthetic quality, and most of them are several years old and full of holes. Indeed, m'colleague Phill Tromans put it rather nicely the other day when he said: "You're very loyal to your clothes, aren't you?" This complete and utter disregard for fashion means I don't really get why the car-buying public seem to be absolutely obsessed with
SUVs
at the moment. You see, it's their
off-roader
-esque styling that makes them so ridiculously popular, but most of them don't have
four-wheel drive
or hill descent control or anything like that, so the styling is just for show. So – looks aside – what does your average SUV do that your average family
hatchback
doesn't? I figured the best way to find out was to spend an extended period of time with one, and obviously, I thought it wise to go for one of the best of the breed. The
Skoda Karoq
is still a relative newcomer to the compact SUV class, having replaced the extremely popular Yeti last year, but it has a level of all-round talent that few rivals can match. This approach of trying to get into buyers' minds also applies to our choice of engine. Since the world seems to hate
diesel
these days, we opted for a petrol, a rather nice 1.5 turbo with 150 horsepower and a combined fuel economy figure of around 52
mpg
. We also decided to stick with the six-speed manual gearbox rather than spend the extra on the seven-speed twin-clutch
automatic
(much to the annoyance of my missus, who loves an auto').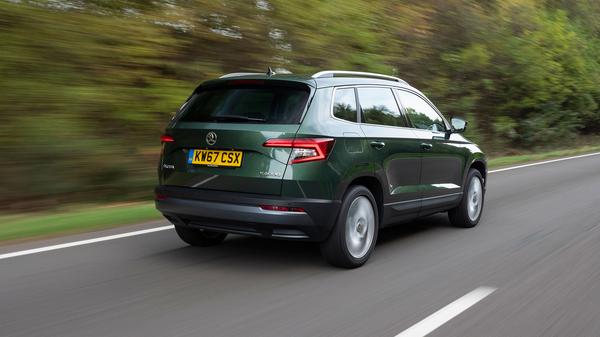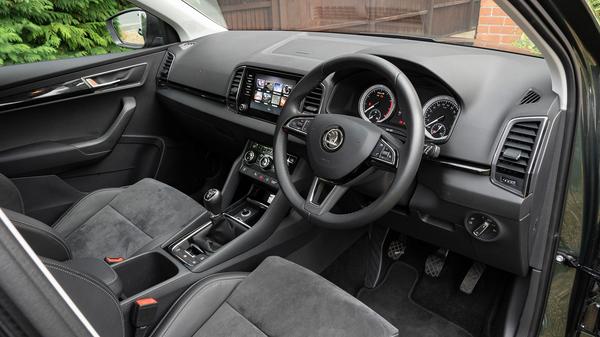 We allowed ourselves to be a little more frivolous with our choice of trim, though. The base-level SE car already comes with essentials like alloy wheels, four electric windows, remote locking, cruise control, Bluetooth and a DAB radio, along with quite a few
luxuries
like dual-zone climate control, rear parking sensors and automatic lights and wipers. However, we made the upgrade to SEL trim for its sat-nav, clever LED headlights, front parking sensors, rear-view camera, selectable drive modes, posher suede-effect upholstery, heated front seats and clever 'Varioflex' rear seats that make the car more versatile. And it'll need every ounce of versatility (not to mention,
durability
) it can muster if it's going to cope with my
two young kids
.
We didn't go too bonkers with optional extras, though. The heated windscreen and washer nozzles were always going to be a must-tick, and come the winter months when everyone else in my street is getting busy with their ice scrapers while I just push a button and drive off, it'll feel like the best £275 ever spent. Our most expensive option was the rather fetching Emerald Green metallic paint, costing £595. So far, life with the Karoq is all going rather swimmingly. It's nice to drive, nice inside, solidly built and – as discussed – comes with all the creature comforts I could ever want. What's more, I've never been more fashionable. And that's a good thing. So I'm told.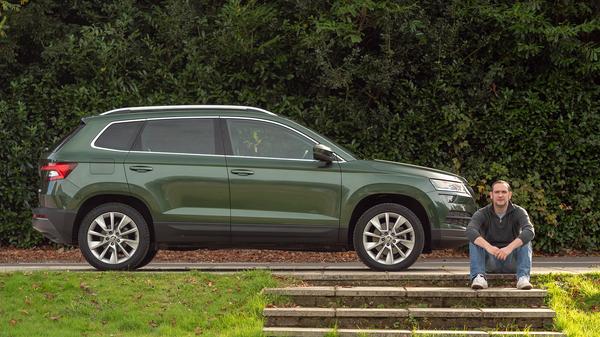 Month two: Simply clever, simply brilliant
Mileage: 1400
Costs: £0 Ask any family car buyer what they want from their family car, and to a greater or lesser extent, they'll all tell you exactly the same thing: an easy life. After all, ferrying the family around can be demanding enough on its own, and anything your car can do to ease the burden can make all the difference. That's why the Karoq stands out against the dozens of other SUVs out there of a similar size and shape. Like other Skodas, it's absolutely packed with clever little features designed to make life that little bit easier, and when you find yourself in a position to need them, you'll really appreciate them. Some of them aren't exactly revolutionary. I mean, there are plenty of cars out there that have cupholders and lidded storage boxes aplenty, front door pockets that'll house a 1.5-litre water bottle, foldable picnic tables in the back and cargo hooks in the boot for keeping your shopping bags upright (although I must say the size and robustness of the Karoq's make them rather better than your average cargo hook). A few things are truly revolutionary, though. Not because they're particularly complicated in the way they work – in line with Skoda's 'Simply Clever' moniker, most are very simple – but more because they're really well thought out.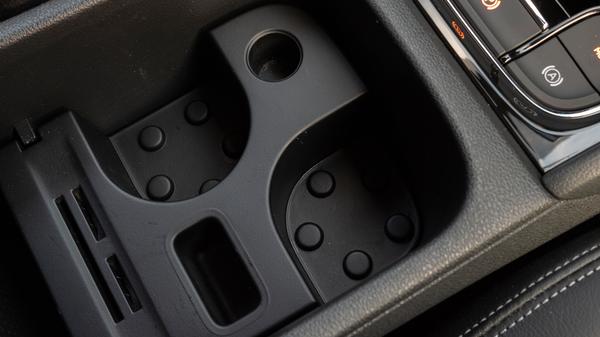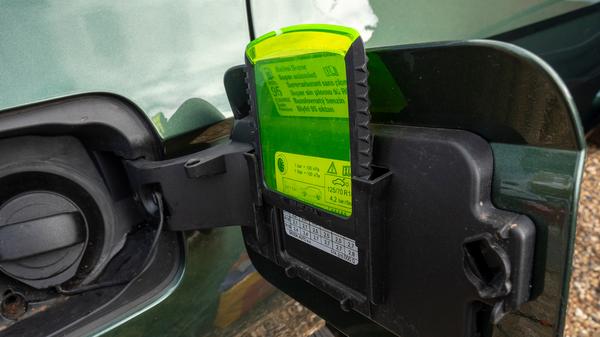 Perhaps the best example is the bottle-holders in the centre console that have a grippy lining on the bottom that allows you to unscrew a bottle top with one hand for when you get thirsty at the wheel. Genius. It's a similar story with the umbrella that's hidden away in a bespoke storage compartment under the front passenger seat, and the detachable boot light that can be removed and used as a torch. Simple, but very effective.
One of my favourite touches, though, has to be the ice scraper concealed under the fuel filler cap. As someone who spends much of their time jumping between different cars, I've nowhere convenient to keep a conventional scraper, meaning I never have one to hand when I need it. The Karoq totally cures that in one fell swoop. What's more, I've complemented this standard feature with the optional package of a heated windscreen and washer jets, so
frosty mornings
become even easier. I simply hit a button on the dashboard, retrieve my scraper, lazily scrub away the ice on the side windows, and by that time, the frost on the windscreen can be swooshed aside with the wipers. So, by the time my neighbours are barely halfway through chipping away at their glazing, running the risk of frost-bitten fingers, I'm already
on the road
. I don't get many opportunities to feel smug these days, so these small victories always serve to improve my mood. And that's always a good way to start the day.
Month three: First-rate for families
Mileage: 2600
Costs: £0 In last month's report, we talked about the numerous 'Simply Clever' features that make the Karoq exceptionally family-friendly. However, the truth is that overall practicality is about much more than just folding tables and a few cargo hooks. After all, practicality is of critical importance with a car like this, because it's a big part of an SUV's appeal. Why? Because buyers see SUVs as a way of getting the practicality they need, but in a
stylish
, desirable package. So does the Karoq provide that practicality a
family
needs? In the case of my family, which consists of myself, my eldest Felix (4), my youngest Bess (2) and my partner Anna (age withheld so I don't get punched), yes it does.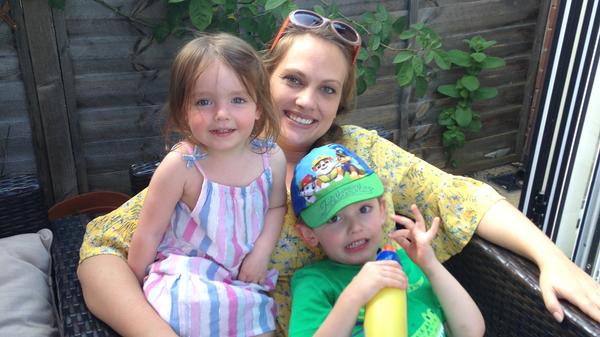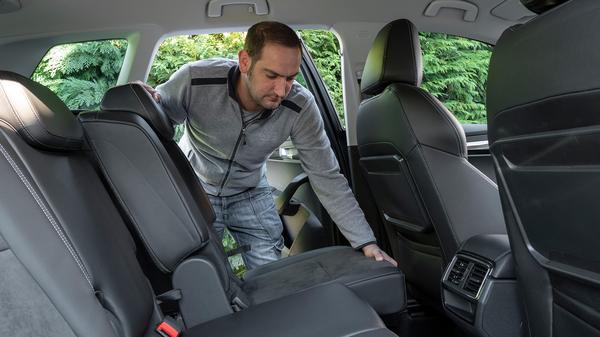 Firstly, the cabin is plenty roomy enough for all of us. There's loads of space up front for two (usually exhausted and slightly irritable) adults, and enough in the back for the little'uns to fit inside their bulky child seats without being in kicking distance of the front chairs. Any parent will know how important that is. Moving the sliding rear seats forwards does bring our chairs within walloping range, but during our time with the car, we've hardly ever had the need to utilise that function.
That's largely because the
boot
is a very decent size at 479 litres (588 litres with the seats slid forward), so it can usually handle anything we need to carry – including buggies, balance bikes, bags and boots – without us having to rearrange the furniture. The only exception I can recall was during a trip down to Dorset for a family holiday when we were loaded up to the gunwales with all the stuff we'd need to survive a week in a rented cottage with two toddlers. Of which there was a lot. And regardless of where the chairs were set, the fact everything fitted at all was a minor miracle. For really big loads – and for when you don't have the offspring in tow – the Karoq also has another trick up its sleeve. Like with most cars, you can fold the rear seats down, which frees up a lot of cargo space but leaves a big step in the load floor, and you can level that step out by tumbling the chairs forward. However, with the 'Varioflex' seating system that comes as standard on our SE L trimmed car, you can maximise cargo space by removing the rear seats entirely: you simply unclamp them from the boot floor and lift them out.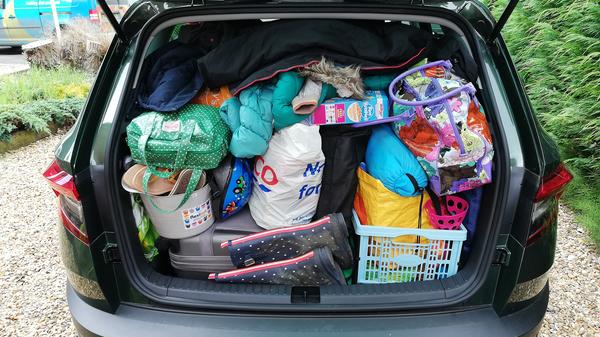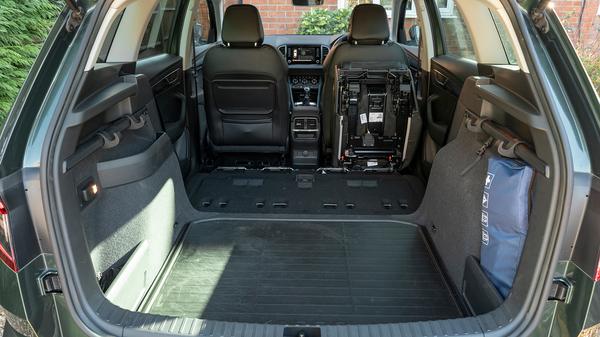 I say simply: the unclamping process is pretty easy, but the lifting of the heavy seats takes a fair bit of muscle, not something I'm naturally endowed with a lot of. It also assumes you have somewhere to store them in the interim, and if anything, lifting them back in is even more disc-slippingly difficult. Still, at least you have that option, even if you shouldn't need it very often.
In my mind, though, all this addresses the question I asked at the very outset of my time with the Karoq: is an SUV really any more practical that a similarly sized hatchback? After all,
not long ago I ran the latest Honda Civic hatchback
for the same six-month period, and it had a very similar amount of cabin space and the size of the boot was virtually identical at 478 litres. The
Civic
is one of the most practical hatchbacks out there, but the point still stands. The thing about practicality, though, is that it's not just about space: it's also about versatility. Those clever rear seats give you all sorts of options about how you use that space, and with the varying demands of family life, that can be essential. Chuck in all those other 'Simply Clever' features, and the Karoq has pretty much any hatchback you can think of absolutely licked for practicality. However, it's worth remembering that while the Karoq does have a practicality edge over the humble hatchback, it's one of the few SUVs that does. Most really are little more than jacked-up hatchbacks, but the Karoq offers a lot more in that area, making it one of the most practical cars of its type.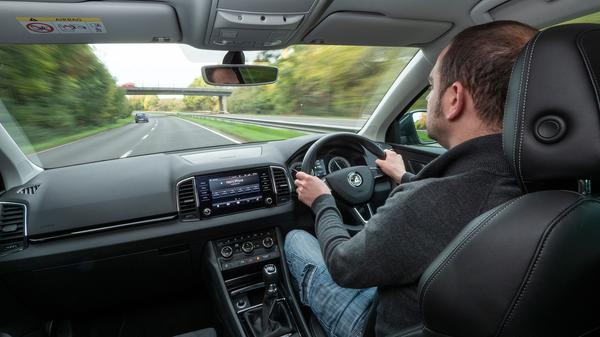 Month four: It's not just the practicality that impresses
Mileage: 3800
Costs: £0 Up until now, our reports on the Karoq have concentrated mainly on how practical it is, an area in which it largely impresses. This month, though, we're going to have a look at some of the car's other impressive qualities. Funnily enough, that word 'quality' is a good place to start, because the Karoq's cabin has some real polish. Most of the materials on show look and feel as classy as you'd find in any Volkswagen (Skoda's parent company), while the various switches and buttons also have a solid, slick feel, making the Karoq feel like a properly posh product. The big touchscreen
infotainment
system in our SE L-trimmed car also lends a hi-tech flavour to proceedings, and with simple, logical menus, it's pretty easy to use as well. In fact, the ergonomics are generally very good in the Karoq. The various switches are easy to find and use, and there's a good view out in every direction. This clear visibility really helps you keep yourself out of trouble, and it's also nice to know that the generous standard
safety
equipment you get – which includes a shedload of airbags and automatic emergency braking – gives the Karoq a five-star Euro NCAP safety rating.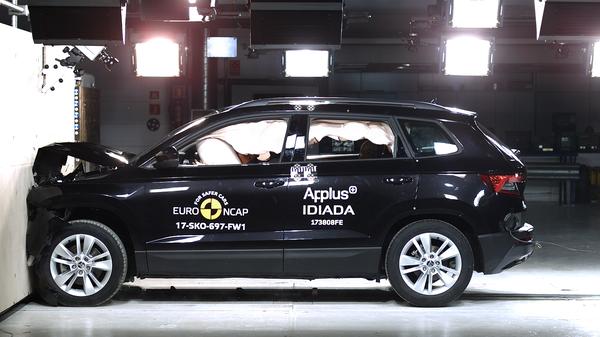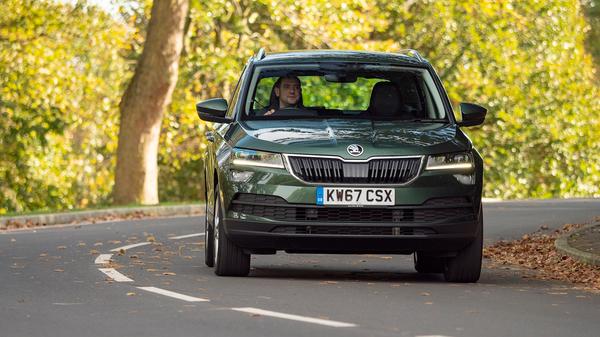 It also helps that the Karoq is a really nice car to drive as well. It's an impressively comfortable car, meaning you and your brood can cover
significant distances
without fuss. For those occasions where you don't have the kids on board, there's still enough control in the suspension to help the car feel alert and lively in corners.
I'm really glad we chose the engine we did, too, because it's a real cracker. The 150 horsepower, 1.5-litre turbocharged petrol gives me all the flexibility I need for an easy life, and when I can be bothered to work it a bit harder, it's capable of a fair old squirt of pace, too. It's also smooth and quiet, which helps make the car feel more civilised – in fact, it's generally pretty good on that score – and because it can shut off two of its four cylinders when it's not working very hard, it's a lot more economical than it'd otherwise be. In theory, at least. We've been getting an average of 34mpg so far, which is some way short of the 52mpg claimed by the official figures.
Month five: Not all plain sailing
Mileage: 4700
Costs: £0 The last report on the Karoq amounted to a celebration of all that's good about the car, and happily, there's plenty to talk about. Nothing is perfect, however, so for the sake of balance, we must look at the flipside of the coin. What is it about the car that's less than positive? Let's kick things off with the sat-nav. By and large, the
infotainment
system is really good – sharp graphics, fast responses and logical menus – but the navigation functionality is definitely the weak link. At times, the route selection is baffling at best and exasperating at worst, so if you've already got half an idea where you're going, it always pays to keep an eye on which way the nav is taking you. It's also supposed to have a function that automatically updates your route when it receives updates on traffic disruptions. On several occasions, though, these updates have come through far too late, so I'll already have been sitting in a queue for ten or 15 minutes by the time my nav tells me that I might want to avoid it. Helpful. The 1.5-litre turbocharged petrol engine has a slight weak point, too. Again, it's great in other areas – flexible, powerful, smooth and quiet – but it's slightly irritating that at a 70mph cruise, it's working harder than it probably should be, which means it's a tad noisier and feels a fraction more strained than it should. And, since I spend a decent portion of most days on a motorway, that irritation is a fairly constant one.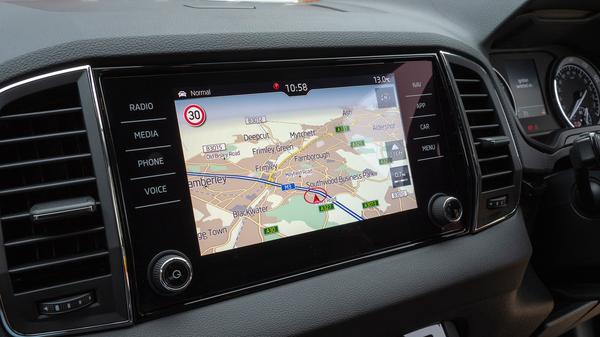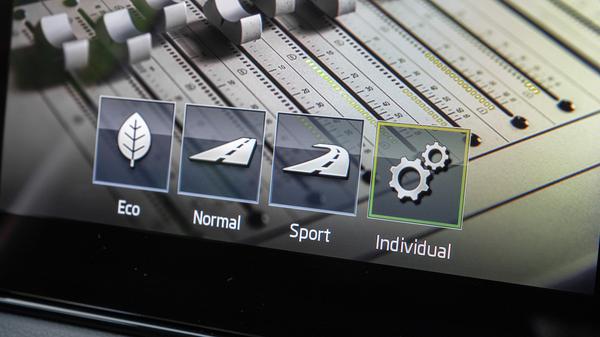 One other thing that irritates on a daily basis is the slightly awkward driving position. The base of the driver's seat (the bit you actually sit on) is very long and it's also raised at its front edge. This means I have to slide my chair further forwards than I'd like in order to reach the pedals comfortably, but when I do that, I'm closer to the steering wheel than I'd like. You can lessen the effect by cranking the seat height adjuster up, but because I usually like to sit as low down as the seat will allow, I'm then perched higher up than I'd like to be. It's weird, because there's loads of adjustment for both the seat and the steering wheel, but no matter how much I play with the settings, I still can't get my position quite right.
The colour is another thing that's divided opinion. Obviously I don't mind it, or else I wouldn't have chosen it (although I'll admit the Emerald Green finish is rather darker and less lurid than it appeared on the configurator when I chose it), but a straw poll of the office reveals that it's about half and half between the lovers and the haters. I'd also question the need for the selectable driving modes on our car. The changes the various modes make to the steering and throttle response are so subtle that it's a struggle to detect them half the time, even for a grizzled old road tester like me. And overall, they certainly do very little to change or enhance the character of the car. Having said all that, though, I'm not doing too badly if those minor misdemeanours are all I've got to complain about. As a box-ticker, this is an enormously impressive car that does a good job in every area, and a great job in most of them. You can't really ask much more than that.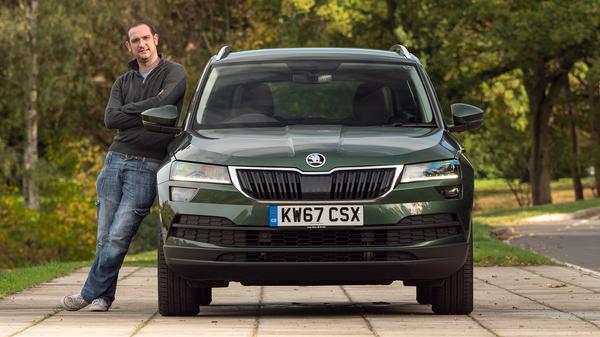 Month six: Smarter than your average hatchback. Or SUV, for that matter.
Mileage: 5500
Costs: £0 At the outset of our time with the Karoq, we set out to answer one very specific question: family car buyers seem to be totally obsessed by SUVs at the moment thanks to their mix of practicality and style, but in real, tangible terms, what does an SUV give you that a similarly sized hatchback doesn't? Like other SUVs, the Karoq – Skoda's
Yeti
replacement – offers about the same amount of interior space and very similar boot space, despite being a bit taller. So, the Karoq is no more practical than a regular hatchback then, right? Well, no, that's not the case at all. This car is a good bit more versatile than your average hatchback, but that's not because it's an SUV. It's because it's a Karoq. You see, having tested most SUVs of this type, I can confirm that there are many that are virtually indistinguishable from their hatchback counterparts in terms of practicality. The Karoq is different, however, and not because it's big, but it's because it's clever. It's got three individual rear seats that slide, recline, fold or tumble individually, and each one can also be removed altogether if needs be. There's an ice scraper under the fuel flap, an umbrella stashed underneath the passenger seat, and the removable boot light doubles as a torch. Those are the sort of touches that families really appreciate, and that really set the Karoq apart from its numerous mid-size SUV rivals. They're also what make this a tremendous family car. It's coped with everything my brood has been able to throw at it - including family holidays, road trips and days out – and it hasn't missed a beat. It's also been a comfortable and pleasant place to spend time, due largely to its grown-up road manners, impressive quality and generous luxury kit. These factors, plus its fizzy turbocharged engine, five-star Euro NCAP rating and impressive
reliability
record means that this is a car that's incredibly difficult to fault in any area (if you scroll up to last month's report, you'll see that we really tried!), and the last six months with the car has only served to consolidate our view that the Karoq is one of the very best cars of its type. I for one will be very sorry to see it go.
Key specs:
-Model: Skoda Karoq 1.5 TSI 150 SE L manual
-List price: £24,975 -Price as tested: £26,150 -Engine/gearbox: 1.5-litre 4cyl turbo petrol, six-speed manual -Power: 150 horsepower -Top speed: 126mph -0-62mph: 8.9 seconds -Economy: 52.3mpg -CO2/BIK tax liability: 124g/km / 25% (2018/19) -Boot space: 479/1810 litres Everything extra fitted to our long-termer: Emerald Green metallic paint: £595 Heated windscreen and washer nozzles: £275 Steel space-saving spare wheel: £150 Family Pack*: £120 Isofix on front passenger seat: £35 *(Power-operated child safety lock, heat-insulating side windows, double-sided mat in luggage compartment, rubbish bin in driver's door pocket)