Long Term Review
Living with a... Mazda MX-5 RF
Rachael Hogg has spent six months living with the UK's most popular convertible, to see how well it can cope with the challenges of everyday life.
Month one: First impressions
We're not blessed with the best weather here in the UK. But despite that, us Brits love a convertible. Whether it's (occasionally) hot or cold, sunny or cloudy, there's just something about driving around with the roof down that we can't get enough of.
With that in mind, I thought it would be a good idea to run a convertible for six months. They're not known for their practicality, and some people like to keep them just for 'special occasion' use, but I wanted to see how it would fare as my main (only) car. The Mazda MX-5 is the UK's most popular convertible, and it doesn't really have many direct rivals. There is the
Fiat 124 Spider
of course, which is practically the same car. After that, you're looking at an entry-level
Audi TT
, a
Mini Convertible
, or a
Toyota GT86
(no roof-down thrills though!) if you want something new. If you don't mind a used car, you could check out the
Mini Roadster
, or a
Toyota MR2
.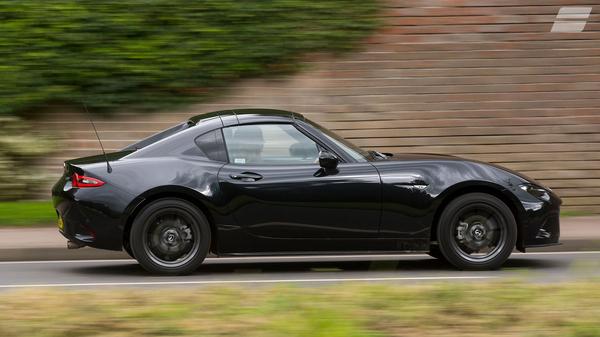 When it came to specc-ing my car, I had the simple decision between SE-L Nav, or the top-of-the-range Sport Nav trim, and a choice of two engines: a 1.5- (with 131 horsepower) or 2.0-litre (with 160 horsepower) petrol engine.
I opted for Sport Nav, to get a few extra bits and bobs of kit including rear parking sensors, a premium Bose sound system, and a Lane Departure Warning System, and I also chose the less powerful and smaller 1.5-litre engine. So far, so good. You need to give the engine a bit of welly, but it's still got decent pace and is fast enough for me. When the car drives as well as the MX-5 RF does, I definitely haven't missed having a more powerful engine either. I'm starting to think I've made a bit of an error choosing the Jet Black Mica paint though, which costs £550. As lovely as it looks when it's clean… it's never clean! I think I probably should have gone for the Soul Red metallic, which costs £670. I'll just need to get a bit more familiar with the ol' bucket and sponge.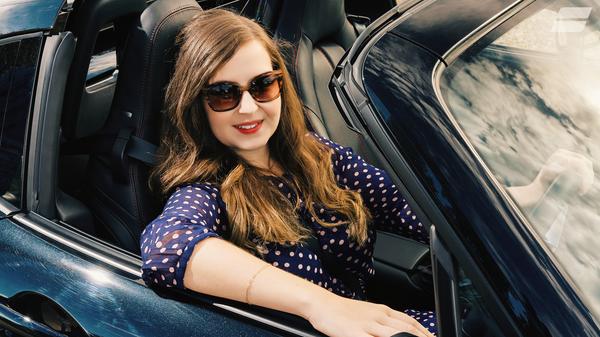 Month two: Out in the country and getting to know each other
When I'm not in our main Kings Cross office dealing with the joys of a long, busy, expensive commute, I'm in our Egham road test office, which is a pleasant 17mile drive through the countryside. It's been made even more pleasant in the MX-5 RF over the past two months.
I genuinely look forward to getting in this car. The combination of the low centre of gravity, direct steering, and light weight make it an absolute joy to drive. You can throw it into roundabouts and corners and you know the car will respond really quickly. While it's happy pottering and pootling around, if you are working it a bit harder, you do need to keep your concentration up. But that's all part of the fun.
Now that I've had the MX-5 RF for a couple of months, I am starting to notice a small niggle or two. The boot really is quite small. At 127 litres, you'll be struggling to get two small carry-on hard suitcases in there. It's easier to pack squishy bags in, as you can fill the slightly odd space more easily, but because there's no room behind the seats, and not much in the passenger footwell, if it doesn't fit in the boot, it ain't going in.
There is also quite a surprising amount of wind noise. You can forgive it when the roof is down, but it's also pretty bad when the roof is up. It starts from about 40mph, and gets louder as you go faster. I've had to crank the music up, or yell at whichever unfortunate soul is in the passenger seat with me.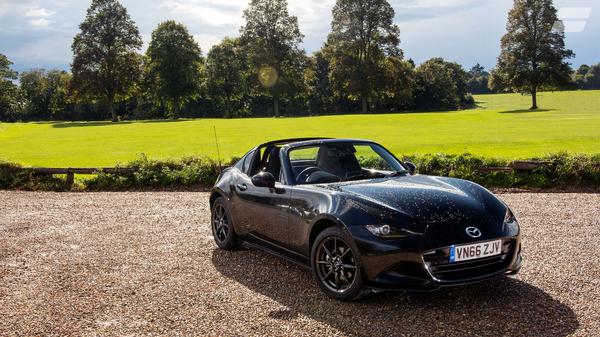 Month three: It's a looker
I wish I'd had a Jaguar E-Type to drive down to
Goodwood Revival
this year, but I took the trusty MX-5 instead. I parked between an Aston Martin V8 Vantage, and a Bentley Continental T. The owners of the Bentley were getting out when they arrived, and the driver immediately came over to me. "I've wanted one of these for ages. Are they hard to get in to? Can you tell my wife it'll be fine? She's stopping me from getting one and I love them."
I'm not gonna lie and say they're the easiest to get in and out of – they're low and it'll be a tight squeeze if you're nearing six foot – but I was more surprised by the enthusiasm. On leaving the festival, the Aston Martin owners were just getting into their car, but one of them stopped and asked whether the RF was convertible, and said it was a, "great looking little thing". It's not the first-time people have commented on the MX-5's looks. It's been described as the Batmobile, sexy, cool, and fun by various people so far. The Daily Mash may like to take the mickey –
MX-5 drivers convinced they look cool
, and
Car apparently fun
– but people do seem to love how it looks.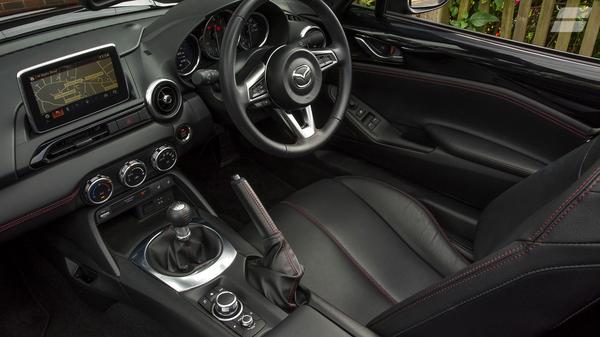 Month four: Battery life be cray
In the six months I've had my MX-5, the battery has gone flat on me twice. Both times I hadn't driven the car for eight days.
The first time I managed to unlock the car electrically, and jump start it, but the second time, I was stranded while cat-sitting. The battery was so flat I couldn't unlock it with the key fob. Fortunately, there's a hidden auxiliary key in the fob (move the little switch on the key fob and pull out the key), which at least meant I could get in to it, even if I couldn't start it. Cue a call to Mazda, and the arrival of a nice chap who had to negotiate a tight road in Ealing in his van, and find a spot to charge my battery for a while before he could start it. I quizzed him about whether it needed taking to a dealer to be looked at, but he assured me this is normal and would happen if you left the car for more than a week or so. I'm a bit puzzled by this. I've got a 2001 Ford Puma, and I've left that for a couple of months before without starting it and it's been fine. Ditto with my colleague's old BMW 3 Series. Surely this shouldn't happen in a new car? It looks like I'm not the only one though. Looking through various Mazda forums, it seems to be a relatively common occurrence.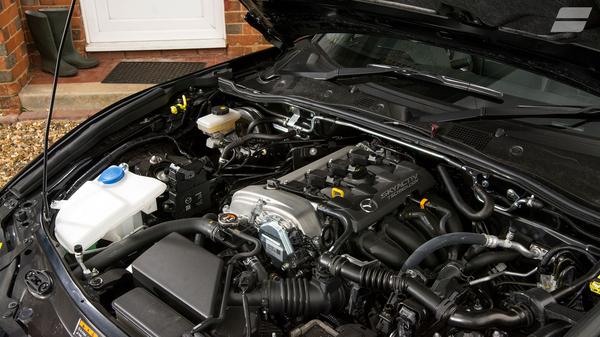 Month five: Practicality – how much stuff can you get in the MX-5 RF?
I moved house recently. As it was only round the corner, I thought it would be a great idea to attempt to move some bits in the MX-5. On weekends away, I've managed to squeeze two soft bags along with a little suitcase and some coats in the boot, but it did require some good squishing on my part.
On moving weekend, I popped to Majestic to get some boxes, and found I could fit six boxes on the passenger seat and floor, with room for another three in the boot. Hardly SUV or estate car levels of storage, I know, but more than I expected. If you're looking at having an MX-5 RF as your only car, you'll get three big food shopping bags in the boot, with two more on the passenger seat, but that's about your lot. And as there's not much space in the passenger footwell, if you've got a friend with you, basically if it can't fit in the boot, it's not going in (I learnt this the hard way. Sorry Grace).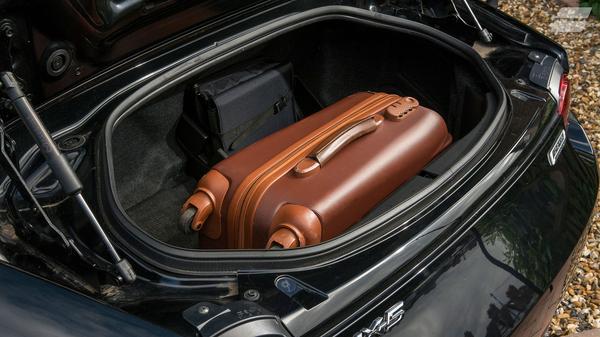 Month six: What do I think about living with the MX-5 RF?
The past six months have absolutely flown by. I've covered more than 5,000 miles in my little MX-5 RF, crammed more than I thought possible into the 127 litre boot, and even tried to move house with it.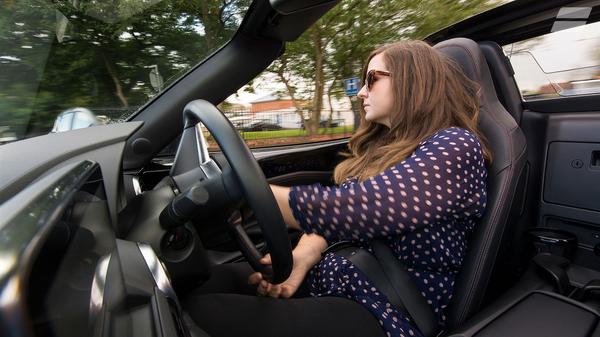 Top three things I love about the MX-5 RF
Fun to drive: The MX-5 RF is nimble, it changes direction quickly, it has accurate and well-weighted steering, and overall, it's just fabulous to drive. Heading out to the countryside with the roof down is where the MX-5 RF – and me – are happiest, but even being stuck in traffic or pootling along the motorway is never a chore.
Ride comfort: A surprising one this. The suspension is softer than you might expect, so it soaks up big speed bumps quite happily, and it feels settled on uneven surfaces. If you think having a little sports car like this means being jittered and jolted about the place, you will be pleasantly surprised. Lookin' good: Beauty may be in the eye of the beholder, but the hard-top MX-5 RF looks great roof up or down, in my humble opinion. Strangers and friends have called it the Batmobile, sexy, handsome, curvy, fierce and mean. And although the cockpit is closed in when you put the roof down, you don't lose too much in open air thrills either.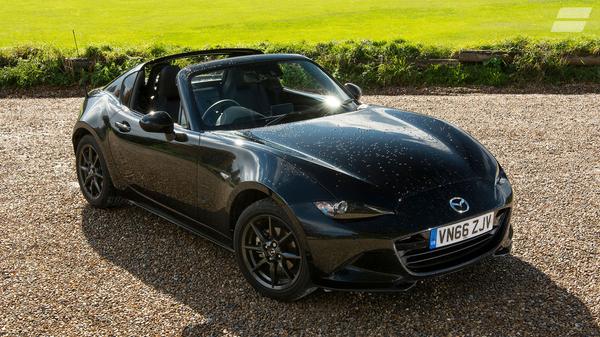 Top three things that are less good about the MX-5 RF, and why.
Noisy! Refinement is one of the main reasons buyers would opt for the hard-top RF over the soft-top MX-5, but there is a lot of roof-up wind noise going on. Even at moderate speeds you hear it, and it just gets louder, and louder, the faster you go. Having a Bluetooth call on the motorway is basically impossible. Believe me, I tried.
Battery issues: Twice during my six months with the MX-5 RF, I had to get the jump leads out for a flat battery. I hadn't driven the car for a bit over a week on the first occasion, and two weeks the other. I've had a look around online, and it seems I'm not the only one that's had this problem either. Getting comfy: Ok, so you don't buy an MX-5 if you've got a huge family you need to cart around, or large dogs, or lots of luggage, but a few extra bits to help with comfort would be good. The steering wheel only adjusts for height, not reach, so unless you're blessed with longish arms, you will be stretching. There's not a huge amount of adjustability in the seat either, so getting really comfy is tricky. Those over six foot will also struggle to get their head and legs in, unless they always drive with the roof down of course. Overall though, if you're looking for a small, affordable sports car you can have plenty of fun with, that is fantastic to drive, that puts a smile on your face, and looks great roof up or down, the Mazda is the one. Just keep those jump leads handy if you're planning on going on holiday and leaving your car at home. Total miles: 5,289 Costs: £0 Flat battery: Twice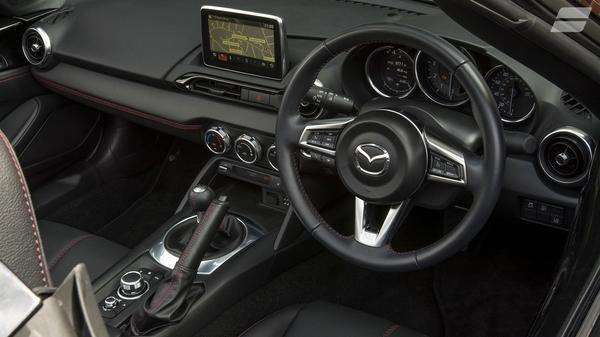 Key Specs:
Model: Mazda MX-5 RF 131 horsepower Sport Nav
Price as tested: £25,345
Engine/gearbox: 1.5-litre four-cylinder petrol, six-speed manual
Power: 131 horsepower
Torque: 150Nm
Top speed: 126mph
0-62mph: 8.6 seconds
Economy: 46.3mpg
CO2/BIK tax liability: 142g/km 27%
Boot space: 127 litres
Total mileage: 5,289
Optional equipment:
Metallic paint £550