Feature
Most Fun Car to Drive 2019 – Mini Hatch
Find out why the Mini Hatch is the 2019 winner of our Most Fun Car to Drive award.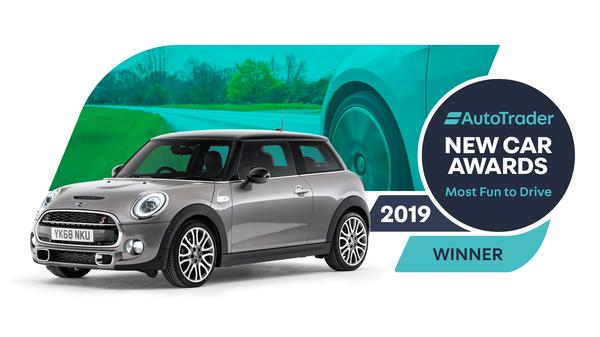 Fun comes in many forms, especially where cars are concerned. It could be putting your foot down that does it for you, or whizzing around corners, or it might even just be travelling comfortably and quietly while the stereo plays your favourite tune. Luckily, the
Mini Hatch
excels in all those areas.
Like all our
awards
, this category was decided by feedback collated from a survey of more than 60,000 car owners, all of whom rated their car in 16 key areas. That means an Auto Trader New Car Award is a real stamp of approval from people that live with the car day-in, day-out, and it makes each winner a true consumer champion. Here are just a few of the comments owners made about the Mini…
"It is a fantastic car to drive, fun, sporty, but also practical. The entertainment and communication system is superb."
"I love the driving experience and the layout of the cockpit area. The car looks good and the quality of the finish is excellent. This was a purchase designed to match our driving habits of mainly town and short rural drives. I wanted a car that met this requirement but still had a quality feel. I have not been disappointed."
"The car just looks great and is really enjoyable to drive."
Our experts are also impressed by the Mini, and you can see why in our
expert review
. So much so, in fact, that our experts agree with the great British car-buying public, and have awarded the Mini a place in our
Best Fun Cars
shortlist.
Commenting on the Mini Hatch's victory in this category, Auto Trader's road test editor, Ivan Aistrop, said: "Minis are famed for having go-kart handling, and even though the latest incarnations are much more civilised than previous ones, this essential fun-factor still remains at the heart of the driving experience. The performance is also strong enough to maximise the amount of fun you'll have, and with cute looks and a strong image inside and out, it's no wonder the Mini is a firm favourite with young-at-heart car-buyers." Will the Mini have take the honours once again in 2020? Or will one of this year's runners-up – the
BMW 1 Series
and
Jaguar F-Pace
– be able to go one better? If you're looking for a new car and fancy injecting a little slice of fun into your life, you can
find or configure your brand new Mini Hatch on Auto Trader
right now.