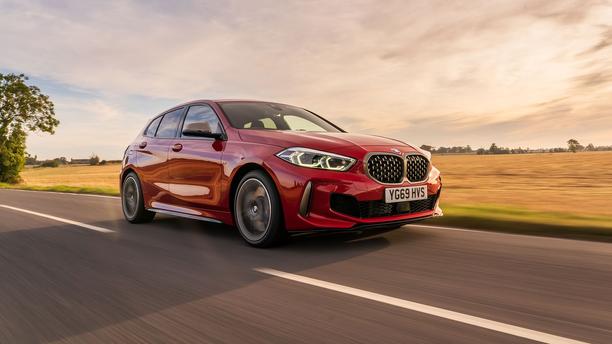 Discover the
BMW 1 Series
New from £27,055 / £398 p/m
5 doors

5 seats

Automatic or manual

Petrol or diesel
Is the BMW 1 Series Hatchback a good car?
Read our expert review

Words by: Ivan Aistrop
"BMW's fresh take on the 1 Series formula adopts the more conventional front-wheel drive layout of its rivals, with the goal of improved interior space and practicality. Technology has also been expanded, with increased connectivity and expanded infotainment functionality. This, combined with a slick reinterpretation of BMW's traditionally sporty handling, adds up to a compelling premium hatchback."
Read the review by category
Running costs for a BMW 1 Series
The fierce rivalry between the three prestige German brands means there's often little to pick between their cars in any area, and that's especially true when it comes to ownership costs in the small family hatchback class. They all cost a similar amount to buy, whether you're paying outright or monthly, and they all have similarly strong resale values, meaning they all protect your investment about as well as each other. They all have similar figures for fuel economy and CO2 emissions, and there's very little to separate them on insurance groupings or servicing and maintenance costs. So, while it's undoubtedly true that the Audis, BMWs and Mercs of the world will cost you a significant slice more to buy and run than the Fords and the Vauxhalls, at least the more comparable cars are all on a par with each other.
Lease deals
These deals are based on terms of 8,000 miles, for a 36 month lease with a 6 months initial payment.
Standard equipment
Expect the following equipment on your BMW 1 Series Hatchback. This may vary between trim levels.
Related articles and reviews