Feature
Best Seven-Seater 2019 – Skoda Kodiaq
Find out why the Skoda Kodiaq is the 2019 winner of our Best Seven-Seater award.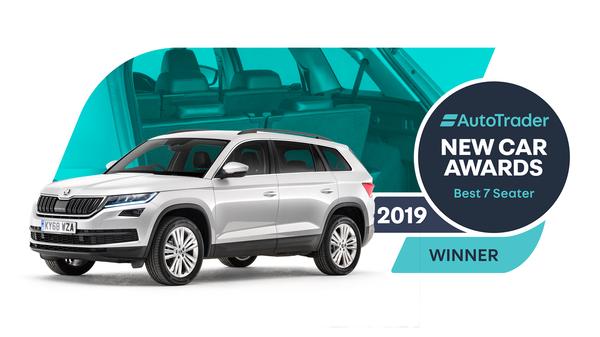 These days, having a large family is no barrier to having a car that's fun, stylish or affordable. The best seven-seaters on the market tick all these boxes, plus plenty more besides, and the winner of our Best Seven-Seater award for 2019 – the
Skoda Kodiaq
– ticks these boxes better than most.
Like all our
awards
, this category was decided by feedback collated from a survey of more than 60,000 car owners, all of whom rated their car in 16 key areas. That means an Auto Trader New Car Award is a real stamp of approval from people that live with the car day-in, day-out, and it makes each winner a true consumer champion. Owners rated the Kodiaq number one for looks and how easy its interior space is to use. It also placed second for reliability, features, safety and the feeling of safety. Here are just a few of the comments owners made about the Kodiaq…
"Plenty of space for a growing family and all the accessories that come with that."
"I love everything about it. It's big, I feel safe and it's really lovely to drive."
"I like the amount of technology and features included as standard, and thoughts about the little things, like bag hooks in the boot."
"The feeling I get every time I get into the car to drive a short or long distance. I cannot keep the smile off my face."
Our experts are also impressed by the Kodiaq, and you can see why in our
expert review
. If fact, our experts are in total agreement with the people who took part in our survey, because the Kodiaq makes our shortlist of the
best seven-seater cars
on offer. It also makes our list of the
best SUVs
and, bearing that in mind, it's no big surprise it also features in our list of the
best seven-seat SUVs
.
Commenting on the Kodiaq's victory in this category, Auto Trader's road test editor, Ivan Aistrop, said: "By any measure, the Kodiaq is a fantastic all-rounder. Most crucially, it has a really impressive amount of space, and the usefulness of that space is maximised by the clever seating and storage solutions, as well as all the other clever touches dotted around to make family life easier. It's a great car to drive as well – fun and comfortable in equal measure – and even better, it's a really affordable car to buy and run." The Kodiaq had to fend off intense challenges from the
BMW 2 Series Gran Tourer
and
Nissan X-Trail
, which finished in second and third places, respectively, so could either of those rivals go one better next year? Or will the Kodiaq have what it takes to defend its crown? If you have an ever-flourishing family and you're looking for a new car, you can
find or configure your brand new Skoda Kodiaq on Auto Trader
right now.