Expert Review
Toyota Camry Saloon (2019 - ) review
Read all about the Toyota Camry, a large saloon car that competes with cars at the posher end of the family four-door market. Its hybrid-only model range gives it a unique selling point.
The Auto Trader expert verdict:
The Camry is a capable car, providing a comfortable ride and reasonably tidy handling, along with a roomy cabin, lots of luxury equipment and an efficient hybrid propulsion system. The fact it's a hybrid will also make it a very cost-effective option for company car drivers, especially ones who spend most of their driving time doing short, urban journeys.
Reasons to buy:
Lots of standard equipment
Cost-effective for company car drivers
Impressive reliability record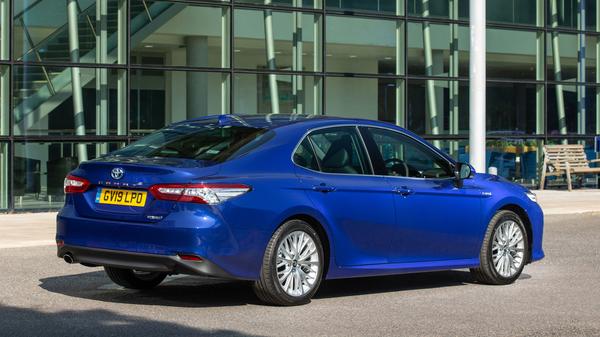 Running costs for a Toyota Camry
Compare the
Toyota Camry
with other cars that sit at the posher end of the big family saloon spectrum – cars such as the
Skoda Superb
and
Volkswagen Passat
– and the prices look rather high. However, when you factor in the huge amount of standard equipment you get, the standard automatic gearbox and the extra hardware in the hybrid propulsion system, things start to look a little more even. And it's that efficient hybrid system that helps make the Camry a very interesting prospect for company car drivers. Compare it with the diesel-powered versions of rivals that are popular with fleet drivers, and its lower CO2 emissions – plus the fact you don't have to pay a substantial diesel surcharge – mean you'll pay much less in company car tax during your tenure. Toyota also claims vastly superior resale values to most other cars in the class, and this will help reduce contract hire rate for fleets, and also help reduce monthly costs for those that acquire their car on finance.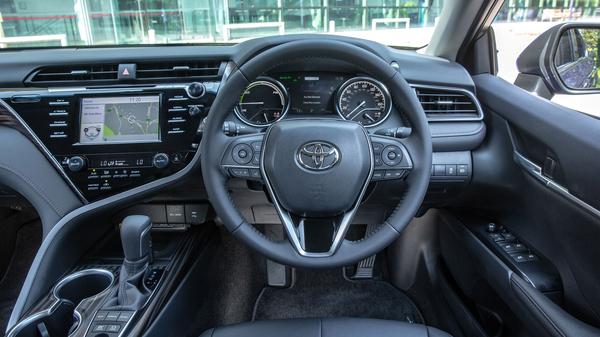 Reliability of a Toyota Camry
A large part of the reason that the Camry has proved so popular in the United States is because the car has carved itself a well-deserved reputation for faultless reliability. And while the Camry is a less familiar prospect on these shores, Toyota's reputation in this most crucial of areas is just as impressive, being the envy of the motor industry. The firm sits in the upper echelons of almost every reliability study you care to mention, and you'll have to search very hard to find any Toyota owner with anything bad to say about their car in that regard. The five-year/100,000-mile warranty you get is also one of the more generous arrangements offered by a manufacturer.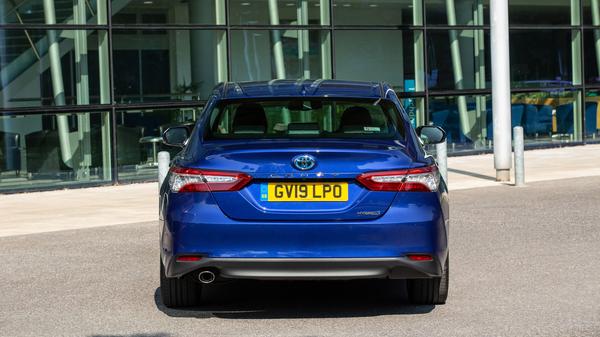 Safety for a Toyota Camry
The Camry hasn't been tested by the experts at Euro NCAP, but with the amount of safety measures on board, we're expecting an impressive score if it ever does. The standard roster of safety kit on board includes an automatic emergency braking system that can sense pedestrians as well as other cars, lane departure warning that steers you back into your lane if you start to wander out of it, road sign assist, automatic high-beam headlights and adaptive cruise control that speeds you up and slows you down to keep you a safe distance from the car in front. Add to that the seven airbags and all the usual traction aids, and you're pretty well protected. Those who buy the Excel rather than the Design will also get a blind spot monitor and rear cross traffic alert (which senses cars approaching from the side as you reverse out of a perpendicular parking space, slamming on the brakes if necessary), but while these items are nice-to-haves, they're not exactly deal-breakers.
How comfortable is the Toyota Camry
As soon as you climb inside the Camry, you'll find a cabin where everything feels solid and substantial, like it'll last a lifetime, and while the various materials on display can't live with those in an
Audi
or
BMW
, there's easily enough lustre on display to take the fight to the VW Passats and Skoda Superbs of this world. Overall, it feels like every inch the high-quality product. And despite the numerous gadgets and gizmos supplied as standard, the dashboard isn't too over-cluttered with buttons and switches, and you'll also find that most are logically placed and clearly marked. That said, most of the functions are operated through the touchscreen system, and if we're honest, that's rather less successful. The convoluted menus and slow, dated graphics mean it's not the best system you'll ever encounter. The seats are very supportive and there's lots of adjustment for your driving position, although some drivers will wish their seat went a bit lower than it does. These days, most family saloons are absolutely massive, but even by the standards of the class, the Camry is a big car. Happily, that translates into plentiful interior space. There's enough in the back for two tall adults to stretch out luxuriously, and if you need to, there's room to squeeze in three at a push. The boot is a very competitive 524 litres, and you also get split-folding rear seats as standard that let you boost the capacity further. However, being a saloon, the loadspace isn't as easily accessible as you get in a hatchback or estate car. Having historically made its name in the United States, it'll be no surprise to hear that that Camry places far more importance on ride comfort than it does on handling prowess, and it's all the better for it. The suspension isn't completely immune from the odd jitter at particularly low - or particularly high - speeds, but things stay pretty smooth for the majority of the time, so it's a comfortable car in most situations. We've only driven the car on smooth European roads so far, so we still need to make absolutely sure that it copes as well with battered British surfaces, but we think the omens are pretty good. And while handling isn't the focus, it doesn't do at all badly on that score, either. Find yourself in a set of bends, and the Camry does feel like a big, heavy lummox of a thing, but considering its size, it actually changes direction pretty neatly. The steering's particularly good, because it's really weighty and responsive. Unfortunately, the Camry isn't quite as quiet as it might be, because you do hear a fair bit of wind and road noise at motorway speeds, and this does betray the car's easy-going nature just a little bit.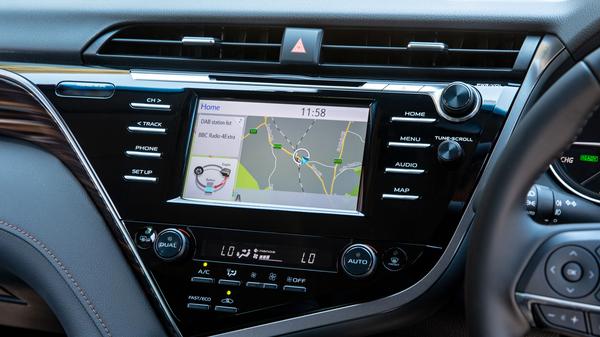 Features of the Toyota Camry
All versions of the Camry look as good as each other, with all cars coming with privacy glass, metallic paint, alloy wheels (17-inchers on the entry-level Design car and 18s on the top-spec Excel model) and LED technology for the headlights, daytime running lights and rear light clusters. The Excel models add LED lighting for the front foglamps, brake lights and the turn indicators, but those are the only minor visual differences. There's not much luxury kit that the Camry misses out on, even with the entry-level Design trim. The standard roster gives you dual-zone climate control, four powered windows, automatic headlights, front seats that are heated and powered, leather upholstery, front and rear parking sensors, reversing camera, keyless go and a touchscreen infotainment system that includes DAB radio, Bluetooth, voice recognition and sat-nav. The Excel version adds powered adjustment for the steering column and a wireless phone charging tray, but that's about it. Rather disappointingly, though, neither trim comes with
Apple CarPlay or Android Auto
as standard, and at this money, those are features you would definitely expect.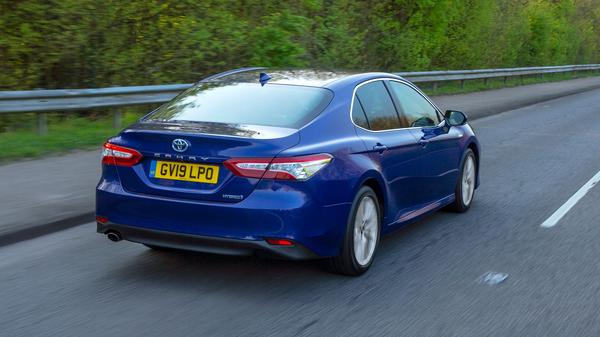 Power for a Toyota Camry
Like many Toyota products these days, the Camry is only available as a petrol-electric hybrid. The system combines a 2.5-litre petrol engine with an electric motor to deliver a total of 218 horsepower to the front wheels through a continuously variable automatic transmission (or CVT for short). You'll find that most of the time, performance is entirely adequate, and your progress is fairly quiet and smooth, too. The CVT does mean that if you ask for too much acceleration, the engine revs will shoot up towards the limiter, and they stay there until you back off, which results in a loud, strained-sounding noise from the engine. And, ultimately, you don't actually go a whole lot faster. However, while in some other CVT equipped Toyotas, you only have to breathe on the accelerator pedal for this to happen, you have to be fairly beastly with the throttle in the Camry before your eardrums get a battering.