Expert Review
Porsche 718 Boxster convertible (2016 - ) review
Read our review of the Porsche 718 Boxster, the finest handling open-top sports car there is. On top of that, it has a classy interior, stylish looks and effortless desirability.
The Auto Trader expert verdict:
Available new from £48,490
Most roadsters are more about posing than driving, but the 718 Boxster is a consummate sports car. The latest model looks brilliant inside and out, and combines brilliant handling balance with immense grip and turbocharged performance that's easier to access during everyday driving. It feels really special to drive, which ensures that it remains the number one choice in this class.
Reasons to buy:
Incredible handling balance
Surprisingly practical
Superb interior quality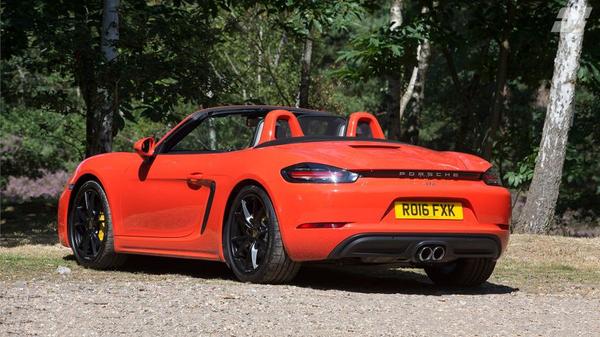 Running costs for a Porsche 718 Boxster
Traditionally, the
Porsche Boxster
has been cheaper than the coupe version, known as the
Cayman
, but for the
718
generation, they've swapped places. That means you have to pay more if you want open-air thrills, but in fairness, that's also the case with most other convertibles. The reason behind the huge shift in engine technology from Porsche was to help improve the efficiency of the 718 Boxster, and the results on paper look promising. If you pick the standard Boxster, and then equip it with the optional PDK automatic gearbox, it'll return impressive fuel economy and CO2 emissions, especially when you consider the performance. But in reality, if you drive it hard, this engine will probably be just as thirsty as the old model. When you ease off, though, stick the gearbox in auto and take it easy, that's when you'll notice the added cruising range. Manual versions are cheaper, but also less efficient. Parts, servicing and insurance are all likely to be costlier than the class averages, too, but strong resale values go a long way to offset that.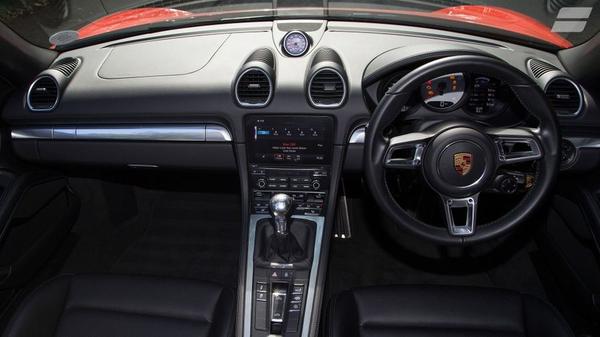 Reliability of a Porsche 718 Boxster
As with most cars from Porsche, the 718 Boxster looks and feels like a quality product inside and out, and the brand prides itself on its engineering excellence. However, as this model is powered by new engines, it's hard to be sure of their durability. Likewise, the sat-nav and infotainment system is relatively new, so it's difficult to tell if it will stand the test of time. Warranty Direct's Reliability Index suggests that the previous model was pretty patchy, with expensive repairs and troublesome electrics, so we hope things have improved since then. The brand itself also sits in a very lowly position in the manufacturer table. As standard, the 718 comes with a three-year or 100,000-mile warranty, whichever you reach sooner. That covers you for more miles than the policies from
Audi
,
BMW
and
Mercedes
.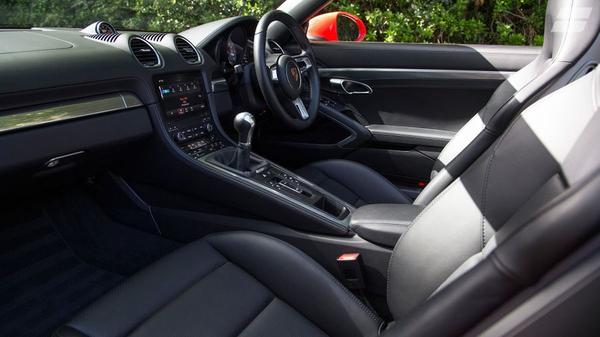 Safety for a Porsche 718 Boxster
Crash-testing body Euro NCAP rarely tests low-volume models such as the 718 Boxster, so there is no star rating for its driver, passenger and pedestrian safety. However, it does come with an extensive suite of safety equipment as standard. True, the
Audi TT Roadster
does have a few more active gizmos on its equipment list, but the Porsche has all the basics covered: anti-lock brakes, roll hoops that protect your head and neck if you flip the car over, and strengthening in the doors in case of a side impact. The brakes have been uprated on both versions and have fantastic stopping power. Plus, there are plenty of options, with Active Cruise Control, blind spot monitors and Isofix child seat mounting points all available for a bit more cash.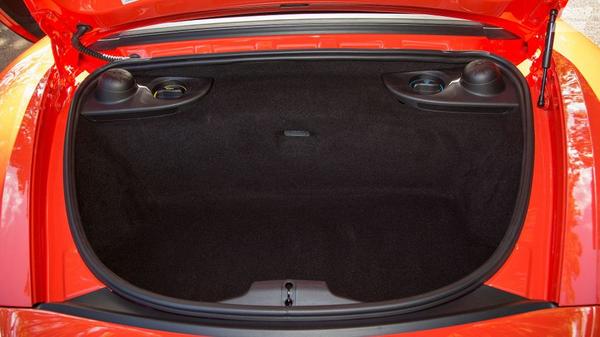 How comfortable is the Porsche 718 Boxster
Another area where the Boxster feels like it sits on a different tier to its mainstream rivals is in cabin quality and design. In an Audi TT or a BMW Z4, there are always some buttons or trim pieces that feel like they're taken from a dowdy saloon, but in the 718, everything feels bespoke. True, it's not as modern as a TT Roadster, with conventional dials (albeit with a handy colour screen in one of them for key driving- and map data) and lots of switches on the centre console, but high-class materials (including metal and leather) are used on all the parts you most regularly touch. The driving position is spot-on, you sit low to the ground, the pedals are perfectly spaced, and visibility is decent, although it decreases significantly with the roof up. The 718 has the latest Porsche infotainment system, with high-definition maps, a responsive touchscreen and connectivity to your iPhone via
Apple CarPlay
(but, annoyingly for non-iPhone users, no Android Auto). The seats are worthy of a mention, too, for being very supportive, but still comfortable over long distances. So many other roadsters are compromised in their practicality by a complicated roof mechanism, but because the Boxster is mid-engined, there is a deep luggage area in the nose that will swallow a large suitcase, while smaller bags can go in the 125-litre compartment at the back. You can stow coats and loose items behind the seats, but room in the cabin is still adequate. The glovebox is a good size, but the door pockets are narrow, and it's hard to get anything bigger than a wallet in or out of them. The Boxster really is one of the most practical two-seat sports cars money can buy. The electric roof stows away neatly in seconds and can be operated at up to 31mph; handy if you ever get caught in a sudden shower. Refinement with it up or down is pretty good, although we'd recommend choosing the optional plastic wind deflector to sit behind the headrests if you plan on doing any long-distance topless motoring. When it comes to handling, the Boxster has ruled the roadster roost for years, and the 718 continues where its predecessor left off. In fact, it's better than ever at tackling corners and putting a smile on your face. A key part of that is the mid-engined layout, which puts most of the weight between the wheels, and this helps the Boxster feel balanced and poised at all times. Its steering is borrowed from the 911 Turbo, so it's quick, direct, beautifully weighted and delivers enough feedback to keep you on top of the action. On a dry road, the Boxster has tremendous grip and body control, and because it stays so composed, with little body roll, you have total confidence when flinging it into a tight hairpin. If you want an even sharper driving experience, you can opt for a lowered, adaptive suspension set-up (standard on the GTS), which drops the ride height by 10mm, or the 'Sport' chassis, which is 20mm lower and considerably firmer when placed in its sportier settings. As standard, though, the 718 rides superbly, cushioning the driver from the worst bumps, and it doesn't suffer from as much flex or wobble as you can get in less rigid open-top cars.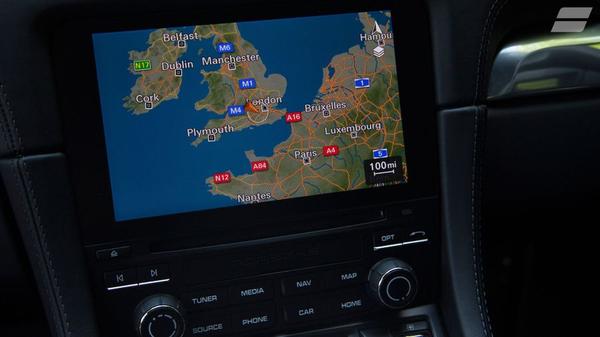 Features of the Porsche 718 Boxster
The base car has 18-inch wheels as standard, with the Boxster S adding 19-inch wheels and the GTS riding on 20s. The range-toppers also have a variety of extra skirts, spoilers and badges to make them look racier. Porsche has improved on the Boxster's standard kit count for the 718, but only slightly; this is still a very basic car considering the price you pay. You get a manual gearbox, the touchscreen infotainment system with a 7.0-inch display, Bluetooth and a couple of USB sockets. Sharp LED running lights front and rear are also standard, as are bright, xenon headlamps. In the cabin, air-conditioning, sports seats trimmed in Alcantara and faux-leather, and heated mirrors complete the spec list. If you want your 718 to hold its value, then it's worth adding the expensive sat-nav, DAB radio and parking sensors, and the leather trim for the cabin is also a must-have. You can live without the performance upgrades, such as the adaptive suspension, sports exhaust and Sport Chrono Pack (which includes launch control), but other creature comforts like heated seats are also optional, and specifying this stuff quickly adds up to a big old bill. The GTS model comes with a lot of the performance options as standard, but there's still plenty of scope to add tens of thousands of pounds with the extras list.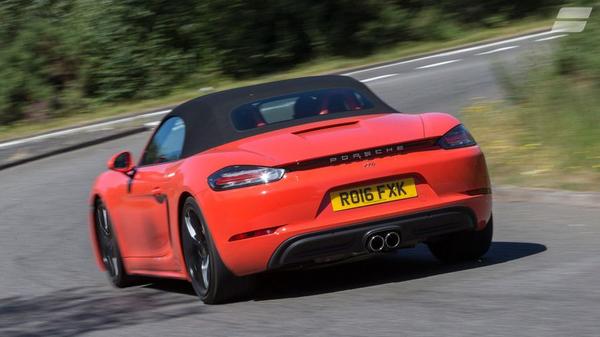 Power for a Porsche 718 Boxster
The single biggest change for the Boxster when Porsche turned it into the 718 was in the engine bay. The mainstream versions now have four-cylinder turbocharged units rather than the six-cylinder engines in the old model. The standard car gets a 2.0-litre, but although the figures suggest it's faster than before, it doesn't feel it. It's very over-geared – in the pursuit of efficiency – and that means it feels surprisingly sluggish at anything below 2500rpm. In fact, you have to be spinning it at around 4000rpm before it really wakes up and delivers the sort of pace you expect from a car like this. The S and GTS model have a larger 2.5-litre engine in two different states of tune, and this version is much more like it. Yes, it does also suffer a wee bit of lag, but it's nowhere near as bad thanks to a more sophisticated turbocharger, making its performance much more eager and accessible. As well as getting into its stride quicker, this engine also punches much harder and faster, zinging all the way round to the 7000rpm redline. It feels especially quick when paired with the seven-speed automatic gearbox, which provides rapid, precise and instant changes, but the six-speed manual is also thoroughly enjoyable to use, with a precise action and meaty clutch. Where both engines struggle, though, is on refinement. Neither sounds as spine-tingling as its six-cylinder forebear, with the kind of synthetic bark you expect from a hot hatch, not a true-blue sports car. You're also subjected to a collection of irritating resonances and booms, not to mention vibrations coming through the controls. That said, it's not bad enough to ruin the experience, especially in the S and GTS, which is much quieter and smoother than the standard Boxster.