Expert Review
Lexus RC 300h Coupe (2018 - ) review
The Lexus RC is a slightly leftfield alternative to other prestige coupes such as the Audi A5, BMW 4 Series and Mercedes C-Class Coupe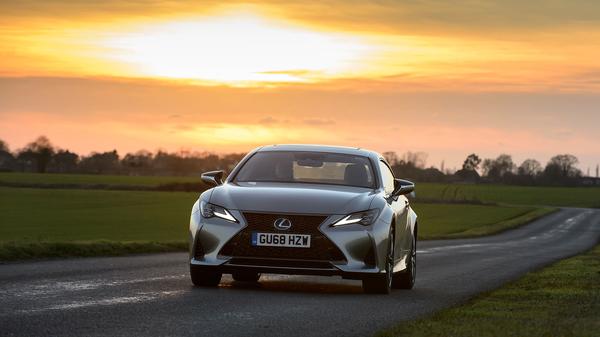 The Auto Trader expert verdict:
The Lexus RC has a tough job on its hands, competing with popular prestige coupes such as the Audi A5, Mercedes C-Class and outgoing BMW 4 Series. It makes its case with individual – not to mention pretty handsome – styling, impressive build quality and an intriguing financial proposition thanks to its hybrid drive system. Unfortunately, it's not as polished to drive as its main rivals, and it has some pretty fundamental ergonomic issues. Still, if those things matter less to you than individuality, it's certainly worth a look.
Reasons to buy:
Mean, aggressive looks
Heaving list of standard equipment
Lexus has a brilliant reliability record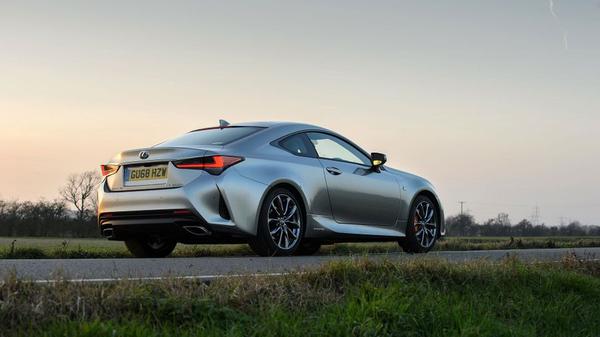 Running costs for a Lexus RC 300h
The RC 300h is designed to compete with diesel-powered versions of the
Audi A5
,
C-Class Coupe
and recently retired
BMW 4 Series
and it makes a rather compelling case for itself. There's not a vast amount of difference in what you'll pay for any of them, and because the Lexus clings on to its value as well as any of its competitors, it should treat you just as well financially come resale time. Fuel economy and CO2 emissions are in broadly the same ballpark, too, but where the Lexus has the advantage is on tax for
company car drivers
. Because it's a petrol-electric hybrid, you avoid having to pay the diesel surcharge, meaning lower monthly tax bills. So, if you're looking for a stylish fleet car, this could prove a very shrewd choice.
Reliability of a Lexus RC 300h
Look at any
Most reliability
survey going, and Lexus is always on or near the top of the pile. The same is true when it comes to customer satisfaction surveys, and this combination of mechanical dependability and excellent customer service means owning a Lexus is usually a pain-free experience. This should give you peace of mind. You're also covered by a three-year/60,000-mile warranty, while the hybrid parts are covered for five years/60,000 miles.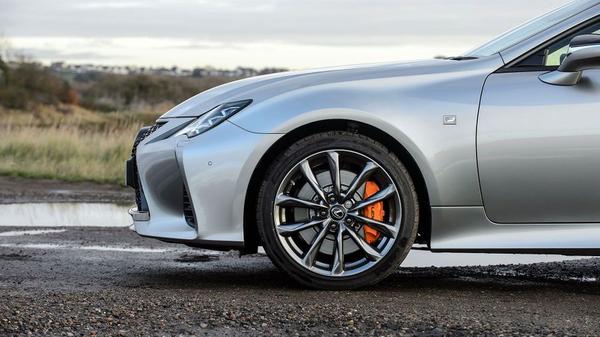 Safety for a Lexus RC 300h
On top of all the usual airbags all RC's come with a suite of sophisticated driver aids that includes automatic emergency braking, adaptive cruise control automatic high beam, lane keeping assist and road sign recognition. Range-topping Takumi cars also get rear cross traffic alert and a blind spot monitor on top of that – this isn't available on the entry-level model but can be added as an option to the F Sport version.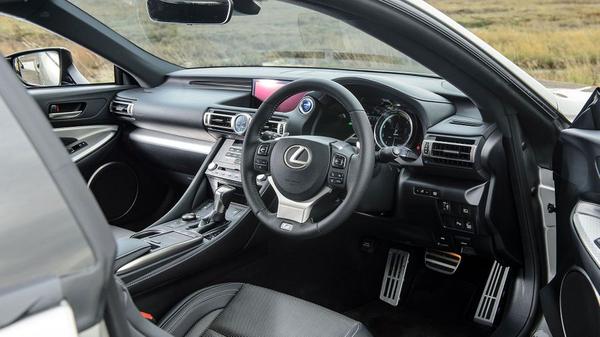 How comfortable is the Lexus RC 300h
Thanks to rivals from Audi, BMW and Mercedes, the dynamic standards in this class are pretty high, and unfortunately, the RC300h is somewhat off the pace. Judged in isolation, it's not a bad car to drive at all, with a ride that's firm-but-fair and has decent body control in corners. It's a heavy car, and you can feel that weight shifting from side to side as you string a set of bends together, and under braking. In better news the heavily bolstered seats are very supportive, and because they – and the steering column – have electric adjustment as standard, it's very easy to find your favoured driving position. What's more, the digital instrument panel looks rather nifty, and the information displayed changes according to which driving mode you're in. Two-door coupes are never going to be chosen specifically for their practicality, but they should have enough space to cope with four people and some luggage occasionally. The Lexus, does, but only just. Adult passengers will fit into the back seats, but they won't be particularly comfortable – especially for long periods – due to the limited headroom and legroom. The boot is a reasonable size at 340 litres, but rivals give you more space.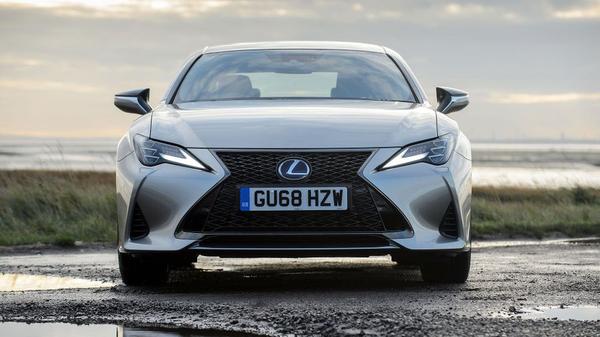 Features of the Lexus RC 300h
Lexus has always been very good at giving customers loads of kit for their money, and the RC does nothing to change that. The entry-level trim comes with dual-zone climate control, leather-effect upholstery, heated front seats (also with cooling on more expensive versions), parking sensors at either end, a reversing camera and an infotainment system with sat-nav, Bluetooth, DAB, DVD player and 10 speakers.
Smartphone integration
via Apple CarPlay and Android Auto is also standard. The F Sport adds rain-sensing wipers, bespoke seats and various interior styling changes, while the Takumi gives you a heated steering wheel, high-grade leather upholstery, a sunroof and a 17-speaker Mark Levinson stereo system. It's not all good though - the infotainment system is rather slow to react and, whether you control it through its touchscreen functionality or via the mousepad-like controller between the front seats, it's not all that intuitive to operate.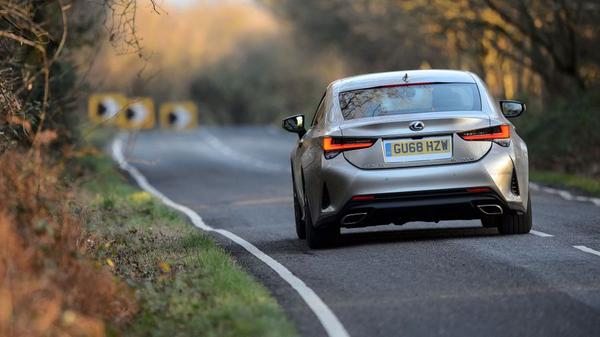 Power for a Lexus RC 300h
At the moment, the RC is only available in 300h form, which means it's a hybrid combining a 2.5-litre petrol engine, an electric motor and a nickel-metal hydride battery to produce a combined output of 223 horsepower. That's comparable to most mainstream versions of rivals. Even so, though, the 300h still feels rather outgunned for performance. Like with many hybrids, any meaningful pressure on the throttle pedal sends the revs soaring, making a thrashy noise that's disproportionate to the modest increase in pace you feel. That's the case whether you're accelerating from a standstill (0-62mph takes a leisurely 8.6 seconds) or picking up speed on the move. For our review of the
RC F performance version
of the RC see our dedicated review.