Feature
Most Reliable Brand 2019 – Lexus
Find out why Lexus is the 2019 winner of our Most Reliable Brand award.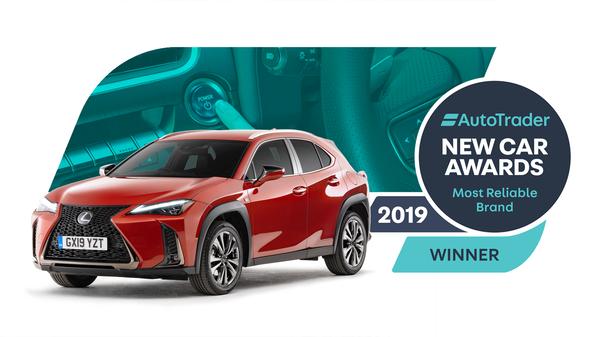 Reliability is arguably the single most important area for any car buyer; after all, nobody wants to be stuck at the side of the road awaiting rescue, or to be spending all their precious time and money on expensive repairs. And according to the UK's car owners, you're least likely to experience all that with a
Lexus
. That's why the Japanese premium manufacturer has been named - for the second year running – as the winner of our Most Reliable Brand award.
Like all our
awards
, this category was decided by feedback collated from a survey of more than 60,000 car owners, all of whom rated their car in 16 key areas. That means an Auto Trader New Car Award is a real stamp of approval from people that live with the car day-in, day-out, and it makes each winner a true consumer champion. Here are just a few of the comments that Lexus owners made about their cars…
"Runs well, and with reasonable running costs."
"I love the hybrid technology along with the superb customer service from the Lexus dealer. Comfort and accessibility, and lots of space for both passengers and luggage."
"Feels very luxurious, yet is very economical to run."
Commenting on Lexus's victory in this category, Auto Trader's road test editor, Ivan Aistrop, said: "It's no surprise to see Lexus front-and-centre when it comes to reliability, yet again. The brand has carved out an enviable reputation in this area over a number of years, and that's only done with a consistently high performance. This award proves that owners are genuinely seeing the benefits of their car's mechanical dependability, and the dealer network's high standard of service, on a day-to-day basis, and more importantly, that they really appreciate it. That's a very appealing prospect for any customer."
Browse our
expert reviews on Lexus' various products
, and you'll notice top marks for reliability across the board. Many products do very well in other areas, too. Honourable mentions must also go to
Honda
and
Toyota
, both of which ran Lexus close for top honours in this category. So, if you're after a new set of wheels and you fancy the peace-of-mind that strong reliability brings, you can
find or configure your brand new Lexus on Auto Trader
right now.