Expert Review
Land Rover Range Rover Velar SUV (2017 - ) review
The Range Rover Velar's slinky lines and hunkered-down stance will appeal to buyers willing to trade practicality for style. Find out more with our expert review
The Auto Trader expert verdict:
Available new from £46,565
What if you want all the prestige of a Range Rover, but without the tall, upright stance? What if, in other words, you want your Range Rover to be slinky and stylish? Well, this Velar, with its lower roofline and laid-back stance, might be just the thing, and it has the BMW X6, Porsche Macan and Jaguar F-Pace in its sights.
Reasons to buy:
Luxurious interior
Impressive off-road performance
Wide choice of equipment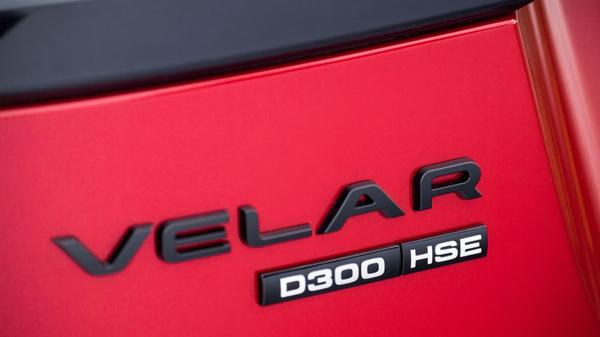 Running costs for a Land Rover Range Rover Velar
At the lower end of its range, the
Range Rover Velar
goes head-to-head with cars like the
BMW X4
and
Mercedes-Benz GLC Coupe
. It's a larger car than these models, so it's no surprise that it's quite a bit thirstier, but the Velar fights back with much stronger resale values and lower maintenance costs. In other words, unless you're a high-mileage driver, it should prove cheaper to run. Higher up the range, the Velar goes up against the larger
BMW X6
,
Maserati Levante
and
Porsche Macan
; even in this rarefied company, the Velar manages to look like a more cost-effective ownership proposition, its high resale values and now comparatively reasonable fuel costs earning it lower pence-per-mile figures. The one fly in the Velar's ointment is the
Jaguar F-Pace
, which shares much of the same engine technology but looks even better value as an ownership proposition no matter which model you choose. Happily, many Land Rover dealers share their premises with Jaguar ones, so you can compare both cars in the same place and decide for yourself whether the Velar is worth the extra expense.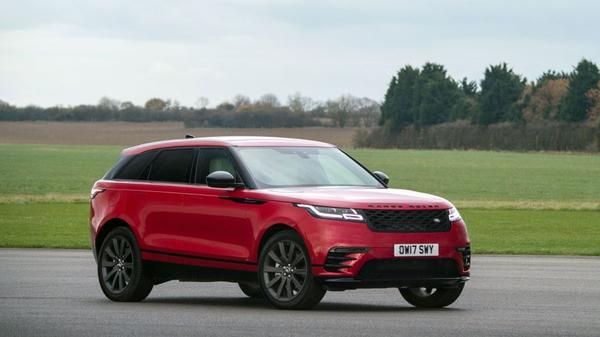 Reliability of a Land Rover Range Rover Velar
We don't have much historical data on reliability for the Velar yet; however, Land Rover sits towards the bottom of the manufacturer rankings in the Warranty Direct Reliability Index. In the 2019 JD Power Vehicle Dependability Study, too, Land Rover didn't do all that well – however, it did at least finish above premium rivals Audi and BMW, and put up a better showing than in previous years, which suggests things are improving.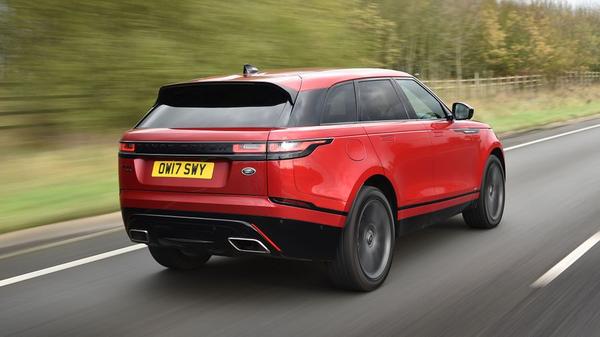 Safety for a Land Rover Range Rover Velar
As well as lots of off-road technology to keep you safe and moving when you're away from the tarmac, the Velar also features cutting-edge on-road safety features as standard, such as automatic emergency braking, with pedestrian detection capabilities and a lane departure warning system. SE models and above get a big step-up in safety kit, with a package that includes a 360-degree parking camera system, blind-spot monitoring, traffic sign recognition and reverse traffic detection, while more systems are added as you go further up the range. Six airbags are standard, and there are Isofix child seat connection points in two of the three rear seats.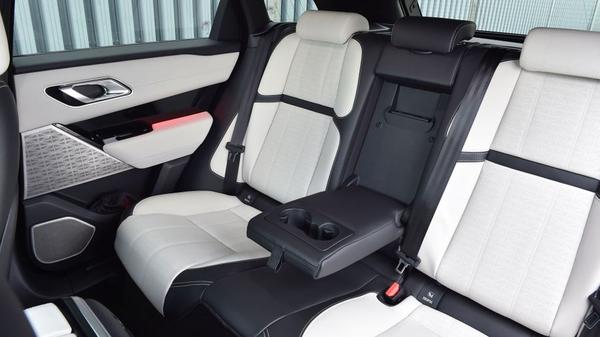 How comfortable is the Land Rover Range Rover Velar
The Velar's interior design follows a minimalist theme, with hardly any clutter. The centrepiece is the standard dual-touch-screen infotainment system. We found the touch-screens quickly became covered in fingerprints, are often not as easy to use as a combination of buttons and dials, though on the plus side, they look great, and lend the Velar's cockpit a cutting-edge vibe. SE cars and above get a 12.3-inch screen in place of traditional instrument dials, which looks great and can again be configured in plenty of ways, depending on the information you want displayed. Some of the plastics used – like those on the glovebox lid and centre armrest – aren't as solid or tactile as we'd hoped, but the high-specification models we've tried did have luxurious leather on the seats and dashboard, which helped make the interior feel very upmarket, and there are some very nice textile alternatives from luxury furniture maker Kvadrat available. Size-wise, the Velar is only slightly wider than the Evoque, but nearly as long as the Range Rover Sport, which makes it bigger than most of its competition. The front has plenty of cubbyholes, two cupholders and a storage area under the armrest, and the glovebox can be specified with cooling function to keep drinks chilled. In the rear, the centre seat will be a squeeze for all but the smallest of grown-ups, as is par for the course in cars of this type, but the rear seats have plenty of room for two adults. The boot, with a capacity of 632 litres, is cavernous compared to those in the Porsche Macan and BMW X6, although the Jaguar F-Pace's rear compartment is slightly larger. The rear seats fold almost flat in a 40:20:40 split, meaning there are plenty of configurations for lugging larger loads around. Like all Range Rovers, the Velar focuses more on comfort than excitement, and with the air suspension fitted as standard on V6-powered models – and optional on others – it filtered out road imperfections well when we first drove it in Norway. However, on crumbly British B-roads it's less impressive, with a firmer ride than we expected and quite a lot of road noise, especially in the back. We'd suggest avoiding the 22-inch wheels, too, as they crash and bash over rough surfaces in a way smaller wheels don't. In the grand scheme of things the Velar is by no means terrible, but it won't soothe you in quite the same way as a larger Range Rover, all of which also get air suspension. The payoff for the soft ride is a bit of pitching back and forth if you brake or accelerate hard, but for the most part the Velar's handling is remarkably solid, with excellent control around corners and minimal body roll. This isn't a car that urges you to drive enthusiastically, but instead delivers a relaxed, confident experience. It's worth noting that Velars with four-cylinder engines come with a more conventional coil spring suspension, which we've yet to try. Being a Land Rover product, the Velar also excels off-road, with lots of clever technology to haul it up and down far more challenging terrain than most owners will ever need to tackle. It'll easily cope with muddy fields and gravel tracks.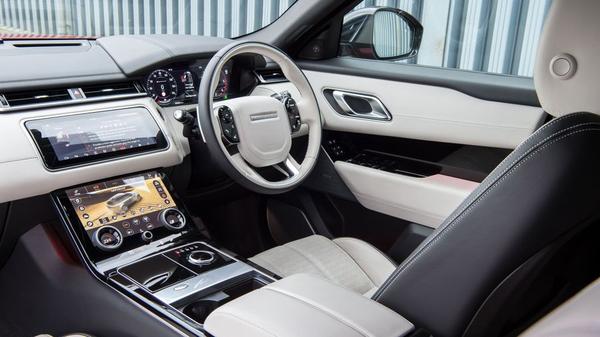 Features of the Land Rover Range Rover Velar
Expensive the Velar may be, but it does come with a lot of kit. The entry-level model – called simply 'Velar' – features heated front seats, cruise control and DAB radio, but it's the S model where the treats start stacking up, with upgraded headlights, leather-covered electric seats, sat-nav, a Wifi hotspot, rear view camera and a beefier sound system. The SE kicks things up further with an even more powerful stereo and digital instrument dials, while the top-of-the-range HSE gets nicer leather, swankier seats with a massage feature, slivers of chrome around the cabin and automatic parking. In parallel to the S/SE/HSE set up is the R-Dynamic line, which follows the same hierarchy while jazzing up the exterior and interior with more shiny bits. Land Rover offers plenty of personalisation options, with 13 paint colours and alloy wheels ranging in size. Standard cars ride on 18-inch wheels, while S models get 19s, SE cars have 20s and HSE models sit on 21-inch rims. Massive 22-inch wheels are optional.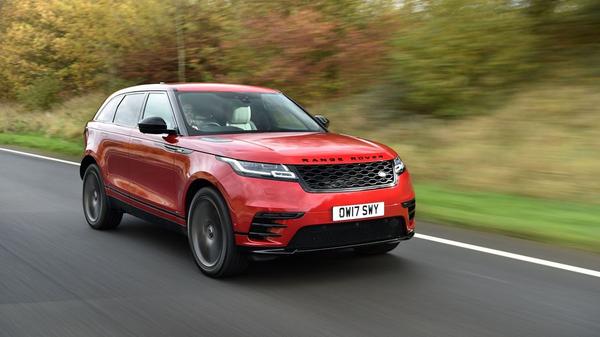 Power for a Land Rover Range Rover Velar
There are several petrol and diesel engine options available on the Velar, all matched to an eight-speed automatic gearbox. The most powerful diesel is the D300 diesel V6, which, as its name suggests, offers you 300 horsepower to play with, and delivers an effortless response with no need to rev it hard for swift progress. At the top of the petrol range, meanwhile, sits the thumping P550, a supercharged V8 engine that we haven't yet sampled in the Velar, though we know from experience of this engine in other Range Rovers that it delivers blistering pace. There are also three smaller diesel engines – the D180, D240 and D275 – as well as two smaller petrol engines called the P250 and P300. Of these, we've only tried the D240 so far, which balances improved fuel economy with enough oomph to pull a fully-loaded Velar around without feeling strained or sluggish. If you're not bothered about scintillating speed, it's worth considering.