Expert Review
Jaguar F-PACE SUV (2020 - ) review
The Jaguar F-Pace has been updated with fresh tech, subtle styling tweaks and a revised range of petrol, diesel and hybrid engines – read our review to see if it's enough to lead the SUV field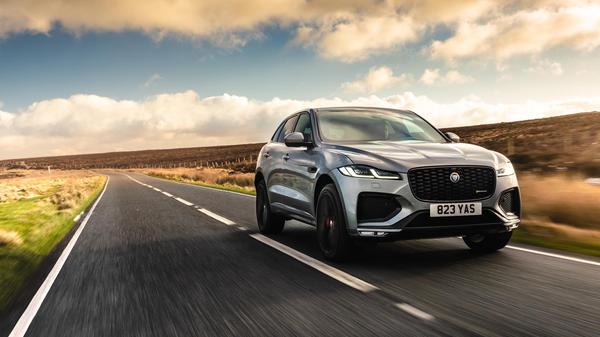 The Auto Trader expert verdict:
Available new from £40,675
Jaguar's largest SUV, the F-Pace, now includes a plug-in hybrid version in the line-up, alongside petrol and diesel engines. There's a new interior, minor exterior tweaks and Jaguar Land Rover's new infotainment system. Click here for our review of the high-performance F-Pace SVR version.
Reasons to buy:
Beautiful interior
Lots of space
Fun to drive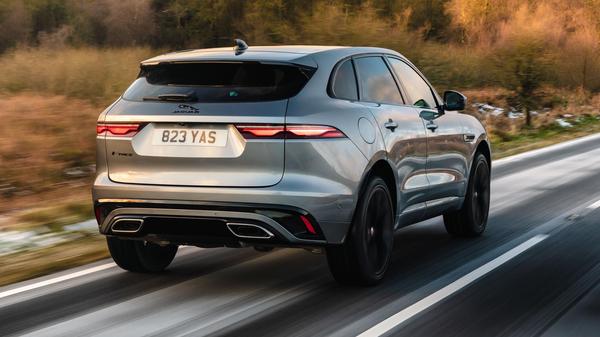 Running costs for a Jaguar F-PACE
Jaguar remains a premium brand, competing with BMW, Audi and Mercedes, so its models aren't cheap to buy, either outright or on
finance
. However, with a huge range of engine options now on offer, it's worth doing your financial homework around the upfront cost of a version versus the fuel efficiency,
Benefit In Kind taxation
,
VED
(aka road tax) and insurance for that variant. For example, the P400e
plug-in hybrid
model may cost you more up front but if you only ever do short journeys, the electricity will be much cheaper than the equivalent
diesel or petrol
, and all associated running costs should be lower.
See here
for our dedicated review on the F-Pace plug-in hybrid. At the other end of the scale is the
high-performance SVR version
, which has a huge V8 engine, starts at just shy of £80,000 and will be positively ruinous to run by any logical measure. If you have the cash to burn and can write it off as a guilty pleasure we salute you!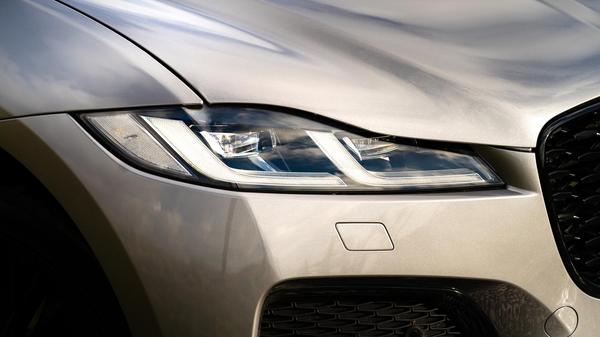 Reliability of a Jaguar F-PACE
Jaguar doesn't historically do well as a brand in reliability surveys, finishing in the bottom fifth of most tables, and the F-Pace finished behind all its competitors in a large SUV reliability survey last year. We do hear (and have experienced) constant tales of woe surrounding infotainment system glitches in Jaguars and Land Rovers and can only hope the new system has sorted out the electrical gremlins, although at least one new Defender owner has already reported similar software glitches with the new system to us. As for the new mild hybrid and plug-in hybrid powertrains, it's too early to tell.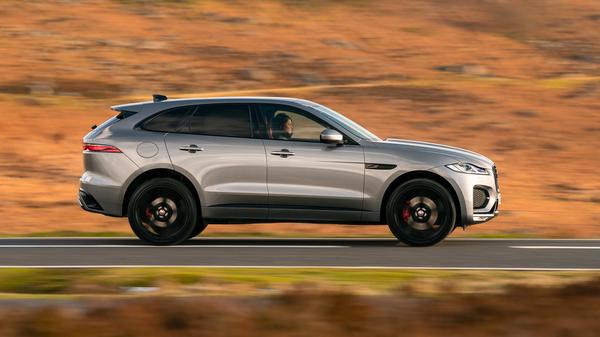 Safety for a Jaguar F-PACE
All F-Paces come with four-wheel drive, for added traction in slippery conditions, and you have the extra forward visibility from that tall stance. New features include 'Clear Exit Monitor' which alerts occupants leaving the car to bicycles or other vehicles via a warning light next to the front and rear door handles. There's adaptive cruise control (standard with HSE trim) and Driver Condition Monitor as well as a 360-degree parking camera and optional ClearSight technology which shows the surface directly under the bonnet, in case you're about to hit a kerb or bollard, as well as transforming the rear-view mirror into a camera view of the road. This is useful when the view out of the rear window is obscured by large objects. There's also a new version of Park Assist as an option, which uses sensors to steer the car into a parking space, controlling the steering, acceleration and braking.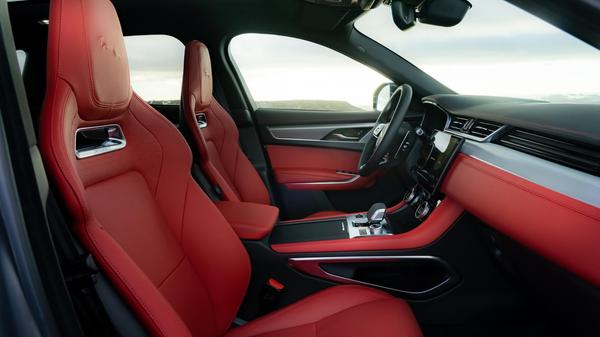 How comfortable is the Jaguar F-PACE
The F-pace feels very wide, which can be a little nerve-wracking on the road but means passengers feel supremely comfortable. We were a little disappointed with the noise-cancelling technology, given the car seemed to let in quite a lot of road noise at 60mph, but you cannot fault the smooth ride, comfortable seats, legroom, headroom and boot space. It feels like a very superior SUV, and has a character that is quite different from Audi, BMW and Mercedes. There are various nods to wellbeing on board, such as air filtration to get rid of allergens and nasty smells, and the previously mentioned noise-cancellation tech, which is meant to reduce fatigue. Perhaps we didn't drive the F-Pace long enough to benefit from it.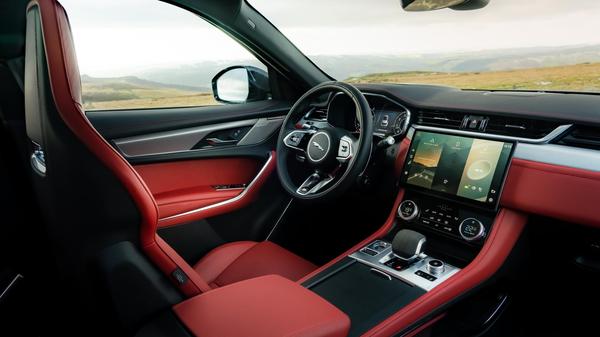 Features of the Jaguar F-PACE
As well as the new safety gizmos, the most obvious change to the new F-Pace is the introduction of Jaguar Land Rover's new infotainment system, branded Pivi Pro. A large curved touchscreen with restrained, elegant graphics dominates the dashboard.
Apple CarPlay
comes as standard while Android Auto is market-dependent. Spotify, Deezer , TuneIn, Google and Microsoft Outlook calendars are also are embedded. Weather and fuel price information are on hand and the system offers up available parking spaces as you approach a town. Options include wireless phone charging, a head-up display and Activity Key, which is essentially a key embedded in a waterproof, rechargeable wristband that also contains a watch so you can surf, cycle or do whatever you like without having to carry a chunky key fob vulnerable to water damage.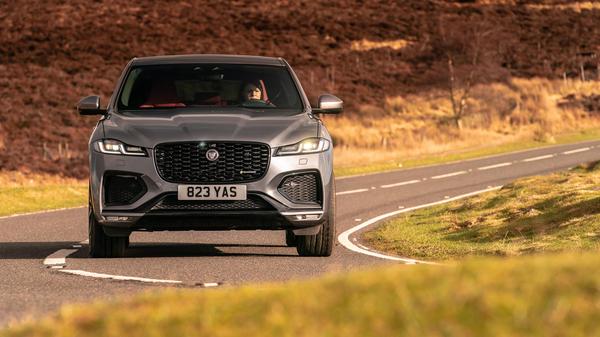 Power for a Jaguar F-PACE
Jaguar somehow maintains a sense of its motorsport history in all its models, even this large SUV. The chassis is lively, the steering delicate but firm, the engines perky. Jaguars just continue to be an absolute joy to drive. Add to that a huge range of engines, and there should be something to suit every SUV driver in the F-Pace range. Choose from three diesel engines with mild hybrid systems on board for reduced fuel usage and extra oomph (163 horsepower, 204 horsepower or 300 horsepower), one pure petrol (250 horsepower), one mild hybrid petrol (400 horsepower) or a plug-in hybrid petrol (404 horsepower). The plug-in hybrid is capable of up to 33 miles on pure electric power –
click here
for a full explanation of these terms and how different hybrid systems differ.
Click here
for our review of the updated version of the 550 horsepower F-Pace SVR – suffice to say it's in a different league for performance. And running costs.