Expert Review
Isuzu D-Max Pickup (2020 - ) review
The new Isuzu D-Max retains the toughness that has endeared to many in the commercial world with enough toys and refinement to win over lifestyle users too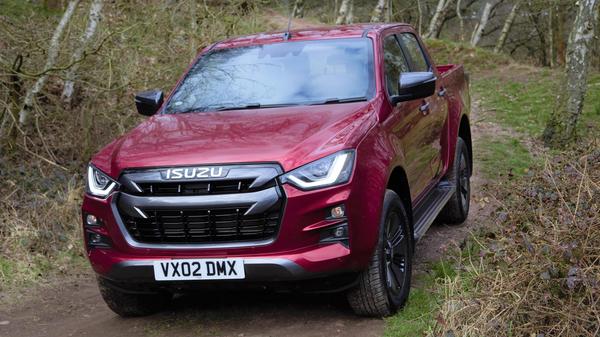 The Auto Trader expert verdict:
Available new from £26,040
Long a favourite of farmers, builders and commercial fleets, the all-new Isuzu D-Max is looking to capitalise on the disappearance from the market of long-standing rivals like the Mitsubishi L200, Nissan Navara and VW Amarok and take a bigger slice of the 'lifestyle' market than it traditionally has before. Against a recently updated Toyota Hilux and ever-popular Ford Ranger it still faces stiff competition, but the much-improved interior, increased range of driver aids and generous equipment will help win over those new to pick-ups while the proven off-road ability and toughness will be appreciated by commercial users.
Reasons to buy:
Tons of tech
Built tough
Good value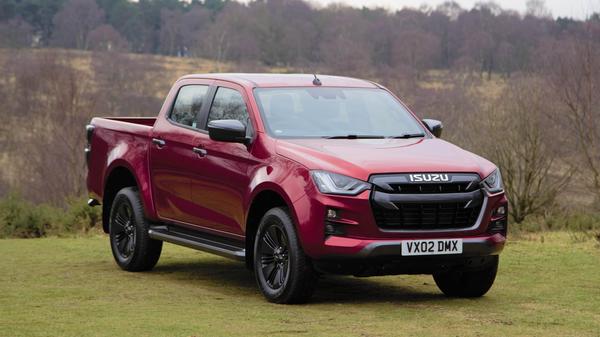 Running costs for a Isuzu D-Max
On the face of it a big pick-up truck with a traditional diesel engine doesn't look like much of an alternative to the hybrid and electric SUVs and crossovers you might also be considering. And at a best case 30-something mpg you'll be chucking a fair bit of diesel into it. But an increasing number of non-commercial 'lifestyle' buyers are attracted to the tough image of pick-up trucks and way they can fit into an outdoorsy lifestyle. For the canny buyer there are financial advantages to running a commercial vehicle as a private car, even if you're not VAT registered and have to pay the full upfront price.
Benefit In Kind
and other tax costs can work out cheaper than equivalent passenger cars and, for the price of a mid-range crossover, you are – literally – getting a lot more vehicle for your money, and one with everything but the kitchen sink included. Literally the only option you can add to the lifestyle-oriented V-Cross trim is metallic paint, though Isuzu dealers do have a range of accessories you can choose, including body cladding, load bed covers and more.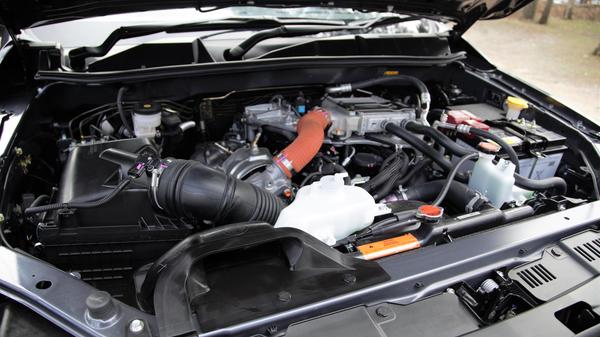 Reliability of a Isuzu D-Max
Isuzu is almost entirely a commercial vehicle business these days, and its presence in the passenger car market is tiny. Accordingly it doesn't really figure in the regular reliability standings so you'll just have to go with the anecdotal evidence of its popularity among farmers and other commercial users and general reputation for toughness. The five-year/125,000-mile warranty beats that offered by Ford on the
Ranger
and matches Toyota's for the
Hilux
, which helps give confidence.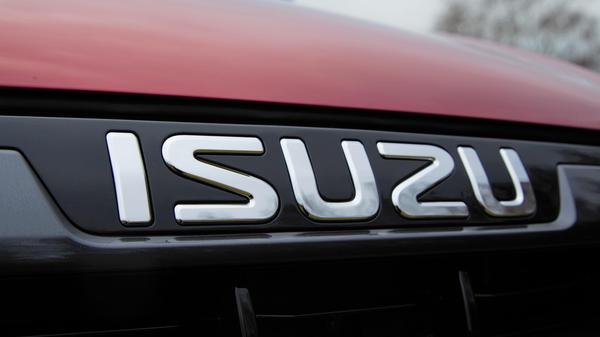 Safety for a Isuzu D-Max
For buyers coming across from regular passenger cars commercial vehicles have traditionally suffered in comparison with safety gear but newer pick-ups like the D-Max change all that and now have all the kit you'd expect of a regular SUV or crossover, scoring a full five-star NCAP rating. Every D-Max – even the bare bones commercial versions – has cruise control, forward collision warning, automatic emergency braking and a lane departure warning/prevention while the more consumer-focused versions get blind spot monitoring, lane keeping and a rear cross traffic alert. Variants with an automatic gearbox also get adaptive cruise control and a more advanced lane-keeping system and eight airbags are standard on all double-cab versions, as are Isofix mounts for two child seats in the back.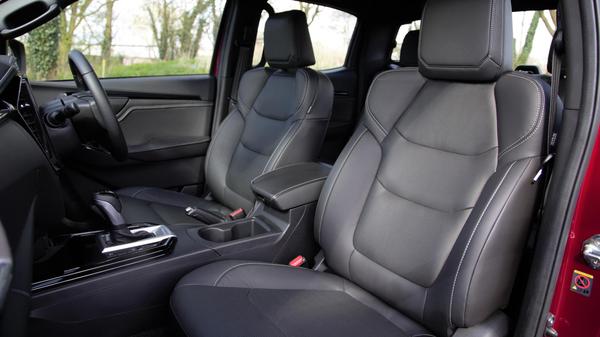 How comfortable is the Isuzu D-Max
Given pick-ups are designed to carry over a tonne of payload and operate in pretty extreme off-road conditions in some of the most rugged environments in the world you can't expect them to be as comfortable as a regular SUV. And, sure enough, the D-Max's engine is pretty gruff and without any load over the rear wheels it bounces around a bit, though thanks to revised rear suspension is far more refined in this respect than older pick-ups and there's little of the wobble or shudder through the structure some commercial vehicles can suffer from. Isuzu knows its customers work long hours and spend a lot of time in their vehicles, too, and recognises that employers owe their staff a duty of care in this regard. So there's lots of adjustment in the seat and driving position, standard lumbar support on all models and leather upholstery on the consumer-focused V-Cross model. Seat heating is also standard on all but the Utility models, too. Refinement is respectable for a vehicle of this type and, for all its tough image, the D-Max is perfectly acceptable as a daily driver, assuming the size isn't too much of an issue. Family users can meanwhile take comfort in the news that the four-door double cab is longer than the previous model, freeing up more space and meaning the back seat isn't bolt upright as it is in some rivals. Handily you can also lift the rear seat base for additional storage or fold the rear seats flat completely if you're travelling two-up and want somewhere more secure than the load bed for your luggage.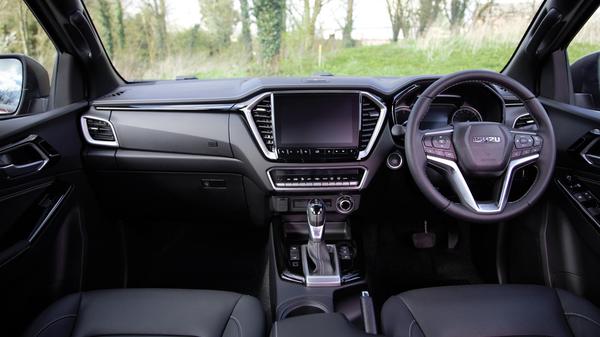 Features of the Isuzu D-Max
The D-Max range is divided into the commercial-oriented Utility spec for farmers and fleets putting affordability and function above all other considerations ,while All-Purpose models offer things like body-coloured bumpers, alloy wheels and more convenience functions for those who might need a working vehicle Monday to Friday but still use their pick-up at weekends. The Adventure range – branded V-Cross – is aimed at purely recreational buyers who like the image of a pick-up but want all the toys, and is set apart by its gunmetal coloured trim elements and snazzier looking LED headlights. Adventure models are all double cab, while Utility and All-Purpose versions can (depending on the model) be had with single or extended cab according to how much payload space you need. For a commercial-derived vehicle the cabin on the V-Cross is decent enough, with enough soft-touch trim to distract from the more functional plastics, a large central touch-screen with Bluetooth, DAB and connection to your smartphone via
CarPlay or Android Auto
so you can use your navigation apps. It's all rather more basic in the Utility versions, with a vinyl floor and fewer frills. But that suits its tough, hard-working image.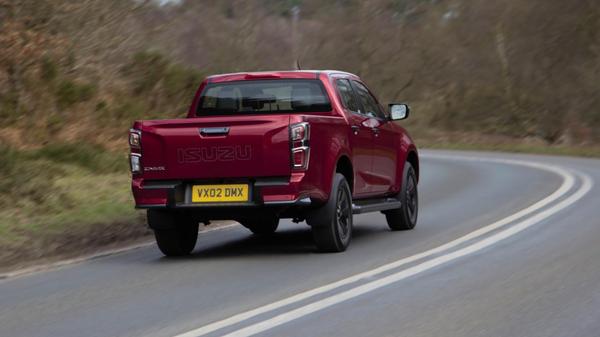 Power for a Isuzu D-Max
There's only one engine option for the D-Max and it's a traditional 1.9-litre turbodiesel (EU6 compliant) with 164 horsepower, driving through a choice of a manual or automatic gearbox, both with six ratios. The former is pretty truck-like but fine in this context, the latter a little more easy-going though prone to hunting noisily around its gears without much discernible effect on forward progress. Both main rivals – the Hilux and Ranger – are available with more powerful engines but the D-Max's lack of weight offers it two advantages. First being that it doesn't suffer too much in performance terms but, perhaps more importantly, it complies with regular passenger car speed limits where heavier rivals have to abide by lower commercial vehicle limits on single- and dual-carriageway A-roads. In standard mode the D-Max is rear-wheel drive but a simple rotary dial selects four-wheel drive if you need it, with low-range if you're really looking to test its off-road capabilities. These are pretty mighty, the 800mm wading depth and locking differential – plus various electronic aids – making it pretty much unstoppable on the variety of mud, gravel, sand, ruts and deep water we tested it in.