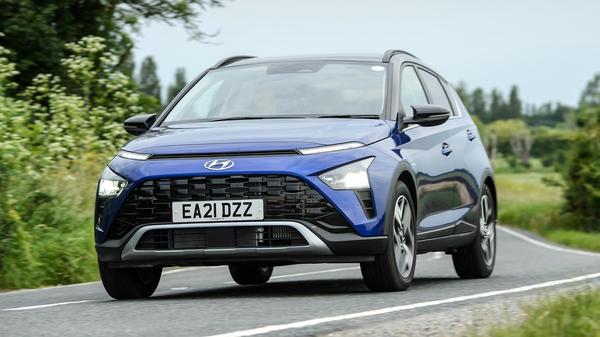 Expert Review
Hyundai BAYON Crossover (2021 - ) review
The Hyundai Bayon is a stylish compact crossover with a generous specification but faces an uphill struggle against rivals like the Ford Puma and Renault Captur
The Auto Trader expert verdict:
The Hyundai Bayon is a compact crossover based on the i20 hatchback but wrapped in more fashionable clothing to compete with its close relative the Kia Stonic, the ever-popular Nissan Juke, the sharp-handling Ford Puma and the acclaimed Renault Captur, among many others. By pretty much all comparisons the Bayon sticks to the accepted script, leaving style and image the likely primary factors in choosing it over its many rivals.
Reasons to buy:
Convincing addition to the crossover market
Excellent standard equipment
Distinctive looks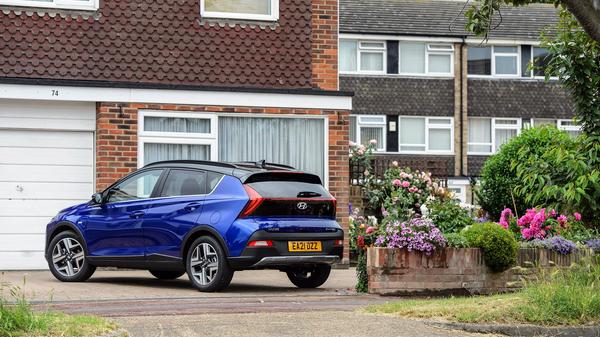 Running costs for a Hyundai BAYON
The Bayon enters a very competitive market, where both style and cost are high on buyers' priorities. With so many cars to choose from in this sector manufacturers are therefore under pressure to keep pricing keen, so it will pay to shop around and see what deals and incentives might be available at the point of purchase. For its part Hyundai has seemingly priced the Bayon at the upper end compared with some direct alternatives, offsetting that against a generous standard specification. In terms of running costs it looks pretty competitive, the
mild hybrid technology
and 'intelligent' manual gearbox intended to keep a lid on CO2 and mpg figures. At the time of writing these were yet to be confirmed but every indication would be the Bayon will be on a par with equivalent cars like the Ford Puma, which has a similar combination of a downsized petrol engine with mild hybrid assistance. Full hybrids are less common in this sector, though Renault does offer a plug-in version of the Captur that could save in running costs. It is a lot more expensive to buy, though.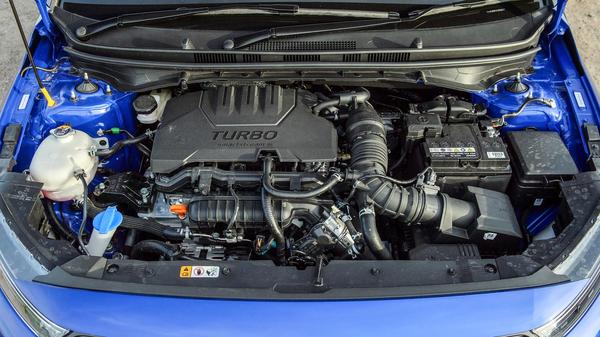 Reliability of a Hyundai BAYON
Hyundai's five-year warranty was a stand-out feature not so long ago and only beaten by the seven years offered by its sister brand Kia, whose Stonic competes with the Bayon. These days Renault, Toyota and others have upgraded their warranties from the usual three years to match Hyundai. This still reflects well on the brand's wider reputation for building reliable cars, Hyundai including free annual 'health checks' for the first five years and renewing the roadside recovery each year if you have the car serviced at one of its dealerships.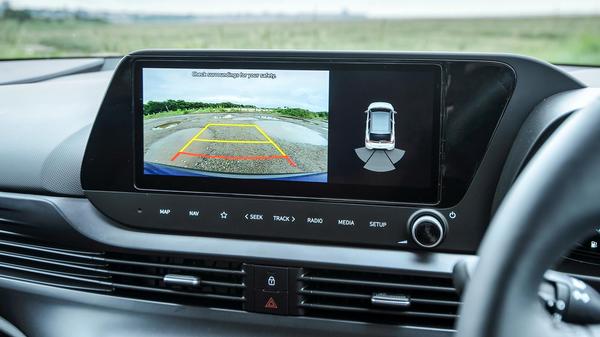 Safety for a Hyundai BAYON
Another benefit of the Bayon being built on the latest Hyundai foundations is that it comes with all the safety kit you'd expect under the firm's SmartSense branding. This includes warnings and interventions if it looks like you're drifting out of your lane plus forward collision warning and automatic emergency braking (with pedestrian and cyclist detection). There's even a Driver Attention Alert system that scolds you if you don't pull away immediately when the car in front moves off. It's sensitive enough to squawk if you even hesitate for a second (and nearly as annoying as being tooted at by an impatient driver behind you) so we quickly found a way to turn it off. Higher trim grades meanwhile get even more kit, with lane following and blindspot warnings. But even the standard spec is generous enough to get a top score here.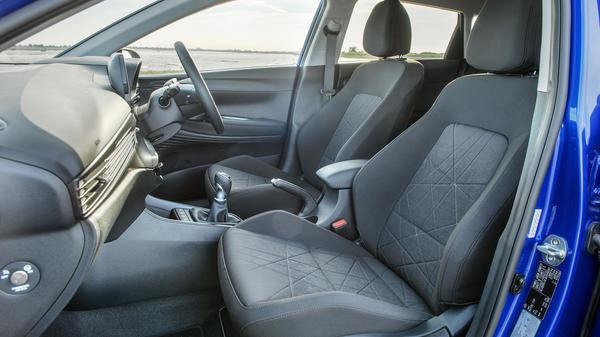 How comfortable is the Hyundai BAYON
Hyundai usually sets its cars up to be more comfortable than sporty and, given it's basically an i20 with a bit more ride height, you'd expect the Bayon to be even more accommodating on bumpy roads. So it proves though, like its hatchback brother, the bigger wheel options don't do the ride comfort any favours, even if they look cooler. Being a little taller the Bayon is easier to get in and out of and you can strap kids into the back seats without having to stoop down as you might with a regular hatchback, which all adds to the sense of practicality and explains the popularity of such cars with everyone from older drivers to young parents on the school run. The latter might find the boot a bit narrow for pushchairs and other clobber and the rear bench is narrow enough to make it a squeeze for five people, but you need to remember this is really just a high-riding supermini rather than a full-size SUV. Stylish on the outside, we'd mark the Bayon down a little for the generally cheap feel of its materials, switches and fabrics. It's all perfectly serviceable and well put together but there's little in the way of surprise and delight.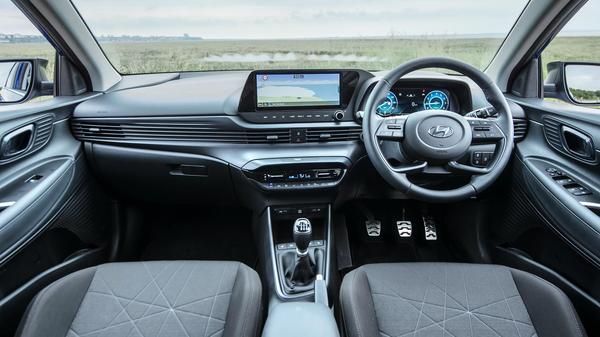 Features of the Hyundai BAYON
Where some rivals bury options and other features in complicated range structures Hyundai is to be applauded for its simple three-step hierarchy and the fact much of the kit you want is standard, even from the entry-level model. As such even the cheapest version has a fully digital instrument display, a rear-view camera with parking sensors, cruise control and an 8.0-inch touchscreen through which you can connect your phone via
CarPlay or Android Auto
to access your navigation apps. The mid-level trim adds desirable features like heated front seats, privacy glass, fancier LED lights front and back and a bigger 10.25-inch touch-screen with built-in navigation and array of connected services. You also get wireless charging for your phone and a wider choice of engines. Having driven it we'd say it's worth the upgrade from the base trim, the top level adding some extras like premium Bose sound and additional driver aids. Nice to have, but not essential.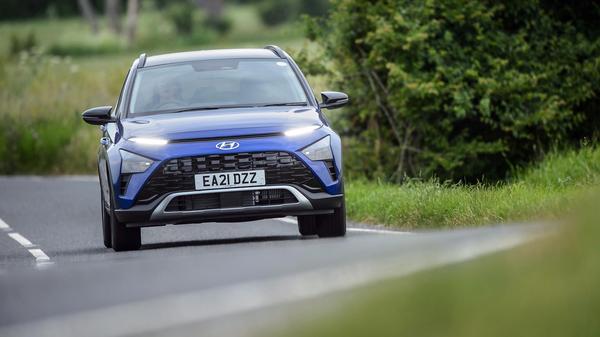 Power for a Hyundai BAYON
There's only one engine available on the Bayon, that being a 1.0-litre turbocharged three-cylinder petrol. In the base model it offers 100 horsepower, a 120 horsepower version of the same offered in the higher trim grades. This was the one we drove and it pulls keenly enough and is on the money with rivals in terms of power output but there's a lot of vibration at tickover, which makes waiting at the lights pretty uncomfortable if the start-stop hasn't killed the engine. It's fine once you get going, the standard 'intelligent' manual transmission operated in the normal way with a clutch pedal but able to 'decouple' itself automatically to effectively coast in neutral or with the engine off for improved efficiency. It's slick enough you won't even notice it happening, the other option being a seven-speed automatic which costs a bit more but will appeal to those who do a lot of urban driving. Some rivals offer more performance – the
Puma ST
an extreme example – but for now Hyundai says it has no plans to follow suit with more powerful versions, despite the fact it offers a hot hatch version of the related i20.