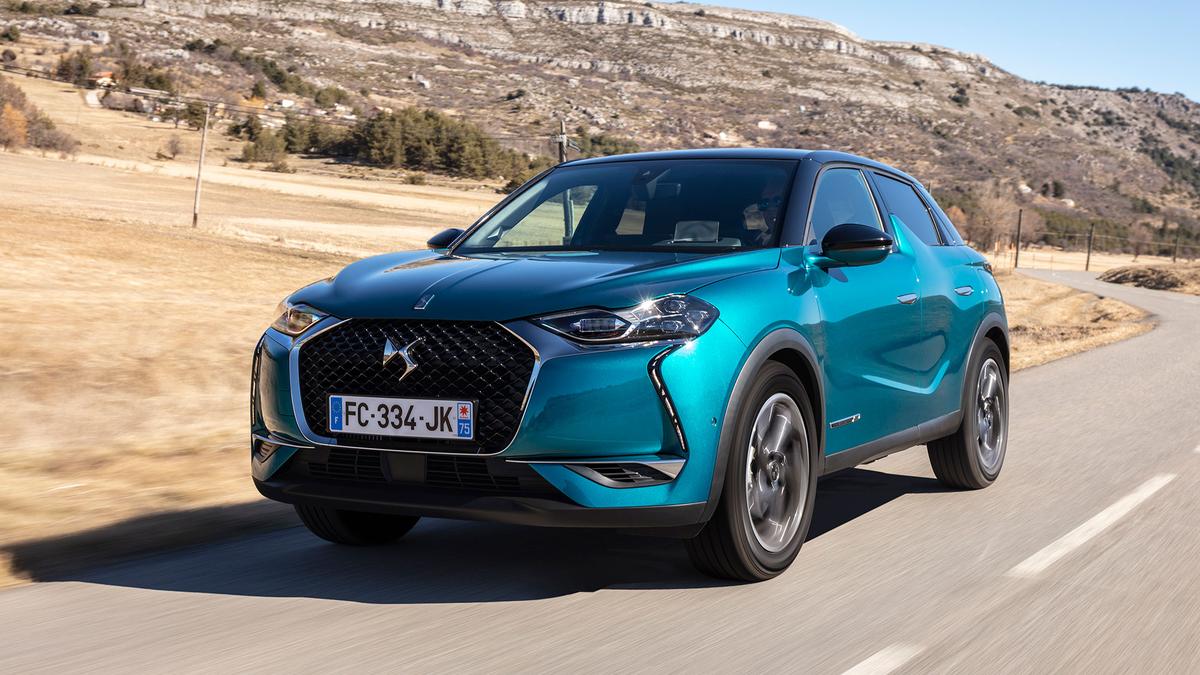 View gallery
The Auto Trader expert verdict: ★★★★★

★★★★★
3.5
The DS 3 will be appealing to many buyers for its looks and individuality alone, but it also does well in a range of other areas such as interior quality, equipment, safety and performance. It's also enjoyable yet civilised to drive. It struggles in some other areas, though, most notably practicality, visibility and the usability of its touchscreen infotainment system. Compared with its premium rivals, it's not the affordable option many will be expecting, either, and there are lots of cheaper 'non-premium' alternatives that do better in many areas. Still, if you've fallen for its image and its eye-catching looks, and you're prepared to forgive its few shortcomings, we wouldn't put you off buying one.
Reasons to buy
Impressive interior quality

Cracking petrol engines

Generously equipped
Pick of the range
1.2 Puretech 130 Elegance automatic
The best engine, and the cheapest trim has most of what you need
Most economical
Around 200 miles of zero-emission driving on every full charge
Blow the budget
1.2 Puretech 130 Prestige automatic
Nice to have the leather and the bigger screen, but there's no need to spend any more than this
How good does it look?
DS says that design is one of the main reasons for buying its cars, and uses all sorts of fancy words like 'sculpted' and 'avant-garde' to describe it. The DS 3 Crossback certainly looks rather different to the small SUVs it competes with, with bold details and lots of unconventional bulges and creases. Perhaps the most unconventional bit is the 'shark fin' – a small piece of bodywork that raises up behind the middle widow pillars – that's carried over from the DS 3 hatchback that the Crossback replaces. The Crossback does have an extra party-piece, though, in the form of flush-fitting door handles that pop out automatically when you approach the car. That's a touch you normally only see on expensive, high-end products like Range Rovers and Teslas. The looks of your car depend greatly on which version you choose, with all sorts of different wheel designs and trim finishes specific to each grade, and there's also lots of scope to customise your car's looks even further with contrasting roof colours and a huge palette of paint colours.
What's the interior like?
DS markets its cars as premium products, and for the most part, the DS3's cabin delivers on that promise. Most of the materials you see and touch regularly are finished to an extremely high standard, and while one or two of the panels and switches lower down aren't of quite such a uniformly high standard, the overall ambience is one of quality. Again, how your car looks on the inside will depend greatly on which version you choose, with each getting a different combination of materials, colours and finishes to give it a different character.

It's the design that's most attention-grabbing, though, because it's very different to anything else we've encountered outside of DS, giving the car a welcome dose of individuality. The diamond-shaped buttons on the dashboard are big, clearly marked and easy to hit at a glance, too. Unfortunately, these are only shortcut buttons to take you into the appropriate menu of the touchscreen infotainment system, and from then on, using the various functions becomes a lot more complicated due to strangely arranged menus and cluttered graphics. That said, the digital instruments – which can be configured to show the specific information you require – work pretty well.

The seats are very supportive, too, and the driving position has lots of adjustment to help you get comfortable, but the visibility – especially towards the rear - is pretty limited due to small windows and thick window pillars.
How practical is it?
If you're after practicality – and many buyers after an SUV, even a small one, will be – then the DS 3 Crossback doesn't do a particularly impressive job. Things are fine in the front, but there are numerous issues in the rear seats. Legroom is on the tight side compared with competitors, and although headroom is adequate for a six-foot adult, the rear edge of the car's roof drops down just behind your head, meaning you might well find your noggin getting clonked if the driver does anything too drastic with the throttle or brakes. The rear wheel arches cut into the (already small) rear door openings, too, making it more awkward than it should be to get in and out.

The small windows make the rear of the cabin very dark, and they also mean that small children in heavily bolstered child seats won't be able to see out very well. That's exacerbated by the 'shark fin' styling element, which sits right in the middle of a toddler's field of view. Throw in rear windows that only wind halfway down, and it's fair to say that this isn't the most family-friendly cabin you'll ever encounter.

On the luggage front, the boot is a reasonable size for the class at 350 litres, allowing you to carry a number of shopping bags or a small stroller buggy, but there's a large lip to lift items over and the rear seats don't fold anywhere near flat, leaving both a slope and a large step in the extended load floor.
What's it like to drive?
You expect most high-riding SUVs to focus on ride comfort rather than handling sharpness, but the DS 3 Crossback actually manages to provide a really impressive blend of both abilities. Regardless of the surface you're on or the speed you're travelling at, the car does a great job of isolating you from the adverse effects of bumps and ripples, keeping life smooth, relaxed and comfortable. What's more, the car is also impressively quiet on the move, with excellent suppression of wind and road noise, which helps make things even more civilised.

Get to a set of bends, and the car also manages to feel quite pointy and alert, thanks to bullish front-end grip and steering that's satisfyingly responsive and weighty. The body feels reasonably well controlled at moderate speeds, too, although if you push harder – or more likely, enter a corner a bit too quickly by mistake – the body can lean over rather more severely. This means that ultimately, the car doesn't feel quite as dynamically polished as it first appears, but it'll still be more than adequate for most people.

It should also be noted that the diesel version doesn't handle with the same agility or precision as the petrols. It feels quite a bit heavier in the nose, meaning that car doesn't feel as well balanced, and that the front tyres feel more prone to washing wide of your desired path.
How powerful is it?
Petrol buyers choose between three engines, all three-cylinder 1.2-litre turbocharged units with either 101, 131 or 155 horsepower. In truth, we can't see much of a reason to look past the entry-level one, which is an absolute little cracker. It feels nice and sprightly at the bottom and in the middle of the rev range, making it feel pleasantly eager and responsive. It also reacts reasonably well when you work it harder, so in all situations, it actually feels a good bit perkier than its modest power output suggests. The other two engines have the same peppy, up-and-at-'em nature, but ultimately, neither feels a whole lot quicker than the entry-level unit, making it difficult to justify the extra that you'll pay to buy and run them.

One reason might be if you want an automatic gearbox to replace the base car's slick-shifting six-speed manual, because both the more powerful engines get an eight-speed self-shifter as standard. It works really well, swapping gears smoothly and effectively, especially when you select the sportiest of the three driving modes (Eco, Normal or Sport).

The sole diesel choice is a 1.5-litre engine with 102 horsepower, but it's not the version we'd recommend. The power delivery isn't as smooth or as consistent as in the petrols, and the diesel also produces much more in the way of noise and vibration, meaning it's not as relaxing to drive.

We've also had a very quick shot in a prototype version of the forthcoming all-electric version of the DS 3 Crossback, known as the E-Tense. Depending on which of the three driving modes you select, the electric motor delivers a different amount of power. Eco delivers 82 horsepower for a leisurely feel, Normal delivers 109 horsepower for a little more zip, while the 136 delivered in Sport mode makes things feel a good bit more lively. A full charge (which takes five hours with the 11kW wall box charger you get as standard, or 90 minutes on a 100kW fast charger) should be able to take you around 200 miles, according to official WLTP figures.
How much will it cost me?
Compare most models with the equivalent versions of the Audi Q2 and Mini Countryman on price, and there's very little in it. That means the DS 3 won't cost you any more, but it also means it won't save you much compared with those established German premium brands, either. Look further up the range, and the prices of the range-topping versions seem pretty ludicrous, but you can say the same for both the Audi and the Mini, too. Version for version, the DS 3 also compares pretty well for fuel economy and CO2 emissions, while the French car's resale values don't seem to be far behind, either. That should mean the DS 3 does a decent job of protecting your investment if you buy privately, and should also mean more affordable monthly payments if you're a finance customer.
How reliable is it?
This is a tricky one. As a brand, DS hasn't yet been around long enough to appear in many reliability studies, and the DS 3 Crossback is also a too new for there to be any data about reliability. The car shares some parts with various other cars within the Citroen/Peugeot/Vauxhall group, but again many of these – such as the platform it's built on – are all-new. The engines have seen service in various other cars for a while, and encouragingly, we haven't heard any horror stories. Other than that, though, we'll just have to wait and see how the car fares on reliability. The car is provided with two years of unlimited-mileage manufacturer warranty, and a third year's retailer warranty that's limited to 60,000 miles.
How safe is it?
All versions of the Crossback come with six airbags, an alarm, two Isofix child seat mounting points and a suite of clever safety systems that includes automatic emergency braking, a lane-keeping assistant and speed limit recognition and adaptation. The safety roster stays the same until you get all the way up to Ultra Prestige trim, which adds blind spot detection, as well as more sophisticated versions of the automatic braking and lane-keeping systems. The La Premiere edition, meanwhile, adds more sophisticated versions of the blind spot detection systems and blind spot monitor, as well as a semi-autonomous system that will allow the car to pretty much drive itself in certain situations. The car scored four stars when crash-tested by safety organisation Euro NCAP, but when equipped with the safety pack - which all cars come with as standard in the UK - it scored the maximum five stars, which is excellent news for British customers.
How much equipment do I get?
Even the entry-level Elegance trim comes very well equipped and has most of the luxuries you'll want. These include alloy wheels, air-conditioning, rear parking sensors, keyless go and a 7.0-inch touchscreen infotainment system that brings together a DAB radio, Bluetooth and Apple CarPlay/Android Auto. Performance Line models add a few aesthetic touches but not much in the way of luxury kit, while the Prestige model comes with climate control, automatic wipers, front parking sensors, leather upholstery and a bigger 10.0-inch touchscreen that also incorporates sat-nav. Ultra Prestige trim gives you a head-up display, keyless entry, LED headlamps, a reversing camera and heated seats that'll also give you a massage. The La Premiere edition, meanwhile, gets a wireless phone charger and active cruise control with a traffic stop-and-go function.
Why buy?
You'll buy a DS 3 Crossback because you're after a small premium SUV but you want something a bit different to the normal Germanic choices. You'll also most likely be somebody who values style, interior quality and luxury equipment a lot more than you do practicality.