Expert Review
BMW X5 SUV (2018 - ) review
Check out the BMW X5, the luxurious seven-seat SUV with room for all the family and added option of plug-in hybrid power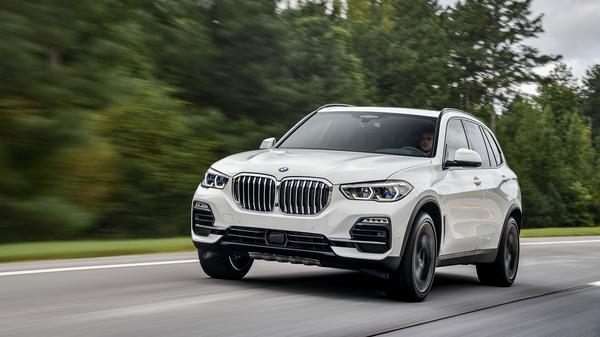 The Auto Trader expert verdict:
Available new from £60,735
The BMW X5 is a luxury car first and foremost, but one that comes with the added prestige of a BMW badge and an SUV body, along with a little bit off-roading ability. It's comfortable and quiet in all guises, well-equipped and crammed full of the latest technology. Naturally, none of that comes cheap, though.
Reasons to buy:
Luxurious interior ambience
Quiet and smooth engines
Decent equipment levels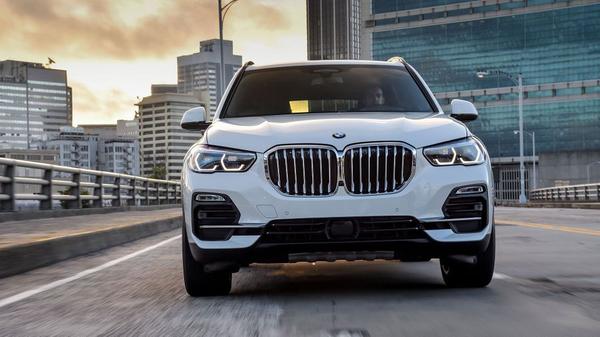 Running costs for a BMW X5
There isn't enough of a price difference between the entry-level petrol and diesel X5s for that to be the deciding factor. Instead, buyers need to consider their likely use of the car, as the xDrive30d is considerably more economical over long distances than the xDrive40i. Conversely, the petrol version should be cheaper to maintain. The M50d sits between them in terms of economy, but is significantly more expensive to buy, insure and maintain in terms of tyre wear. If money's no object there's also the 530 horsepower M50i, its petrol V8 decisively putting performance above all other considerations with a price premium to match. Low-mileage drivers should seriously consider the xDrive45e hybrid, the 37g/km CO2 rating making it far more attractive in tax terms. Generally speaking BMW X5 has strong resale values, which helps keep ownership costs down, even if all models are in high insurance groups.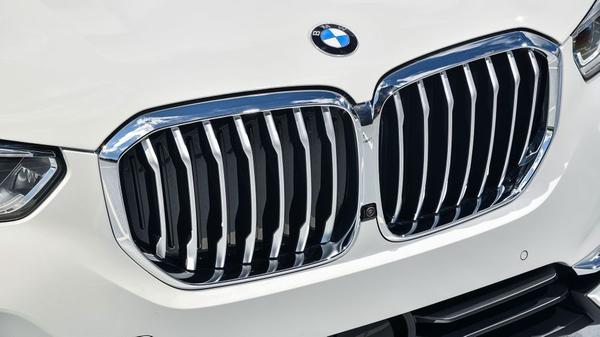 Reliability of a BMW X5
In isolation, the previous-generation BMW X5 wasn't rated highly as a reliable car, with many niggling issues, but a little research shows that it was no worse than its major rivals from Audi, Mercedes, Land Rover and Volvo. There isn't sufficient data on the current X5's reliability to make a call on it. The X5 comes with a three-year, unlimited mileage warranty that includes BMW Emergency Service, while the high-voltage battery pack in the hybrid model has its own six-year/60,000-mile warranty.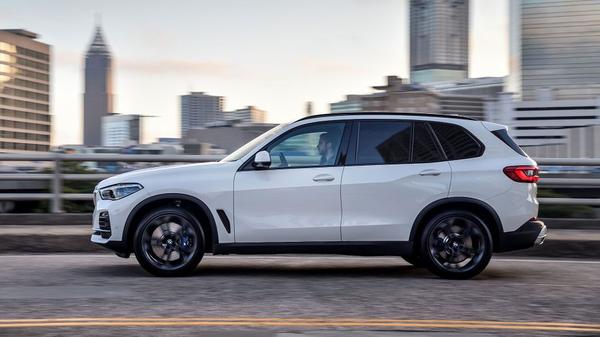 Safety for a BMW X5
As with all cars in this segment, the BMW X5 has a generous list of airbags and other safety devices, including fast-acting stability and traction control systems. BMW generally performs above average in independent safety tests for that reason and the X5 should also fare well thanks to its suite of active safety and driver assistance systems (although it hasn't yet been tested). Unfortunately, the most sophisticated of these can be found on the options list, including active cruise control that continues to work in stop-start traffic. That's just one example of the semi-autonomous safety technology available. Included as standard is an advanced automatic parking system that can not only take care of parallel parking for you, but can also reverse out of a space (or narrow alley) automatically, replicating the steering movements of the past 50 metres.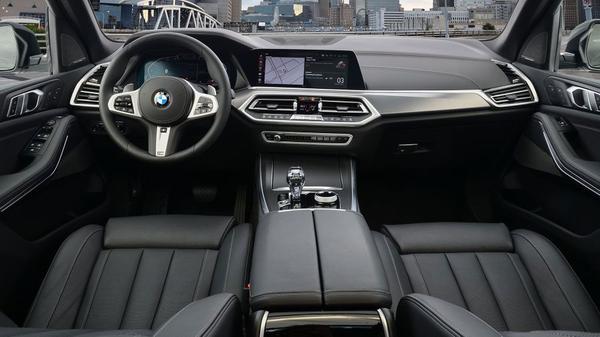 How comfortable is the BMW X5
As standard the X5 has sophisticated air suspension that intelligently adapts to the road conditions. The driver may also alter its characteristics by changing the drive mode. Despite BMW's sporty image, the X5 focuses on comfort first and foremost and it does a great job of isolating its passengers from the world outside. Rear-wheel steering is optional and helps with both low-speed manoeuvring and high-speed stability so is a desirable option. The decisively sportier M50i and M50d get dedicated, stiffer suspension with the option to upgrade further with a system that actively counteracts body lean in the corners, though it feels strange in operation. The interior of the X5 is very luxurious, with soft leather upholstery and high-quality materials throughout. Up front, there's plenty of room to stretch out and loads of useful storage areas. Notably, the cupholders can be upgraded with cooling and heating. If you need more seats a folding third row is available at extra cost, tucking away under the floor when not required. This option isn't available on the hybrid though, the drive system taking up the space used by the third row and meaning the plug-in X5 is a five-seater only. You'll encounter the same issue on rivals too, the hybrid version of the
Volvo XC90
likewise unavailable in seven-seater format for the same reason.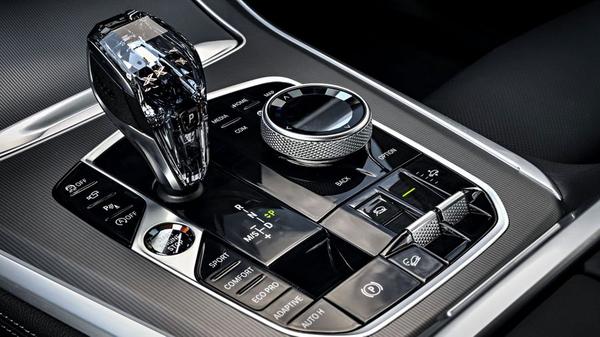 Features of the BMW X5
BMW skilfully combines luxury with the latest in-car technology, starting with the impressive looking digital dashboard. This is made up of two 12.3-inch colour displays with crystal-clear graphics. The first, in front of the driver, replaces traditional instruments, and can be customised (we think BMW could have gone further on that score), while the second takes the form of a touch-screen in the middle of the dashboard. The driver can choose to use that, voice control, buttons on the tactile steering wheel or the centrally-mounted rotary controller for most functions. There's gesture control, too, but it's of limited use in reality. The key trim levels are xLine and M Sport, the latter more about image than anything with its bigger wheels and sporty bodykit. . BMW then groups its most tempting options into packages, including the xOffroad Package, which enables the X5 to go further off-road than most owners would expect of it. All cars feature snazzy ambient lighting (it looks fab at night), Bluetooth, DAB radio and even a Wi-Fi hotspot. There are also roof rails and an automated tailgate included in the price. Back inside, there's leather upholstery of various colours and grades and the impressive-looking digital dashboard setup is all included.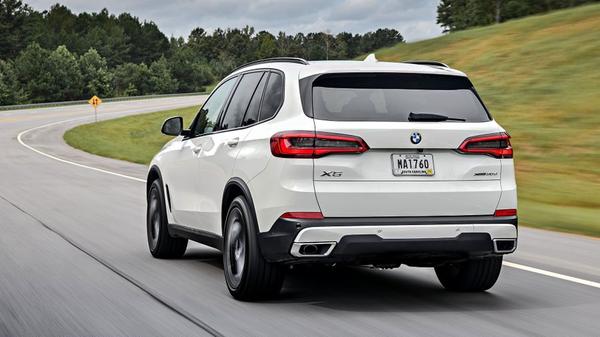 Power for a BMW X5
BMW offers four conventional powertrains in the X5, two diesels and two petrol. All are paired with a super-slick eight-speed automatic gearbox and clever four-wheel-drive system. A turbocharged 3.0-litre diesel with 265 horsepower kicks off the range in the xDrive30d model, and we reckon it's the best engine in the line-up. It's useful for towing, too. The petrol xDrive40i uses a turbocharged 3.0-litre unit and while this engine is smoother than the diesels it doesn't feel significantly quicker than the xDrive30d. Topping the range is the X5 M50d, which uses another version of the 3.0-litre diesel, but with four turbochargers to produce 400 horsepower. It's undoubtedly fast, but it's also noisier than the xDrive30d and not really worth the extra outlay. True power junkies are meanwhile catered for by the V8 M50i while, going the other way, there's also the plug-in hybrid xDrive45e option. It has a claimed electric-only range of just over 50 miles but also a combined power output of nearly 400 horsepower when the petrol engine kicks in.