Expert Review
Audi A8 saloon (2017 - ) review
Can the Audi A8 make it to top of the luxury limousine pile? Read our review to see if its sharp style, lavishly-appointed interior and cutting-edge technology is enough.
The Auto Trader expert verdict:
Even alongside other cutting-edge luxury saloons, the Audi A8 looks like a very impressive machine. It's lavish and spacious to sit in, luxurious to ride in, good to drive and – law permitting – it can even drive itself for some of the time. Yes, plenty of the ground-breaking technology on show costs you extra, but even without it, the A8 is a fine luxury limousine. A worthy rival to excellent cars like the BMW 7 Series and Mercedes S-Class.
Reasons to buy:
Absolutely rammed with cutting-edge technology
Cabin is lavish and spacious
Comfortable and quiet on the road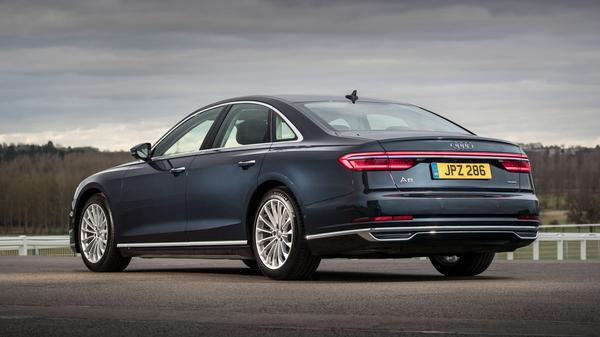 Running costs for a Audi A8
The
Audi A8
costs a very similar amount to the
BMW 7 Series
to buy, and a bit less than the
Mercedes-Benz S-Class
, although when you're talking about these kinds of sums, the differences are minuscule. Critically, the resale values of the three cars are also very similar, so depreciation – which has the biggest overall effect of any running costs for all motorists – is broadly similar across the board. Fuel costs and CO2 emissions are slightly higher on the
Audi
than they are for the equivalent
BMW
and
Mercedes
, too, but again, the differences are very unlikely to be deal-breaking.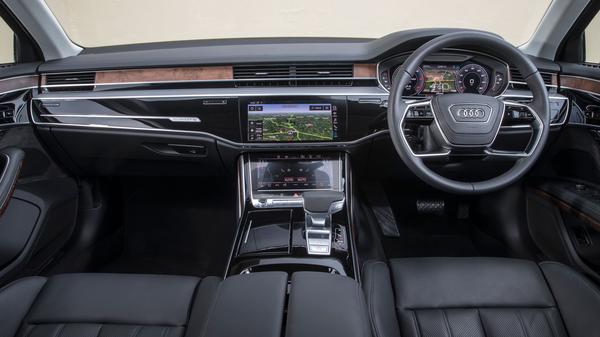 Reliability of a Audi A8
The evidence in this area tells something of a mixed tale where the Audi A8 is concerned. Look at the Warranty Direct Reliability Index, where the average age of the A8s in the survey is about five years old, and the news doesn't look good. As an individual model, the A8's score is about as low as it's possible to get, and Audi sits disappointingly close to the bottom of the league table of manufacturers. What's more, Audi has placed in the bottom three of the manufacturer rankings in JD Power's Vehicle Dependability Survey for the past three years running. However, the owner reviews on our own website are much more positive, with the vast majority of owners reporting a largely trouble-free ownership experience.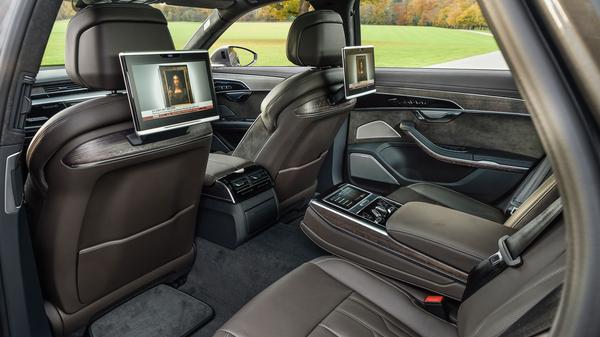 Safety for a Audi A8
Along with all the airbags and traction aids you'd expect, the standard roster of safety kit includes autonomous emergency braking, an automatic high-beam headlamp function, camera-based traffic sign recognition, lane-departure warning and a system that brings the car to a standstill if it suspects the driver is no longer conscious. In fact, these are just a few of the driver assistance systems that are available. Get busy with the options list, and you can have up to 40, which is pretty staggering. No less staggering is the fact that the Audi A8 is the first production car that meets the standards for Level Three autonomous driving. What does that mean? Well, like with less advanced systems, the A8 can take care of the steering, throttle and brakes while you're pootling along in traffic up to a certain speed; but, while other cars require the driver to pay attention at all times, the Audi is deemed capable enough that you can do something else entirely, like watch TV or check your emails. In theory, that is, because this level of autonomy is not yet legal anywhere in the world, and it's not clear when it will be. As a result, you'll have to wait a while for this functionality to becomes usable, even if you pay the extra to specify your A8 with the functionality now. What's more, we've not yet had the chance to try it out, so we can't tell you how well it works.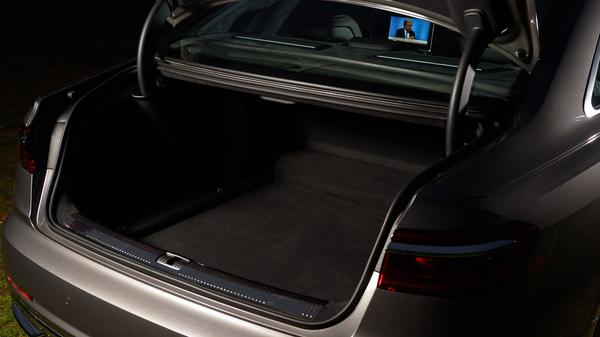 How comfortable is the Audi A8
Every surface you see, touch or interact with in the Audi A8 is absolutely dripping with tactile and sensory appeal, and the way in which it's all assembled is so solid, so substantial, and displays so much attention to detail that you'd swear it'll last forever. The cabin also has a sharp, contemporary design that gives it an advanced, cutting-edge feel, and that's helped no end by the vast amount of technology on display. Audi's 'Virtual Cockpit' digital dials are present and correct, as is a head-up display and two gigantic touchscreens on the centre console that deal with pretty much all the car's complicated functionality. The buttons and dials that once helped you to use the function you wanted are no more. Not only do the touchscreens look really cool, but the graphics are super-sharp, and the software works really quickly. However, with the vast amount of different functions the system has to deal with, it will take a while to get used to finding your way around its finer points. On the other hand, finding a comfortable driving position is a piece of cake, because there's electric adjustment on just about everything, and you have a clear view out in all directions, which is essential when you're driving a car of such colossal size. What's more, there are cameras and proximity-sensors all over the place to tell you if you're getting uncomfortably close to an obstacle when parking. The A8 is the largest car in its class in every direction. That means absolutely bags of legroom where it counts – in the rear seats – and there's even more in the long-wheelbase version. Rear headroom is also very generous and there's plenty of space up front for the chauffeur, too. At 505 litres, the boot can accommodate three full-size flight cases, rather than just two and some extra small baggage. It's a fraction smaller than those in the BMW 7 Series and Mercedes S-Class, but it really is only by a fraction. Any limo worth its salt needs an effortlessly comfortable ride and effective isolation from the noises of the outside world. On the first point, the A8 does a brilliant job. You get a sophisticated air suspension as standard, and when you set it to Comfort mode, it's simply brilliant at absorbing lumps and bumps in the surface so you barely even notice them. It also delivers just the right amount of vertical travel, so you feel as if you're wafting along luxuriously, but without the body feeling like it's bouncing around too much. Switch through the modes into the sportier settings, and the ride quickly becomes a good bit firmer, but you do get tighter control over body movements in return. That makes the car feel sharper along winding roads, and when combined with the impressive grip and traction you get from the standard four-wheel drive, it feels impressively capable and assured through a set of bends. However, this is a truly enormous car, and you're always very aware of that size, especially on single-carriageway roads. The A8 is good on the noise front, too, with barely any road noise and only the odd burble from the engines when they're asked to work a little harder. There's a shade more wind noise that you hear in a Mercedes S-Class, but it's nothing that'll distract those in the back from their laptops or copies of the FT. If you're willing to pay extra, there's also an optional suspension system that's even cleverer. It uses the car's cameras to detect the size and shape of upcoming bumps in the road, and then it primes electronic actuators on each of the four wheels to raise or lower them as necessary to deal with the bump most effectively. It's clever stuff, but we've not had the chance to try it out yet.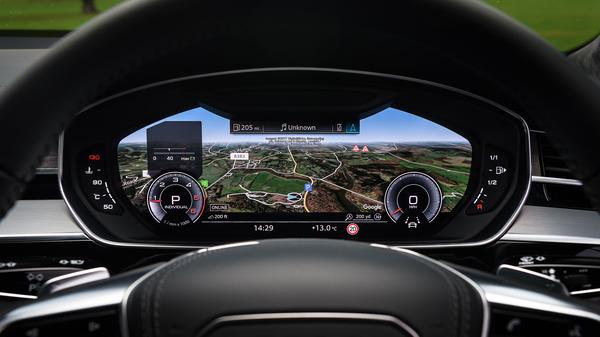 Features of the Audi A8
The standard roster in the entry-level (although that phrase seems inappropriate to use when discussing a car that's as well stocked as the A8) Sport model includes four-zone climate control, heated front- and rear seats, leather upholstery, a powered tailgate, keyless entry, LED interior lighting, wireless phone charging, front and rear parking sensors with a rear-view camera, adaptive cruise control with stop-and-go function, sat-nav, DAB radio and a DVD player. Other than its various aesthetic upgrades, the S line car gives you quilted leather seats and double-glazed windows that make the cabin quieter, while Black Edition cars get even more styling embellishments but not a great deal else. Vorsprung models are the properly stacked ones, with the clever surface-sensing suspension, a panoramic roof, ventilated front seats, electric sunblinds and a host of other goodies. Of course, pretty much all A8s will also be loaded to the nines with optional extras, and there's a dizzying array to choose from that'll quickly escalate the cost of your car to similarly dizzying levels. Choices include bigger wheels, a TV tuner, night vision, massaging seats and a rear foot massager. That's on top of all the clever autonomous driving kit, which is also optional.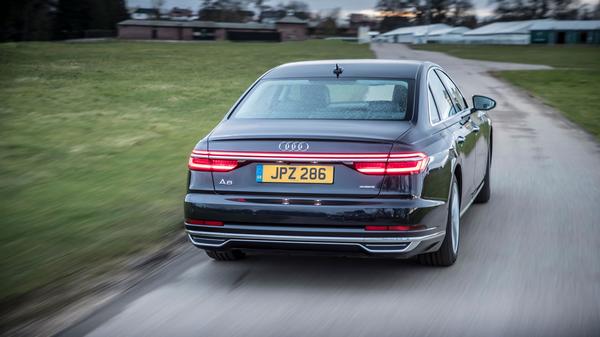 Power for a Audi A8
The 286-horsepower diesel, known as the 50 TDI, stays smooth and quiet for the vast majority of the time, only making itself heard when you work it hard. You shouldn't often need to, though, because it's pretty eager at low revs; and, even when you're going faster, revving it hard doesn't ultimately result in that much more pace, anyway. As with all the best chauffeur cars, it's best to just sit back and adopt a relaxed approach. We've also had a go in the plug-in hybrid version on offer, which combines a 3.0-litre V6 petrol engine with an electric motor to deliver 449 horsepower. Not only is it capable of some properly serious pace when you plant your foot, but it's also capable of an electric-only range of around 25 miles when you don't. Like all A8s, it comes with an eight-speed automatic transmission as standard, and it's very slick indeed.