Best Of
Frankfurt Motor Show 2015: Top 10 concepts
We bring you a rundown of our ten favourite concept cars from this year's Frankfurt Motor Show, including an electric Porsche, topless Citroen and transforming Mercedes.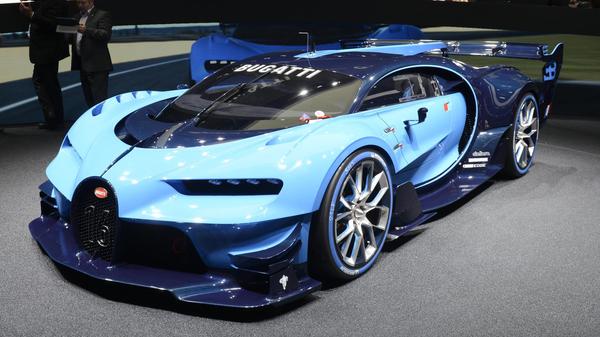 Number 1: Porsche Mission E
Arguably the surprise star of this year's Frankfurt show - the Porsche Mission E managed to steal attention away from many of the production cars on display. It's essentially what a Tesla Model S would look like if it were built in Stuttgart, and not California. An all-electric four-door coupe with 592bhp from its twin electric motors, Porsche claims it'll do 0-62mph in less than 3.5 seconds, yet also manage around 310 miles on a full charge. The futuristic looks and stark white bodywork conceal a minimalist four-seat interior, with a smart holographic 3D take on the brand's traditional five instrument cluster. Other glimpses of tech you might see appearing in production in the next few years includes gesture controls, and a camera which tracks the driver's eye line, adjusting the dash accordingly so you can always see key information at a glance.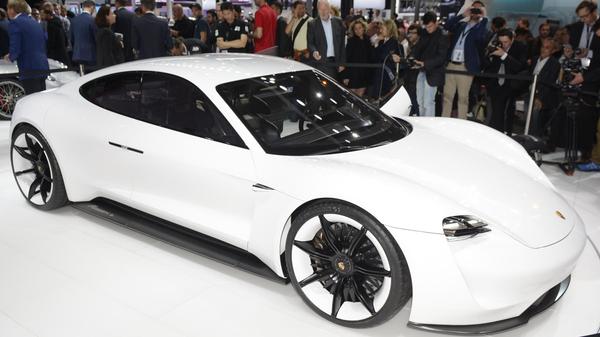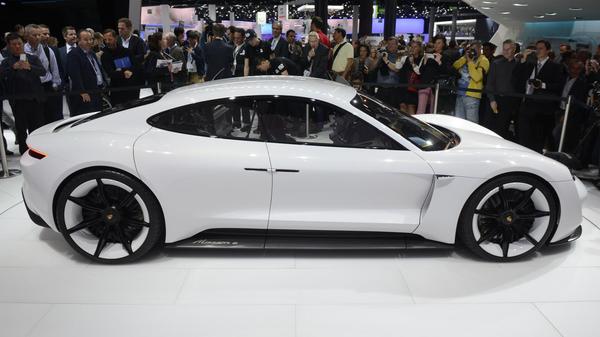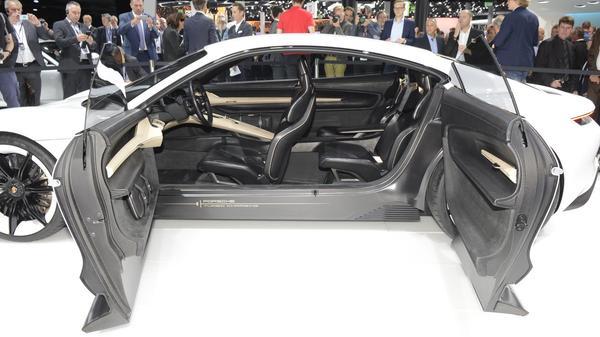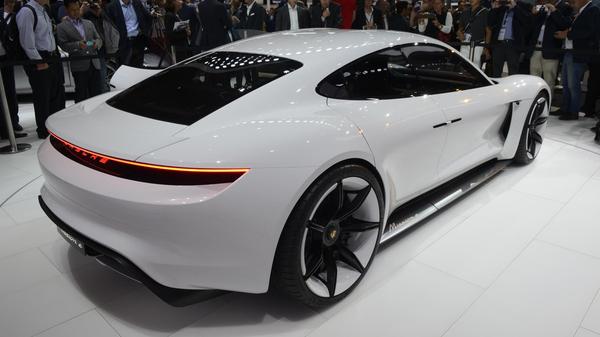 Number 2: Mercedes Concept IAA
The crowning jewel of Mercedes' gigantic three-storey show stand was the stunning Concept IAA - which, if you happen to be wondering, stands for 'Intelligent Aerodynamic Automobile'. A technical tour-de-force, this car is slipperier than a greasy sea lion, and thanks to some trick aerodynamics it has a drag co-efficient of just 0.19Cd, which helps it save fuel. Once you drive over 50mph, the wheels close themselves up, flaps in the grille snap shut and fins in the tail extend to make the IAA as streamlined as possible. In this mode, Mercedes claims the IAA (which uses a plug-in hybrid powertrain) emits as little as 28g/km of CO2, and has an zero-emissions range of 40 miles - not bad considering the 275bhp combined output. The interior is apparently a hint towards "a saloon in the near future" so watch this space, the next E-Class and CLS could take a few of their design cues from this incredible looking machine.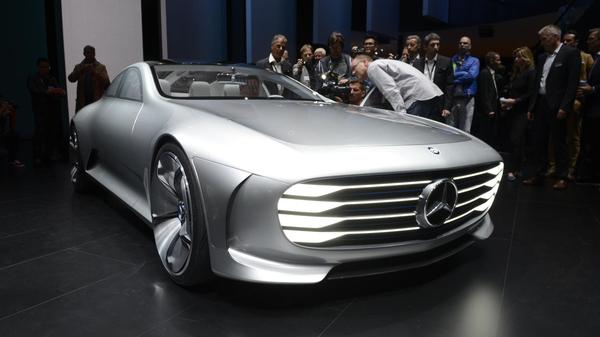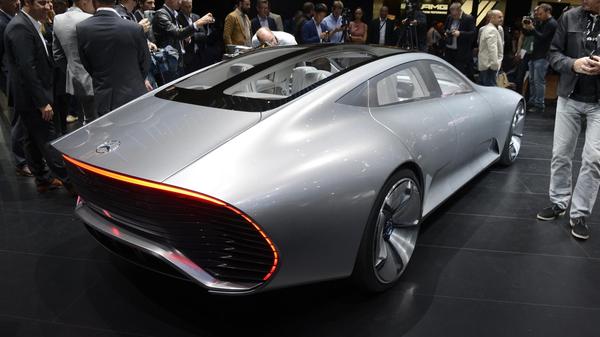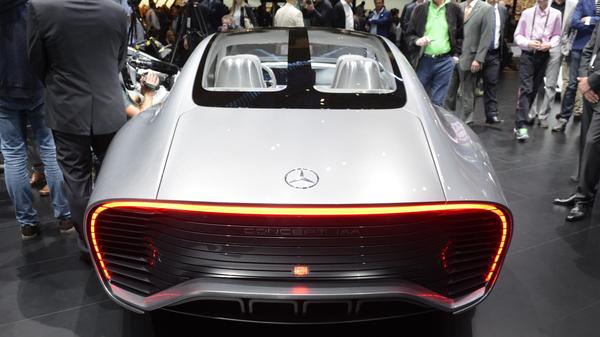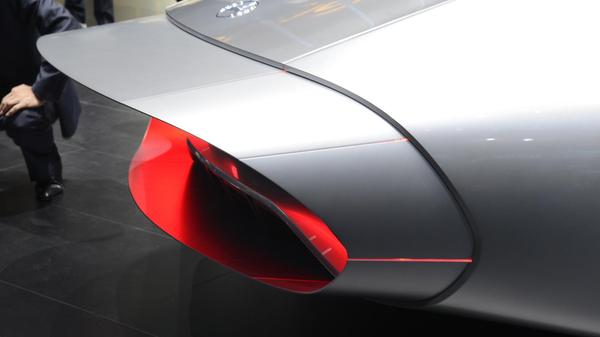 Number 3: Honda 2&4 Concept
Honda is a company renowned for its clever engineering, and this half-car, half-bike concept perfectly demonstrated the brand's expertise in both areas. Powered by a 999cc V-4 MotoGP motorbike engine with 212bhp, and revs out to a screaming 14,000rpm redline. Designed as a trackday toy in the same mould as cars like the Ariel Atom and BAC Mono, it weighs in at just 405kg, and with only a small wind deflector for protection, it should certainly feel quick. The beautifully sculpted single seat is made from carbon fibre, and fixed, so the pedals and the wheel move towards the driver. Every detail has been carefully thought out. The brakes are borrowed from Honda's racing bikes, while the bronze wheels are custom made. A full set of Ohlins adjustable dampers mean you can tinker with the suspension setup, altering it for road or track, but Honda says that it'll only build this car if it receives enough positive reaction. It definitely works for us!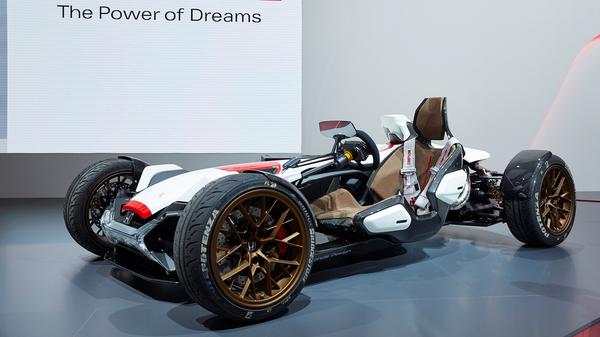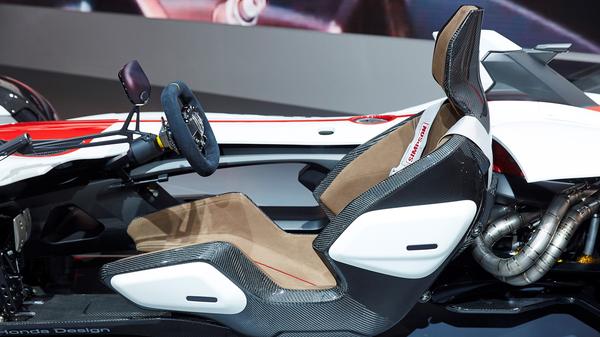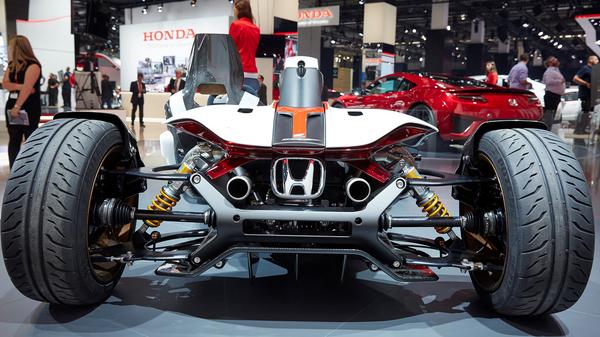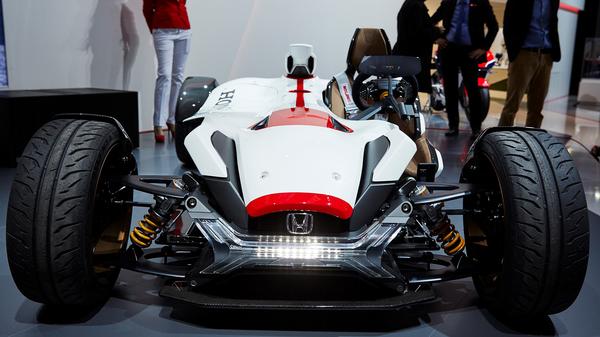 Number 4: Bugatti Vision Gran Turismo Concept
After years of releasing seemingly endless limited editions of the Veyron, Bugatti took the covers off this bonkers concept. It looks like some kind of brutal cross between a steroidal Veyron and a full-blown Le Mans racer, and the striking blue livery was apparently inspired by the Type 57 that claimed victory at the Circuit de la Sarthe in the late 1930s. Sadly, it's actually just a physical realisation of a digital new model. The Vision Gran Turismo concept was designed for the Playstation game of the same name, but it certainly gives us a tempting glimpse of what the successor to the Veyron might look like. Ignore the mad aerodynamics, and the wide, deeply recessed headlights, fluted quad-exhausts and scalloped sides could all make an appearance on a future model, but only time will tell. It shares its W16 engine and four-wheel drive system with the Veyron, but is considerably lighter, so if they actually did let the vision GT race, Bugatti claim it would do 250mph+.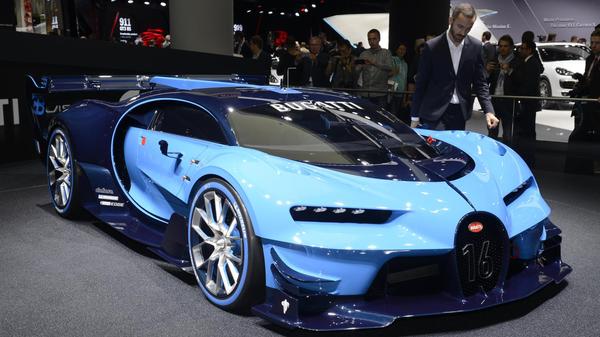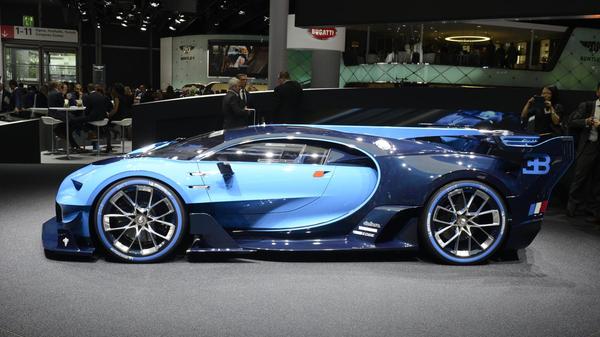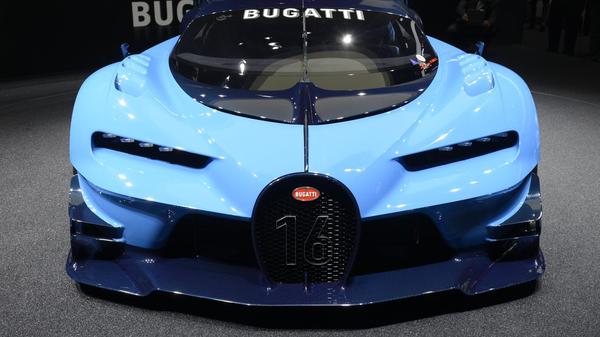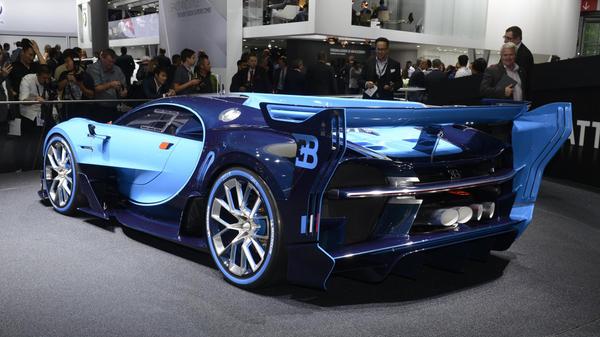 Number 5: Nissan Gripz Concept
Crossovers have become so ubiquitous that designers have resorted to some truly wild styling to make them stand out. Still, since Nissan more or less invented the modern crossover, it has more right than most to reveal a concept previewing the future direction of this lucrative segment. The Gripz has some knowing nods to the past (that eye-catching colour scheme is actually borrowed from a rally-spec 240Z) but the dihedral doors, massive 22-inch wheels and duck tail spoiler are all pure concept car bling. The sports car influences (and the Z in the name) are both big hints that a performance SUV could definitely be on the cards in the next few years, and the front-end styling is similar to the 'Sway' concept we saw at Geneva earlier this year. The replacement for the Juke isn't due until 2018 though, so don't expect it to look much like this.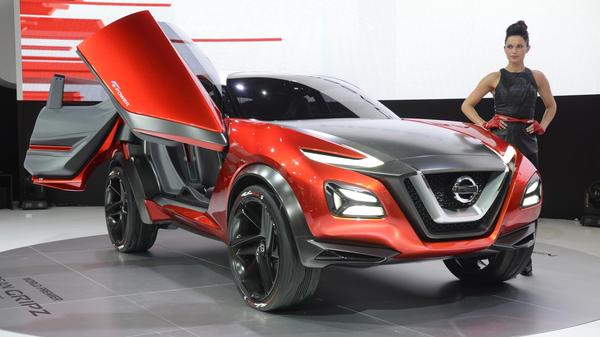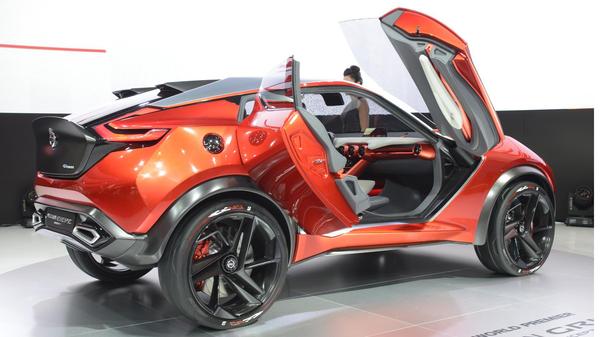 Number 6: Audi e-tron quattro Concept
This concept does two very important jobs for Audi. First, it previews the almost production-ready design of the Q6, and is the first model to be influenced by their new design director, who is tasked with injecting a bit more personality into the brand's line-up. It also shows off Audi's next generation of electric powertrains, which will reach production in 2018. This car should take the fight to the forthcoming Tesla Model X too, with a 310-mile range, three different electric motors on board, four-wheel drive, and active aerodynamics. The reason it won't arrive for another two years is simple - that's when there will be a big change in charging infrastructure, and China is expected to have a massive supercharger network online by then. This should see the popularity of all-electric vehicles hugely increase, making them profitable for car companies. That means you'll be seeing more cars like this, and the brilliant Porsche Mission E, becoming reality.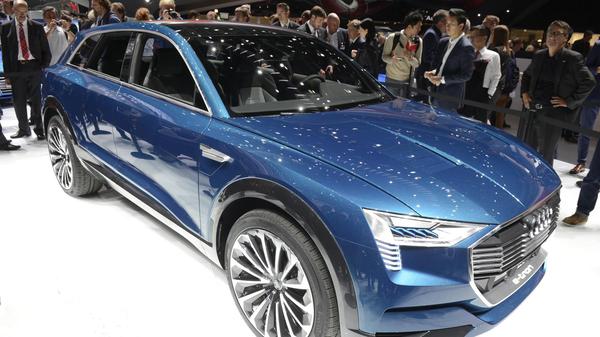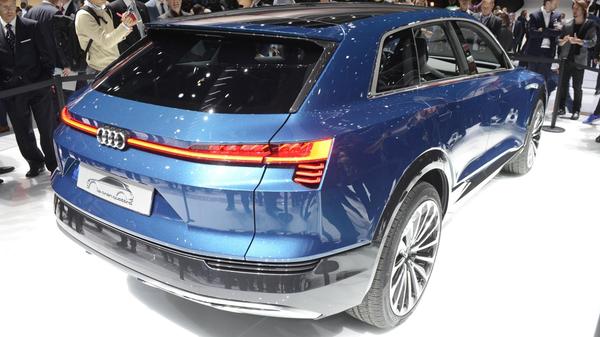 Number 7: Citron Cactus M
While the German brands were busy flexing their technological might, Citroen gave us a fun, and rather funky beach buggy concept. The Cactus M is a two-door, open-top version of the
C4 Cactus
, uses the same basic chassis, and is powered by the same 1.2-litre, 108bhp petrol engine. To make it ready for the beach though, the interior has been simplified, the dash and seats are covered in neoprene, to make them waterproof, with drainage holes so that you can hose it down after a day on the dunes. It comes with space for two surfboards, too. The fabric top can be extended into a tent, while the rear seats fold down flat into a sleeping area, so you can lay out under the stars. The 'M' in the name stands for Mehari - the iconic sixties model which inspired this new concept. While Citroen has not suggested the Cactus M will make it to production, it's put out patents for the name - so you might see something like this hitting the seaside next summer.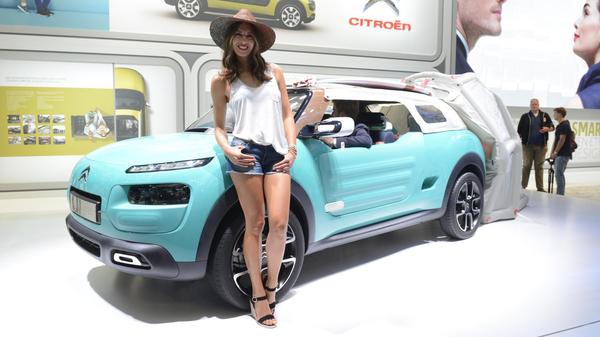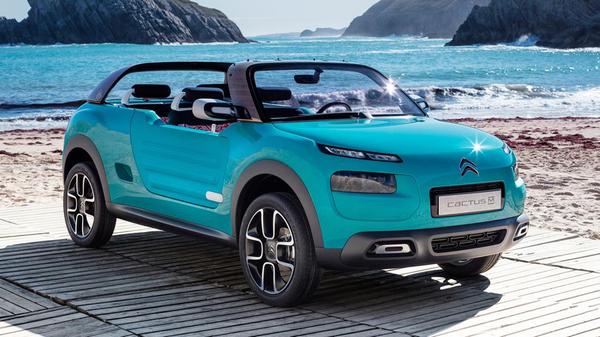 Number 8: Hyundai N 2025 Vision
Hyundai had two concepts at Frankfurt. The Vision G concept was essentially a look at the styling cues of next Genesis coupe, but it was somewhat blown away by this amazing looking N 2025. Another model designed exclusively for the Gran Turismo 6 game on Playstation, this car is also meant to launch the 'N' performance brand - it certainly made us take notice. Powered by a hydrogen fuel cell stack and what Hyundai calls a 'super capacitor system' this amazing-looking car produces 872bhp, and bears an almost uncanny resemblance to the a Batmobile. There is a real point to this car though - to bring the N brand to the attention of the younger buyers Hyundai is hoping to attract with its hotter models, starting with a proper hot hatch version of the i30. Only time will tell if this tactic will work - but it's great to see the brand pushing the boundaries.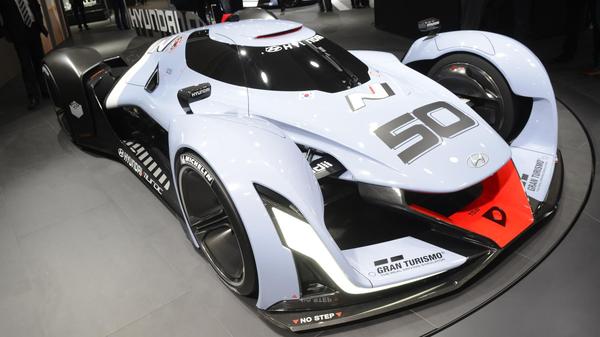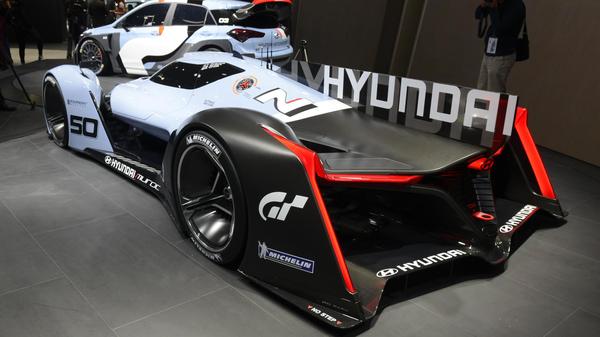 Number 9: Toyota C-HR
Japanese makers went crossover crazy at Frankfurt, with Mazda, Nissan and Toyota all showing sleek, sporty SUVs. The snappily-named C-HR concept is probably the most relevant of all of them though, as it previews a production car that has been confirmed to launch in the spring next year. The angular, aggressive design is more akin to the latest Lexus models than anything from the Toyota range, but company bosses claim that the show car is very close to being the finished article. Despite the radical exterior, it actually shares its chassis platform with the new
Prius
(which was also revealed on the Frankfurt stand) so is likely to be powered by the same hybrid powertrain, although conventional petrol and diesel versions are also likely to make production. Could this be the car finally knocks the
Nissan Juke
off the top of the sales charts?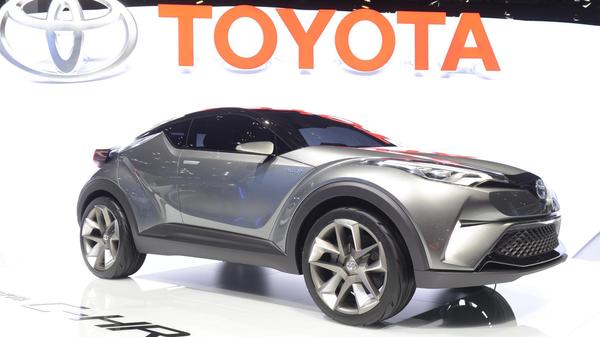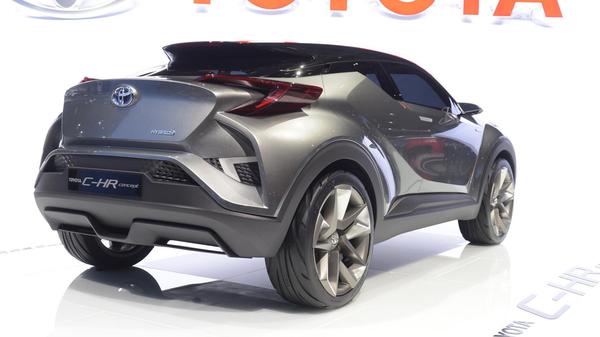 Number 10: Seat Cross Sport
Does the world need another performance SUV? No, probably not, but that hasn't stopped Seat from waving this tempting morsel under our noses on its Frankfurt stand. The
Cross Sport
is an interesting marriage of the Leon Cupra and ST X-perience models. That means Golf R running gear, with a 296bhp 2.0-litre turbocharged petrol engine, and four-wheel drive. Seat claim some impressive performance figures too, with 0-62mph dealt with in 4.9 seconds, partly thanks to the six-speed DSG automatic gearbox. Despite the coupe body, the ride height is raised by 41mm compared with the standard Cupra, with protective body cladding, skid plates and other off-road apparel all added into the mix. It seems like an odd blend, but actually looked rather good in the metal - especially the Ultra Orange paint, which is the same as the 20V20 concept from Geneva. So would people buy one if they built it? We're not sure, but we'd quite like to drive one down a deserted gravel road, just to be sure.