Advice
How to choose the best bike rack for your car
Wondering which bike rack you should get for your car? Find out everything you need to know about cars with bike racks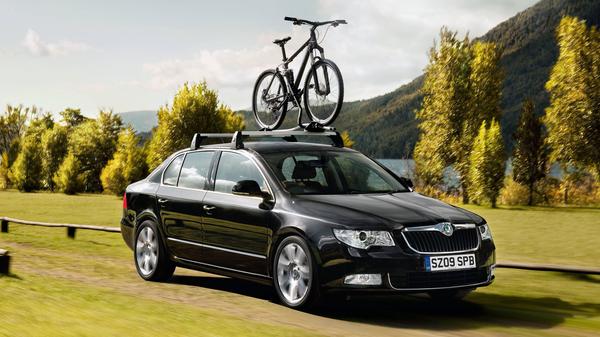 Words by: Phill Tromans

Additional words by: Nimisha Jain
Last updated on 16 August 2022 | 0 min read
You've got a bicycle. Maybe several. You want to take it somewhere by car. It won't fit in the boot. Sounds like you need a bike rack!
The good news is there are plenty of types of bike racks to fit almost any vehicle. The bad news is the choice is so wide, it can take some research to find out what's best for both your bikes and your car. This article will help you refine your search. There are several things you'll need to consider:
1. Location
The three most common locations for bike racks are on the boot lid, on a tow bar or on the roof.
Roof bars
If your car can fit roof bars, then you'll a wide choice of racks to attach to them. Some may require you to remove the front wheels, so keep in mind that you'll need to store them inside the car unless you're really good at wheelies. You'll also need to lift the bikes onto the roof, so think carefully if you're short, or if you have a tall car like an SUV or crossover.
Boot-mounted rack
If you don't have roof bars, or if you need to regularly access areas with height restrictions, then a boot mounted rack might be better. Plenty of racks can be attached to the boot with straps and are generally highly adjustable. It's one of the cheapest options, although they're more likely to cause damage to the car, especially if you don't fit the bike carefully.
Tow bar
You can also get racks that attach to a tow bar if you've got one fitted. These are easier to fit and remove and keep bikes more secure, both while driving and when parked, but tend to be more expensive. Tow bar mounts tend to either hang the bikes from the crossbar/top tube or have a platform that the bikes sit on and arms with clamps to hold them in place. The latter type is generally more secure but also more expensive. Remember, all cars registered after August 1 1998 can only be fitted with EC 94/20 type approved tow bar. With any rear-mounted rack, you'll also need to ensure that your rear number plate and lights are visible. More on that below. Keep in mind also that, once fitted, they can make access to the boot difficult, although some towbar racks can tilt to let you open the lid.
Learn more about the different ways you can carry a bike in a car and their pros and cons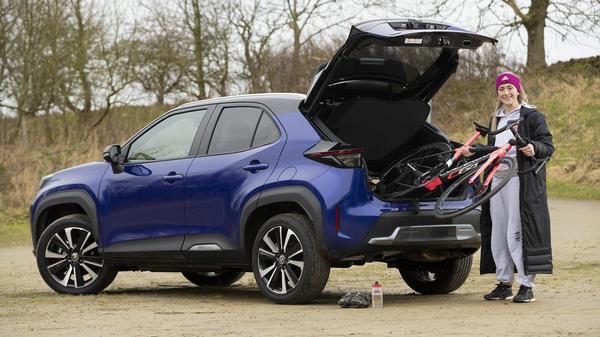 How many bikes?
The second consideration when choosing a bike rack…

2. What car do you have?
Some cars, example certain sports cars, may not be able to fit a bike rack, so it's important to first check if your car can fit a bike rack or not.
There are plenty of companies offering boot-mounted and tie-on racks, but before buying anything, it's important to check it'll fit your car. Make sure you read all the features and check the dimensions online or get advice from someone in-store. If your car doesn't have roof bars, a tow bar or a boot to fit a strap-on rack, you may want to consider buying industrial strength suction cups, from companies like Seasucker or Rockbros. Many manufacturers sell official accessories for cars, so check if there are any bespoke bike racks designed to fit your car, for example, the
Toyota Corolla
comes with the option to purchase a factory-fitted bike rack which you can take a look at in our
video
.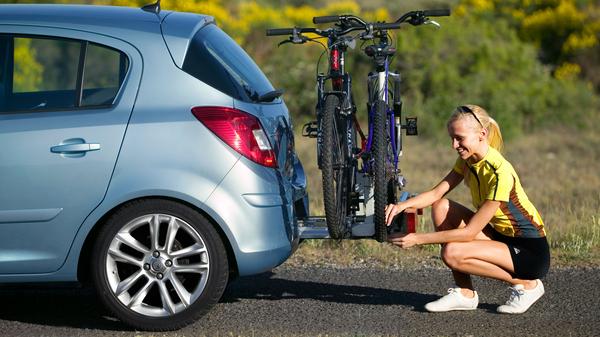 Once you know what your options are, you need to think about…

3. How many bikes?
Once you've decided where the bikes should go, you'll need to decide how many bikes you need to carry.
It's usually possible to carry up to four bikes using off-the-shelf racks, but there's no point spending big on a four-bike rack if you need to carry one. If you need to carry more than four bikes at a time, you could combine roof-mounted carriers with a rear or tow bar-mounted carrier. Some may even invest in a cycle-carrying trailer, although it can be expensive. You may even want to consider what type of bike you are going to carry – some bike racks may not be able to carry an e-bike due to the extra weight. If you're carrying multiple bikes at a time, you need to think of how to stop your bikes from hitting each other on the rack. Using a barrier like a detachable bike bumper can help in preventing your bikes from bumping into each other. You can also try a makeshift solution, for example - using foam or pipe lagging to stop the bikes from hitting each other.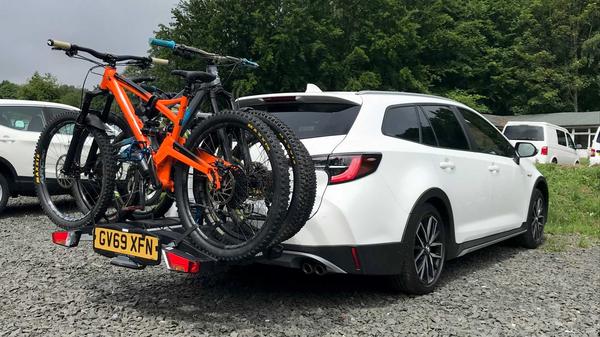 Finance is always a big consideration when making a purchase, so take into account…

4. What's your budget?
If you're looking for a cheap and flexible solution to carrying your bike on your car, a clip-on rack is an attractive and cost-effective option.
However, you might want to consider spending a bit more and getting a bike rack that offers more safety, especially if your bikes are expensive. A bike rack that fits your car well will ensure that your bike is properly secured - if you carry multiple bikes then they don't rub against each other or scratch the car, and the bikes are risk-free from being stolen. Remember, the more features a bike rack will offer, the more expensive but safer it'll be. Also, keep in mind any extra costs for getting the bike rack fixed to your car if it has a semi-permanent attachment.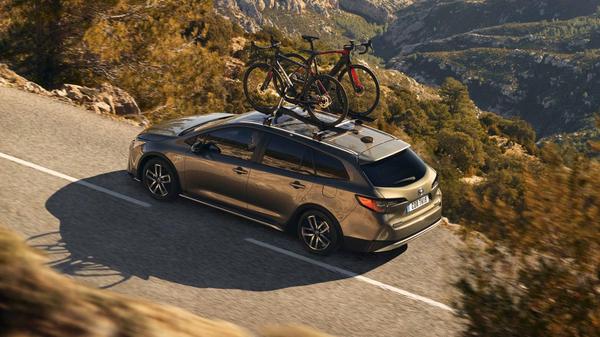 And finally, you need to think about…

5. Your needs
You'll need to think about which rack are you physically strong enough and comfortable with lifting your bike into position.
If you need to access your boot during your journey, then a rear-mounted rack may not be the best fit for you. If you're carrying a car roof box to store additional bits and bobs, you'll need to make sure there's space on your roof bars to carry a roof-mounted cycle carrier as well.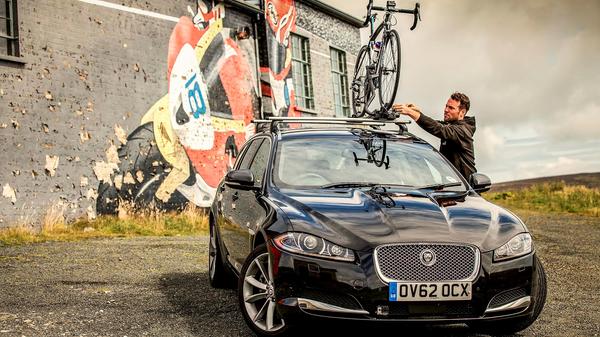 Other things to consider when buying a bike rack
Some bike racks are designed for every type of bike, but others will have limitations. We've seen some racks that can't cope with bikes fitted with mudguards, or with particularly wide tyres, such as those on some mountain bikes. Make sure you check that your model of bike will work with the rack you're considering. Some roof-mounted racks require you to remove the front wheel and attach the forks to the rack using a quick release system, so make sure your bike supports this. Depending on whether it uses quick release, 'thru-axles' or bolts, it may be incompatible.
If you mount your rack on the back of your car, make sure your rear number plate and lights are still legible to remain on the right side of the law. Obscuring them is obviously dangerous if other drivers can't see your brake lights or indicators and you'll points on your licence and a fine that can run into thousands of pounds. A simple lightboard will help you remain safe and legal. This will have a number plate fitted and acts as an extension of your rear lights, brake lights, indicators and reversing lights. You can plug this into the electrical socket of a tow bar, if you have one, or get a connector installed in the back of the car, which shouldn't cost the earth. Some towbar mounted racks will have a lightbar built into them. Check for rubbing once the bikes are fitted. If you're mounting multiple bikes, check carefully that they're not rubbing against each other or the car, and add padding if necessary, such as an old towel. You don't want to find damage caused by the vibrations of the journey. Always check the maximum load weight for the bike carrier and your car roof if using one – never exceed this limit. It's also good practice to check the fixtures on your bike carrier regularly and tighten them when required, such as when you stop for a coffee along the way.
Bike rack legal requirements UK
While there aren't any specific laws for carrying bikes on your car and bike racks, you should make sure that you're not breaking any general driving laws.
• Make sure that the bike is not protruding out of the car. In the UK, there are strict
laws for 'overhanging loads'
, that you need to comply with such as using vehicle marker boards if the load sticks out by more than 2 metres. • Your number plate and taillights need to be visible at all times – drivers usually struggle when using a rear-mounted bike rack as it can obstruct the number plate and taillights. In case it does, consider using accessories such as a lightboard and detachable number plates. • The laws for carrying a bike in a car are different in different countries, so make sure you read the local laws and regulations about carrying a bike on a car when driving abroad.