Advice
How to transport your bike on your car
Lockdown turned many of us on to cycling – now we can travel further afield to enjoy it here's how to carry your bike safely and securely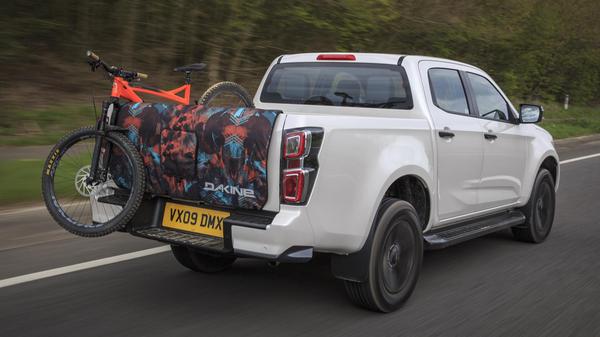 Words by: Dan Trent
Published on 16 April 2021 | 0 min read
With options for travel and sport severely limited over the last year huge numbers of people have been digging bikes out from the back of the garage and getting out on two wheels for a fix of fresh air and change of scenery. From serious cyclists hammering out the miles to families out exploring the local woods, it's been a boom time for biking, with many new converts to the sport.
Now that we're able to travel a little further, and facilities like bike parks and dedicated forest 'trail centres' are open for business, you might be looking at taking your bike further afield, too. But what's the best way to carry your bike on – or in – your car? Here we look at some of the options and weigh up the pros and cons for each. Remember, whichever you choose make sure you read the instructions before installing or using any bike rack, abide by weight limits for tailgates and towhooks and ensure that if your rear lights or registration are obscured that you use a board with lights and a second numberplate to stay safe and legal.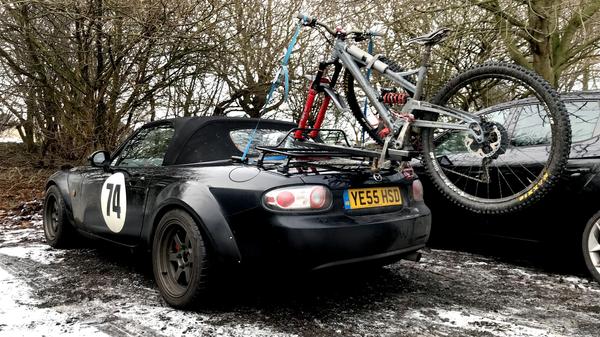 Inside the car
The cheapest – and for many – most convenient solution, if your car is big enough loading your bikes inside is secure and doesn't impact fuel consumption. Most estates or SUVs will take a bike on its side with the front wheel removed and, if you're happy taking both off, you can squeeze a couple of bikes into most small hatchbacks. A couple of old blankets or a tarpaulin are worthwhile to stop the interior getting damaged or dirty and for up to a couple of people it can work with pretty much any car. Some manufacturers – Skoda and Honda included – have even offered dedicated internal mounts to securely fix cars upright within the car.

Pros:
Secure
Doesn't affect fuel consumption
Cons:
Dirt and damage to car interior
Can be a faff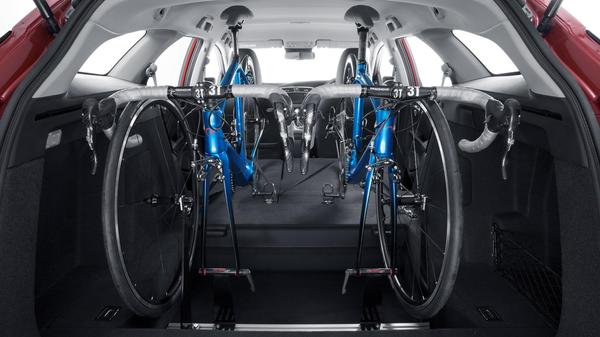 Clip on bike rack
One of the most affordable ways to carry your bike, 'clip on' racks adjust to fit pretty much any shape of car, whether it be a hatchback, saloon, coupe or SUV. Some can carry up to four bikes but we'd advise against loading the whole family fleet onto them as it could overload the rack and/or bootlid. Pedals and handlebars can bang against the car and damage paint while the bikes can scrape against each other too, so it's probably not the best option if you're precious about either. For safety – and to stay legal – you may need to budget for a board with lights and a numberplate if the rack and bikes obscure either when loaded up.

Pros:
Cheap
Fits most cars
Cons:
A faff to use
Risk of damage to both bikes and cars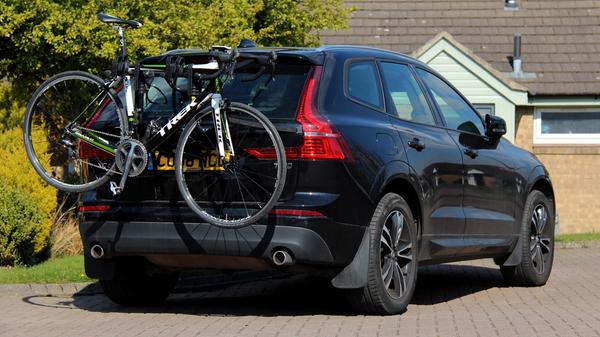 Tow-bar bike rack
A much better solution for families, tow-bar racks can carry more weight while keeping the bikes apart from each other and from the back of the car. They're also easier to load and have less of an impact on fuel consumption than roof racks. Fancier ones like the Thule EasyFold we used on our Toyota Corolla
long-term test car
can be
easy to take on and off
to stash in the garage when you're not using them. And if your car has a folding or removable hook as many do these days you don't have to go round with an ugly towbar on the car as a permanent fixture. An expensive option, though, especially if you need to get a towbar fitted as well.
Pros:
Good for families
Protects car and bikes
Cons:
Expensive to buy and fit
Not compatible with all cars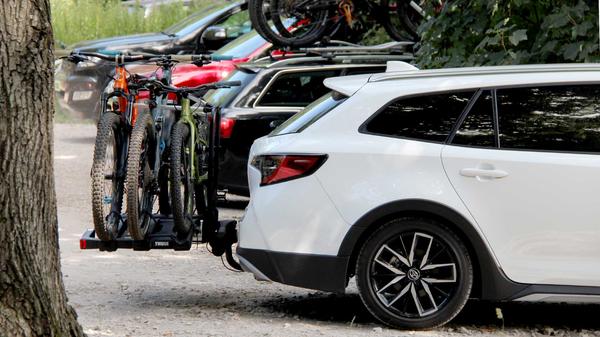 Roof rack
More secure than a clip-on rack and cheaper than a tow-bar mounting, roof racks are also compatible with a wider range of cars and are relatively easy to remove when you're not using them. They also hold the bikes securely. They can be difficult to load – especially on taller SUVs and crosovers – and there is an inevitable impact on wind noise and fuel consumption thanks to the extra drag, especially if you leave them on all the time. A lot of country car parks have height restrictors too and that could end up being very embarrassing and expensive if you forget the bikes on the roof…

Pros:
Quick and easy to load
Compatible with most cars
Cons:
Drag increases noise and fuel consumption
Car parks with height restrictions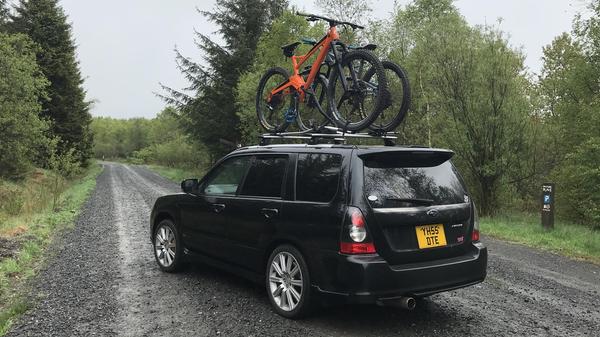 Suction mounts
A relatively new innovation, these racks use suction cups to attach the bike to the roof or bootlid and are brilliantly flexible – if you want to carry your fancy, £10,000 carbon fibre road bike on your equally flash supercar this is your solution! It's a leap of faith to trust a little rubber cup with your pride and joy on the motorway but we've never had any issues and if you don't want to drive round with a tow-bar or roof bars all the time (or your car isn't compatible) they're a brilliant solution. Just be careful when stopping at services, as thieves could have the bikes away in seconds.

Pros:
Can fit on nearly any car
No need for permanent fixings
Cons:
Expensive
Not great for more than one bike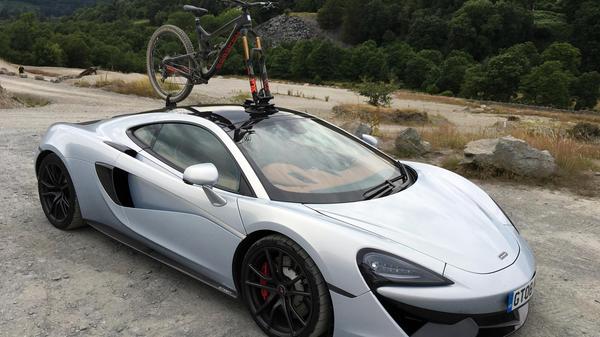 Tailgate rack
A common sight on camper vans and mobile homes, tailgate racks bolt or clamp to the bodywork of the vehicle but fold away neatly when not in use and are mounted high enough that you don't usually need an extra numberplate or lightboard. They're usually substantial enough to carry a family's worth of bikes, easy to load and keep everything apart to avoid damage. They're only compatible with van-derived vehicles with big, vertical tailgates but win on convenience, security and ease of use.

Pros:
Secure and easy to use
Folds away when not in use
Cons:
Only fits vans and campers
Not cheap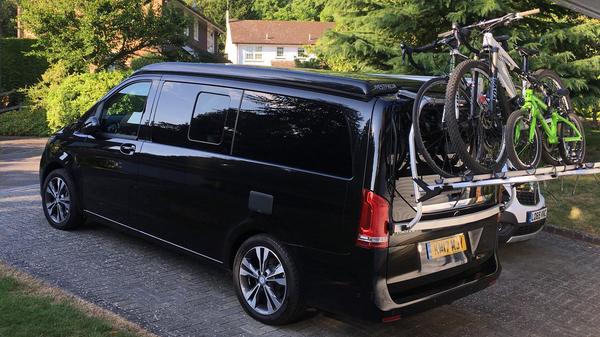 Pick-up tailgate pad
If you're considering a
pick-up truck
as the perfect lifestyle accessory here's the pro way to carry your bikes – simply buy a logo'd up pad from a respected extreme sport brands like Fox or Dakine, strap it to the tailgate of your truck and hang the bikes over. Loading and unloading takes literally seconds, the bikes are rock solid on the move and it looks super cool when you arrive at the trailhead. Just be careful about security when parking up.
Pros:
Super convenient and easy to use
Looks cool
Cons:
Obviously only works on pick-ups
Lack of security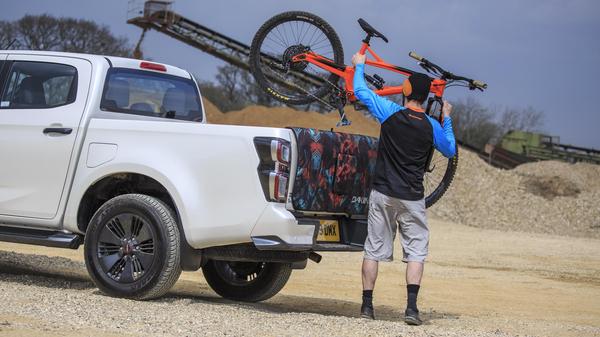 Van
Don't believe the 'Sports Utility Vehicle' hype – serious outdoorsy types nearly always end up buying vans to fit their lifestyle and any car park where cyclists (especially mountain bikers) gather will typically be wall to wall VW Transporters, Mercedes Vitos and Ford Transits. It's not hard to see why – a crew-cab van will easily fit five people, their bikes and all their kit securely inside and there's a thriving accessories business of fancy wheels, bodykits and other paraphenalia to make your van look as cool as any car. At a cost.

Pros:
Space for people and kit inside the vehicle
Super flexible
Cons:
Expensive
A lot of vehicle when you're not carrying the bikes