News
New Tesla Model 3 electric car details announced
Tesla's smallest and most affordable new car has been unveiled, but it looks as if we'll have to wait until 2019 to see right-hand drive versions of the zero-emission car here in the UK.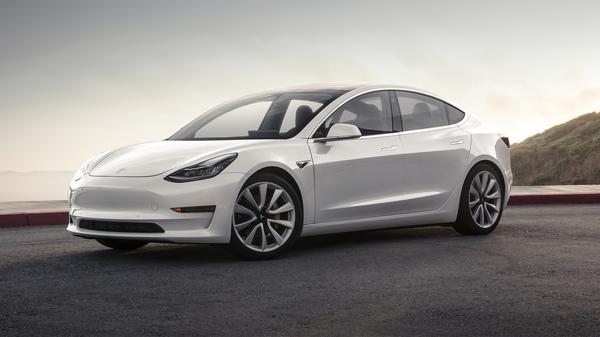 Tesla's smallest and cheapest model unveiled in America
Right-hand drive models expected in the UK in 2019
Prices and specifications yet to be confirmed
Tesla has confirmed details about its new
Model 3
electric car – the company's smallest and cheapest model to date.
Unveiled in front of an eager audience in America, the new Model 3 follows all previous cars from Tesla in being all-electric. However, its size and price will make it very different from the larger and considerably more expensive
Model X
and Model S. Although UK prices are yet to be confirmed, the five-seat car will cost from $35,000 in America, meaning that it is aimed at the kind of buyers who would be considering an executive car like the
BMW 3 Series
or
Audi A4
. At 4.69 metres long, the Model 3 is about the same length as these German rivals and, like them, has a five-seat cabin. The boot capacity – including storage at both the front and rear of the car – is about 425 litres, less than the 480 litres provided in the Audi and BMW. Initially at least, there will be a couple of versions. The basic car will have an official range of 220 miles and be able to hit 60mph in 5.6 seconds; and, in addition, there's a long-range version, which can do 310 miles on a full charge and is even quicker, sprinting from 0-60mph in 5.1 seconds. The first Model 3s to be built will all be rear-wheel drive, but a four-wheel drive version is also on the way, and there are already strong rumours that even faster versions will be available in the coming years.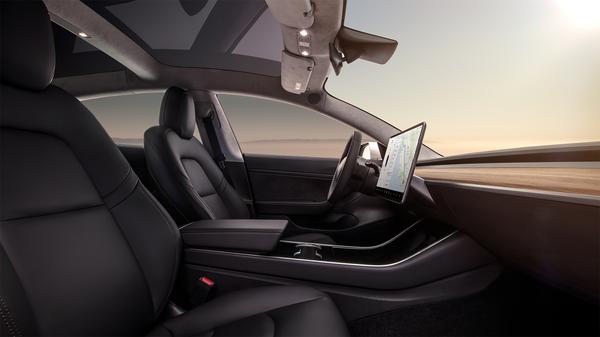 Although deliveries of the new car have already started in America, we don't expect to see right-hand drive models in the UK until 2019. For that reason, the prices and specification of British cars are still some way from being confirmed.
Given the American prices, we expect that it will cost from about £35,000 in the UK, and that the equipment levels will be very similar to those in America. There, the standard car comes with a rear glass roof, a 15-inch touch-screen display, voice-activated controls, Wi-Fi connectivity, dual-zone climate control and full LED lighting. The cars can also use Tesla's network of 'Superchargers', accept free over-the air software updates and have all the parts necessary for the car to drive itself. Among the standard safety features are eight airbags and automatic emergency braking. And, beyond that, buyers can choose from a series of 'Premium Upgrades', including things such as upgraded seats, electrically adjustable front seats and a better audio system. The car is covered by a four-year, 50,000-mile warranty, with the standard battery having 8-year, 100,000 mile cover, and the long-range model being covered for an extra 20,000 miles. Although final details about the British version of the Model 3 aren't yet available, interested buyers can reserve a Model 3 now. Later on, Tesla will send an invitation to each person to configure their Model 3, with these invitations sent out in an order based on when the reservation was made.