News
Mercedes A-Class video review
Rory Reid reviews the new Mercedes A-Class Plug-in hybrid, aka the A250e. Does it really offer all the benefits of an electric car, with all the peace of mind you need from a petrol?
The Mercedes A-Class is something of a rising star. An upmarket hatchback, the A-Class was one of the top five best-selling cars of last year, rising to third place (behind
Vauxhall Corsa
and
Ford Fiesta
) in September 2020.
Sharp looks and stunning interiors mean the A-Class has comfortably carved its space as a desirable small
family car
, and it may have got even better with new Mercedes A-Class A250e.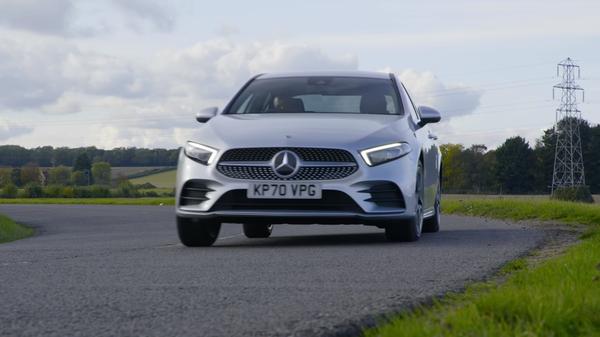 Mercedes A-Class A250e
Mercedes A-Class A250e hybrid
Yep, the Mercedes A-Class A250e is a plug-in hybrid, meaning it runs off a combination of petrol and battery power.
Plug-in hybrids are a popular halfway point between traditional petrol / diesel models and full electric cars, giving you the benefits of a cleaner, more economic drive without the range anxiety that comes from relying on batteries and the charging system.
You can learn more about hybrid cars here
. Under the hood, the A-Class's petrol tank has been replaced with batteries and the fuel tank has both shrunk and moved to be near the rear axle. This does mean rear storage space has contracted a bit, but only from 405 litres to 315 litres.
Mercedes A-Class A250e interiors
Inside, we're pleased to report that not much has had to change to accommodate the electric components. Rear seats are the same size as standard, offering decent legroom and headroom, and the A-Class remains a practical, comfortable family car.
Mercedes make some of the best interiors in the game, and the A250e maintains their record. Up front, it's roomy and has plenty of storage space. The fabrics are spot on, and there's a gorgeous multi-layered dashboard with triple circular vents. One thing to be aware of is that there are two versions of the Mercedes MBUX infotainment system. One comes with two 10-inch screens, and another with two 7-inch screens – which get dwarfed by the bezel around the displays. If you've got the money, consider upgrading to the 10-inch displays.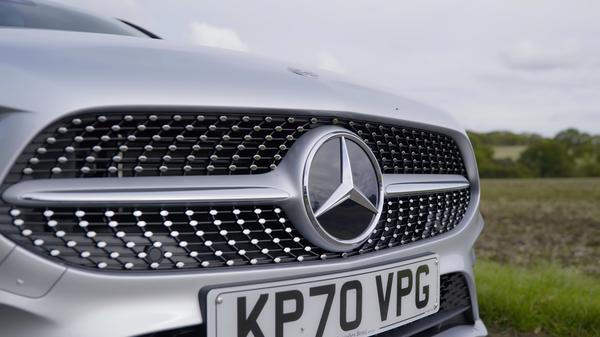 Mercedes A-Class A250e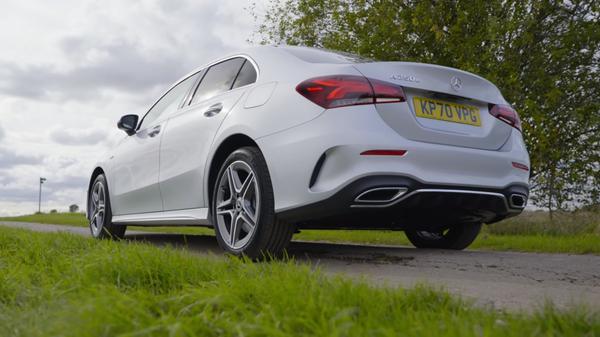 Mercedes A-Class A250e
Mercedes A-Class A250e performance
Mercedes claim you can get 256mpg. Bold? Yes. But you are getting a 1.33 litre, four-cylinder petrol engine and a 75kW electric motor. The motor is powered by a 15.6kWh lithium-ion battery, which takes some of the load off the engine – meaning it isn't doing all the work itself. As such, you get some pretty decent economy figures.
There's a caveat though, and that's that you'll need a full battery to get these sorts of numbers. If you set off without one, you'll be dragging around the extra weight of those electrical components and relying on your petrol engine to do so.
Mercedes A-Class A250e electric mode
The A-Class A250e comes with a number of driving modes, which you can choose from using a switch on the control panel. Options include 'sport', 'comfort', 'electric' and 'battery level'. It's the last two we're going to look at, because they're pretty neat.
With 'battery level', you can revert your car to a traditional ICE petrol-first mode, saving battery power for when it's needed most. 'Electric' mode does the opposite, running on battery alone for up to 42 miles of pure electric driving at speeds of up to 87mph. Of course, the range you actually get will vary depending on your driving style and other factors, but as the average commute is 20 miles or less – most people could get an electric-only drive to work each day and bring their emissions, and fuel bills, down in doing so.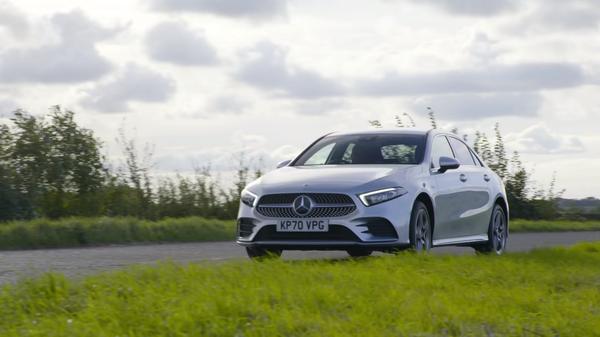 Mercedes A-Class A250e
What's the Mercedes A-Class A250e like to drive?
Funnily enough, the A250e's 'electric' mode is actually one of the most fun ways to drive this car. It's quiet and smooth, and switching back to petrol does serve as a bit of a reminder that petrol cars can feel a bit clunky in comparison.
Whatever your chosen driving mode though, you get plenty of grip and a decent amount of body control. And while you do feel the extra weight of the electric components, it doesn't affect the car's handling all that much – this is still a treat to drive.
Mercedes A-Class A250e review
Overall, this car gives drivers the best of both worlds: maintaining everything people like about the A-Class and adding the benefits of being a hybrid with electric-only driving as an option.
For those worried about electric car ranges, but wanting to keep emissions and fuel costs down, the Mercedes A-Class A250e presents a really strong contender and we see the A-Class's run as a best-seller set to continue.