News
New Fiat 600e: Price, release date and features
If the Fiat 500 Electric's looks appeal but you need something more practical the five-door 600e could be just the ticket!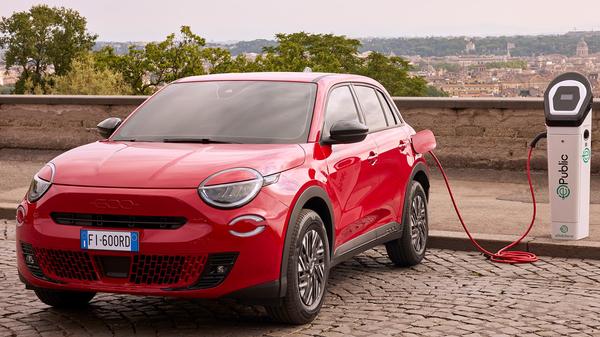 Words by: Auto Trader
Published on 5 July 2023 | 0 min read
This is Fiat's all-new,
electric car
entry for the affordable family car market. It's called the 600e, which both resurrects a model badge from the 1950s and also ties it in with the existing
Fiat 500e
electric city car. It's due to go on sale in autumn, with first UK deliveries before 2023 is out. Expect it to cost in the region of £36,000-£37,000, when prices are confirmed for the UK by
Fiat
.
● The 600e is a five-door compact SUV, making it bigger than the 500e city three-door, and so it can be thought of as a direct electric replacement for the 500X.
● Two specs – called (Red) and La Prima – will be available in the UK, with all models enjoying climate control, an electric tailgate, automatic lights and wipers, and more. ● The Fiat 600e will have a 54kWh battery pack and a one-shot driving range 'in excess of' 250 miles. ● Fiat says the 600e has a 115kW (154 horsepower) electric motor, good enough to get it from 0-62mph in nine seconds, with a 93mph limited top speed. ● UK order books for the Fiat 600e open in autumn, with first deliveries expected before the end of the year. ● No official word has been given, but it will cost more than the 500e and is mooted to be around the £36,000-£37,000 mark – competitive, against its key electric rivals.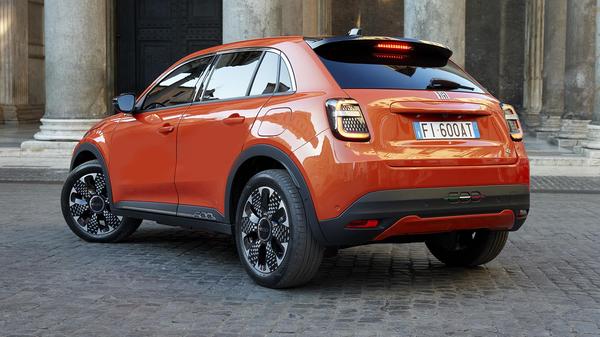 Design and Models Available
Fiat is all about the Italian style, so the 600e riffs shamelessly off the design of the smaller 500e. In fact, if you imagined a cross between the company's all-electric city car and its outgoing (ICE-powered) 500X crossover, you've got the 600e down to a tee. It's a good-looking thing, too. One interesting point: you won't be able to get the Fiat 600e in grey. The company has abandoned the UK's favourite car colour, saying it is 'boring'. Therefore, expect paints called Sun of Italy, Sea of Italy, Earth of Italy and Sky of (yep, you guessed it) Italy, which will presumably be yellow, brown, blue and… a slightly different type of blue. Possibly with more green in it.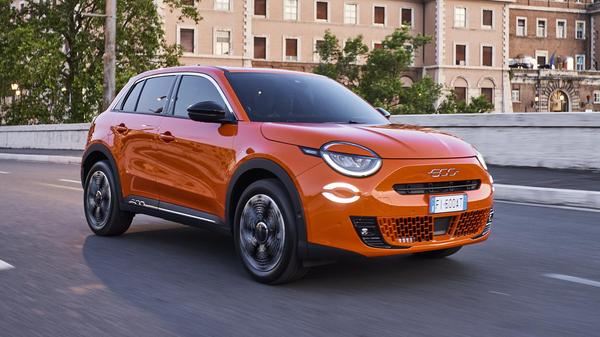 Interior and Tech
Again, the interior ties it in with the 500e, but the Fiat 600e shares a chassis and parts with the
DS 3
E-Tense,
Peugeot e-2008
,
Vauxhall Mokka-e
and the forthcoming
Jeep Avenger
. Indeed, like the Avenger, the 600e has a seven-inch digital driver's cluster and a 10.25-inch infotainment screen. There's a nifty two-spoke steering wheel, curvaceous panel design and, on the higher-spec La Prima model, synthetic leather for the dash and seats. Kit will include climate control, a powered tailgate, Level 2 advanced driver assist systems (ADAS) for safety, keyless entry and wireless smartphone charging, among more. Five-door only, boot space stands at 360 litres with the rear seats in use and more than 1,230 litres with them folded down, so the 600e should fulfil its practicality brief easily.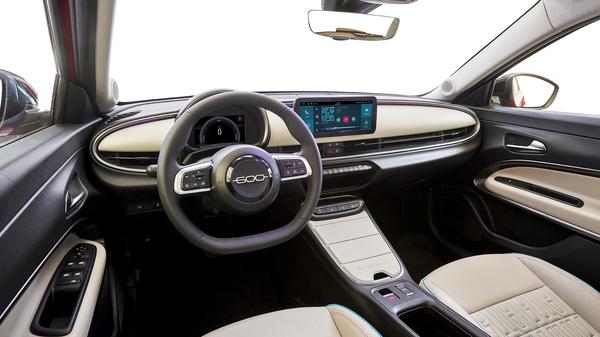 Batteries/Range
There's just one battery and electric motor choice for the 600e, a 54kWh (51kWh usable) lithium-ion power pack feeding a 115kW (154 horsepower) electric motor. While the 600e isn't going to be a featherweight, there's enough oomph and torque in there to get the thing from 0-62mph in nine seconds precisely. Like other Stellantis EV crossovers, the top speed is limited to 93mph to preserve driving range. Expect more than 250 miles to a single charge, as well as maximum charge speeds of 30 minutes for 0-80 percent at 100kW DC. If you're planning on
charging your electric car at home
on AC power, you'll get a full top-up of the 600e's battery in less than six hours.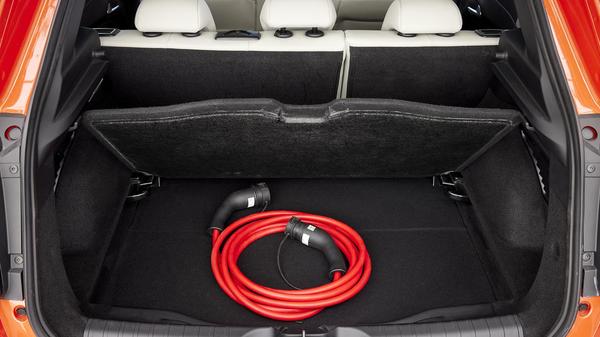 Price and Release
No official prices have been revealed by Fiat yet, but going on the prices of other Stellantis Group EVs using the same platform, and the 500e (starts at around £28,000, rises to £34,000), the 600e is going to be in the £36,000 to £37,000 ballpark. That would make it about the same as the Jeep Avenger, while also comparing favourably to a key rival in the form of the Kia Niro EV, which is similar money. Order books are expected to open in autumn, with first deliveries before 2023 is out.

What other cars from Fiat are due this year?
No hard confirmation, but another affordable electric vehicle could be on the way, based on the Centoventi concept car from a few years back. The expectation is that the production version will simply be called the Panda, resulting in an electric makeover for Fiat's long-serving model.
What other upcoming cars will the 600e compete with?
The key one that Fiat would like to target, given its premium aspirations, would be the Volvo EX30. Quite a tough one, given that the 600e will already have to compete for sales with strong alternatives like the Kia Niro EV, the Hyundai Kona Electric, the Volkswagen ID.3 and the MG4. Not to mention the other Stellantis EVs which cluster in this sector, which we've already talked about above.
Find out more about the latest upcoming cars with our previews of the
Renault Rafale
,
Nyobolt EV
and
Volvo EX30
.
Our verdict on the Fiat 600e
Fiat's reveal of the 600e could not come soon enough. This proud Italian manufacturer has had a strangely sparse product range in recent years, relying almost solely on the enduring appeal of the 500 (and all its variants) and the bargain-basement Tipo hatch. The 600e brings a much-needed injection of style, practicality and variation to the manufacturer's line-up, and as it uses the existing Stellantis 'box o' bits' for its make-up then it's sure to be a likeable, polished product when it arrives. Whether that's enough for the 600e to tempt people out of a Kia Niro EV or Volvo EX30 remains to be seen, but it's good that Fiat is having a go in this key EV crossover marketplace at last.