News
Coming soon: Audi Q4 E-Tron and Q4 Sportback E-Tron
Choice of body styles for new all-electric Audi Q4 e-tron and Q4 Sportback e-tron with option of two battery sizes and three power levels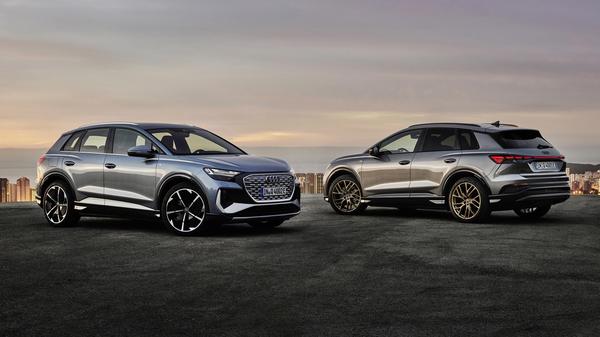 The concepts for the
Q4 e-tron
and coupe-like Sportback version have been around for a while now but, finally, we have the production versions and details of the tech, range and performance for this new all-electric crossover.
Where the existing Audi
e-tron SUV
is adapted from conventional internal combustion roots the Q4 e-tron models benefit from Volkswagen's all-new and pure-electric platform. Designed from the start around batteries and motors this means the Q4 e-tron uses its space more efficiently by extending the wheelbase for inceased interior room and putting the heavy batteries low down in the body for improved handling. Other cars using the same basic foundations include the
VW ID.4
plus the forthcoming Skoda Enyaq and
Cupra El-Born
. In common with those cars the Q4 range offers a choice of two batteries and three power levels. The standard 170 horsepower Q4 35 e-tron uses a single motor driving the rear wheels with a 55kWh battery while the 204 horsepower Q4 40 e-tron uses the same layout with a bigger 82kWh battery. The 40 e-tron is the one to get if range is your priority, given it can cover just over 323 miles according to official figures. If performance comes first, though, you'll want the 299 horsepower Q50 e-tron Quattro, which gains another motor on the front axle and power to all four wheels when required. It hits 0-62mph in just 6.2 seconds. These figures are more or less in line with equivalent versions of the ID.4, Enyaq and El-Born, though the Audi does increase the available top speed by around another 10mph, albeit at a slight cost to the range. The Quattro version similarly underlines Audi's position as the premium, sporty offering and is faster and has better range than the existing e-tron, despite that car being bigger and considerably more prestigious.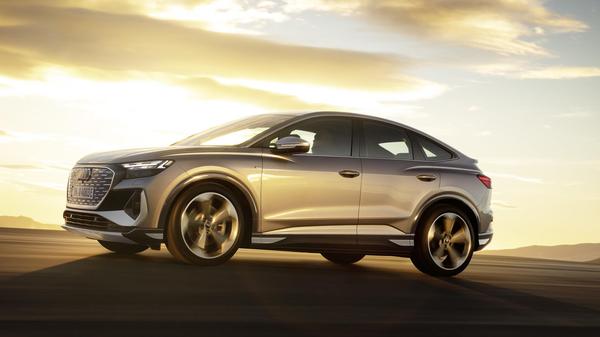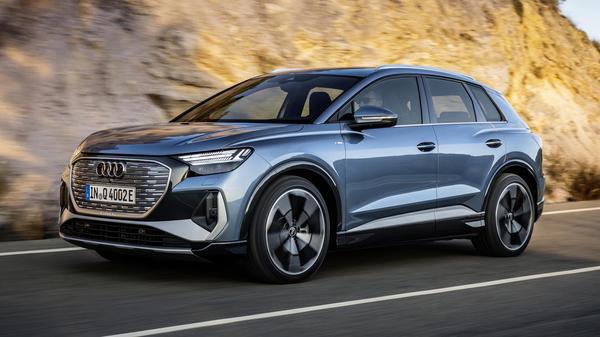 The Q4 e-tron's interior is suitably high-tech and continues the trend to multiple screens and button-free, touch-sensitive surfaces. These now extend to the steering wheel controls and, while exact UK specs are yet to be confirmed, there will be three levels of MMI infotainment system and a choice of two central screen sizes to go with the standard digital instruments. An 'augmented reality' head-up display projecting detailed navigation info into your line of sight will be another option.
The apparent environmental advantages of electric cars are a major motivating factor for many buyers and here you'll have the option of showing your eco cred with interior upholstery made from recycled PET bottles, 25 of which are reused in the coverings of each front seat. Interior space is another major attraction of a dedicated electric platform and while it's technically from a class down both Q4 E-Tron versions share a similar wheelbase and boot capacity to the
bigger Q5
from the regular line-up, while the flat floor inside means more leg and foot space for passengers. The new Q4 e-tron models go on sale in Europe in June – expect more information about UK models and pricing in due course.