News
New Land Rover Defender 2019 - coming soon
Rugged new Defender replaces an iconic car that has been in service for 71 years. Can the new car win the hearts of legions of hardcore Defender fans?

Words by: Ivan Aistrop

Additional words by: Andrew Woodhouse
Last updated on 14 October 2019 | 0 min read
Land Rover
has revealed its hotly anticipated new Defender
4x4
at the
Frankfurt Motor Show
. However, as you can see from the video above, we've already been given the opportunity to look around it!
Defender replaced after 71 years of service
New version packed with luxury technology
Should still be hugely rugged off-road, though
New Land Rover Defender 2019 launch date
The Land Rover Defender 110 model is available to order now and the Land Rover Defender 90 model will be available from mid-2020.
New Land Rover Defender 2019 price
The Land Rover Defender 110 model will start at £45,240. The shorter, cheaper Land Rover Defender 90 is reported to start from £40,000, with the exact price to be confirmed closer to release.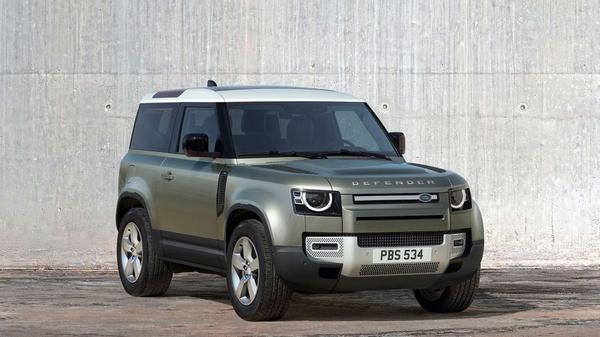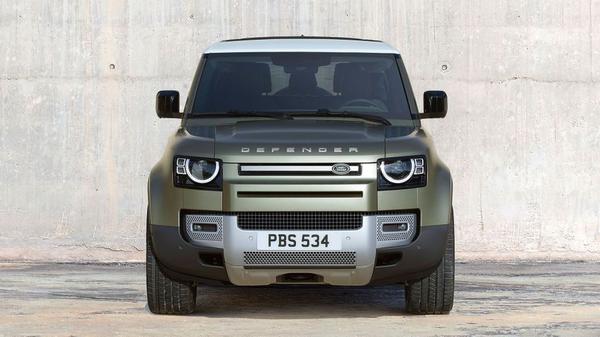 New Land Rover Defender 2019 fuel economy
According to the latest fuel economy figures, you can expect:
• 29.9mpg to 32.3mpg from the two diesel engines, with 230g/km to 248g/km of CO2 emissions • 23.3mpg to 32.2mpg from the petrol engine, with 230g/km to 248g/km of CO2 emissions • 23.6mpg to 25.6mpg from the mild hybrid, with 251g/km to 271g/km of CO2 emissions
New Land Rover Defender 2019 engine size and speed
At launch, buyers choose between:
• a pair of four-cylinder 2.0-litre diesel engines with either 200- or 240 horsepower • a 2.0-litre petrol with 300 horsepower • a 400 horsepower six-cylinder petrol with mild-hybrid technology A plug-in
hybrid
version will join the range later on.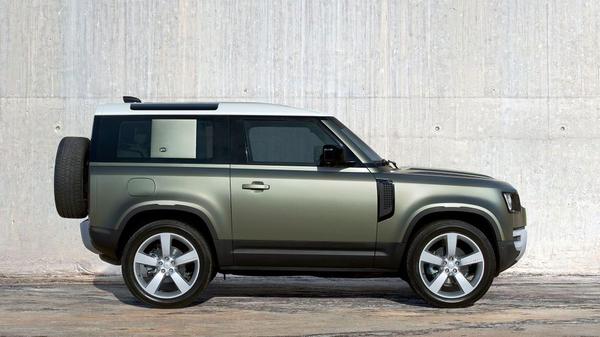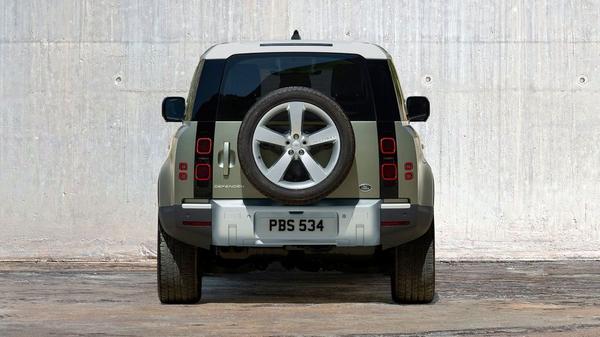 New Land Rover Defender 2019 interior
The biggest changes to the Land Rover Defender are on the inside.
The new Defender is full of up-to-the-minute technology, including Land Rover's latest infotainment system. There's built-in sat nav that can receive and implement over-the-air software updates automatically, and a 3D navigation projection on the driver's display screen. This navigation, called ClearSight Ground View technology, utilises small cameras to film the ground in front of the wheels to show you what you're about to drive into if you're off-roading.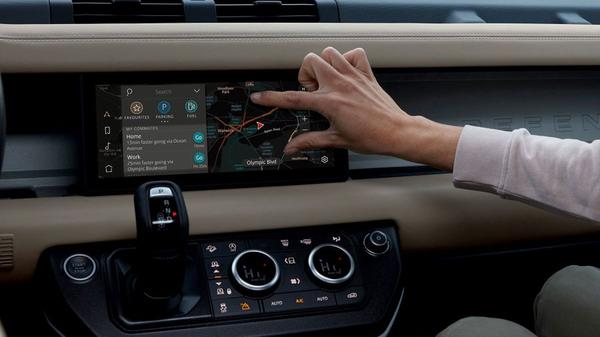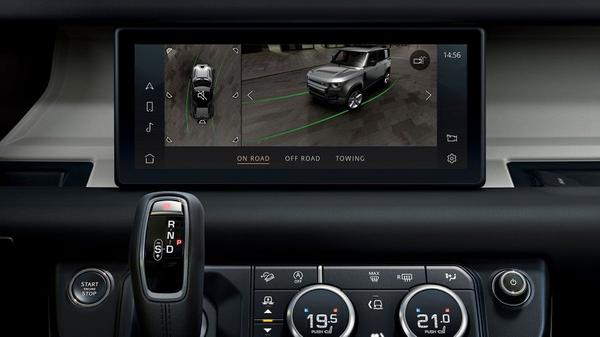 Despite all this technology, and you still get a rubberised wipe-clean floor for a suitably rugged feel.
The shorter Defender 90 model comes with coil spring suspension and up to six seats, while the longer Defender 110 model comes with air suspension and a choice of five, six or seven (5+2) seats. This seventh seat is up front, as the Land Rover Defender's gear shifter is mounted on the dashboard – allowing three passengers to travel up front. Should you opt for the seven-seater, you can make use of the Defender's ClearSight Rear View – which turns the rear-view mirror into a digital screen and live streams from the camera in the 4x4's rear for continued visibility. Finally (for now) loadspace in the Land Rover Defender 110 is given at up to 1075 litres behind the front two rows of chairs, and that becomes 2380 litres when the second row of seats is folded down.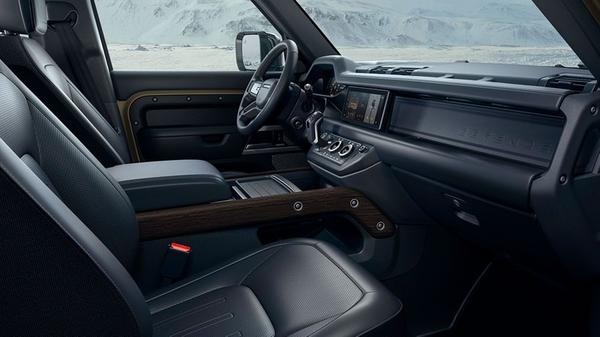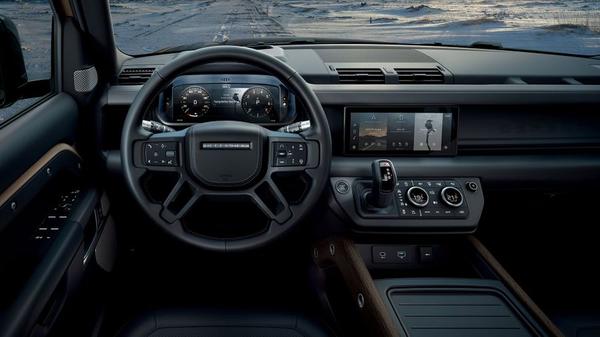 New Land Rover Defender 2019 trim levels
So far, we know that the new Land Rover Defender will have six trim levels. Beyond the standard model, there'll be the S, SE, HSE and First Edition trims, plus the top-of-the-range Defender X.
Details are scarce on how the trim levels stand apart but check back as we find out more.
New Land Rover Defender 2019 colours
The new Land Rover Defender gives you the choice of seven colours:
• Pangea Green • Fuji White • Indus Silver • Eiger Grey • Santorini Black • Eiger Grey • Gondwana Stone Each one comes with a contrasting (white or black) roof. The Land Rover Defender also comes with the option of a Satin Protective Film – a wrap that will protect the paintwork and gives it a nice satin sheen.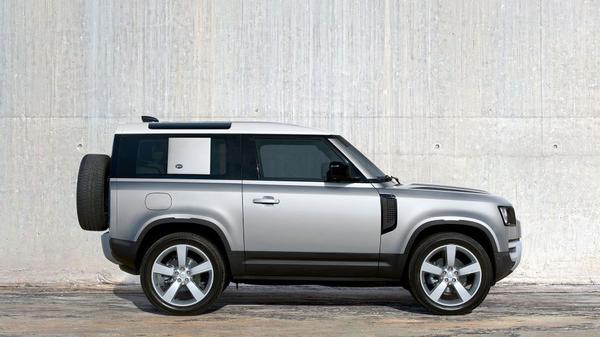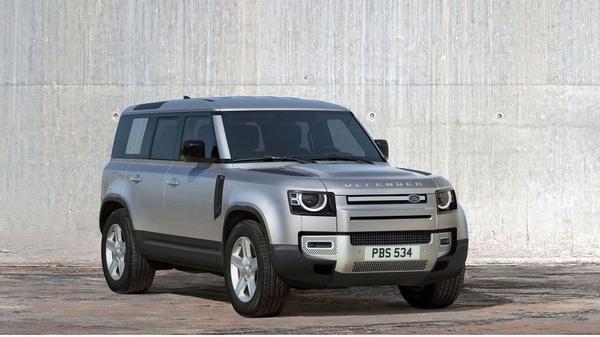 What else do I need to know about the new Land Rover Defender 2019?
The Land Rover Defender is an iconic car, and the basic design of the Defender has hardly changed since its introduction way back in 1948. With this all-new version, however, Land Rover has taken the brave step of reimagining an icon.
The design is all-new, but still recognisable as both a Land Rover and a Defender, with a boxy, upright stance and chunky-looking features. Design cues that remain from the original include the side-hinged rear tailgate and externally mounted spare wheel, along with the jacked-up ride height, short overhangs and big windows that help make off-roading easier. To help further in the sticky stuff, all Defenders come with permanent all-wheel drive, an automatic gearbox and a twin-speed transfer box. There's also a new configurable version of Land Rover's Terrain Response system, which allows experienced off-roaders to fine-tune individual vehicle settings to suit the conditions. If you're less experienced, however, you can simply switch the system to Automatic and let the car make all the important decisions for you.