Long Term Review
Living with a... Ford Fiesta
You probably know what we're going to say... the Ford Fiesta is the UK's best-selling car ever. 'But why?' you ask. Digital content editor Rachael Hogg is spending six months with one to find out.
Month one: First impressions
Ah, the humble Ford Fiesta. Unless you've been living under a rock, or in a place where there are literally no cars on the road, you will likely know what a Ford Fiesta is, and what one looks like. Chances are, you might have even owned one, because, all together now, "it's Britain's best-selling car, ever!".
It's become almost a default choice for a lot of people. But that's no bad thing. There are many reasons why the Fiesta has got and kept its crown as the biggest seller in the UK, including driver engagement, style, comfort, and quality. And the latest model has tried to build on what was already a great little package. That's the reason I thought it would be a good idea to run a Ford Fiesta for six months. When it came to specc-ing my car, there were quite a few options. Trim levels in the Fiesta start at the base level Style, then go Zetec, Titanium, Titanium X, and top-of-the-range Vignale. There is a good few thousand pounds between the base and top spec models, so it's a big decision. In between the range, you can get Zetec and Titanium Fiestas as a B&O Play edition, which gets you exclusive colour themes – Chrome Copper or Bohai Bay Mint – and a B&O sound system, naturally. I opted for Titanium X, so not quite top-of-the-range, but nearly there. On top of the other bits from lower trims, that gets you electric rear windows, keyless entry and start, heated front seats, a heated steering wheel, and a B&O Play premium audio system.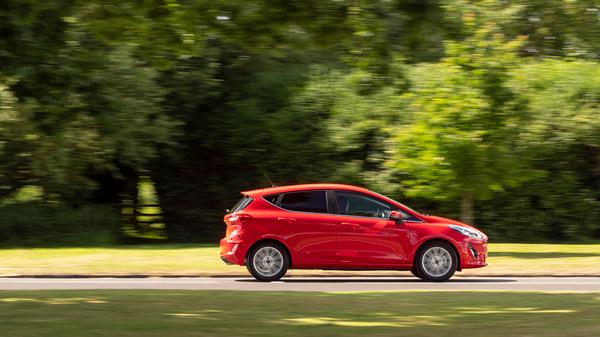 I spent a little bit of time with the top Vignale trim Fiesta, in Milano Grigio before my Titanium X arrived. It may have been rather expensive, but it looked great. I thought I'd be disappointed with my standard no-cost-extra Race Red (purely a personal preference, I'm not a fan of red cars, unless it's a Ferrari), but it's really grown on me, and I think my Fiesta looks rather smart.
Engine wise, I wanted a decent bit of grunt, so opted for the 1.0-litre petrol with 125 horsepower, and a manual gearbox. Can't say I'm a fan of the automatic gearbox in the Fiesta… it's slow to react and zaps your fuel economy. And on the options front, I really really wish I'd ticked the openable panoramic sunroof, especially with this lovely weather we've been having. But on to what I did pick. The £100 door edge protectors which pop out when you open the door, the £400 auto park assistance pack, and £200 driver assistance pack. As I get to grips with all of those, I'll let you know if they're worth it. I'm really looking forward to spending some quality time with my Titanium X Fiesta over the next few months, and seeing how well it fits into my life.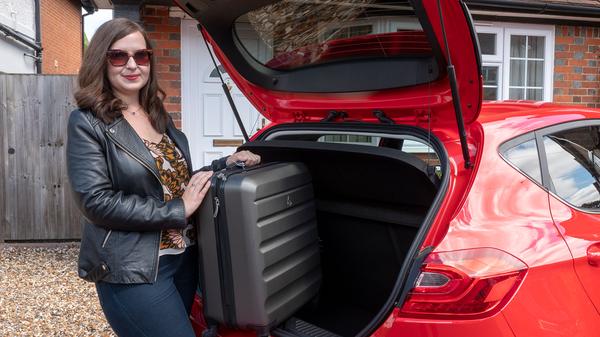 Month two: Fitting into my life
I do think the Fiesta is a great car for my lifestyle. It's spot on in terms of size, and the amount of space for 'stuff' and people.
I had three adults in the back seats for a relatively long journey through the wilds of Kent last week, and didn't hear any complaints from the back. After the two-hour journey, everyone said how comfortable the car was, and how surprised they were (full disclosure: all my passengers are less than 6ft). One weird thing though is that I really had to yell for anyone in the back to hear me (they were probably quite happy about it). The sound really didn't travel well backwards, which is not something I've noticed before? Boot space is 292 litres with the seats up, and 1093 with the seats down. In real-world terms, I've happily fitted in two medium-sized suitcases, three soft weekend bags, and a few miscellaneous items into the boot with a bit more space to spare. Or in other real-world terms, about eight six-bottle cases of wine.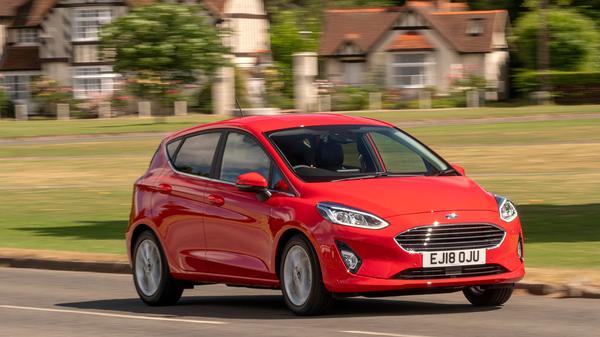 Month three: What's it like to drive?
I can't spend six months with a Fiesta without talking about how good it is to drive. And it's so good to drive. The car feels agile, alert, and the steering is the best in the class.
Round corners, it's grippy, it handles excellently, and as a driver, you feel really engaged behind the wheel. For the price and size of the Fiesta, it really is brilliant. And you don't even have to compromise on the ride either. It's on the firmer side, but not uncomfortable. It deals with uneven surfaces admirably, and bigger potholes and lumps don't seem to faze it either. But as well as being fun, it's also grown-up, comfortable to potter about in, and quieter than Fiestas of old. I've done quite a few longer drives and motorway schleps, and I've always been comfortable, in all weathers. The engine in my Fiesta is the 1.0-litre three-cylinder turbocharged petrol with 125 horsepower. It's attached to a six-speed manual gearbox. Acceleration is perky – you won't have any trouble pulling away from standstill or overtaking people – but you won't want to go above third gear at 30mph, or you'll find yourself very quickly switching down again. It's been costing me around £40 to fill up the Fiesta, and I'm getting around the mid-40s on mpg. On the WLTP cycle, the official figure is 58.9-56.5mpg, so I'm a bit of a way off at the moment. We'll see if that improves at all over the next few months.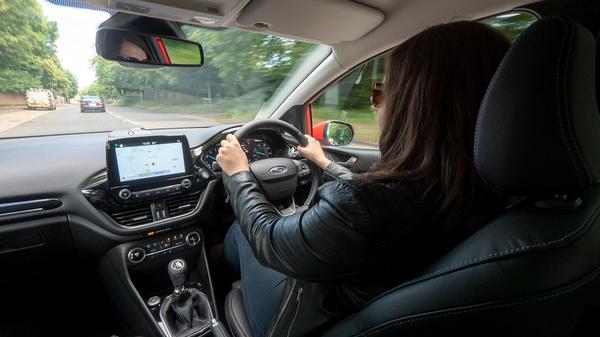 Month four: Technology from much more expensive cars
This month, I thought I'd explain a bit more about the optional extras I've got fitted to my Fiesta, and whether they're worth opting for. It's not often you get this kind of technology on a car of this size, or at this price.
Adaptive Cruise Control One piece of technology my Fiesta has on it, which you often see on more expensive/'high-end' cars, rather than small hatchbacks, is adaptive cruise control (ACC). This is part of the 'Driver Assistance Pack' (£200) which also gets you Pre-Collision Assist with Pedestrian Detection, Distance Indication and Distance Alert, and a 4.2-inch TFT coloured instrument cluster screen. ACC is a more advanced version of cruise control. You set the car to a particular speed, which the system will maintain. However, if the radar sensor detects a vehicle in front, it will slow down to maintain a pre-set distance, and once the road is clear, it will accelerate to your chosen speed. Most of the systems I've used before haven't been very/at all intuitive. Quite often they'll slam the brakes on unnecessarily, or take their time picking up speed again. They can also be caught out easily. The system on the Ford Fiesta though is really good. I quite often drive up to Macclesfield and have it on for most of my journey. It's only been caught out once or twice and for the most part, is smooth and effective. Really impressed with this piece of kit on a small car. Active Park Assist My Fiesta has also been fitted with the optional Active Park Assist *cue jokes about women not being able to park*… this system can steer you into parking spaces just 20% longer than your car. You press a button down near the handbrake, and the system finds you a space as you slowly drive past. Once you've agreed on a space, it automatically steers you in, while you operate the accelerator, gears and brake. You get on-screen instructions and various beeps to help you out. This is a bit of a weird one. Generally I just find it easier and quicker to park myself, but if you're not a confident driver, this could be helpful, especially in tight spots. Next month… door edge protectors and rear-view cameras.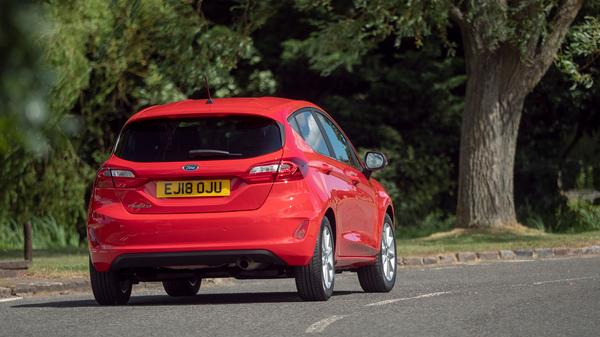 Month five: Protect that paintwork! And keep everything warm
Bet you couldn't wait for the updates on my door edge protectors and rear-view camera could you?
Door edge protectors: £100 When you open the door of the Fiesta, if you're quick enough, you'll notice a protective barrier springs out to protect the paintwork on your car, and anyone who's parked next to you. These door edge protectors are handy when having to park close to someone at the supermarket – although I'm still careful to not let the car door touch anyone else's car anyway. It does give you a bit of extra security though, especially if you have a tendency not to watch out when you open your door. Rear-view camera: part of the Advanced Auto Park Assistance pack £400 As well as the rear-view camera, the Advanced Auto Park Assistance pack gets you the Active Park Assist I went through last month, and front and rear parking sensors. The rear-view camera works by showing what's behind you on a screen in front of you on the dashboard. As soon as you put the car into reverse, the system activates and helps you to reverse park, and also see better when you're reversing out of a space. The camera quality is really good and clear – especially compared with a lot of systems at a similar price – and the system itself is very helpful. Heated everything I also need to give an honourable mention to all the heated loveliness in the Fiesta, now the weather has gone chilly... the heated windscreen is so useful. You no longer have to freeze your fingers off in the morning. Just press the button inside the car, wait around a minute, and your windscreen will be de-misted, unfrozen, and you can drive away with toasty mits (thanks to the heated steering wheel as well), and a toasty derrière, thanks to the very quick and warm heated seats.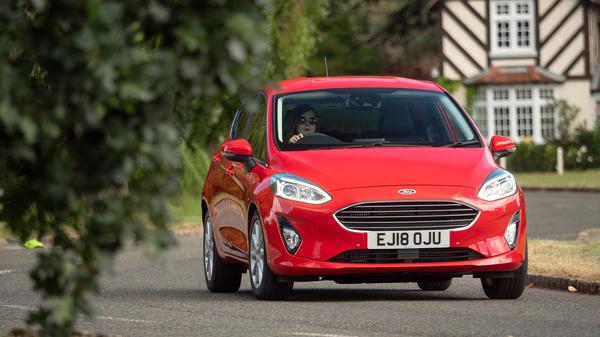 Month six: Goodbye Ford Fiesta
*Bursts into best Sarah Brightman impression* Time to, say goodbye… to my lovely Ford Fiesta. Six months has flown by.
I may have only had my Ford Fiesta for half a year, but the model itself has been around for 42 years. In 2014, as you may well know (because I bang on about it all the time), the Fiesta took the title of the UK's best-selling car of all time. And if you need some extra pub quiz knowledge, it knocked the Ford Escort off the top spot! In its 42-year life, the Fiesta has sold well more than four million units. That is A LOT OF CARS. Over the past six months, I feel like I've got to grips with why the Fiesta got the title of the world's best-selling car in the first place, and how it's held on to that title. It's a combination of everything: price, size, practicality, plenty of kit and tech, and, it's really great to drive. In the video at the top of the page, I go into all those reasons in a bit more detail – and show you just how much wine you can fit in the boot.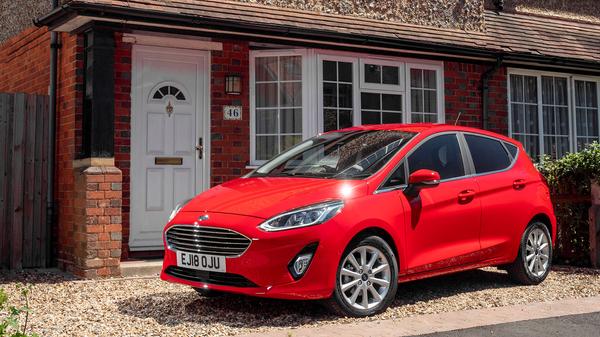 Key specs
- Model: Ford Fiesta Titanium X 1.0-litre EcoBoost 125PS
- List price: £19,665 - Engine/gearbox: 1.0-litre 3cyl petrol, six-speed manual - Power: 125 horsepower - Top speed: 121mph - 0-62mph: 9.9 seconds - Economy (WLTP): 58.9-56.5mpg - CO2: 110g/km - Boot space: 292/1093 litres Any extras? - £100 door edge protectors - £400 auto park assistance pack - £200 driver assistance pack