Long Term Review
Living with a… DS 7 Crossback E-Tense (Final report)
We've got the plug-in hybrid version of the DS 7 Crossback on long-term test for a French twist on the premium SUV format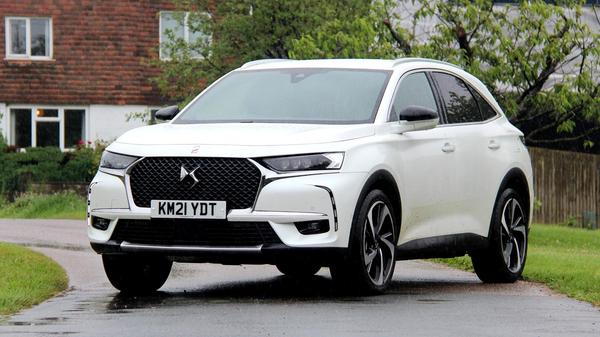 Many people will remember the original Citroën DS - a daring, exuberant piece of 50s French automotive design which remains highly desirable to this day. What to make, then, of the re-emergence of the badge? Technically DS operates as a standalone brand but those with more recent memories will – reasonably – still think of it as the luxury arm of Citroën given, for all the distinct identities, there remain plenty of shared bits, from platforms and powertrains to infotainment systems and gear selectors. Saying that there are enough quirky design touches in the
DS 7 Crossback
E-Tense to place it among niche premium offerings from the likes of Lexus and Genesis, but is there enough differentiation over its own relatives to justify the premium price of this large, plug-in hybrid, five-seat SUV?
Skip to:
Month 1 – Say hello to the DS7 Crossback E-Tense
Month 2 – Fast turnaround
Months 3 and 4 - Electrical hazards
Final report – Farewell and adieu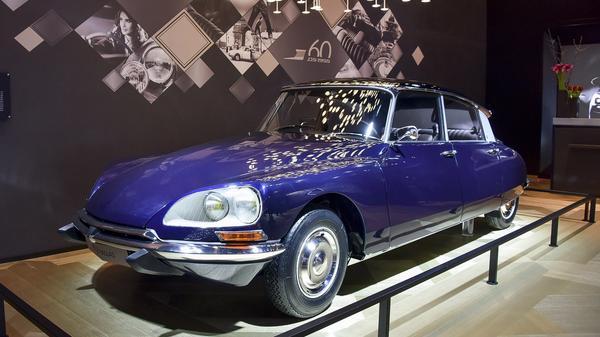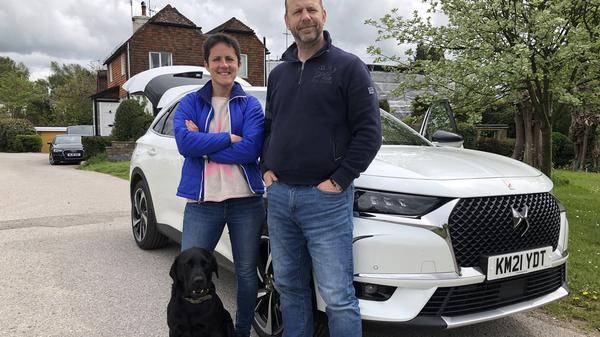 What is it?
Model: DS 7 Crossback
Version: E-Tense 4x4 300 (plug-in hybrid)
Spec level: Ultra Prestige
Options fitted: Pearlescent paint (£795)
Cost as tested: £54,495
We like
Hybrid system's electric only range
Refinement
Distinctive and attractive trim
We don't like
False boot floor seems a bit pointless
Plasticky start button and gimmicky revolving clock
A chunk more expensive than petrol version
Month 1– Say hello to the DS7 Crossback E-Tense
Mileage: 420
The DS 7 starts at £33,125 for the Performance Line specification, rising to our test car version - the Ultra Premium, which starts at £45,045. Swap from petrol to the petrol
plug-in hybrid
and the price rises again, and add four-wheel drive and you get to our top price tag. One of the striking boasts from DS is that the electric-only range of the car is 34-36 miles in real-world conditions. We'll be putting this claim to the test in the next couple of weeks because, if it's accurate, that puts this among the best plug-in hybrids (or PHEVs, as they are often known) out there. We're currently
charging it overnight at home
on our domestic charging box - DS supplies a cable for that and also a cable with a three-pin plug at one end, which we wouldn't advise using as the charge a car draws through a three-pin plug can somewhat overload the system, and things can get a bit heated. The motors, coupled with the 1.6-litre, 200-horsepower petrol engine, put out 300 horsepower, which is enough for 0-60mph in under six seconds. Which is rapid for a large SUV. There's a smooth eight-speed automatic transmission and plenty of sound-deadening for a seamless, quiet drive, especially in electric mode You can switch between electric, comfort and a sportier set-up via the buttons on the steering wheel. In the wide boot, accessed via an electronic tailgate, there is a false boot, but we can't quite figure why - the actual boot floor is only a few centimetres below the upper deck. Inside, we love the watch-strap leather design on the seats, which only comes with the higher trim, and the pearl stitching on the doors. We're less fussed about the diamond-shaped graphics and switches and don't like the plastic stop/start engine button, or revolving plastic clock, which feel nasty and cheap.
Back to top
Month 2 – Fast Turnaround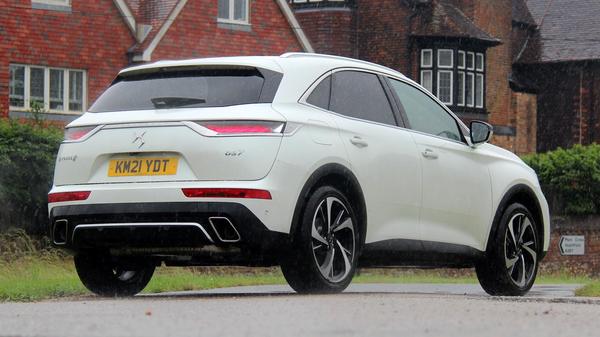 Mileage: 1,791
It's the small things that matter in a car when you drive it every day. Power, brakes and suspension are always top of the roadtester's list but, in the end, it's the feel of the steering wheel or the way the door shuts you end up obsessing over. Which is why the Volkswagen Golf advert with the guy repeatedly listening to the door close was such a genius move. On the DS 7, it's the turning circle. We have to reverse out of our drive every morning, without backing straight into the neighbour's drive. It's almost impossible to get the car pointing in the right direction without a 48-point turn, but the DS 7 manages it in two twirls of the beautifully flat-bottomed steering wheel. Like a London cab, it just keeps turning with ease, tightening the radius. I can count on one hand the number of test cars I've had in the two years we've lived here that can do that. The second point is one for
plug-in hybrid
owners. Most of us with home charging points have an off-peak tariff at night, typically from midnight until 5am. A handful of plug-in hybrids still have no timer on them that would enable you to plug them in before midnight and go to bed, knowing they won't start charging until it's cheaper. It's ridiculous. Some do have timers, but you have to set them on the owner's app, which is also convoluted. Given that the price for my electricity drops from 19p per kWh to 4p per kWh, that's a daily saving you won't want to miss out on. Thank heavens then for the DS. There's just a button with a picture of a clock on it, right by the port where you plug the lead in to the car. You set the timer on the touchscreen inside, plug the lead in, press the button, wait for the light to turn blue which means it won't start until your pre-set time (there's even a little key telling you what each light by the charging port means) and head to bed. Sweet dreams all round.
Back to top
Months 3 and 4 - Electrical hazards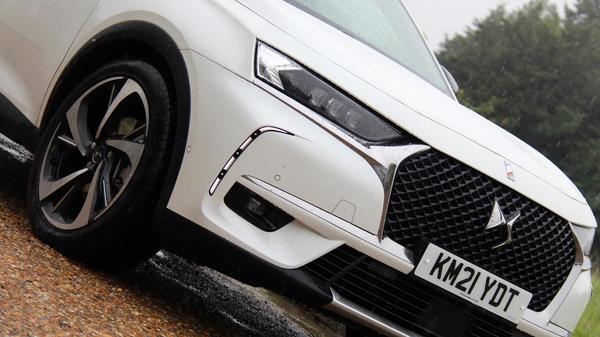 Mileage: 2,900
We're feeling very thankful that our DS 7 is a plug-in hybrid and not a pure electric car this month, because our Pod Point
home charger
stopped working thanks to British Gas. In order to be on an electric vehicle charging tariff with British Gas, you have to have a smart meter fitted. The engineer who came to fit our smart meter disconnected the energy clamp installed by Pod Point, and didn't reconnect it as he didn't know what it was. In essence the energy clamp is a piece of load-balancing equipment so you can still charge your car when you're using a lot of electricity in the house. That caused the charging point to go into safety mode and stop charging. Pod Point were absolutely brilliant, answering my phone call immediately and identifying who I was without a million passwords, and even sent a diagram through for the British Gas engineer showing him how to reattach it. Unfortunately for me, British Gas were awful - a 45-minute wait to get through by phone every time, claims of not knowing what I was talking about and passing me endlessly between their electric vehicle and smart meter departments. In the end a whole two weeks passed before the engineer finally came back. If my car had been a pure electric model I'd have been left without transport, so thank goodness for the DS being
a plug-in hybrid
with the option to run it in petrol when the battery is depleted. On the other hand, it is a painful experience driving this car on motorway journeys, because the electric range of about 22 miles disappears by the time I reach the motorway. That means I'm then both lugging the extra weight around of the batteries and motor while burning through the fuel in the small 43-litre tank at a rate of 32mpg or so. So it feels like we are refuelling on every journey, which is annoying, inconvenient and seems costly even if the fill-ups are relatively modest due to the small tank. It really is making the DS a dispiriting car to use on the motorway. I make sure that every single time I get in it I select 'B' on the automatic gearbox to return as much of the energy expended when braking to the battery. This actually recovers more than you'd think, or the battery dial necessarily shows. Another annoyance is the hazard warning light button, which everyone would agree is a pretty significant safety feature but is on the far right of the dash, hidden behind the steering wheel in right-hand drive cars. A couple of times I've had to fumble quickly for it for emergency braking in fast traffic, and couldn't find it. Not great.
Back to top
Final report – Farewell and adieu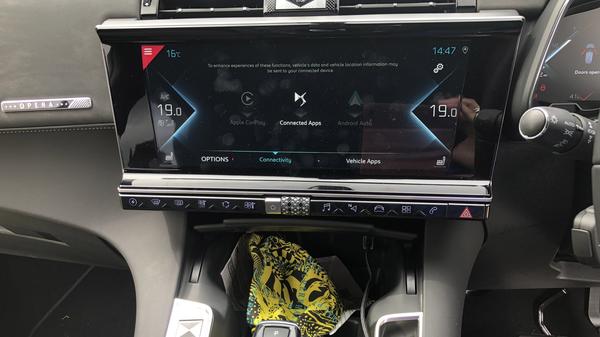 Mileage 6,226 miles
We say goodbye to the DS 7 plug-in hybrid with mixed feelings this month. We've loved the space and comfort and, boy, did we love having a plug-in hybrid car when there was no fuel in the South East, where I live. For a week, I plugged it in every night and just drove locally with my 22 miles of electric range, preserving the precious 40 miles' worth of petrol in the tank. It's also impressive that, when you get up to motorway speeds, the electric range doesn't appear to drop off, as it does in other electrified cars - we managed pretty much 22 miles of battery powered driving at 70mph. We will also miss the space, both for passengers and in the boot, when the false floor panel is removed. The dog has been very happy back there, and we've taken the kids down to Cornwall in it, with no one complaining of feeling cramped or not being able to stretch out. Citroën, from whose cars DS models are derived, considers comfort a core value. This policy survives intact in the DS models. But - and, in these fuel-starved days, it's a big but - the DS 7 has a 42-litre tank, in order to accommodate the hybrid set-up. That's tiny. It means you have to stop and refuel roughly every 300 to 350 miles. This month I had to go to work meetings in Bedford, Gaydon and Wraysbury, from home in Kent. I had to fill up on consecutive days and, frankly, this has the same effect as range anxiety in an electric car, especially given the recent situation. I was also forced to fill up at Toddington Services on the M1, which was charging an extortionate 156p per litre, which really pushed me over the edge on this car. I also have tried and failed to like the infotainment system. Not only is the sat-nav (shared with Peugeot, Citroën and Vauxhall) comfortably the worst in the business, but the buttons below the screen are touch-operated as opposed to being physical ones, yet they aren't quite sensitive enough so you end up stabbing them multiple times. On the steering wheel, the volume buttons are on the left but the button to scroll through songs is on the right, which seems to me just badly thought out - why would you not put all audio-related buttons in the same space? Yet for all that, it is a strangely likeable car. Maybe it's those crazy revolving, sparkly headlights or the web of fine LED patterning in the tail lights, or the brilliant turning circle. Little things that make you think of the Paris origins of this quirky SUV. We've seen quite a few on the roads during our travels. Au revoir, DS 7.
Back to top