First Drive Porsche Boxster Spyder first drive review
The Spyder is the swansong of the flat-six 981-series Boxster model range and possibly the most hardcore version yet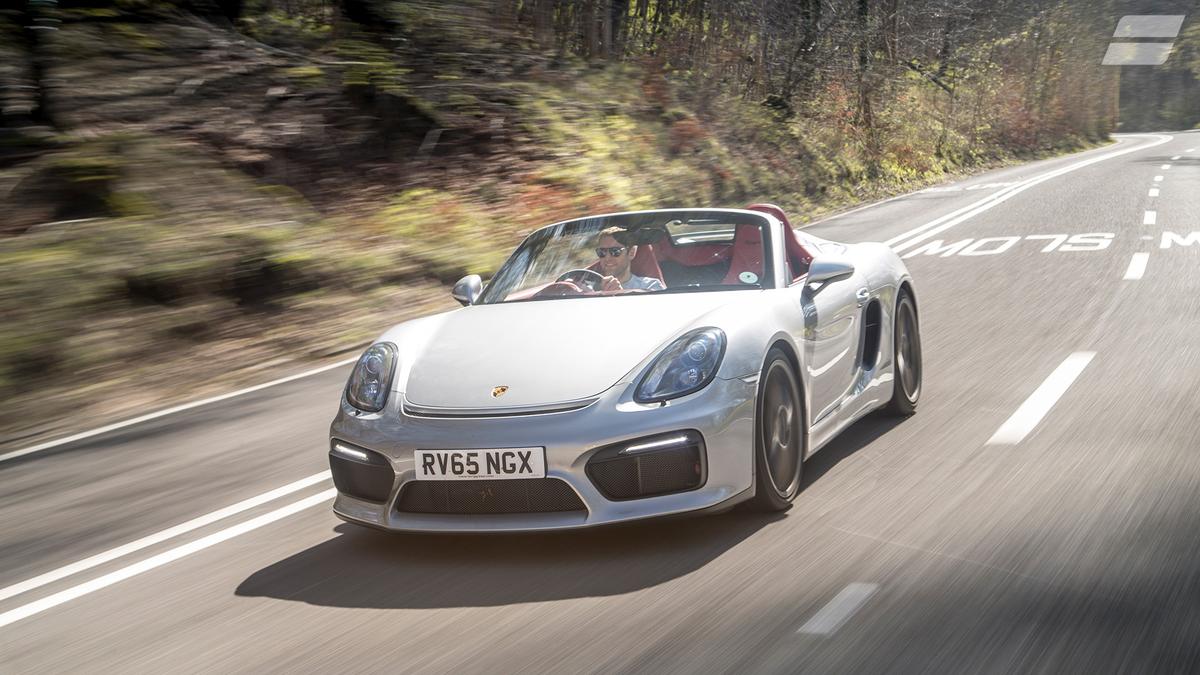 View gallery
Auto Trader verdict:
The Porsche Boxster Spyder is the fastest, most extreme and most exclusive version of the 981-series roadster. The superb chassis, sharp steering and intoxicating flat-six engine help deliver one of the most rewarding sports car driving experiences at any price. However, it's also the most expensive and least practical Boxster too, thanks to a stripped down cabin and irritatingly fiddly roof. The Spyder is special, but also a timely reminder of just how good the Boxster can be – we hope Porsche uses this as its base for the next-generation of GTS models wearing the 718 badge.
Need to know:
Stripped back 'purist' version of 981-series Boxster

370bhp 3.8-litre flat-six engine, 0-62mph in 4.5 secs

Fabric roof is manually operated to save weight
What is it?
The most extreme and impractical version of Porsche's 981-series Boxster. It's also the rarest, and coolest, thanks to a beautifully curved rear deck made from a single sheet of aluminium, plus a Spyder nameplate made famous by doomed Hollywood royalty James Dean and his lightweight 550 Spyder.

The aggressive, Porsche Motorsport-inspired front bumper makes it 10mm longer nose-to-tail than a Boxster GTS, and because it rides on passive sports suspension as standard, it's 10mm lower. At 1300kg, it's 30kg lighter too, primarily because it does without an electric-folding roof, door handles or even a radio. While you can reinstate the Porsche Communication Management (PCM) infotainment, that privilege will cost you a further £2141.

The main draw of the Boxster Spyder, however, is the engine and drivetrain. For the first time ever, Porsche has installed a bigger, normally aspirated 3.8-litre flat-six into the Boxster to develop 370bhp. It's the same unit that features in the race-honed Cayman GT4, and like the GT4, comes with a six-speed manual gearbox.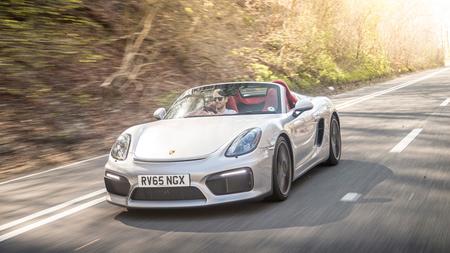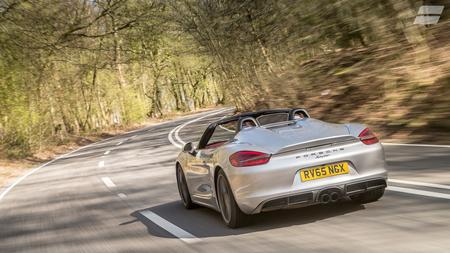 What's it like?
It's a Porsche Boxster; amplified: noisier, more direct, more visceral. It still has the fine handling, superb driving position and inherent balance associated with the mid-engine sports car, but this engine gives the Spyder an angrier edge that's intoxicating.

The linear power delivery builds into a scintillating top end that goes well beyond license-losing territory, while downshifting the crisp, short-throw gearbox or a trailing throttle elicits a distinctive crackle. It's a hugely rewarding drive that's supported by an equally emotive soundtrack, and one highlighted further by the arrival of the newly-launched 718 Boxster which puts the much-loved, normally-aspirated flat-six into retirement, at least for now.

Any weight reduction is difficult to detect, particularly as our test car featured the Spyder Classic interior package (£1445), reversing camera (£446), heated seats (£284), digital radio (£324) and Bose surround sound system (£801) to regain a little luxury.

The turn in feels marginally sharper, but that's because the steering rack is faster, borrowed from a 911 Turbo. The ride quality is pretty firm, especially on bumpy surfaces, but quality damping ensures that it's never crashy, although we're in little doubt that a Boxster GTS with Porsche Active Suspension Management (PASM) is more comfortable and offers more compliancy.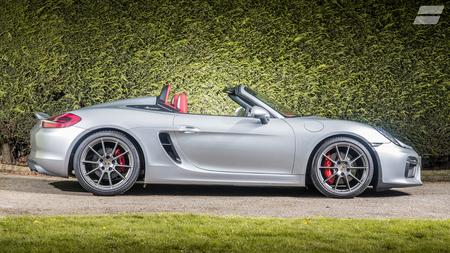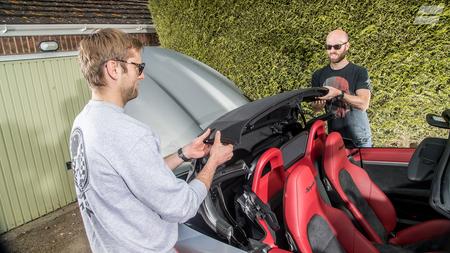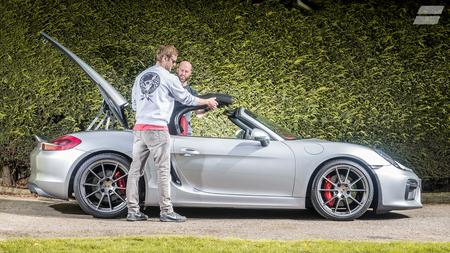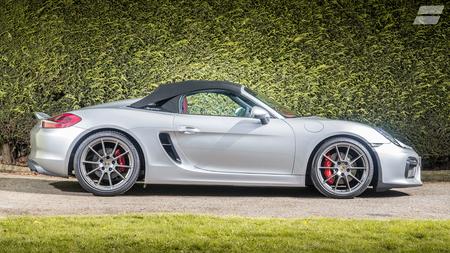 There is a weight and precision required when operating all the controls that not only force you to engage with the experience of driving – physically and mentally – but also really earn the rich rewards of exploring the highest reaches of the broad rev range.

The roof will be loved and loathed in equal measure. The good news is that it looks bespoke, can cope with an automatic car wash as well as the car's 180mph top speed. The bad news is the fiddly process required to remove: the roof unlatches from the header rail electrically, but then you need to step out of the car to open the boot, unclip the flying buttresses, manually retract said roof and close the boot. Even with practice, the process takes a good minute of faffing, which may become intolerable for your passenger, particularly if it's raining. What adds more frustration is the fact you can't access the rear boot unless the roof is down.
Should I buy one?
It's probably too raw to be considered as a daily driver. The lack of refinement, cabin noise and fiddly roof would frustrate if you had to use the Spyder everyday. However, as a second or even third car, or perhaps sadly, as a financial investment for the future, the Spyder offers one of the purest, most thrilling and thoroughly engaging driving experiences you can buy at any price.

However, with used prices for nearly new models currently sat close to the £90,000 mark, a whole Ford Focus RS above the original price, it seems that speculators have turned the Spyder into another cash cow destined for collector's garages and the auction house, rather than something to be driven, and enjoyed.

Besides, a careful trawl of our classifieds will bring you to several examples of the 981 GTS, which with a few choice options fitted can give you 90 percent of the thrills, at half the cost of the Spyder.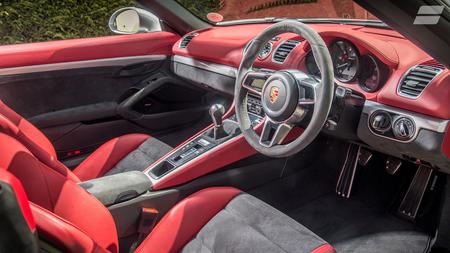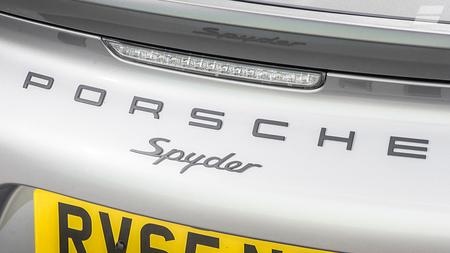 Key facts:
Model: Porsche Boxster Spyder

Price: £60,000 / £69,702 as tested

Engine: 3.8-litre flat six, six-speed manual

Power/Torque: 370bhp, 309lb ft

0-62mph: 4.5secs

Top speed: 180mph

Economy: 28.5mpg

CO2/BIK tax liability: 230g/km / 37%

Boot space: 150 litres (front) / 130 litres (rear)
Also consider:
Porsche Boxster GTS
The GTS is £10k cheaper, still develops 325bhp and offers 95% of the driving thrills with more refinement and practicality
Jaguar F-Type V6 S
Less of a driver's car, but equally theatrical with a 375bhp supercharged 3.0-litre V6 and a Spyder-rivalling soundtrack
Mercedes-AMG SLC 43
The newly-named SLC is more comfort-orientated with its folding hardtop, but its twin-turbocharged 3.0-litre V6 still develops 362bhp
Interested in buying a Porsche Boxster?