First Drive 2016 Porsche 718 Boxster first drive review
We drive the latest generation of the all-conquering Porsche Boxster – to find out if adding a turbocharger and a smaller engine spoils the recipe for the perfect sporty roadster.
Auto Trader Verdict:
Porsche is not the first or the last manufacturer to succumb to the pressure to constantly lower its CO2 emissions by downsizing and turbocharging its engines, but the 718 Boxster feels like a backward step. Although it looks, drives, handles and stops better than ever – and just like the consummate sports car we remember – it sounds and idles like a family hatch. Yes, the turbo makes it faster and more efficient, but a slice of the Boxster's magic has been lost.
Need to know:
Boxster gets new name and four-cylinder engine

2.0-litre turbo produces 296bhp, returns 38.2mpg

On sale now, priced from £41,739 on the road
What is it?
The next chapter in the 20-year history of the Porsche Boxster – and a brave new direction for a roadster that has defined and dominated its class. Taking its new '718' moniker from the flat-four sixties racer which competed at Le Mans, this new car has totally new styling, a fresh interior, and most importantly of all, a brand new four-cylinder, turbocharged engine.

Obviously, when any sportscar maker switches from big, naturally aspirated engines to turbos and downsizing, they face scepticism from purists and the same circular arguments about the constant need to increase performance and improve efficiency. For the record, a 2.0-litre 718 Boxster has 35bhp more than it used to, is 0.8 seconds quicker from 0-62mph if you get the optional PDK automatic, and is 13% lighter on fuel, returning 40.9mpg. Praise be.

This switch is about a lot more than shifting the numbers along on a graph, though. It also moves the Boxster (and, very soon, the Cayman) further away from the rear-engined flagship, and will fundamentally alter how it drives. Other changes include new steering – borrowed from the 911 Turbo – better brakes and wider rear wheels, plus revised suspension to cope with the extra power and torque.

We're testing the lightest, entry-level 718, which has traditionally been the best seller, with 296bhp on tap, and equipped with the standard six-speed manual transmission. The new 718 Boxster S has a larger 2.5-litre flat-four, a variable vane turbocharger and produces 345bhp.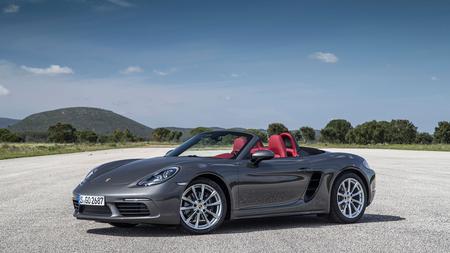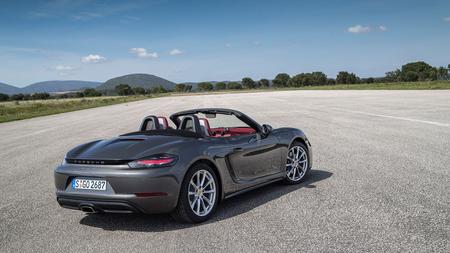 What is it like?
Certainly very different from what has gone before – the switch to turbocharging feels like a much more significant departure for the Boxster than it does in the latest generation of 911. Perhaps we had started to take the wail of a flat-six for granted in any of Porsche's sports car; but, after the usual welcome ritual of lowering the fabric roof, dipping the clutch in and twisting the key, then knocking it into 'Sport', the noise you're greeted with is a real shock.

At idle the engine chunters away with the kind of industrial rumble you expect from a Subaru WRX; but, as the revs and the decibels rise, that hollow drone never becomes a proper Porsche howl. It pops and bangs theatrically on the overrun, but never delivers the thrills it should.

It might seem churlish to start off with a petty noise complaint, but in any roadster worth its salt 'sound terrific' should sit on top of the list of priorities after 'look gorgeous' and 'handle well'. Fortunately, the 718 Boxster still does those last two things rather well. The small tweaks to the design, which include wider air vents to feed the new intercoolers, sharper headlights and the raised 'Porsche' lettering along the boot spoiler all add a sense of width and purpose.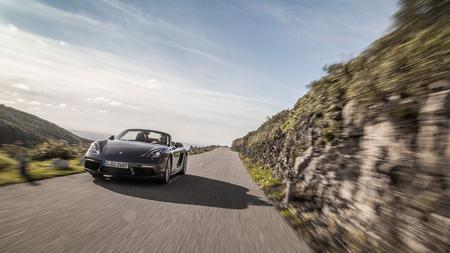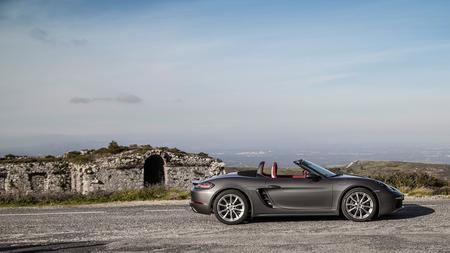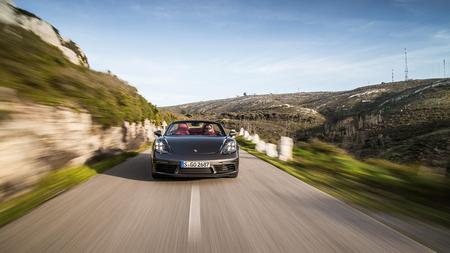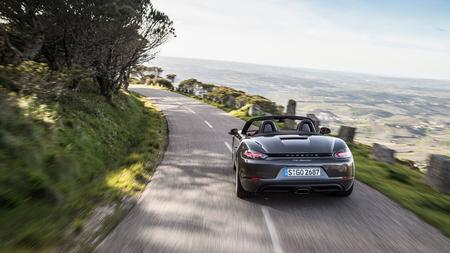 Virtually every panel is new, but you still get the sculpted vents behind the doors to remind you that, unlike most of its rivals, the 718 Boxster has its engine mounted right in the middle of the car. The raw data Porsche supplies suggests that everything is fine – performance is up, the thirst for high-octane fuel is down – but driving this flat-four in anger tells a rather different story.

We could forgive these new power units a slight loss in character – the set laws of physics do make it hard for a turbocharged car to sound as stirring as a naturally-aspirated one – but Mercedes proved with the C63 AMG that it can be done. And, worse still, the Porsche's performance has also suffered.

This engine feels flat below 2,000rpm, and because the ratios in the manual car are still set long for maximum efficiency, the 718 feels like it bogs down with every shift at low speeds. You need to keep it spinning well above 3,500rpm to keep the throttle response sharp, and while the redline is quite high and the car is still seriously quick, there's no final rush of power.

Yet, perhaps the most frustrating thing of all about this meek-sounding engine is that the rest of the driving experience is as sublime as ever. The controls all have a heft and weight that make you feel instantly keyed into how much grip there is at each corner, the driving position is close to perfect, and the sheer grip and cornering agility on offer beggar belief.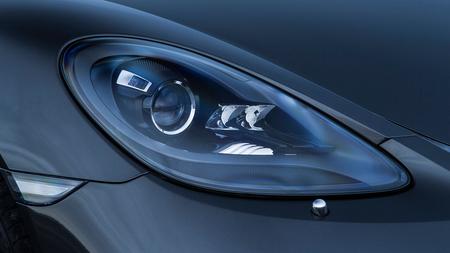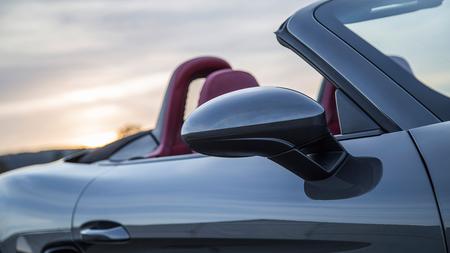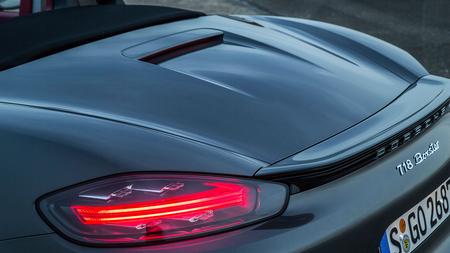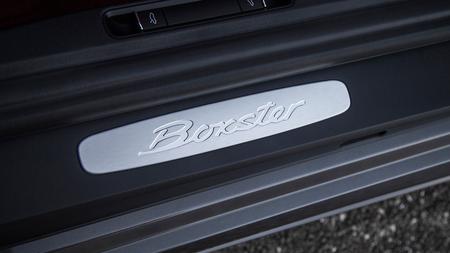 There is not even a hint of understeer, no matter how fast you decide to enter a corner, and you can play with the balance by trailing the brakes or lifting the throttle halfway through. A new 'halfway house' mode on the traction control called PSM Sport lets you indulge in a few progressive slides without removing your safety net for getting it wrong altogether, so it's a shame it's available only with the optional Sport Chrono package.

The brakes are brutally effective, the pedal is easy to modulate, and even on 20-inch wheels and standard suspension, the tautness of the chassis never gets too firm. The supple way the 718 can smother even fairly vicious mid-corner bumps gives you enough confidence to really attack challenging roads knowing the car is capable enough to cope.

Better still, cabin quality has improved enough to keep even the likes of the ultra-modern Audi TT S roadster honest, with a new, clearer and more responsive central touch-screen, an upgraded standard stereo and improved connectivity, with Apple CarPlay as standard, and sat-nav with full voice control available as an option. A new smaller steering wheel reflects the handling gains, and the car is as practical as ever, with two surprisingly deep boots front and back.

Refinement is good, too, and even with 20-inch wheels, the road noise is acceptable, and with the wind deflector in place, buffeting from the wind only becomes a problem at fairly high speed. If you want to just pootle along, then the hushed 2.0-litre engine is quite good at that, too.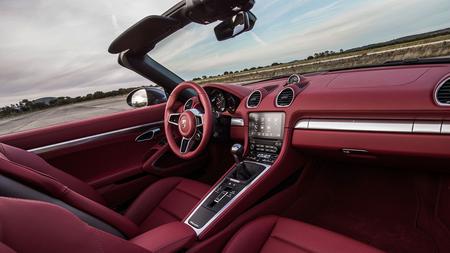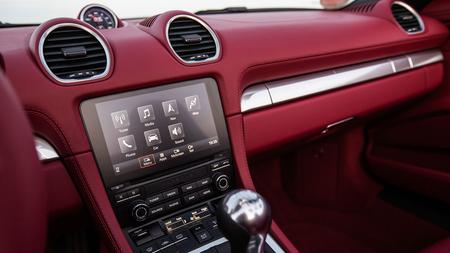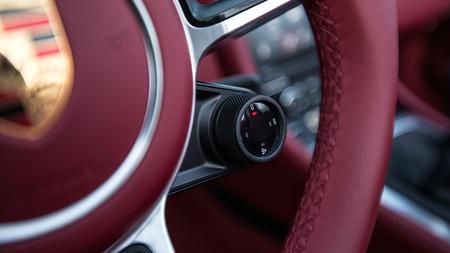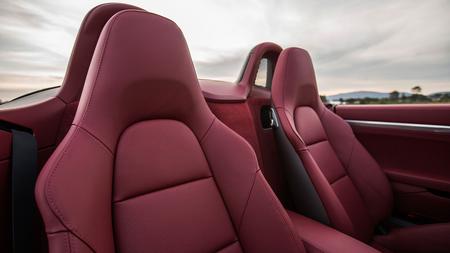 Should I buy one?
The standard Boxster used to be the pick of the range. It had all that was good about the racier models, but was cheaper, more accessible, and only asked that you worked a little bit harder to extract its performance. This new one bucks that trend, though. Our limited time in the Boxster S showed us a car with less inertia in its larger engine, and a sharper throttle that made it feel a bit closer to the six-cylinder cars. For that reason, we'd recommend the 718 S, while still bemoaning both cars' lack of aural bite.

Prices have risen for the Boxster, too – the new Cayman will be cheaper – and that makes it look expensive against a similarly quick, similarly classy and better equipped Audi TT S Roadster, which also has the added security of four-wheel drive.

That comparison is probably unfair on the Porsche, though. It sets the handling benchmark in this class by a margin that is wider than ever, it still boasts a truly superb chassis, and it still feels like a genuine thoroughbred in every single respect bar one, so it's just a shame that the sole exception is such a disappointment. We'll keep our fingers crossed for the GTS.
Key facts:
Model: Porsche 718 Boxster

Price: £41,739

Engine: 2.0-litre flat-four petrol, six-speed manual

Power/Torque: 296bhp/280lb ft

0-62mph: 5.1 seconds

Top speed: 171mph

Economy: 38.2mpg

CO2/BIK tax liability: 168g/km/30%

Boot space front/back: 150/125 litres
Also Consider:
Mercedes SLC
The added security of a folding hard-top, but heavier and less engaging to drive than the Boxster
BMW Z4
It looks great, but the Z4 is more of a cruiser than a true sportscar, and getting old now
Audi TT S Roadster
A smarter interior, four-wheel drive and more power than the 718; and, it sounds better
Interested in buying a Porsche 718 Boxster?