First Drive 2016 Citroen C3 first drive review
A very charming and likeable little car, with bags of style and some fairly tempting equipment, but it's not a class leader among the impressive array of superminis.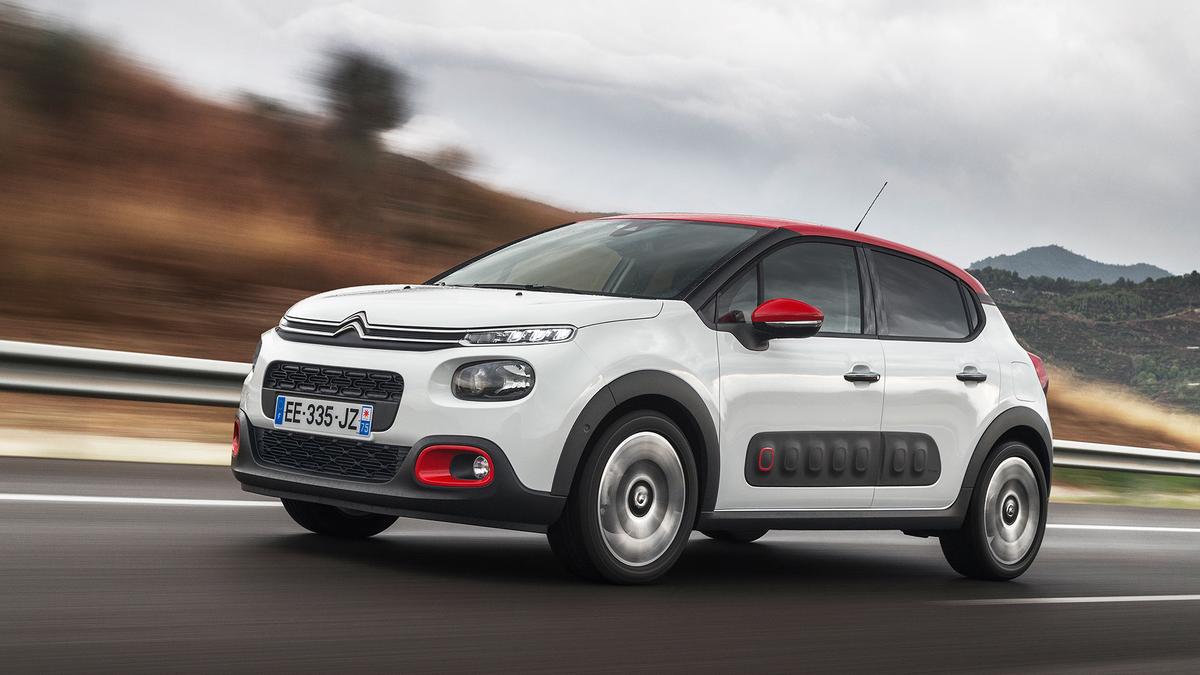 View gallery
Auto Trader verdict:
The C3 certainly isn't a class leader among the very impressive array of superminis on offer in today's market, because it doesn't really dazzle in any single area. It is, however, a very charming and likeable little car, with bags of style and some fairly tempting equipment. And for many supermini buyers, that'll be more important than dynamic excellence or practicality.
Need to know:
Stylish new version of French firm's supermini contender

Features 'Airbumps' similar to those found on C4 Cactus

On sale now, prices start at £10,995
What is it?
A pretty radical change from the old C3. While the previous car was blander than a sawdust sandwich, the new version has properly head-turning styling that would look more at home on a motorshow concept car than on an affordable supermini.

Following in the footsteps of the C4 Cactus, the unusual details and unconventionally bulbous lines command plenty of attention, while the top spec version also has 'Airbumps' (they're also optional on the mid-range car). These are rubberised panels containing pockets of air that run down each side of the car, providing a futuristic look, as well as a small amount of protection against the effects of a runaway shopping trolley.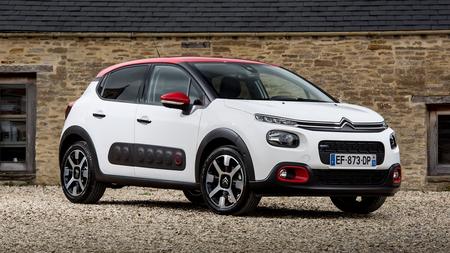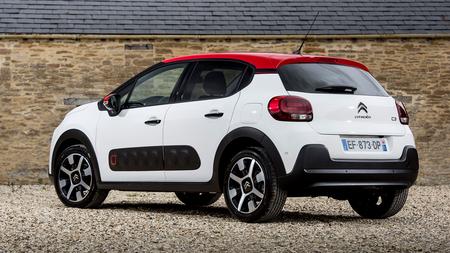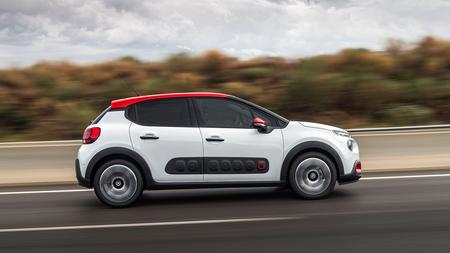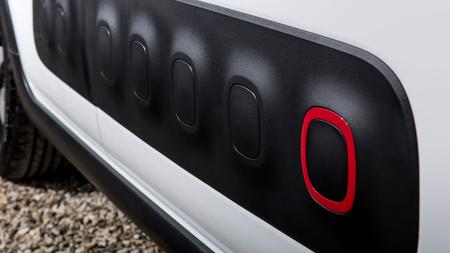 What is it like?
For many buyers, the car's stylish exterior will be enough to guarantee a purchase, but the funky design on the inside will also help cement the deal. The design is again fresh and unconventional, giving you a very chic-feeling environment to sit in. Like in the Cactus, the materials aren't of the highest quality – in fact, a few of the panels are downright cheap-feeling – but there's such a mixture of finishes, textures and colours that you don't notice as much as you otherwise would.

Interior space is also pretty generous, with enough head- and leg-room to satisfy a quartet of lofty adults. It's more comfy than most superminis for five, too, because the middle seat is wider and softer than those in pretty much any rival. It's only the shortage of shoulder room and the bulky transmission tunnel that will put a dent in your level of comfort. The boot is a decent size at 300 litres, too.

From here on in, though, things get rather less positive rather quickly. The touchscreen infotainment system looks good and drastically cuts the number of buttons on the dashboard, but it's also woefully awkward to use, with confusing menus, icons that aren't clear enough and a screen that's not sensitive enough. The steering wheel doesn't go far-enough away from you despite having height- and reach-adjustment, and the height adjustable seat won't go low enough, which means your driving position feels a little awkward.

Take to the road, and you'll notice there's virtually no consistency between any of the controls: each pedal feels like it's from a different car, the gearshift has a laughably long and notchy throw, while the steering feels remote and erratically weighted.

Citroen's goal with its forthcoming batch of models is to focus wholeheartedly on comfort over sportiness, which in itself, is no bad thing. However, even the latest car is based on a platform that can be traced back many, many years, and there's only so much even the best engineers can do with tweaks and modifications. While the ride felt reasonably comfortable on the smooth roads of southern Spain, it did pick up quite a bit on the few bumps we did find, so we worry the sterner test provided by the UK's scruffier streets might be one the C3 doesn't exactly ace. The softness applied to the suspension in pursuit of ride comfort also means there's a pronounced amount of body lean.

The engine we tried was the 81bhp three-cylinder petrol that'll account for the vast majority of sales, and while it feels a fraction stuttery at the very bottom of the rev range, it gets a good bit perkier in the mid-range and has enough gutsiness to get you chuffing along at a pretty decent rate. It'll thrive in a town centre environment and it'll happily keep up with motorway traffic. There's not much point extending it out to the top of the rev counter, because the acceleration you feel doesn't ultimately get all that much stronger. The engine makes a bit of a racket when you work it hard, too, and you start to feel more unwanted vibrations through the controls. Otherwise, though, the refinement isn't at all bad, with wind- and road-noise being really well suppressed.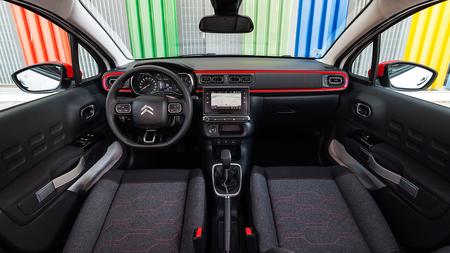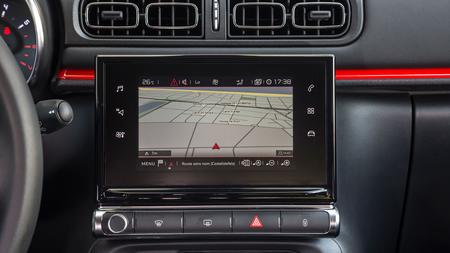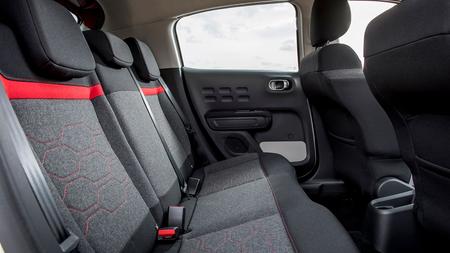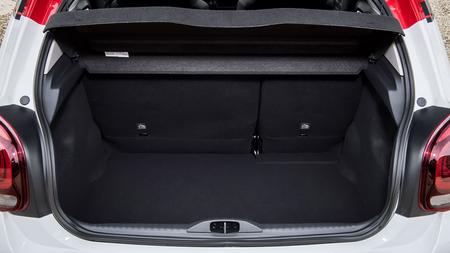 Should I get one?
If you want your supermini to be the best car of its type, then no. The C3 falls a distance behind the class leaders in pretty much every area, so for most people, there will be a better option out there.

However, if style and uniqueness are at the very top of your list of priorities – and in such an image-conscious sector of the market, there will be a significant number of people to whom that applies – and you're prepared to forgive a few shortcomings in other areas, then the C3 will be right up your street. Like its sibling, the C4 Cactus, there are a lot of rough edges to the C3, but few small cars are as charming and as likeable.

We only wish opting for the C3 saved you a bit more cash than it does. Yes, it's a little cheaper than superior offerings like the Ford Fiesta and Volkswagen Polo, but it is genuinely only a bit. Prices are comparable to those of the Seat Ibiza and Renault Clio, but again, these cars are better all-rounders and arguably just as stylish. The efficiency figures with this engine are nothing to jump up and down about, either, with average fuel consumption of 60.1mpg and CO2 emissions of 109g/km.

Admittedly, though, the C3 will give you some very tempting kit on top of what is provided by rival superminis. Entry-level Touch trim gives you remote locking, cruise control, lane departure warning, six airbags, DAB radio and Bluetooth, but you'll probably want to upgrade to Feel trim at the very least because it gives you alloy wheels, climate control, four powered windows and the touchscreen stereo with MirrorLink and Apple CarPlay, along with a few visual upgrades. Top-of-the-range Flair trim earns you the Airbumps, cornering foglamps, automatic lights and wipers, rear parking sensors and a reversing camera, along with a 'dashcam' mounted in the rearview mirror that'll take stills or video at your command and download them straight to your smartphone via Bluetooth.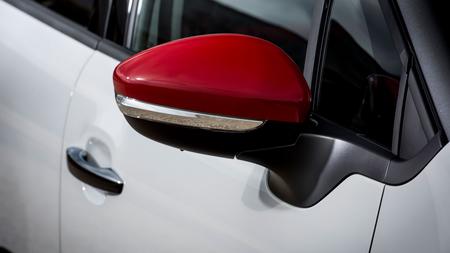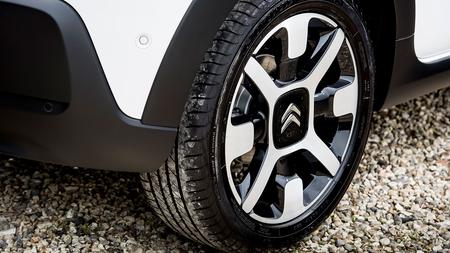 Key facts:
Model: Citroen C3 1.2 Puretech 82 manual

Price: £14,795

Engine: 1.2-litre petrol, five-speed manual

Power/Torque: 81bhp/87lb ft.

0-62mph: 12.8secs

Top speed: 107mph

Economy: 60.1mpg

CO2/BIK tax liability: 109g/km / 18%

Boot space: 300 – 922 litres
Also consider:
Ford Fiesta
Simply sensational to drive, and not all that much pricier than the C3
Renault Clio
Chic looks by the bucketload, and a very pleasant little car to drive
Seat Ibiza
A great all-rounder and no shortage of style, all for an affordable price
Interested in buying a Citroen C3?