Long Term Review
Audi A3 e-tron long-term test review – second report
We put Audi's first ever e-tron model through its paces in a long-term test, to see if it sets out the blueprint for the electrified R8, Q7 and A4. Can it offer us the best of both worlds?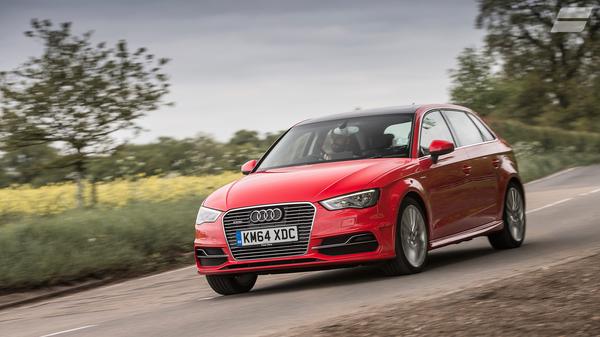 Second report: June 2015
No sooner had my colleague Paul
begun to get to grips with the e-tron
, than I whisked the keys away from him to go on a mission to see just how far hybrid technology can be taken.
You see, I had an appointment in north-western France at a motor race you may have heard of: the Le Mans 24 Hours. Not only would my journey there be a fantastic test of the e-tron's long-distance cruising capability (it's a mighty 365.5 miles from my home in glamorous Croydon to the Circuit de la Sarthe), it would also give me a chance to see the very latest in cutting-edge hybrid technology. All the big players in the LMP-1 class (that's the premier class which runs at Le Mans and at the FIA World Endurance Championships) are hybrids; Toyota, Nissan, Porsche and yes, Audi. So we thought we'd make the pilgrimage to this petrol head's paradise to compare the cars at each end of Audi's hybrid portfolio. And make no mistake, this is a pilgrimage, especially for Brits. Heading down to Folkestone to catch Le Shuttle, I spied all manner of British-registered exotica, including a super-rare Aston Martin One-77 hypercar; and I was joined on the train by several Porsches, BMW M cars, Caterhams and other such interesting machinery. Frankly, despite the A3's smart looks and clever tech, I was left feeling slightly under-equipped compared to my fellow travellers.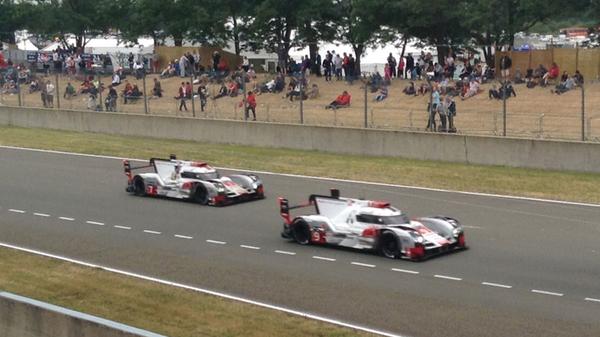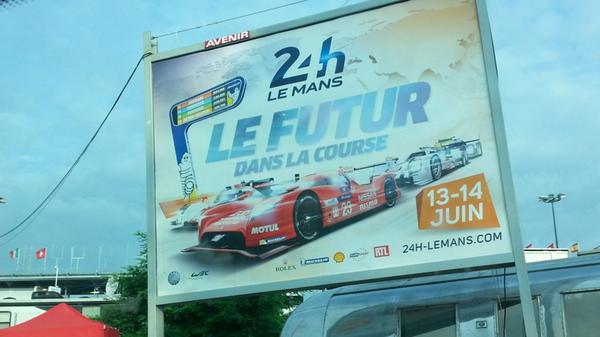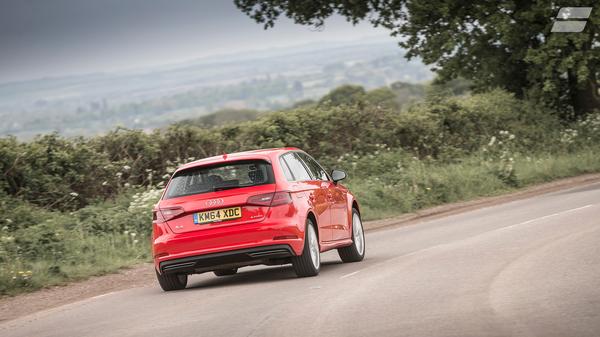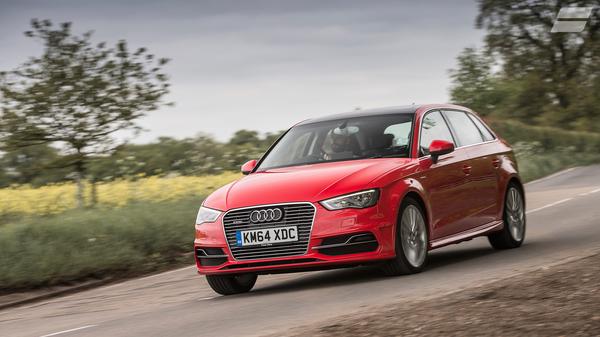 That's not to say the e-tron was a poor travelling companion. Far from it, in fact: it was exceptionally quiet, comfortable and hugely refined; and, it had an easy-to-use sat-nav system (which took me straight there, without any fuss or bother) while the Bluetooth streaming system meant I had favourite ditties along the way and didn't go crazy from spending eight hours alone. Combine this with the brilliantly smooth and astonishingly empty French motorways, and it made for impressively unruffled and rapid – within the legal limit, of course – progress.
Mind you, not all of my compatriots were quite so parsimonious, with many getting caught at considerably over the limit (some in excess of 100mph). And that's despite the well-advertised, heavy gendarmerie presence, and the knowledge of the heavy fines that will be imposed, there and then, for infringements. Unfortunately, however, the car's hybrid powertrain isn't really suited to long-distance motorway cruising. The battery power ran out long before I reached Folkestone, and I was unable to replenish it from a charging point for the rest of the trip, which hit the fuel economy rather hard; I only managed to average 46.6mpg over 361 miles between fill-ups. Admittedly, that's not bad, by any stretch, but it is quite a long way off the car's official figure of 176mpg. That's not the car's fault, however, more the limited availability of charging points and lack of investment in the infrastructure.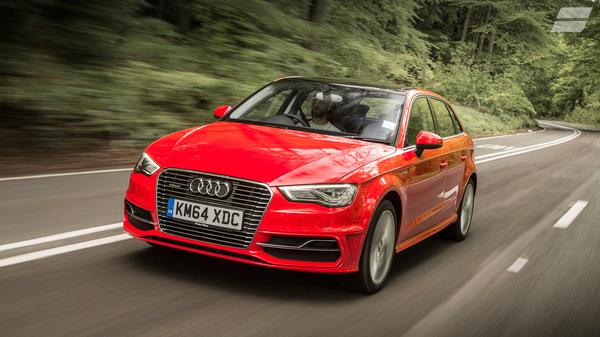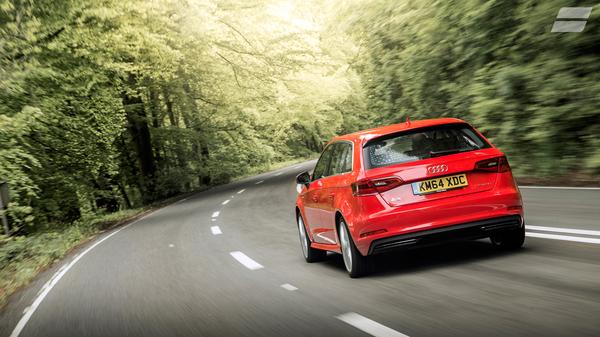 One of my missions at La Sarthe was to discover the differences – and similarities – between the hybrid unit in my A3 e-tron and the one in the R18 e-tron Quattro racing car.
The biggest difference between the two is that the R18 stores the energy it recuperates in a high-speed flywheel, rather than in a load of batteries. And, of course, the R18 is also somewhat more powerful (and much lighter) than the A3: 818bhp (including the power from the two electric motors on the front axle) plays just over 200, and the racer's top speed of over 210mph is frankly scary. The R18 was the first hybrid car to win Le Mans in 2012, and it won again in 2013 and '14. Unfortunately, in 2015, the Audis were beaten by a one-two finish from the Porsche 919 Hybrid, but it was only bad luck that stopped the R18s from seriously challenging their cousins from Stuttgart. As soon as the race was finished, I jumped straight back into the e-tron, assured of an easy, comfortable and quiet trip home. Once I'd fought my way out of Le Mans itself…
Read our first report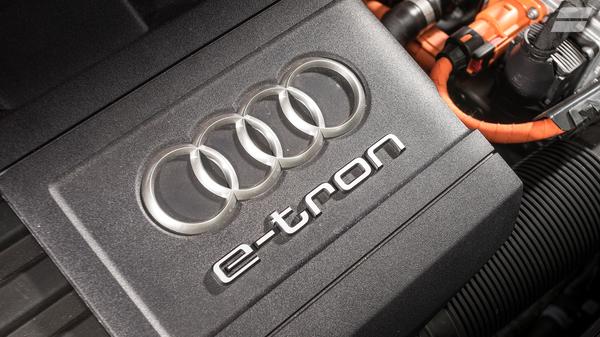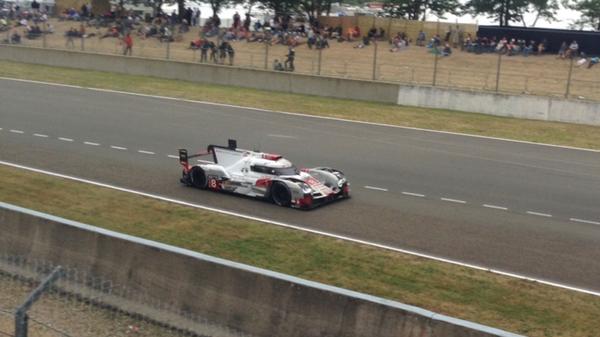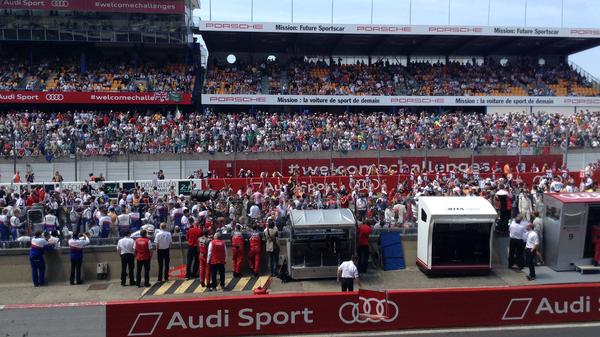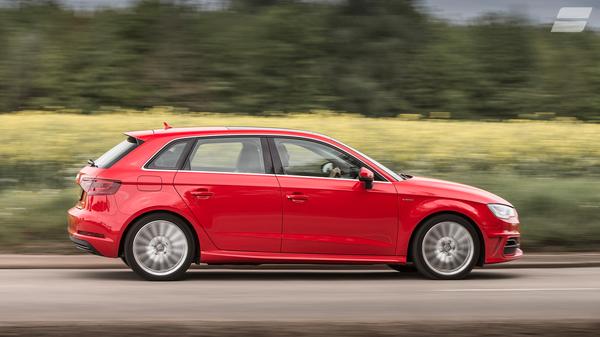 Key Specs:
Model: Audi A3 Sportback e-tron S tronic
Price as tested:£40,425
Engine: 1.4-litre 4cyl petrol, six-speed dual-clutch auto, plus 75kW electric motor
Power: 201bhp (combined)
Torque: 258lb ft (combined)
Top speed: 137mph
0-62mph: 7.6 seconds
Economy: 176mpg
CO2/BIK tax liability: 39g/km/5%
Boot space: 280 – 1,120 litres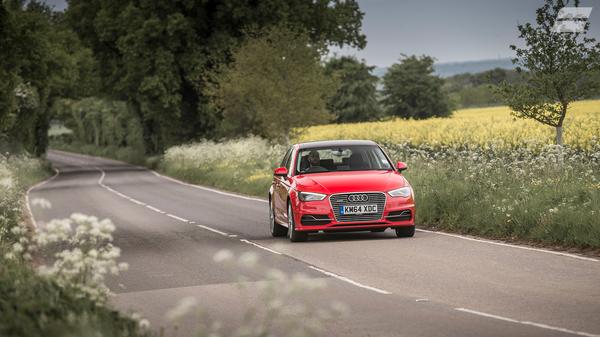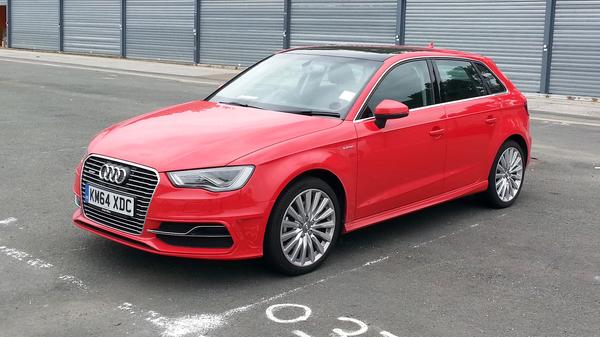 Optional Equipment:
An exhaustive list of everything fitted to our long-termer, and a breakdown of the price
Base price: £34,665
Misano Red paint: £525.00 Black Milano leather sports seats: £1,115.00 18-inch '15-spoke Turbine' alloy wheels: £995.00 Auto-dimming rear view mirror: £245.00 Panoramic glass sunroof: £950.00 Storage and luggage package: £145.00 Electric lumbar support: £195.00 Heated front seats: £260.00 Interior lighting pack: £170.00 Cruise control: £225.00 Audi Parking system Plus: £250.00