Long Term Review
Audi A3 e-tron long-term test review – first report
We put Audi's first ever e-tron model through its paces in a long term test, to see if it sets out the blueprint for the electrified R8, Q7 and A4. Can it offer us the best of both worlds?
First Report: May 2015
Mileage: 5,596 Costs: £29.00 for Residential Parking Permit
Electric cars are currently being held at an uncomfortable tipping point. The technology has progressed to the point where the 'milk float' jibes simply have no basis in reality, and cars like the BMW i8 and brilliant Tesla Model S P85D are redefining what is possible in terms of performance, range, and sheer desirability.
However, those cars are also far beyond the financial reach of most people, and the development of a democratised electric car has been frustratingly stunted by two things; a lack of infrastructure to support using one on a regular basis, and needing to always have another car on standby for any journey longer than 80 miles. Enter the plug-in hybrid A3 e-tron, which solves this problem, and can do the job of an ordinary family hatch, but also promises a carbon-free commute. To find out if the A3 e-tron really lives up to this billing as the perfect stepping stone to an all-electric future, here at Auto Trader we've decided to run one for a few months, and I put my hand up as the perfect test case. My commute from West London to our road-testing HQ in Egham, Surrey is just 20 miles, well within the claimed 31-mile range of the on-board batteries. To help keep them topped-up, we've installed a charging point right outside the office, and if I need to quickly go to a meeting at our main office in King's Cross, the A3 is congestion charge exempt. Better still, if I need to leave it at home (usually a bit tricky with other test cars due to the draconian parking restrictions of my Kensington and Chelsea London borough) a parking permit was quick and easy to obtain. The permit cost us less than half a tank, as the rates are calculated on CO2, and with emissions of just 39g/km, the e-tron falls into the lowest bracket.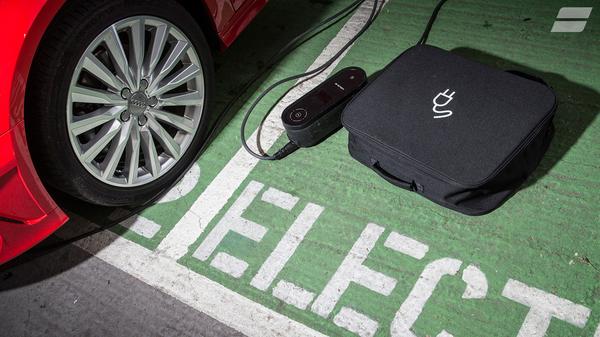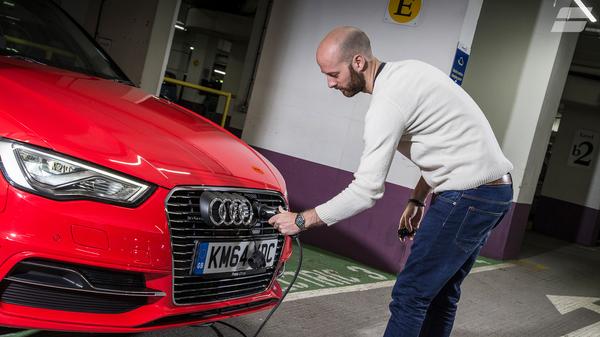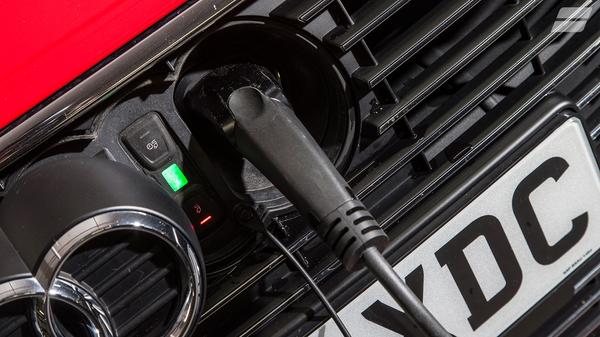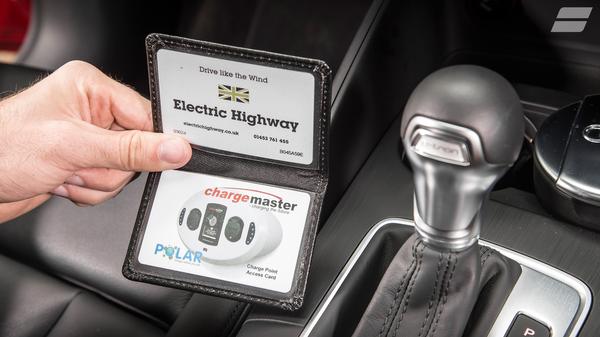 Trickle charging and nifty parking
So far, after slowly getting acquainted over the past few weeks, I've found the A3 e-tron the perfect tonic to daily test cars. It needs to be driven on its own terms to get the best from it, which means slow, deliberate inputs and going along in a fairly saintly fashion, but the reward on shorter runs (and a full charge) is an indicated 128mpg, superb refinement (anyone who harps on about the 'hushed' nature of modern diesels could learn a thing or two from driving one of these) and stress-free travel. In fact the drivetrain is so subdued that I've started to noise road and wind noise more than ever before.
However, KM64 XDC has not had the easiest start to life on our fleet, with Editor-in-Chief Jon Quirk borrowing it for a week, and galavanting off to the Lake District, Wales, and all over the country, covering 1,700 miles in the process. In a range extender like the BMW i3, journeys like this would be long, difficult and fraught with fill-ups of the tiny fuel tank. No such problems affect the A3, and it's the usability allied to those tiny running costs that give it such appeal. I love the fact that I can sling a full-sized road bike into the boot without worrying if it will fit or not (the batteries are stowed neatly under the rear seats, so the boot is only slightly smaller than on the standard A3), and how easy it is to park. The light controls and optional parking sensors (£250) mean I can squeeze it into the smallest of spaces, which is very handy when everyone else in your neighbourhood drives a vast Porsche Cayenne or Range Rover Sport. The only downside I have found so far is that if you get lazy and start to use the e-tron just like a normal car, the economy does suffer, and it'll only return around 56mpg unless I charge the battery twice a day. That's not always possible when flitting between car launches, rural video shoots and two different offices during the working week. It's not all my fault, though. Part of the problem is the frustratingly small charging network. Even right in the heart of London, there's only one charging bay within a two-mile radius of my house, which costs £4.40 per night for one of its electric berths. Even then, the bay in question only has - to my surprise - a standard domestic plug rather than the seven-pin fast-charge connector, meaning the car takes twice as long to charge. To rub salt in the wound, every time you go to use a charging bay at a motorway services, they're invariably not working. Hopefully over the next couple of months, with a bit more searching, we'll be able to use the A3's electric capabilities a bit more regularly, and explore its performance potential (despite the marketing schtick, it's not quite like owning a hot hatch) and even take it on some proper road trips, all of which we'll be keeping you posted about. Don't get me wrong, I love the looks and innovation of the i3, but the A3 feels like an electrified car that you can use right now, everyday, and not when the infrastructure finally catches up... Find out what happened when we took the A3 e-tron to Le Mans in our
second report.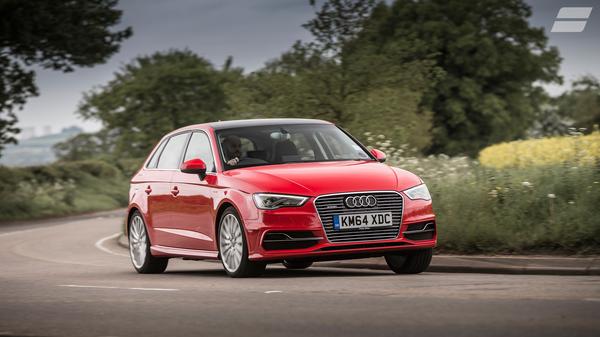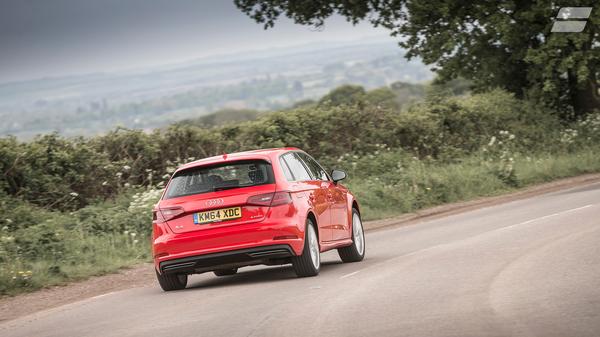 Key Specs:
Model: Audi A3 Sportback e-tron S tronic
Price as tested:£40,425
Engine: 1.4-litre 4cyl petrol, six-speed dual-clutch auto, plus 75kW electric motor
Power: 201bhp (combined)
Torque: 258lb ft (combined)
Top speed: 137mph
0-62mph: 7.6 seconds
Economy: 176mpg
CO2/BIK tax liability: 39g/km/5%
Boot space: 280 - 1120 litres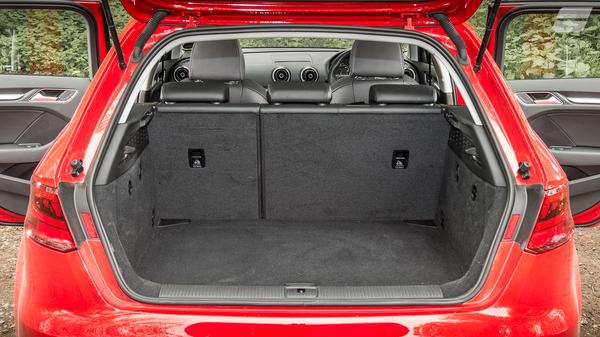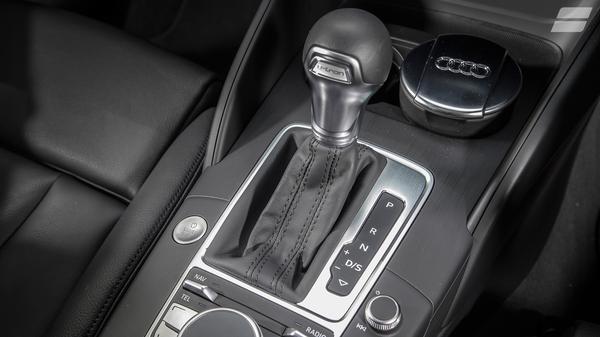 Optional Equipment:
An exhaustive list of everything fitted to our long-termer, and a break down of the price
Base price: £34,665
Misano Red paint: £525.00 Black Milano leather sports seats: £1,115.00 18-inch '15-spoke Turbine' alloy wheels: £995.00 Auto-dimming rear view mirror: £245.00 Panoramic glass sunroof: £950.00 Storage and luggage package: £145.00 Electric lumbar support: £195.00 Heated front seats: £260.00 Interior lighting pack: £170.00 Cruise control: £225.00 Audi Parking system Plus: £250.00