First Drive 2016 Audi Q7 e-tron first drive review
The Q7 e-tron is the second of Audi's plug-in hybrid offerings. It provides a variety of tax advantages due to its super-low CO2, along with a large, family-friendly cabin
Auto Trader Verdict:
You can't argue with the financial case that the Q7 e-tron makes for itself, even though the purchase price is likely to be quite high. It also does a pretty good line in class, comfort and luxury; and, for many motorists, that'll be a very appealing mix.
Need to know:
Plug-in hybrid version of Audi's huge luxury SUV

Predicted CO2 emissions of 45g/km and official fuel economy of 166mpg

Yet to be confirmed, but could go on sale in December for around £60,000
What is it?
The second in Audi's line-up of e-tron plug-in hybrid production vehicles, and a car that could prove to be very appealing for a lot of UK motorists.

You see, the Mitsubishi Outlander PHEV has been an enormous success so far in this country, thanks to two attributes. First, it's a big, practical family car. Second, it has a plug-in hybrid drivetrain that makes it incredibly cheap to run for company car drivers due to the super-low CO2 emissions that bring numerous tax advantages.

The Q7 has those same two attributes in common with the Mitsubishi, but it injects a posher cabin and a more desirable image into the mix as well. For many tax-conscious motorists, that could prove to be a very tempting prospect.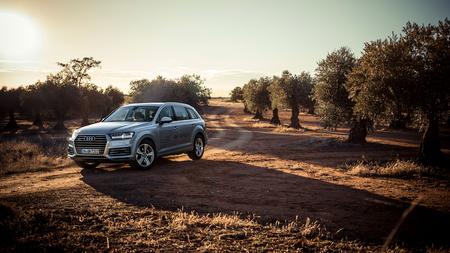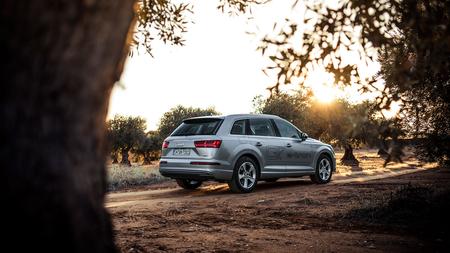 What is it like?
At first glance, virtually indistinguishable from a regular Q7. Aside from a few badges, it looks identical from the outside, while the interior still has the same high-quality majesty. You'll find jaw-dropping materials, exquisite attention-to-detail and more luxury equipment than you can shake a gilded stick at.

There's bags of space for five people, too, and an enormous, family-friendly boot. You'll find one small concession made on practicality, though, and that's that you can only have the e-tron as a five-seater, not as a seven-seater as you can with the regular Q7. That's because the massive lithium-ion battery pack lives under the boot, where the third row of seats would normally be stowed. For many families, though, this won't be any sort of barrier.

Especially when the financial rewards are so significant. The plug-in hybrid drivetrain gives the car predicted CO2 emissions of just 45g/km, which means company car drivers pay tax on just 8% of its value. It also means no road tax payments and exemption from the London Congestion Charge. Granted, the predicted official fuel consumption figure of 166mpg will be all but unachievable in the real world, and the figure you actually end up getting will depend entirely on how you use the car but, viewed purely as a comparative figure, the Q7 has the beating of the Outlander.

So, how does it all work? Well, the idea is that you plug the car in overnight to charge it (a full charge takes around two-and-a-half hours on a fast-charging terminal and around eight hours from a standard domestic socket) which gives you almost 35 miles of electric-only running. Hopefully, that'll be enough to cover most – if not all – of your short commute to work. Then, if you need more range for an unexpected weekday journey or a longer trip at the weekend, the six-cylinder diesel engine makes that possible.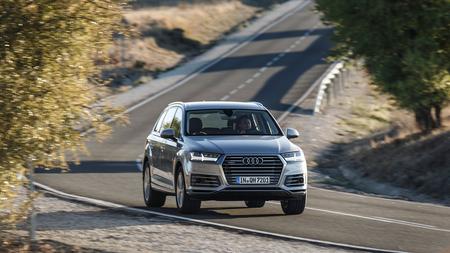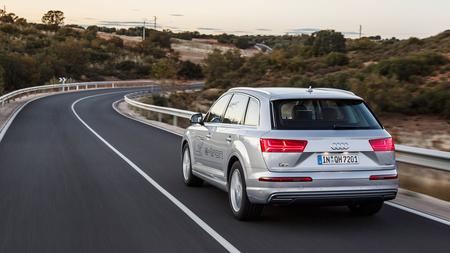 If you're really serious about maximising your electric-only running, though, you need to be quite careful about how you use the car's performance. Even when you select full-on EV mode, the diesel engine cuts in to lend a helping hand if you push the accelerator pedal past a certain point, because the car decides that you need more acceleration than the electric motor can give. This happens surprisingly often, because the electric-only acceleration is unfurled gently rather than giving you the strong, instantaneous surge of pace you get from most electric cars.

Once the diesel engine does cut in, the acceleration feels easy and brisk - as it would be, when the combined output of both motors stands at 368bhp and 516lb ft of torque. On paper, this makes the car capable of 0-62mph in six seconds dead, but because of the two-stage power delivery, it feels nowhere near as fast as this figure suggests under normal circumstances.

Unsurprisingly with a car like this, there are other driving modes available. One leaves it to the car to decide which power source is best for the prevailing situation and juggle the various choices accordingly; another lets you run on diesel power only so that you can keep the battery charge for when you need it; and, another maximises the energy regeneration to help you juice up the battery. Importantly, whichever mode you're operating in, your progress always feels smooth and effortless.

Power delivery aside, the experience you get is typical Q7. We tried the e-tron with optional air suspension, which gives a smooth ride and handling that's assured and stable. The rolling refinement is absolutely top drawer, too, even with the diesel motor running hard.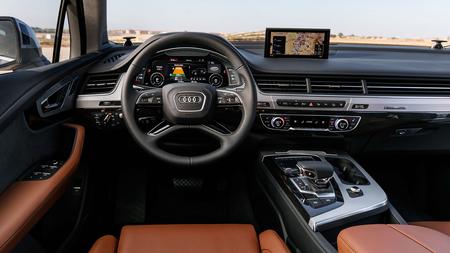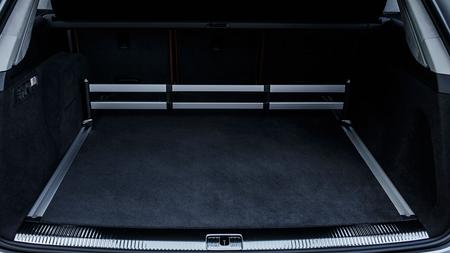 Should I get one?
If you like the idea of all those tax benefits, and you're after a bit more class and luxury than an Outlander PHEV can give you, then absolutely you should. Let's hope you'll be able to; Audi has yet to 100% confirm that the e-tron will be coming to the UK, but if you ask us, the signs are looking very encouraging indeed.

Granted, the e-tron will probably cost a fair bit more than the Outlander, with an estimated price tag of around £60,000 after you've deducted the £5,000 grant you'll get from the Government. Still, it's not all that crazily expensive given the technology and the tax benefits you'll be getting, and it's a price that many people will be willing to pay.

Key facts:
Model: Audi Q7 e-tron

Price: £60,000 (estimated – after Government grant)

Engine: 3.0-litre diesel, electric motor, eight-speed automatic

Power/Torque: 368bhp/516lb ft

0-62mph: 6.0secs

Top speed: 139mph

Economy: 166mpg (est)

CO2/BIK tax liability: 45g/km (est)/8%

Boot space: 650 – 1,835 litres
Interested in buying an Audi Q7?