Feature
Scariest Cars from the Screen
Meet the four-wheeled fear mongers of film, the true terrors of TV, the creepiest cars ever to grace our screens!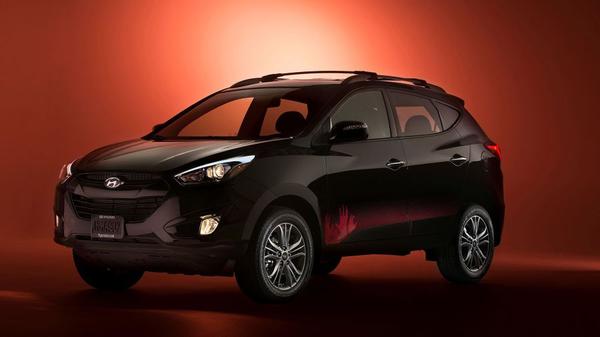 The nights are drawing in and, since trick or treating is off this year, you've got all those sweets to yourself. So, now's a great time to curl up with some solid horror shows and films.
Wondering what to watch? We've picked out some of the creepiest cars from film and TV so you can drop a casual fact or two mid-screening and make yourself sound like a worldly car expert. You're welcome.
Cadillac Miller-Meteor - Ghostbusters
Arguably one of the most famous cars in cinema, the Ecto-1 was designed by Stephen Dane, who also developed the Proton Pack and Giga Meter for 1984's original Ghostbusters.
The Ghostbusters drove a 1959 Cadillac Miller-Meteor Futura Duplex. An ambulance/hearse conversion, the car is loaded with gadgets – many of which never even get used in the films. The black Miller-Meteor seen at the start of the first film was supposedly
leased
and only used for one scene, though Sony later bought and converted it to take on tour. Sadly, we haven't seen the Ecto-1 listed on our site, but there are
plenty of Cadillacs available
.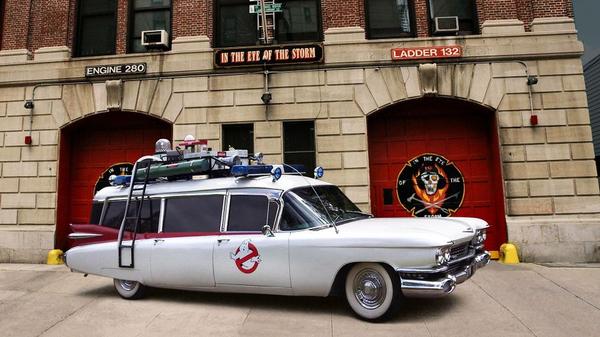 Chrysler Newport – Joy Ride
Starring the late, great Paul Walker as college freshman who falls foul of a murderous trucker, Joy Ride saw some pretty tense scenes in the 1971 Chrysler Newport.
Without giving away any spoilers, we're fairly sure the actual car featured in the film is a write-off, but there are plenty of
Chryslers available on Auto Trader
. We would say that, if you do get a Newport, maybe don't install a CM Radio to wind up truckers… it might not end well.
Hyundai Tucson – The Walking Dead
We'll be the first to admit the
Hyundai Tucson
isn't a particularly scary car in itself – on the contrary, it's a very decent
family car
– but what this Tucson did? Well, that's a different matter.
Featuring in three seasons of The Walking Dead – an American horror show based on a comic book – it did all manner of less-than-savoury things at the hands of some of the survivors of the zombie apocalypse. This included everything from transporting zombies and firearms, to being used as a murder weapon (first running over the head of a zombie and, later, being used as a makeshift battering ram to mow down scores of 'walkers'). You might not think that was much to recommend the car, but Hyundai actually produced a special-edition model in the States to cash in on the show's success. Painted in black, with red details, it came with a black leather interior, as well as... a Zombie Survival Kit.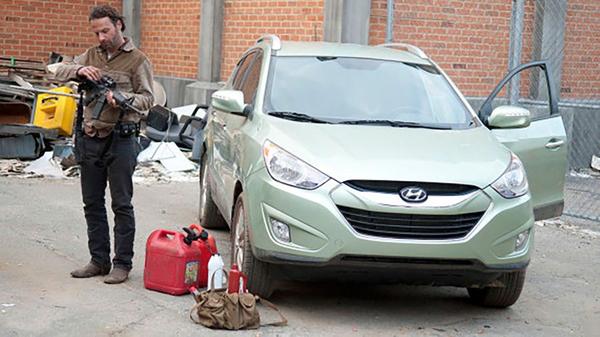 Chevy K5 Blazer - Stranger Things
Few shows manage to cast cars as accurately as Stranger Things. The attention to detail and time period is one of the many reasons the show has become so popular. That and the theme tune – just listen to it, it's great.
Anyway, Hopper's truck, the 1980 Chevy K5 Blazer, is a prime example of good car casting. These 4x4s were the staple vehicle for rural law enforcement, and the car's rugged appearance was a great match for David Harbour's worn yet trustworthy sheriff.
Munster Koach – The Munsters
A true horror icon from 1960s TV series The Munsters (a sitcom about a family of monsters), the Munster Koach was designed and built by George Barris, who also created the first Batmobile.
A mix of a hot rod and a hearse, the car was crafted from three Ford Model Ts, with a V8 engine that was originally destined for an AC Cobra. As a finishing touch, the car had a custom-built body from a hearse, painted in black, and with a 'blood red' interior.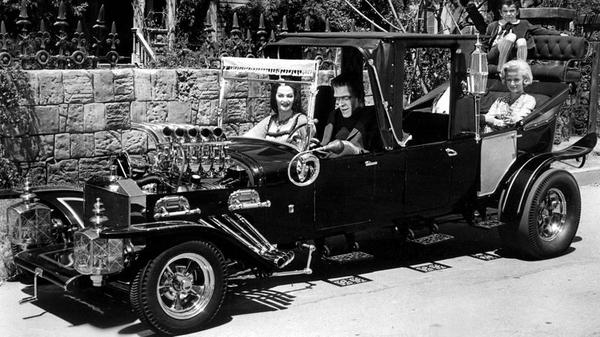 Packard V-12 – The Addams Family
Another sitcom about a spooky, kooky, ooky brood, The Addams Family debuted in the same week as the Munsters and Bewitched (what a week for TV that was).
While most people think the Addams Family drove a hearse, 'twas in fact a Packard V-12 – a luxury automobile produced in the 1930s.
Plymouth Fury – Christine
Based on the Stephen King novel of the same name, 'Christine' follows the story of perhaps the world's most frightening automobile: an apparently sentient and violent Plymouth Fury which is bought by nerdy teen Arnie and goes on a gruesome killing spree.
The car seems to be able to recover instantaneously from any damage, though we wonder how she'd cope in some of our
contributors' scariest driving experiences
? Fun fact: some of the scenes were shot with heavily made-up Plymouth Belvederes, can you spot which is which in the film?