Feature
Best Green Year 2019 – Tesla Model S
Find out why the Tesla Model S is the 2019 winner of our Best Green Car award.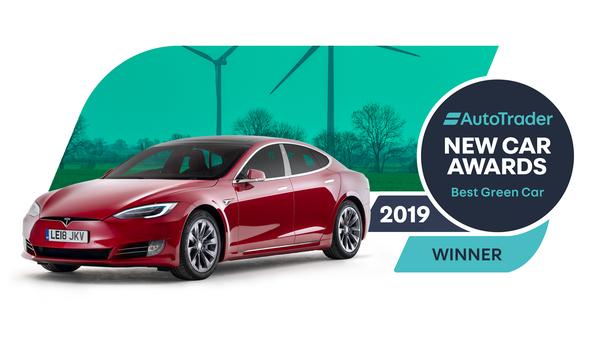 There was a time when green cars – and we're not talking paint colour here – were the exclusive preserve of early adopters and staunch environmentalists. These days, however, environmentally-friendly cars – including
electric and hybrid cars
- are far more mainstream than they've ever been.
But what is a green car exactly? Well, in our book, it's anything with super-low CO2 emissions, much lower than that produced by your average motor. So, that's why we set a limit of 50g/km, and any new car on sale with emissions below that threshold was eligible for the prize. And as it turns out, the eventual winner was a car that produces exactly zero tailpipe emissions: the all-electric
Tesla Model S
. Like all our
awards
, this category was decided by feedback collated from a survey of more than 60,000 car owners, all of whom rated their car in 16 key areas. That means an Auto Trader New Car Award is a real stamp of approval from people that live with the car day-in, day-out, and it makes each winner a true consumer champion. The statistical results of our study showed that buyers were most impressed by the power and acceleration of the car, and that – as you'd expect – cost-efficiency was a key aspect for most. Here are just a few of the comments that owners made about the Model S…
"It feels like the future is here already. Effortlessly fast, smooth, high-tech and – most importantly – electric, and charged off low-carbon energy."
"Practicality, cost, silence, and convenience of an electric car. Easy to charge, excellent supercharger network, excellent range, excellent energy management features, so no range anxiety."
"Autopilot is a great tool on long distances. It provides the security of an extra pair of eyes on the road."
Our experts also rate the Model S extremely highly, and you can see why in our
expert review
. So highly do they rate it, in fact, that the car has also been awarded a place in our shortlist of
Best Electric Cars
.
Commenting on the Tesla's win in this category, Auto Trader's road test editor, Ivan Aistrop, said: "The Model S delivers everything that the early adopter of electric motoring could want. Early adopters love technology, and there's enough of the stuff on board this car to satisfy even the most demanding tech-head, while the Tesla brand also has a huge reputation in this area. The car's comparatively large range minimises range anxiety for drivers, and when you throw in the immense performance, impressive driving manners and excellent practicality, pretty much all buyers' boxes are checked." The Model S was run very close for Green Car honours by the
BMW i3
and
Hyundai Ioniq
in second and third places, respectively, so will one of those be able to go one better next year? Or will the Model S be able to retain its crown in 2020? If you're looking for a new car and fancy going green, you can
find or configure your brand new Tesla Model S on Auto Trader
right now.