Feature
Best Car Launched in the Last Year: Volvo XC60
Find out why the Volvo XC60 is the 2018 winner of our Best Car Launched in the Last Year award.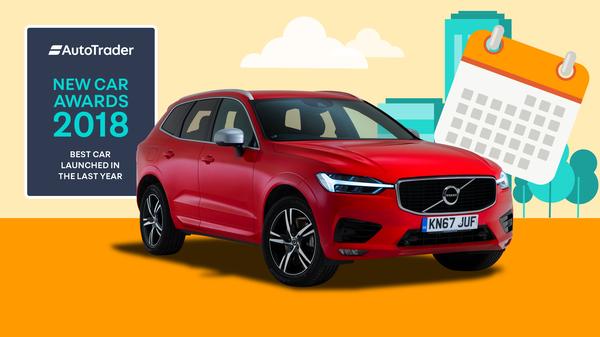 Logic would suggest this award should be one of the most difficult to win. Technology is always moving forwards, meaning the newest cars should (in theory) be the most advanced, and therefore the best. Of all the models released in the last 12 months, it was the
Volvo
XC60
that came out as the favourite.
Like most of our awards, this category was decided by feedback collated from a survey of more than 40,000 car owners, all of whom rated their car in 16 key areas. That means an Auto Trader New Car Award is a real stamp of approval from people that live with the car day-in, day-out, and it makes each winner a true consumer champion. Of all the new cars eligible for this award, the XC60
SUV
was rated top for its safety features and the feeling of safety it gives, as well as for power and the quality of its features. Here are just a few of the comments owners made about the XC60…
"It looks modern and beautifully sculptured, like a piece of art. The back lights really show it off. It flows well from front to back."
"The Volvo XC60 T8 is the best car by far, looks, equipment, technology, safety, comfort, emissions, handling; it is truly a pleasure to drive."
"Feeling confident in driving a safe and reliable car, which is very well built, with safety and comfort a top priority."
Commenting on the XC60's win in the category, Auto Trader's Road Test Editor, Ivan Aistrop, said: "It's been a big year for Volvo, with some really impressive new products launched in the last 12 months. And this award shows the company's hard work is really being appreciated by car buyers. The XC60's style, quality and image are key factors in its success, but it's also practical enough for a family, relaxing and comfortable to drive and – being a Volvo – top notch for safety.
Our
expert review
will show you what our experts think about the XC60 in greater detail. And, our list of the
most exciting cars due in 2018
could well give you a clue as to which car might take the honours next year. If you fancy a car that's fresh out of the box, and you like the sound of the XC60, you can
start configuring yours on Auto Trader
right now.