Review
Volvo S60 Saloon (2019 - ) review
The S60 is Volvo's answer to popular compact executive saloons like the Audi A4, BMW 3 Series and Mercedes C-Class, and differentiates itself from the rest with its cool, individual style and its plentiful technology, not to mention Volvo's impressive reputation for safety.
The Auto Trader expert verdict: ★★★★★

★★★★★
4.0
The Volvo S60 is up against some very fierce (not to mention popular) competition in the form of the Audi A4, BMW 3 Series and Mercedes C-Class, but it certainly has the tools to compete. Sharp design inside and out gives the car its own unique character, while the impressive quality, cutting-edge technology, plentiful standard equipment and peerless safety record help make it even more appealing. Sure, it could be a wee bit more practical, but it's a very good all-rounder nonetheless.
Pros
Looks sharp inside and out

Strong on quality

Should be good on safety
Cons
Could be more practical

Diesel fans will be disappointed

Up against some very good rivals
Interested in buying a Volvo S60?
How good does it look?
Visually, the S60 shares plenty with Volvo's other models, most notably the now-trademark T-shaped 'Thor's Hammer' signature in the headlamps. You'll recognise the C-shaped rear light units from the larger S90 saloon, too. In fact, the S60 looks a lot like a shrunken-down S90, instantly elevating its prestige image, but sleeker lines on the back end make the S60 look even sharper than its bigger brethren. All models will come with smart alloy wheels, while R-Design models will have a sportier makeover, and range-topping Polestar Engineered cars will look even racier.
What's the interior like?
This is one of the S60's biggest strengths. First off, the materials on display in the cabin are impressively high in quality, giving the car an effortlessly premium feel, and the slick switches also help on that score. The progressive, modern interior design gives the cabin a unique style, too, which makes it even more appealing. The enormous 9.0-inch touch-screen also adds a high-tech element, and not only does the system look great, it's also reasonably easy to find your way around. Seats are a traditional Volvo strong point, and the S60's don't disappoint, with fabulous support and bags of adjustment. Your over-the-shoulder visibility could be a little clearer due to beefy rear pillars, but that's the only slightly black mark in this area.
How practical is it?
The S60 does an adequate job in this area, rather than an exemplary one. As you'd expect, there's bags of room up front, while the rear seats have enough legroom for two adults to travel comfortably. However, those much over six feet tall might find headroom in slightly short supply, and the cabin is a little narrow to comfortably accommodate a third passenger, so some rivals are more comfortable for multiple passengers. It's a similar story in the boot: the 442-litre loadspace (392 litres if you don't count the underfloor storage) is reasonable, but rivals from Audi and BMW do a lot better. The American-spec cars we drove didn't come with a folding rear seat, either, but we don't yet know if that'll be the case with UK cars.
What's it like to drive?
Most versions of the S60 have a standard suspension setup, which we haven't yet had the chance to try. The R-Design trim has a lowered suspension to match its more racy looks, and that gives a good balance of abilities. It's compliant enough to keep life comfy over most lumps and bumps, but it's also well controlled enough to stop the body leaning over too much or feeling floaty or unsettled on undulating roads. The steering is responsive and well weighted, which also helps the S60 feel secure and civilised in equal measure. Be aware, though, that the hybrid versions weigh a lot more – about 200kg - than the petrols, and you can really feel this in the handling. The hybrids still feel sharp - mainly because the extra weight is located centrally within the car, helping with weight distribution – but direction changes still feel rather more laboured. The top-end trim, called Polestar Engineered, comes with a different suspension again, with more sophisticated adjustable dampers (though these are adjusted mechanically rather than electronically by the various driving modes, and adjusting the rear ones involves taking the back wheels off). It also has additional structural bracing on the front end, plus uprated brakes. With the suspension settings we tried, the car did feel a bit sharper than the other versions, but the ride was also a lot firmer, so be prepared to sacrifice some comfort in the pursuit of extra agility.
How powerful is it?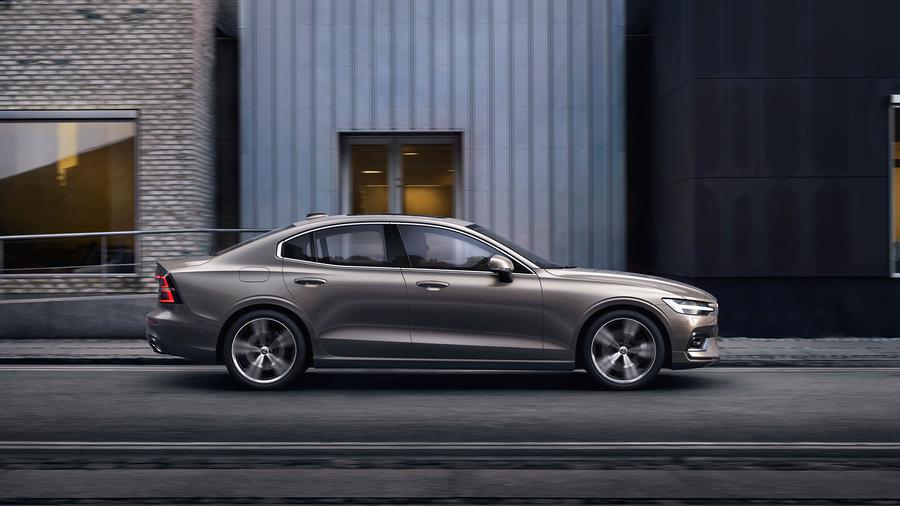 This is a slightly grey area, because the two engines we've tried weren't totally representative of what we can expect in the UK when the car goes on sale. The first was the T6 petrol, which has a 2.0-litre petrol engine that's both supercharged and turbocharged to produce 310 horsepower, but this engine isn't expected to be offered in the UK, certainly not at launch. It's a shame, because it's strong from anywhere on the rev range, making the S60 both flexible and fast, and it works really well with the eight-speed automatic gearbox. The other engine we've tried is the T8 Twin Engine plug-in hybrid, but we tried it in American-spec, which has a combined power output of 415 horsepower, where in the UK and Europe, it'll come with either 390 horsepower or 405 horsepower. These small discrepancies in power output aren't likely to make a huge amount of difference, and we'd expect all versions to feel similar to the one we drove. Let's face it, power isn't in short supply with any of them, and strong performance is never very far away. Having said that, the slightly strangled power deliver does mean it never feels as fast as the numbers suggest, and the all-or-nothing action of the throttle and (more noticeably) the brakes means the car can be difficult to drive smoothly at times. The really interesting thing about the S60's engine line-up, though, is that this is the first ever modern-day Volvo to be offered without the option of diesel power.
How much will it cost me?
Our drive in the S60 took place several months in advance of the car's launch, and as a result, prices haven't yet been decided so we don't know how much it'll cost. It's likely to relate closely to the V60, though, and looking at that car, we'd expect prices to be competitive with those of the usual German rivals, but with quite a bit more standard equipment thrown in. It's also a bit too early for official efficiency figures to be available, so it's tough to predict how much the car will cost to run. The absence of a diesel engine in the line-up might skew how the efficiency figures look overall, but while we expect the petrols to be rather thirsty, the hybrids should return super-impressive figures, making them very tax-efficient cars, especially for company car drivers.
How reliable is it?
Again, it's rather early to make any accurate prediction about how reliable the S60 will be, but there are some positive signs. Volvo tends to do well on this score, possibly because any car designed for Swedish conditions would find UK weather and roads a bit of a breeze. In fact, Volvo as a brand often does as well as Toyota in reliability surveys and, as the V60 uses the same proven mechanical package as other Volvos, we wouldn't expect any major issues. In the Warranty Direct Reliability Index – which takes into account all factors of a repair, the cost of parts, and frequency of failures – Volvo sits around mid-table.
How safe is it?
This is traditionally an area of great strength for Volvo. It hasn't yet been announced what safety equipment will be included on the S60, but we'd be staggered if it weren't more or less identical to that you get on the V60. That means systems designed to keep you safe in the event of a collision — airbags, side impact protection, and a system that automatically rings the emergency services if you have a crash — and also a whole bunch of sensors and technology that stop you having a crash in the first place. Those include a computer-controlled braking system that can stop the car entirely, or at least slow you down enough to reduce the impact with another vehicle, pedestrian, or even a large animal; steering that automatically tugs you back into your lane should you drift out of it; and a new head-on collision system that slams on the brakes should it detect that another car is going to drive into you.

Pilot Assist is also likely to be offered, which (as Volvo is at pains to point out) is not an autonomous driving system (you can't sit back and read the paper), but a clever cruise control and steering setup that helps keep you in your lane and controls the car's speed. You still have to pay attention, and keep your hands on the wheel, but it definitely reduces driver fatigue on long motorway journeys. Like the V60 estate, the S60 hasn't yet been crash tested by Euro NCAP, but we'd be staggered if it didn't score the full five stars; it'd be the first Volvo since 2001 that didn't. Indeed, the S90, V90 and XC60 with which this car shares its underpinnings are not only five-star Euro NCAP cars, they're among the highest scoring cars ever tested.
How much equipment do I get?
Precise equipment specifications are yet to be finalised, but we expect the trim structure – and the kit you get at each stage of that trim structure – to be very similar to that of the V60. That means six mainstream trim levels — Momentum, Momentum Pro, Inscription, Inscription Pro, the sporty-looking R-Design and – you guessed it – R-Design Pro. Standard equipment is very good and includes LED headlights with an active high-beam function (which automatically dips the lights if it spots other traffic on the road), 17-inch alloy wheels, two-zone climate control, digital instruments, the big 9.0-inch touch-screen in the centre of the dash, satellite-navigation, DAB radio and Bluetooth, a built-in internet connection and cruise control. The various trims pile on more and more luxurious touches, but the base-level Momentum car will probably have all you really need. The big difference between V60 and S60 is that the latter will have the range-topping Polestar Engineered trim, but other than the performance enhancing bits and bobs and a racier look, we don't know what other kit that'll include.
Why buy?
You'll buy the S60 because you want your executive car to be a little bit different to the ones everyone else drives, and you want it to have its own style and identity. Also because you value quality, technology and generous equipment, along with the peace of mind that you're probably driving one of the safest cars on the road.
Interested in buying a Volvo S60?