Review
Tesla Model X SUV (2016 - ) review
The Model X is an all-electric MPV-like SUV with up to seven seats and a claimed 300-mile range. It promises rocket ship performance with zero emissions and some eye-catching features.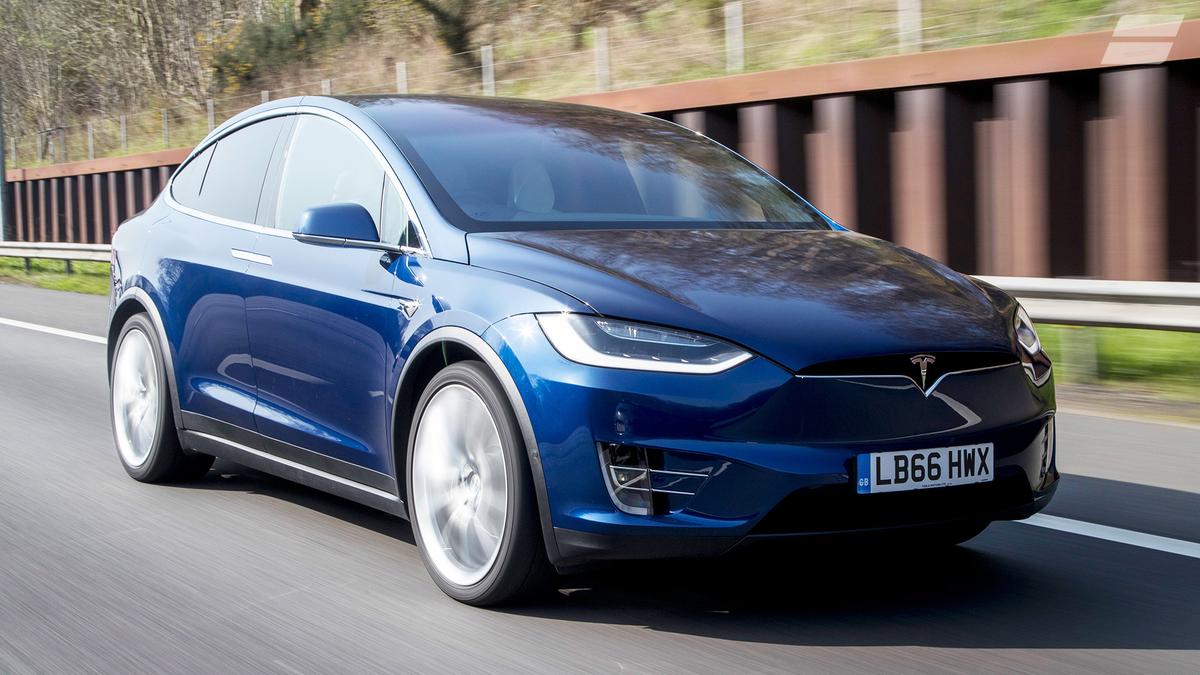 View gallery
The Auto Trader expert verdict: ★★★★★

★★★★★
3.8
The Model X is a very capable electric car that's genuinely different from anything else on the market. What it lacks in affordability and interior quality, it makes up for with blistering performance, decent practicality and a usable electric range, wrapped up in a package that will turn heads as it goes by.
Pros
Scintillating performance

Practical

Cheap day-to-day running costs
Cons
Interior quality could be better

Expensive to buy

Reliant on regional recharging infrastructure
Interested in buying a Tesla Model X?
How good does it look?
The unusual lines of the Model X have divided opinion. Tesla has tried to mask its practicality-driven bulk with coupe-like styling, and we'll leave it up to the beholder to decide how much beauty has been achieved. An electric drivetrain requires less cooling, so there's no grilles, giving the front a unique look, and all models have full LED headlights. There are some nice touches, most notably the flush handles that electrically pop the doors when pushed. A set of 20-inch alloy wheels are included as standard, while options include a different design of the same size, and two sets of larger 22-inch wheels.
What's the interior like?
There isn't another car on the market with an interior quite like the Model X. The cockpit is dominated by the huge touch-screen in the centre console, through which most of the car's functions are controlled, from infotainment to navigation, to opening and closing the doors. Due to its vast scope, the system can take a while to understand, but once you've got your head around it, it's easy to use, and responds quickly. We often complain that touch-screen-only systems are hard to use without any physical buttons, but such is the size of the Tesla interactive surface, that wasn't the case. There's another digital screen behind the steering wheel in place of analogue instruments, and much of the main screen information can be accessed here, too, using dials and buttons on the steering wheel. The seating position is easily adjustable in multiple ways, and electric seats are standard. The steering wheel adjusts electrically for both reach and rake. Visibility is excellent thanks to the huge panoramic windscreen that extends into the roof, although it's harder to see out of the back window if you've opted for the full seven seats, as the headrests obscure the view in the rear-view mirror. Material quality is good, although not brilliant. Nothing is offensively bad, but some of the materials aren't up to the quality one would expect for cars at this price point, and can't match much cheaper cars from the likes of Audi and Mercedes.
How practical is it?
The Model X is designed with practicality as a priority, and it's largely excellent. Its party piece is a pair of spectacular falcon wing doors, which rise up and out in a way Tesla says will make activities like loading a car seat into the second or third row easier than with conventional doors. They're clever bits of engineering that will monitor space around the car and open part way if objects are too close to fully extend. But we're not convinced they offer better access in all situations than regular doors: when we tried to open them in a tight parking space they left a space so small that it required limbo-levels of flexibility to squeeze out. The Model X comes with five seats as standard, but you can also spec it with a third row for a total of six or seven seats. We've tried the seven-seat version and it's impressive, with plenty of space in row two for three adults. There's also enough head-room in row three for two six-footers, although they may struggle for leg-room without moving row two forward, which it can do electrically. Kids should be fine for space anywhere though. The third row of seats folds flat into the floor, but the second row does not. That said, boot space is decent and is helped by a big cubbyhole under the floor, which is used to keep the car's charging cables. Because the model X has no combustion engine under the bonnet, there's a second boot there that can hold a golf bag or a couple of small suitcases. In the front there are two cupholders under the sliding armrests, and cubby holes in the centre console and under the touch-screen. The front doors have reasonable sized door pockets, but there are none in the second row because of the falcon wing design. While row three gets a couple of cup holders, as does row two, there are no storage spaces in the back at all; not even pockets on the back of the front seats.
What's it like to drive?
The Model X comes with air suspension as standard, and it's thoroughly decent, keeping things tidy and neat through the corners while being supple enough to take most of the sting out of anything but the harshest potholes. It's not a car to fling about, despite its considerable poke, but it doesn't disgrace itself on twisting country roads despite weighing well over two tonnes. The steering can be tuned to any of three weight settings – Comfort, Standard and Sport – but if we're honest, there's not a huge amount of difference between them, and all offer enough feedback to keep you aware of what the front wheels are doing. The lack of engine means no engine noise, but it does mean you're more likely to notice sound from the road and wind, particularly on the motorway.
How powerful is it?
The Model X is available with four different powertrain options. So far, we've only tried the second step on the ladder, the 90D, which has a 90kWh battery with a theoretical 303-mile range (although Tesla includes a feature that lets you display a more realistic range instead; in this case, around 240 miles). The 90D is hardly slow: it'll hit 62mph from standstill in around five seconds, which is proper sportscar territory, and is aided by standard all-wheel drive on all models. Because electric motors deploy their maximum torque instantly, the acceleration is very impressive, and the lack of gearbox means there's no pause in the velocity to change cogs. It's just flat out fast, straight away. The Model X range starts with the 75D, which has an official range of 259 miles and will hit 62mph in just over six seconds, while the 100D ups the range to 351 miles. If you really want to show off, you can splash out for the P100D – the P stands for Performance – which unleashes the full banzai potential of the electric motor and will hit 62mph in around three seconds, which is right up there with genuine supercars. The payoff is a reduced range of 336 miles. If you're not used to electric cars, driving the Model X takes a few minutes to get used to, as lifting off the accelerator produces a braking effect, rather than mere coasting as you'd expect in more conventional vehicles. It's possible to drive around town without touching the brake at all, and it soon becomes second nature to control the speed with just one pedal.
How much will it cost me?
There's no hiding it, the Model X ranges from pricey to very pricey. But day-to-day running costs should be far cheaper than a combustion engined car. No CO2 emissions means BIK rates will be minimal, and if you utilise Tesla's network of Supercharger charging stations, you won't have to pay to refill its battery for the first 400kWh (around 1000 miles worth). After that, while Tesla charges a fee, it'll still be far cheaper than petrol or diesel. You'll probably want to also charge your Model X at home, which can be done through a normal electrical outlet, but it will be very slow. Most owners will choose to spend a few hundred pounds on Tesla's faster home charger. Again, whichever option you choose, it'll be far cheaper to refill than any combustion engined car. It's difficult to forecast the resale value of electric cars as they're so new to the market, and data on the Model X is minimal. Tesla discontinued its Resale Value Guarantee buyback, which could be taken as a bad sign, but having said that, the Model S has performed very well in the used market, although volumes are very low. Tesla recommends an annual/12,500-mile service, which isn't particularly cheap, even if you opt for one of its maintenance plans.
How reliable is it?
It's difficult to be accurate about Tesla's reliability, as there's no definitive UK report on its performance. Owners of the Model S have left universally positive reviews in our Owner Reports, but the brand is absent from the Warranty Direct Reliability Index. However, Tesla fared poorly in the US-based Consumer Reports Car Brand Reliability survey, finishing near the bottom of the included manufacturers. Tesla offers a four-year/50,000 miles warranty on the car, and an eight-year guarantee on the battery and drive unit.
How safe is it?
The Model X hasn't yet been subjected to an independent crash test assessment, but its sibling, the Model S, scored a maximum five stars in the Euro NCAP crash test back in 2014. The Model X's architecture, with no engine in the front, means there's a larger crumple zone than more conventional SUVs. Automatic emergency braking is standard on all cars, and the hardware for two levels of autonomous driving capability is also included, although activating the software is optional, and not particularly cheap. Up to four Isofix child seat attachment points are included, depending on the seating configuration, and there are an impressive 12 airbags.
How much equipment do I get?
The standard equipment is largely the same across the range, with the powertrain the main differentiator between models. All Model Xs come with the big infotainment system screen, complete with an excellent Google Maps sat-nav and DAB radio, as well as keyless entry and start, and powered doors and tailgate. Cruise control is standard, but adaptive cruise control is only available as part of the Autopilot options, which are expensive. You'll also pay a sizable amount to add extra passenger seats, while the Premium Upgrades Package, which enhances the quality of interior materials and adds a special air filter and LED turning lights, is hard on the wallet, too. Other upgrades include a Subzero Weather Package with heated steering wheel, seats and wiper blades, and a beefed-up 17-speaker sound system.
Why buy?
You have passengers to carry and want to be at the forefront of automotive technology, and you don't mind paying for the privilege. There are cheaper, more traditional SUVs and MPVs that can seat seven, including plug-in hybrids like Volvo's XC90, but none have the cutting-edge cachet Tesla possesses, and none can match the Model X's performance.
Interested in buying a Tesla Model X?