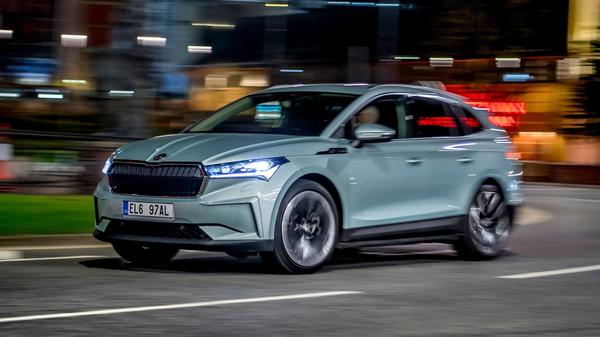 Expert Review
SKODA Enyaq SUV (2020 - ) review
Stylish, competitively priced and with all the performance and range you actually need, the Skoda Enyaq IV is a huge moment for EVs
The Auto Trader expert verdict:
The Enyaq iV is Skoda's first fully electric SUV, and comes in entry-level 60 or more expensive 80 guise, plus six style/trim versions to choose from. It's a large family car, with space for five adults and plenty of room in the boot. More importantly, it costs less than some similar-sized petrol and diesel SUVs. Could this be the first sign of price parity between fully electric and internal combustion powered cars?
Reasons to buy:
Cheap for an electric car
Loads of space
Low running costs
Running costs for a SKODA Enyaq
The Enyaq hits the ground running here, because as well as low running costs, the sticker price on the car is extremely reasonable, meaning that the total cost of ownership is a relative joy to behold. Who wants to make Skoda jokes now? On top of satisfyingly low
monthly payments
for such a big car (many versions fall within
the lower threshold
for the Government's plug-in car grant announced in the spring of 2021) you've got the joy of no congestion charge in cities, no
VED
to pay (for now), negligible
Benefit In Kind
tax for fleet drivers (for now) and fewer servicing bills thanks to the removal of complicated powertrains. It'll also more than half your fuel bills, if you install a
home charging point
and can benefit from cheap off-peak electricity tariffs. Better still, we actually prefer the driving manners of the cheaper 60 to the more expensive 80 version.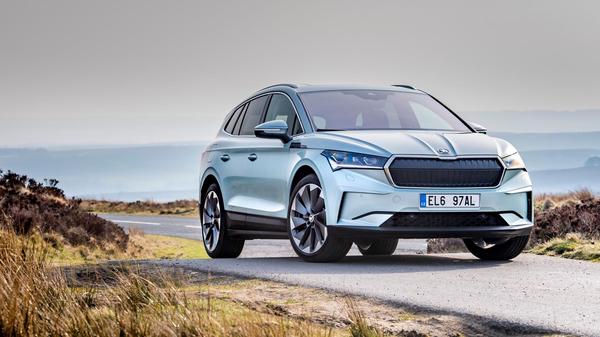 Reliability of a SKODA Enyaq
Skoda performs very well as a brand in most reliability or owner-satisfaction tables so, although this is an all-new model (although it shares lots with the
Volkswagen ID.4
), we feel fairly confident about its robustness. The Enyaq iV has a three-year warranty on it but the battery is covered for eight years and 100,000 miles. We'll probably jinx it now, but you should have few major issues with this car.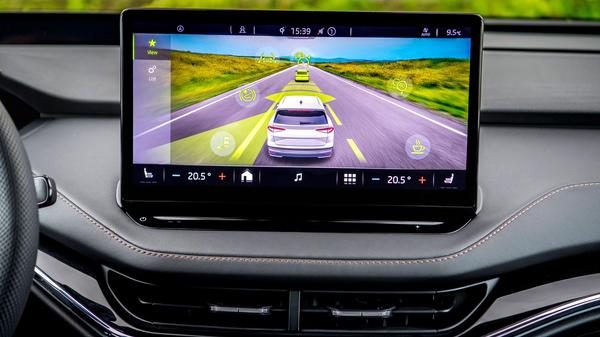 Safety for a SKODA Enyaq
All Enyaqs are rear-wheel drive at launch but four-wheel variants with more traction in the slippery stuff will follow. We've docked a point for the slightly stingy basic safety offering - it's a shame a few more gizmos aren't standard on all cars, such as blind-spot warning. All are fitted with front, side, curtain and central airbags, tyre pressure monitor, lane assist that warns you if you're straying out of the white lines without indicating, rear parking sensors and assisted automatic braking if a collision is imminent. The Assisted Drive Package includes adaptive cruise control and blind-spot warning, and you can step up again to front parking sensors and a rear-view camera.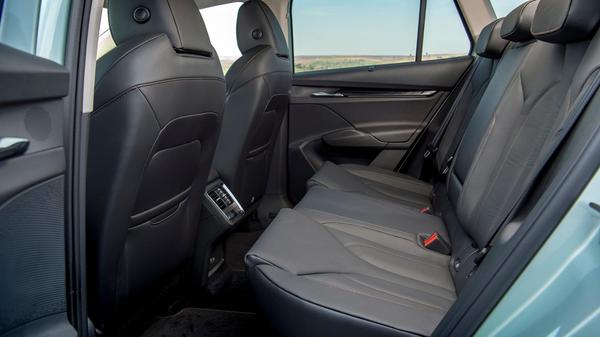 How comfortable is the SKODA Enyaq
Space, space and more space. And so quiet. And smooth. And light. There really isn't anything to complain about. Except we're not massive fans of the Volkswagen Group infotainment system - the touchscreen senses your finger moving towards it and reveals more graphics, which are too easy to hit accidentally. As is the sliding digital control for temperature. It's really all trying too hard - give us some buttons back please. Other than that we really like the interior's sustainability credentials - the Ecosuite leather is treated with olive-leaf extracts instead of chemical tannins, the Lodge trim uses 40 per cent wool in the seats, and there's recycled bottle plastic in the floor mats.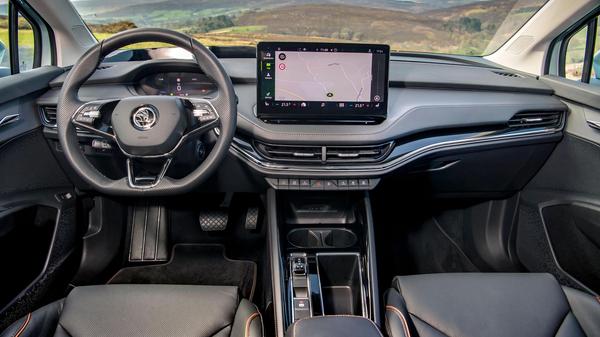 Features of the SKODA Enyaq
Skoda is great at the quirky, humorous stuff like umbrellas hidden in the doors and an ice scraper by the fuel filler cap. But it's added some serious features on the Enyaq, like two versions of the heads-up display - one with augmented reality showing you which way to turn via arrows in the windscreen, as Mercedes does. This sort of stuff gives Skoda a really premium feel, alongside a generous palette of leather colours for the seats, some of which leave the car feeling more like a Maserati than the butt of so many naff jokes. There are six design selections, ranging from Loft to Sportline - we like Eco Suite, with an impressive array of recycled materials on board. You can spec up your Enyaq to your heart's content, with comfort seat packs (massage function, heated, lumbar support), rear window blinds, folding tables, wireless phone charging, electric tailgates, chrome roof rails and so on.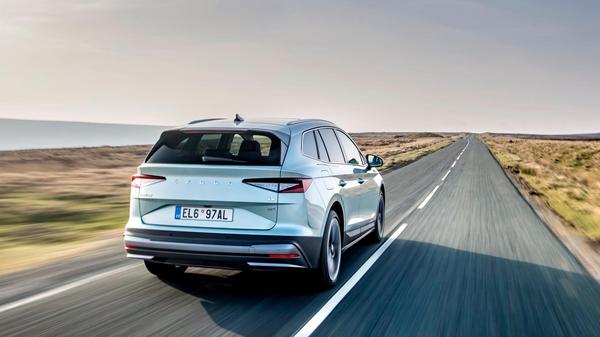 Power for a SKODA Enyaq
The cheaper 60 version has a 62kWh battery, with 179 horsepower and a maximum range of 256 miles, while the 80 variant (82kWh battery) offers 204 horsepower and a range of up to 333 miles. If you manage to find a rapid charger en route, you can charge to 80 per cent in 38 minutes. Otherwise it's nine hours for the Enyaq 60 on a home charger, and 13 hours for the 80 version, neither of which will be covered by the off-peak hours of a domestic charger so don't expect to get a cheap full charge in one night. We drove both versions and think the 60 drives better than the 80; it feels a little lighter and keener on its feet, and just as keen to get going. Put it this way, it's all the power you need for a family SUV. If it's maximum power you're after, however, a vRS hot version arrives in 2022.