Expert Review
Porsche 718 Cayman coupe (2016 - ) review
The Porsche Cayman has always been a sports car benchmark. Read our review to find out if, with smaller turbocharged engines, it still has the sparkle to top the class.
The Auto Trader expert verdict:
Available new from £48,015
The Cayman looks a million dollars and, when it comes to handling and driving fun, sits right at the top of the pile. What's more, its sublime steering, superb control weights and exceptional ride quality make it a brilliant long-distance GT. The driving position is absolutely spot on, while the cabin oozes style, quality and ergonomic excellence.
Reasons to buy:
Superb ride and handling
Surprisingly practical
Excellent interior quality superbly weighted controls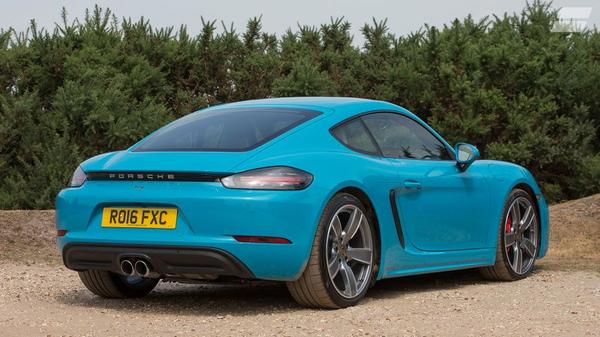 Running costs for a Porsche 718 Cayman
The
Porsche 718 Cayman
is now cheaper than its convertible
Boxster
cousin, and the standard Cayman is a great deal cheaper – we're talking approximately five figures - than the more powerful S model. However, you'll need to bear in mind that the S comes with a lot more kit and has a bigger, better engine that helps it produce tangibly better performance. If you do stick with the standard Cayman, equip it with the optional PDK twin-clutch automatic gearbox, as it gives you very reasonable fuel economy and CO2 emissions, although your consumption will depend largely on how you drive. And let's be realistic, no one buys a Cayman – even a basic one - to pussyfoot around. At the other end of the scale, the Cayman GT4 is obviously way more expensive, but we'd say its dynamic ability makes it worth every penny and it'll still cost you far less than an entry-level
911
. Parts, servicing and insurance are all likely to be costlier than the class averages, but this is offset somewhat by the fact that
Porsches
only need servicing every two years or 20,000 miles, whichever comes first. Porsches also tend to have excellent resale values.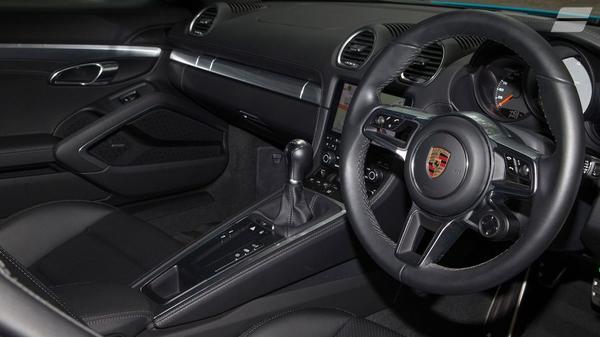 Reliability of a Porsche 718 Cayman
The 718 is too new for any meaningful reliability data to be available, so you're left looking at the Cayman's historic performance for clues. Warranty Direct's Reliability Index – which ranks manufacturers and individual models – suggests that the previous model was pretty patchy, with expensive repairs, troublesome electrics and a fairly voracious appetite for brake components, so we hope things have improved since then. The brand itself also sits in a rather lowly position in the manufacturer table. At least the 718 comes with a three-year/100,000-mile warranty, but you might consider investing in an extended warranty when that cover runs out, to avoid any unexpected financial pain in the future.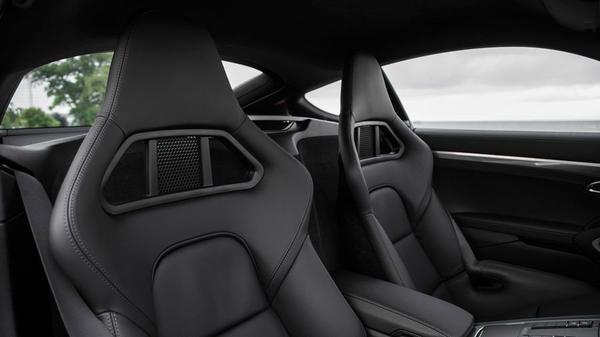 Safety for a Porsche 718 Cayman
Euro NCAP rarely crash tests low-volume models such as the 718 Cayman, so there is no star rating for its driver, passenger and pedestrian safety. However, the 718 does come with an extensive suite of airbags and electronic safety systems as standard. The brakes have been uprated on both versions and have fantastic stopping power. There are plenty of options, too, with Active Cruise Control and blind spot monitors available, both firsts on the Cayman.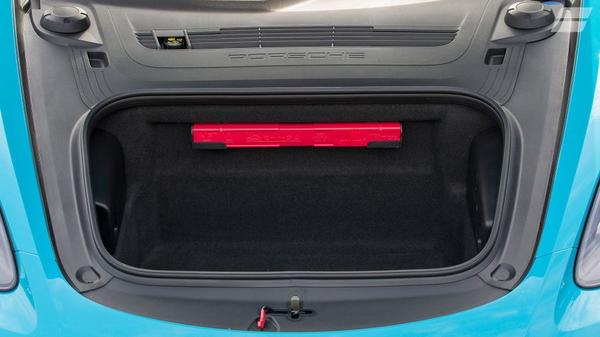 How comfortable is the Porsche 718 Cayman
The Porsche 718 Cayman's cabin oozes quality and the overall impression is so good you'll you need to look long and hard to find a rival that looks and feels as special. The driving position is low-slung and the seats offer a good compromise between comfort and support. The pedals and gearshift are perfectly positioned and weighted. The 718 also features a steering wheel that comes complete with a rotary dial that allows you to adjust between the various driving modes. The centre console is dominated by Porsche's latest infotainment system, which features a highly responsive touchscreen and a crystal-clear display that allows you to pull up various menus, including high-definition sat-nav maps. It has
Apple CarPlay too, but not Android Auto
. Visibility is excellent for this type of car, too. No one expects a sports coupe to double as a removal van, but because the 718 is mid-engined, it's more accommodating than you might expect. The location of the engine frees up a deep luggage area in the nose of the car that will swallow a sizeable suitcase, and although the space below the rear hatch is quite shallow, it's wide enough to accept a lightweight golf bag. Other than that, as with most sports cars, storage is a wee bit limited. You can hang your coats on hooks behind the seats, there's a cubby beneath the centre console big enough for your phone and keys and the glovebox is a decent size. However, the door pockets are extremely slim, so it's hard to get anything bigger than your toothbrush in or out of them, and the cup holders which spring out of the dash are beautifully engineered, but overly elaborate and not particularly effective at keeping drinks in place. On the move, all the 718's controls have a precision and weight that make you feel instantly at one with the car. The steering is sharp and responsive and has a peerless consistency, as the weight and speed of return when releasing the wheel is a mirror image of the efforts and pace required to get the car to turn into corners. The brakes are stunningly effective, too, biting hard even after prolonged use, and the pedal is easy to modulate, but perhaps the most remarkable aspect of the 718 is the way it manages to handle like a rally car yet ride like a limousine, even on 20-inch wheels. Smothering all manner of lumps and bumps with a silky fluidity, the wide tyre contact patches remain glued to the road surface, and as a consequence, the cornering agility on offer is simply staggering. It's still firm – you'll feel those bumps and cambers in the road – but the way that they are absorbed in such a controlled fashion is so impressive. All models are good, but the GTS adds an extra layer of polish thanks to its lowered adaptive suspension, while the GT4 sits on another level further and represents the absolute zenith of the range. It packs a whole raft of extra performance-enhancing hardware that conspires to make it an incredible sports car, with the sort of prowess and engagement that would embarrass a lot of far more expensive and exotic machinery.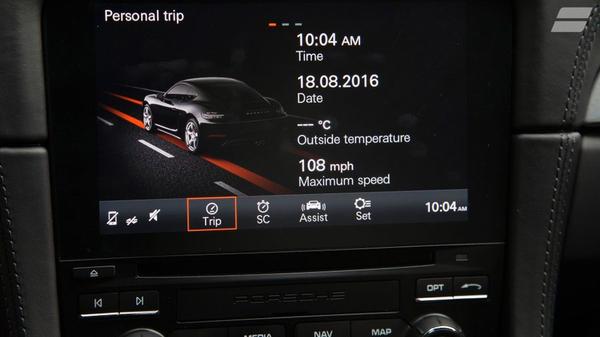 Features of the Porsche 718 Cayman
The base model comes on 18-inch wheels as standard, which are great for ride quality but do look rather weedy, while the S adds more visually arresting 19-inchers. However, most buyers will be drawn to the optional arch-filling 20-inch rims, which look the part and do little to degrade the ride quality. They're standard on the top-of-the-range GTS and GT4 models, which are also distinguishable by their bespoke body parts and the fact that both sit slightly lower to the ground. Porsche is very accomplished at relieving you of your hard-earned cash, and considering that the purchase prices are so high in the first place, it's pretty amazing how little standard kit you get with the basic model. You do get air-conditioning, sports seats trimmed in Alcantara and faux-leather, heated mirrors a touchscreen infotainment system with a seven-inch display, Bluetooth, and a couple of USB sockets. But, that's about it. If you want your 718 to retain its value and represent an attractive used buy, however, then it's worth adding the full leather comfort seats and leather trim for the cabin, as many used buyers consider these to be must-have items. Less essential are the performance upgrades such as the adaptive suspension, sports exhaust and Sport Chrono Pack (which includes launch control), but these items will no doubt boost your car's appeal to enthusiasts when the time does come to sell. The GTS and GT4 have most of these as standard, but they also cost the most.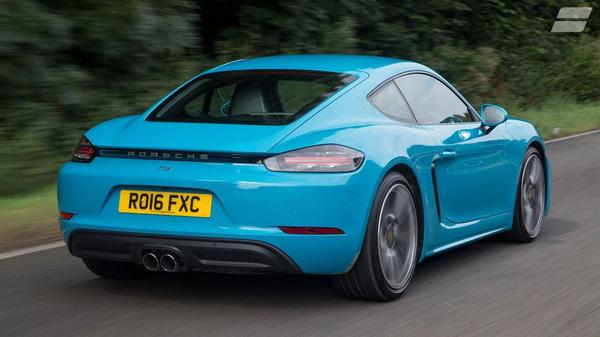 Power for a Porsche 718 Cayman
It has to be said that neither of the 718's four-cylinder boxer engines are particularly refined. The 2.0-litre engine in the standard Cayman rumbles away at idle with little mechanical refinement, and as the revs rise, you're subjected to uncouth rattles, resonances and booms. Even with the optional sports exhaust chirping, popping and banging theatrically, it can't mask the coarse mechanical racket emanating behind you. Thankfully the 2.5-litre unit and the S and GTS is better, although still sounds more hot hatch than exotic sports car. When it comes to pace, the official figures don't tell an accurate story. The entry-level 718 is over-geared - to enhance fuel efficiency - so it feels a tad sluggish below 2,000rpm and bogs down with every shift at low speeds. You need to spin the engine well above 3,500rpm to keep things on the boil, and only then, does it begin to feel as quick as you'd expect. The 2.5-litre motor in the S also suffers some lag, but not to the same extent thanks to its more sophisticated turbocharger. It is much quicker to get into its stride than its 2.0-litre sibling, and feels substantially stronger. Once on song, it punches hard and extremely fast, zinging all the way round to the 7,000rpm redline. The GTS model sees a bit of extra grunt over the S from the 2.5-litre engine, but for a properly Porsche-like experience, you'll be best-served by the range-topping GT4, which has a naturally aspirated six-cylinder 4.0-litre engine derived from the one found in turbocharged 911s. It packs massive punch from anywhere on the rev range, but it's when you spin it all the way up to its 8000rpm limit that it really sings, supplying you with scintillating speed and a soul-stirring soundtrack.